Bollywood Marriages
Essentially, the main theme of the majority of Bollywood movies for ages has been romance. What could be a better way bring the films close to the hearts of millions of movie goers than to cast time-tested pairs who share a mesmerizing chemistry among them and guarantee to rock the box office every time they show up at the silver screen. Throughout the stages of its evolution, Hindi films have seen several such pairs who have cast a spell among the awestruck audience. However, among many such on-screen pairs, some has gone beyond the reel life and extended their association in real life also. Quite a few successful on-screen couples in Bollywood have walked down the aisle and have made their alliance a legal one. Though it cannot be said that all such marriages were highly successful, the interest associated with such marriages and their post marital life were always followed with tremendous enthusiasm by the mass and the media.Marriage among film personalities dates back to the early 30s with a distinct and memorable pair, director-actor Pramathesh Chandra Barua and his co-star Jamuna Barua, a pair that rocked the contemporary film circuit with their portrayal of Devdas and Parvati in Devdaas (1935). Another star marriage of that time was that of legendary actor Jayant and versatile actress Nalini Jayant in the late 30s, parents of Amjad Khan, better identified as Gabbar Singh in Sholay.
In the 50s and 60s, there were quite a few star marriages. Shammi Kapoor's marriage with Geeta Bali was indeed one of them. A rather rookie actor at that time Shammi had acted against the top billed Geeta in a few nondescript films like Miss Coca Cola, Rangeen Raatein, Mohan, and Coffee House, however, the failure of their films did not deter the loving pair from tying the knot in a clandestine marriage that took place at 4:30 in the morning at a temple sometime in 1955. They remained happily married until Geeta Bali's premature demise in 1966.
One of the most talked about marriages of all times in Bollywood still remains that of the thespian Dilip Kumar with the stunningly beautiful Saira Banu in 1966. Interestingly, Dilip Kumar was 44 and Saira was half his age, 22 at the time of the marriage. The pair acted in several hit films together that include Gopi, Bairaag, Sagina and Duniya. It is indeed a point to note that though critics had high doubts about the stability of the marriage, it survived the time and still remains one of the most successful love stories in the film industry.
Possibly one of the finest on-screen pairs in Indian cinema has ever produced, Raj Kapoor and Nargis were romantically involved. However, their marriage never took place. Instead, it was a young and handsome Sunil Dutt who fell in love with Nargis at the sets of the epic film Mother India and got married in 1958. Most ironically, Dutt had played the role of Nargis's son in that film. Though Nargis had passed away in the early 80s, their marriage is often referred to be one the most stable in Bollywood.
In the 70s and the 80s, two of Bollywood's most famous marriages took place during the 1970s. Amitabh Bachchan with Jaya Bhaduri and Dharmendra with Hema Malini. The Shahenshah of Bollywood Amitabh had married Jaya after a brief courtship in 1973, though at that point in time Jaya was a more popular and reputed actor than Amitabh. However, both Amitabh and Jaya had great on-screen rapport which reflected in many of their successful films like Abhimaan, Zanjeer, Mili, Chupke Chupke and certainly, Sholay. After marriage, Amitabh rose to being on top of the Mt. Everest of Bollywood, and Jaya took a long break to look after their children Abhishek and Sweta. She returned to mainstream cinema only in the last decade. Their marriage has remained rock solid despite the reported linking of Amitabh with Rekha, and they continue to be regarded as the unofficial first couple of Bollywood.
Rekha, on her part married the suave Vinod Mehra in 1973, though the marriage did not last long. The versatile actress subsequently had many alleged link-ups and a few marriages, though none actually survived the passage of time.
Dharmendra, on the other hand, was already married to Prakash Deol with two sons Sunny and Bobby when he fell in love with the dream girl Hema Malini at the sets of Sholay. Together, Dharamenda and Hema acted in a number of super hit movies that include Sholay, Charas, Dreamgirl, Jugnu, The Burning Train and Seeta aur Geeta. The two tied the knot in 1979, and they have two daughters, Esha and Ahana.
Many of the contemporaries of Amitabh and Dharmendra also had star marriages. Prominent among them are the Kapooor brothers, Randhir and Rishi. Sons of the great showman Raj Kapoor, Randhir was the first to go down the aisle with co-star Babita. They met during the shooting of Kal, Aaj aur Kal and soon decided to marry. However, they separated after a few years of marriage and Babita moved away with their daughters Karishma and Kareena, now stars in their own rights.
On the other hand, lover-boy Rishi Kapoor's love story with Neetu Singh materialized into a fairy tale marriage in 1980, but not before the two rocked the silver screen with tremendously successful films like Rafoo Chakar, Kabhie Kabhie, Khel Khel Mein and Amar Akbar Anthony. To date, barring few on and off incidents involving alleged link up of Rishi with some heroines, the marriage has primarily remained solid.
The marriage between the first superstar of Bollywood Rajesh Khanna and Dimple Kapadia did not last long due to irreconcilable differences. Married in 1973, the couple split in 1984 after they had two daughters, subsequently filmstars Twinkle and Rinke, out of the marriage.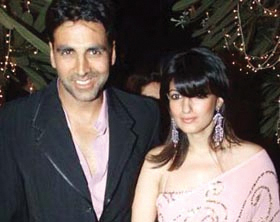 Moving along to recent times, in the last two decades there have been a few star marriages as well, though link-ups and break-ups between the stars ghastly outnumber the actual marriage. For instance, action-hero Akshay Kumar has been allegedly associated with most of the heroines that he has worked with including Raveena Tandon and Karishma Kapoor. In fact, it came as a major surprise when Akshay decided to marry Twinkle Khanna, daughter of Dimple Kapadia and Akshay's co-star in films like International Khiladi and Zulmi in 2001.
Similarly, Ajay Devgan, after a few short-lived alliances, decided to tie the knot with hugely versatile actress Kajol in 1999. They have also acted in several films prior to and after their marriage that include Ishq, Pyar To Hona Hi Tha, Dil Kya Karein, and Raju Chacha. These days Kajol is busy with her daughter Nysa, while on the acting front she prefers films with her husband Ajay and will be seen together in forthcoming releases U, Me & Hum and Ramayana. And who can forget the marriage of the millennium between Abhishek Bachchan and former Ms. World as well as the leading heroine of Bollywood, Aishwarya Rai. This marriage had generated unprecedented media coverage due to the popularity and glamour of the couple. The two had earlier been seen together in films like Dhai Akshar Prem Ke, Umrao Jaan and Guru, though apart from the last one, none was commercially successful.
And last but not least, a discussion is compulsory about a film personality, a versatile actor and a multifaceted singer cum music director who had married not one but four actresses in a span of four decades. He is, none other than, the inimitable Kishore Kumar. Kishore had married Ruma Guha Thakurata, a very well known singer and actress from Bengal in 1950, but were divorced in 1958. Then Kishore entered into a very intense romantic affair with the reigning goddess of silver screen Madhubala during the shooting of Chalti Ka Naam Gari and married her in 1961, despite knowing that Madhubala was critically ill. The marriage came to an end with the death of the actress in 1969. The third marriage with Yogita Bali (1976-78) was short-lived, though the final one (1980) with actress Leena Chandraverkar stayed on until the death of this prodigal singer.
Some were eternally successful, some can be considered a fairytale in all respects, and some were average while others were disastrous to say the least, but the marriages of film stars in Bollywood have never lacked any ingredients that make the best of movies.