Our history is replete with innumerable stories of heroism, which will shock one and all. More shocking is the fact that so many such brave tales are not even known popularly. The Battle of Saragarhi is one such story. 10,000 soldiers fighting against a troop of just 21 men – on the story level itself, it's quite intriguing and even exciting. A couple of filmmakers did show interest in this project but for various reasons, these ventures couldn't materialize. Finally, Akshay Kumar along with Dharma Productions and director Anurag Singh made it happen with KESARI. So does KESARI provide ample entertainment and patriotism doses? Or does it fail to stir up the emotions? Let's analyse.
KESARI is the story of valour and bravery. The year is 1897. Hawaldar Ishar Singh (Akshay Kumar) is posted somewhere in the present-day Khyber Pakhtunkhwa in the Sikh regiment. The regiment witnesses a woman about to get killed by a group of Afghan tribesman for not adhering to her marriage. Despite the superior British officer telling him to not get involved, Ishar attacks the Afghans and saves the lady. The British officer is furious and as punishment, Ishar is transferred to Saragarhi Fort, considered as a place where 'nothing happens'. Ishar Singh reaches there and realizes the 20 Sikh soldiers posted in the fort as part of 36th regiment are making merry since they are aware there's no way an emergency or war like situation will ever arise. Ishar attempts to punish them but realizes that they are tough and have a brotherly feeling towards each other. Meanwhile, the various Afghan tribe chiefs unite and decide to attack the Saragarhi Fort and also Fort Gulistan and Fort Lockhart and thus defeat the British. The Afghans are aware that there are a handful of Sikh soldiers in Saragarhi and hence, they would be easily defeated. They begin their march. Ishar Singh and the others in the fort get shocked as around 10,000 tribesman stand outside the gate of the fort and all set to attack. Ishar gets an order from the British to stay put at the fort. They are unable to provide help as the Afghans have cut off all routes to Saragarhi. Ishar asks his regiment that fighting so many people will be fatal and that they can all run away. The soldiers however refuse to escape and chose to fight and die. What happens next forms the rest of the film. Girish Kohli and Anurag Singh's story is interesting and inspirational. Although there has been a television series on this battle, still this episode hasn't got its due. Hence, KESARI is sure to educate viewers on this landmark incident of Indian history. Girish Kohli and Anurag Singh's screenplay is effective for most parts. The first half has some light as well as tense moments. But it is also weak at some places and could have been better written. But the second half is where the writers do a fabulous job. They have written the sequences very simply and hence, viewers will be able to comprehend what's going on. Also, drama is very well infused in war sequences to keep audiences glued to their seats. Girish Kohli and Anurag Singh's dialogues are sharp and also funny at places. Moreover, they are clapworthy and relevant in today's times. Anurag Singh's direction is neat and uncomplicated. The sequences flow very well although in the first half, he could have done a better job. He manages to stir anger towards Afghans among the viewers. Also, the 21 Sikh soldiers are actually fighting on behalf of the British and this angle could have affected the impact. But the director takes care of this aspect nicely. Throughout the second half, one just roots for the 36th regiment and want them to emerge victorious. On the flipside, one wishes the execution was little better at certain points. KESARI has a fine first half and it's mainly utilized for the build-up and to introduce the characters. There are places where one does feel a bit disappointed as the goings-on are not that great. Also, the romantic track is damp squib. But the makers compensate with the introduction sequence, the scene of the hen and with the scene of the Sikhs rebuilding the mosque in the village. The intermission arrives at a great point and it sets the tone for the second half. Post-interval, the film goes on a high with several scenes turning out to be clap and whistle worthy. Films usually suffer from the curse of the second half but KESARI is an exception. The scene where Ishar wears the kesari-coloured turban and arrives in front of the regiment is sure to create a riot! The battle scenes are a treat to watch as the soldiers use clever tactics to eliminate the Afghans. At the same time, the manner in which the soldiers begin to die one by one also affect you emotionally. The climax is sure to give a lump in the throats of the viewers but the makers add a nice heroic angle here that'll surely lift the nationalistic spirits among viewers. Talking of performances, Akshay Kumar delivers an excellent performance. He looks totally in character. Check out his restrained smile when one Sikh soldiers urinates to chide the Afghans! Or of course in the climax when he's down but not out. Yet another spectacular performance from this talented performer! Parineeti Chopra (Jiwani Kaur), credited as special appearance, doesn't contribute much to the film. Her scenes, where she features in Ishar's thoughts, don't add much. Actress Toranj Kayvon (Afghani lady) makes much more impact in comparison. Mir Sarwar (Khan Masud) leaves the maximum mark out of the Afghani tribesmen. Bhawani Muzamil (mysterious sniper) gets to play a badass character and he's quite fun. Rakesh Chaturvedi (Mullah) plays the evil character well. Ashwath Bhatt (Gul Badshah Khan) is decent. From the Sikh soldiers, Surmeet Singh Basra as Gurmukh Singh is the best and has a very crucial part to essay. Vansh Bharadwaj (Lance Naik Chanda Singh) also does a fine job. Music might not have a longer shelf life but works well in the film. The very entertaining 'Sanu Kehndi' is sadly missing from the film. Same goes for 'Ajj Singh Garjega'. 'Deh Shiva' turns out to be the best and used very well. 'Teri Mitti' is quite moving. Raju Singh's background score gives the film a heroic feel.
Anshul Chobey's cinematography is spectacular. The long shots especially are impressive. What also aids the lensman is that the film is shot in some breathtaking locations. Sheetal Sharma's costumes are authentic. Subrata Chakraborty and Amit Ray's production design is a bit unauthentic in the fort scene, especially the exterior shots as it seems fake. But a lot of effort has been done to recreate the bygone era and it proves to be successful on other fronts. Parvez Shaikh and Lawrence Woodward's action is hardcore as per the requirement and is choreographed superbly. Fluiidmask Studios's VFX is praiseworthy. Manish More's editing is razor sharp overall and could have been shorter in the first half. On the whole, KESARI is a brave and inspirational tale of courage and patriotism with the dramatic battle sequence as its USP. At the box office, it will be loved by the classes as well as the masses while the four-day weekend will prove beneficial for the makers. Recommended!
The small town mania that gripped Bollywood in the last decade brought a welcome change. The films became more and more real as they talked about the ground realities and hence more viewers were able to identify with it. Tigmanshu Dhulia's MILAN TALKIES is also an attempt in the same league. It is one film that has being planned since 6-7 years with numerous changes in the cast and even producers. Finally, Dhulia managed to make it last year with Ali Fazal and Shraddha Sainath. So does MILAN TALKIES manage to impress and entertain? Or does it fail in its endeavour? Let's analyse.
MILAN TALKIES is the story of two lovers in a small town. The year is 2010. In Allahabad, Anu Sharma (Ali Fazal) is a small town filmmaker and dreams of becoming a big shot director some day. He funds his films by selling exam papers. Maithili (Shraddha Sainath) approaches him one day as she needs help in passing her examination. It is the pre-requisite by her future in laws before she can tie the knot. Anu agrees and falls in love with her. In fact his racket gets exposed and yet he goes out of the way to help her cheat and pass in the exams. Maithili too begins to love him and they start a romantic relationship. They start to hang out in the projector room of the single screen theatre Milan Talkies since Anu is friends with the projector guy, Usman bhai (Sanjay Mishra). Anu wants to send his father (Tigmanshu Dhulia) to talk to Maithili's father Janardhanan (Ashutosh Rana) for marriage. But Janardhanan is a priest and quite conservative. Hence he detests film industry and those working for it. As a result, he would never agree to the union of Anu and Maithili. With no other option in hand, the lovers decide to elope. However their plan is foiled as Janardhan finds out. He takes the help of local goon Guru Panda (Sikandar Kher) to nab them. Guru is aggressive and hates the idea of courtship. He stops Maithili and fires a shot at Anu. But Anu escapes. Meanwhile the husband-to-be for Maithili refuses to get married to her after the elopement episode. Guru Panda then agrees to get hitched with Maithili. What happens next forms the rest of the film. Tigmanshu Dhulia and Kamal Pandey's story is predictable and done to death. So many films have been made on this subject for years. Tigmanshu Dhulia and Kamal Pandey's screenplay is lacklustre and amateurish. The single screen theatre element gives some scenes a nice touch but it could have been utilised in a better way. Tigmanshu Dhulia and Kamal Pandey's dialogues are simple and sans complaints. Tigmanshu Dhulia's direction is disappointing and how. It's shocking that the filmmaker who gave gripping films like HAASIL [2003], PAAN SINGH TOMAR [2012] and SAHEB BIWI AUR GANGSTER [2011] has made this apology of a film. There's no consistency and direction leaves so many loopholes out in the open. For instance, the film starts in the year 2010 and yet the makers wrongly depict Anti Romeo Squad wrecking havoc when it's a common knowledge that it was formed only in 2017. Also the look and even the quality of opening credits is substandard and again, this is not expected from a filmmaker who has created magic with limited budget in the past. MILAN TALKIES has an extremely haywire beginning. Too much information is fed to the viewers in limited time. It becomes difficult to ascertain what exactly Anu does for a living as he's shooting films, replacing his actors when they get arrested, selling exam papers and even entertaining patrons at Milan Talkies when there's a power cut. Viewers might even mistaken Anu as the owner of Milan Talkies! It's only in the scenes of Anu helping Maithili that the film gets a bit better. The scenes of romance are also engaging. Post interval the story moves three years and one expects some fireworks finally. But that doesn't happen. The idea that Anu made a film with a hidden message for Maithili is extremely silly. Moreover, in a shocking sequence, Anu who is now an established filmmaker is assaulted brutally by Guru Panda in broad daylight. The media covers the incident immediately and yet no arrests are made. The finale is predictable and clichéd.
Performances save the film from becoming an ultimate disaster. Ali Fazal is quite fine and shoulders the responsibility of a lead hero well. Shraddha Srinath has a striking face and a nice screen presence and gives a good performance. Ashutosh Rana is dependable. Sanjay Mishra is adorable. Sikandar Kher hams. Rajiv Gupta (Hariya) genuinely gives his best. Tigmanshu Dhulia the actor does a much better job than Tigmanshu Dhulia the director. Reecha Sinha (Babli), Deepraj Rana and the actors playing Ali Fazal's pals are passable. Music is average and not of chartbuster variety. 'Bakaiti' is catchy followed by 'Mind Na Kariyo Holi Hai'. 'Jobless' is foot tapping. 'Din Dahade' and 'Shart' are disappointing and forced just about anywhere in the film. Dharma Vish's background score is nothing great. Hari Vedantam's cinematography is okay. Dhananjay Mondal's production design is poor. Nishant Khan's action is realistic. Praveen Angre's editing is haphazard. On the whole, MILAN TALKIES is a badly made film and riddled with a clichéd storyline. Avoid!
The parallel cinema movement has been going on since many decades. A lot of well-made films have been made as part of this movement but most of them, due to niche factor, go largely unnoticed. Ritesh Batra's THE LUNCHBOX [2013] however was an exception. It got noticed and even emerged as a commercial success. The way it became a rage in the festival circuit was so significant that even Dharma Productions got associated with it. Now, Ritesh Batra's second Hindi film PHOTOGRAPH is all set to release and it once again seems to be an ode to Mumbai while depicting an unusual love story blossoming slowly. So does PHOTOGRAPH manage to work and be as good as or better than THE LUNCHBOX? Or does it fail in its endeavour? Let's analyse.
PHOTOGRAPH is the story of two people belonging to different strata of society who come together thanks to an unusual circumstance. Rafiq (Nawazuddin Siddiqui) is a photographer at the Gateway of India, Mumbai. He stays in a slum in a small room shared by 3 other people. Rafiq's grandmother (Farrukh Jaffar), based in his village in Uttar Pradesh, is old and is distressed by Rafiq's refusal to get married. She hence stops taking her medicine as a sign of protest. To pacify his grandmother, Rafiq lies to her that he is in a relationship with a girl named Noorie. He even sends her a picture of a girl he claims is Noorie. The picture however is that of Miloni (Sanya Malhotra), a scholar from a Gujarati family. Rafiq had clicked her picture when she got separated from her family when they were at the Gateway Of India. When she saw her family is searching for her, a scared Miloni left taking the photograph and without paying Rafiq for it. Rafiq however is impressed by her innocence and beauty. Miloni meanwhile is extremely happy with the picture that he clicked as she believes that it captured her happiness and contentment like never before. Meanwhile, Rafiq's grandmother is so happy with the news of Rafiq's relationship with Noorie that she comes to Mumbai to meet her. With no other option in hand, Rafiq meets Miloni and persuades her to meet his grandmother once. Miloni agrees and what happens next forms the rest of the film. Ritesh Batra's story is interesting and a bit in THE LUNCHBOX zone. Ritesh Batra's screenplay is engaging at places but falls flat in several scenes. The element of consistency is missing. Ritesh Batra's dialogues are simple and realistic. Ritesh Batra's direction is average. With a bit of a shaky screenplay, ideally his direction should have compensated. But that doesn't happen. A few sequences don't add much to the film and this happens more in the second half. Also the film has some unconvincing moments which the execution is not able to hide well. For instance, the manner in which Miloni is okay with Rafiq stalking her with the former even agreeing to meet the latter's grandmother is difficult to digest. Also, how is she able to find time to meet Rafiq and his grandmother? Is she bunking her classes? If yes, why doesn't the professor (Jim Sarbh) inform her parents or ask her considering that she is the star pupil? If she is not skipping classes, why don't her parents get the hint that she is coming home late, especially considering how strict they are about her education? PHOTOGRAPH begins on a sombre note and viewers will take a while to get into the mood of the film and characters. It's only 20-30 minutes later that the film picks up. A few sequences stand out like Miloni meeting the grandmother for the first time and Miloni asking her maid Rampyaari (Geetanjali Kulkarni) about life in her village. The second half however is too dragging. Scenes of Rafiq buying the soap and comb and thereafter don't work. PHOTOGRAPH is a 110 minutes long fare and ideally it shouldn't have been more than 90 minutes. The entire sequence of Rafiq hunting down the cola manufacturer is quite unique. But nothing much happens with regards to it later. In fact the climax is quite ambiguous and as a result it's a huge downer. The film just ends all of a sudden and even as an open ending, it's unconvincing.
Nawazuddin Siddiqui as always delivers a commendable performance. He is apt as the soft spoken and good natured photographer. Sanya Malhotra however steals the thunder and gives a powerful performance, proving that she is one of the best talents around. She went completely into the skin of her character and looks apt for the part. Farrukh Jafar is likeable. Geetanjali Kulkarni is adorable and her scene with Sanya in the first half is a highlight. Sachin Khedekar (Miloni's father) is passable with most of his dialogues being in Gujarati sans subtitles. Akash Sinha (photographer Baanke) and Saharsh Kumar Shukla are fine and authentic. Jim Sarbh (Professor Anmol) has an interesting look and is okay, performance wise. Vijay Raaz (Tiwari) doesn't add much and his lone sequence is needless. Peter Raeburn's music has a laidback feel just like the film. Ben Kutchins and Timothy Gillis' cinematography is raw and captures Mumbai very well. Neha Kamra's hair and makeup and Niharika Bhasin's costumes are straight out of life, especially in case of Sanya Malhotra. Shruti Gupte's production design is also in sync with the character's strata. John F Lyons's editing is too dragging. Also the intercutting in few scenes seem amateur. On the whole, PHOTOGRAPH is too niche and ambiguous and coupled with the lack of buzz it's chances of success at the box office are slim.
A genre where Bollywood has lagged whereas the Western movie industry has progressed by leaps and bounds is the suspense. When it comes to Hindi cinema, very few such films are made out of which only a handful are memorable. KAHAANI [2012], directed by Sujoy Ghosh, is one of the best films in this category. As a result, the expectations are naturally high for his latest directorial venture, BADLA. What has also added to the curiosity is that it reunites the actors of the much-loved courtroom drama PINK [2016] – Amitabh Bachchan and Taapsee Pannu – and that it is a remake of the much loved Spanish suspense thriller, THE INVISIBLE GUEST. So does BADLA manage to emerge as an entertaining and shocking fare? Or does it fail to entice? Let's analyse.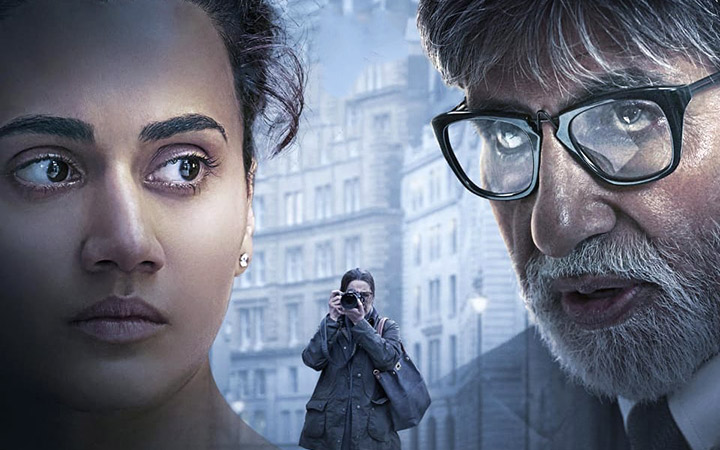 BADLA is the story of a murder accused trying to prove her innocence. Naina Sethi (Taapsee Pannu) is a successful businesswoman in London and married with a daughter. Her life turns around when she's accused of murdering her lover, Arjun Joseph (Tony Luke). All evidences are against Naina since she was the only one in the hotel room where Arjun was killed. She claims a third person was present who carried out the murder and even hurt her on the forehead. But the preliminary investigations revealed that the room was locked from inside. Witnesses outside the room confirmed that nobody came out of the room. Naina's lawyer Jimmy Punjabi (Manav Kaul) realises that it's a tricky situation. Hence he hires expert defence attorney Badal Gupta (Amitabh Bachchan) to ensure she doesn't have to go to jail. Badal reaches the residence of Naina and he begins his own investigation. Upon talking to Naina and insisting that she tell him the truth, a lot of skeletons tumble out of her closet. She reveals that the murder of Arjun has something to do with the disappearance of a young man from a small town of Aviemore named Sunny Kaur. What happens next forms the rest of the film. Oriol Paulo's story (also the original writer of THE INVISIBLE GUEST) is quite impressive and unlike other murder mysteries. Sujoy Ghosh's adapted screenplay tries it's best to do justice to the original film and its plot. A lot of scenes are well written. However the film is complicated in the middle. For a layman, it might be difficult to ascertain what's going on. Moreover, the RASHOMON style of narrative can get a bit heavy on viewers. Sujoy Ghosh and Raj Vasant's dialogues are sharp and witty. A few dialogues however needlessly stretch the narrative. Sujoy Ghosh's direction is exemplary and tries to keep the essence of THE INVISIBLE GUEST alive. There a few loose ends, which were present in the THE INVISIBLE GUEST as well. Yet his direction is such that one won't mind since there's so much happening in the film. Also with the shocking climax, he scores a brownie point. On the flipside, BADLA could have been shorter. THE INVISIBLE GUEST was just 106 minutes long and this one is 14 minutes longer. These extra minutes in this frame-by-frame remake are because of a few dialogues that were not needed. Moreover, Ghosh adds a crucial dialogue in the first half that is a give-away of the film's climax and it's surprising he did so. Also unlike KAHAANI, this film is slightly niche and this could affect its prospects. BADLA's opening credits are quite interesting and slick. The beginning portions of the film are a bit dragging. Too much time is wasted in Badal persuading Naina to part with the truth. It's only when she starts talking that the interest levels increase. The best part of the first half however is Arjun meeting Rani (Amrita Singh) and Nirmal and the shock he gets in their house. The intermission point is interesting as it sets the mood for things to come. Post interval, the film remains engaging but at the same time, it also starts to drop at places. It's only in the last 20 minutes when the tables turn is when it arrests attention. The climax is definitely a bolt from the blue as no one could have seen it coming. But it should have been executed well for a better and more mainstream impact.
Amitabh Bachchan delivers a bravura performance as always. His scenes are only with Taapsee in an enclosed room. But he does it very well and adds to the dramatic and even funny quotient. Taapsee Pannu is exceptional and the way she brings out the various shades of her character to the forefront is praiseworthy. Throughout the film, it'll be difficult to know if she's the victim or not and this is possible majorly through her convincing performance. Amrita Singh is natural and has a crucial part in the film. She proves yet again that she deserves to be seen more. Tony Luke has an accent but that works for his character. Performance wise, he is first rate. Manav Kaul is fine in a small role. Denzil Smith (cop) and the actors playing Sunny Kaur, Naina's husband Sunil are okay. BADLA is a song-less film with only the title song played during the opening credits. Clinton Cerejo's background score is engaging and suits the mood of the film. Avik Mukhopadhyay's cinematography is appropriate and the outside country scenes are well captured. Kaushik Das, Subrata Barik and Paul Rowen's production design is fine although it could have been a bit more realistic in the hotel room scene. Dipika Lal and Anirudh Singh's costumes are spot on. Christian Tinsley and Dominie Till's prosthetics is damn good as it plays a very important part in the film. Sham Kaushal and Alister Mazzotti's action is real. Monisha R Baldawa's editing is sans complaints except for few scenes in the first half and middle of second hour. On the whole, BADLA is a smart and impressive suspense drama with the shocking climax and riveting performances being its USP. At the box office, its prospects might be limited to multiplex audience.
Over the past few years, a little over a decade to be precise, we have seen the Marvel Cinematic Universe take shape. With twenty films already released in the run up to an ultimate climactic ending, each release has taken the story line forward. Now doing just that as well as introducing Marvel's first female lead superhero film is CAPTAIN MARVEL, which is the 21st film in the MCU. But will CAPTAIN MARVEL that comes with immense expectations match up to the previous releases, and more importantly will it lay the foundations of what to expect in the much anticipated AVENGERS: ENDGAME are questions that fans across the globe are asking.
Set in 1995 CAPTAIN MARVEL follows the story of Carol Danvers (Brie Larson) a former U.S. Air Force fighter pilot, as she turns into one of the galaxy's mightiest heroes and joins Starforce, an elite Kree military team, before returning home with questions about her past and identity when Earth is caught in the centre of a galactic conflict between two alien worlds. Will Danvers manage to patch together her past to reveal who she was, will she be able to subvert the Skrull invasion that threatens the existence of humans and earth, and most importantly will she eventually be the one to undo the decimation are questions that make up the rest of the film. Being a film set in the 1990s, CAPTAIN MARVEL begins with detailing existing characters that we have come to know like Nick Fury, Phil Coulson, Korath the Pursuer, and Ronan the Accuser. Said to be set even before the events from the first IRON MAN happened, CAPTAIN MARVEL makes use of Marvel's de-aging technology to bring us a younger Coulson (Clark Gregg), and Nick Fury (Samuel L. Jackson). Right from the outset the viewer is well aware of the fact that like the previous MCU films that have introduced characters, this one too will give viewers a backstory of who Captain Marvel is, where she came from, how she got her powers, and what exactly her powers are. However, a major question that has been plaguing the MCU fan base is the possibility of spoilers that could mar the viewing experience of AVENGERS: ENDGAME. But, rest assured, since Captain Marvel is set in a time when the Avengers never existed, it will be a far cry for spoilers to be visible. That said, we have to admit that directors Anna Boden and Ryan Fleck have done a neat job with CAPTAIN MARVEL. Keeping in line with the previous MCU films this one too does well in detailing a back story for Carol Dancers that gives her role depth and helps develop a connect with the audience. A point that deserves to be mentioned here is that though Danvers suffers from amnesia and is able to remember her past life in glimpses and dreams, the on screen proceedings are never confusing. In fact, Boden and Fleck have blended montages of her past life well into the narrative and give the story progression an easy flow. Coupled with this is the fact that though CAPTAIN MARVEL is an actioner, it does have its share of dramatic and comic moments that are well interspersed into the narrative. Speaking about performances Brie Larson as Carol Danvers aka Captain Marvel does well in her given role. Despite being burdened with the weight of essaying the first ever female superhero character in an MCU film, Larson does a commendable job. Samuel L. Jackson is his usual self as Nick Fury, a role that has now become synonymous with. Ben Mendelshon as Talos/ Keller has similarly done a good job. Though caked in layers of prosthetics for his Skrull look, Mendelshon's acting skills still manage to shine through. Here a mention needs to be made for the stellar job done by the stunt coordinators who have executed the action sequences brilliantly. Coupled with a watertight screenplay and stellar performances, CAPTAIN MARVEL also features a good background score. Keeping in mind the time period the film is set in, the film's directors have done their research in terms of audio. Besides this the directors have also paid detailed attention to the prevalent language and slang of that era. On the whole, CAPTAIN MARVEL, is a thrilling ride that has the right amount of action, drama, and comedy, all rolled together with some fine performances. Despite being the 21st film on the MCU, it still retains that freshness and edge of the seat thrill that is certain to drive viewers berserk. At the box office, the film is expected to do very well, given the high level of anticipation for it.
For most adults, the years spent in college are often considered to be the best part of their lives. It's a time when the fear of the uncertain future always looms over the head but the joy of being with friends makes this period worth it. Nitesh Tiwari, after delivering the monstrous blockbuster DANGAL [2016], is back with CHHICHHORE, which focuses not on just the student part of the character's lives but also on what happens when they have a reunion a couple of decades later. So does CHHICHHORE manage to give viewers an entertaining time and make them go down memory lane? Or does it fail to stir up any emotions whatsoever? Let's analyse.
CHHICHHORE is the story of 'loser' friends trying to become winners and learning some important lessons on the way. Annirudh Pathak aka Anni (Sushant Singh Rajput) is a middle-aged man residing in Mumbai with his son Raghav (Mohammad Samad) after divorcing his wife Maya (Shraddha Kapoor). Raghav is under immense pressure as he has just given the entrance exams for engineering. Both his parents were rankers when they gave the entrance examination. As a result, Raghav is feeling the pressure tremendously. Anni however is confident that he'll make it. Finally, the result is out and sadly, Raghav fails to make the cut. Scared that he'll be labelled a loser all his life, he attempts to commit suicide by jumping from a high rise. He survives but the doctor treating him, Dr Kasbekar (Shishir Sharma) makes it clear that the chances of him recovering are slim. Anni is obviously heartbroken and with no option in hand, he decides to adopt a novel method to ensure that Raghav gets the will to live. He starts narrating him his story as an engineering student in Mumbai's National College of Technology. He's allotted a room in Hostel no 4 aka H4, considered to be the residence of the 'Losers'. At first, Anni is flabbergasted with the kind of characters in H4. But slowly, he becomes good friends with some of them like Gurmeet Singh Dhillon aka Sexa (Varun Sharma), Acid (Navin Polishetty), Sundar aka Mummy (Tushar Pandey), Bevda (Saharsh Kumar Shukla) and Derek (Tahir Raj Bhasin). The number of girls in engineering is negligible and the most popular among them is Maya (Shraddha Kapoor). Anni manages to woo her and they soon start dating. However, Anni and others are still called 'Losers' and there's a reason for it. The General Championship aka GC is a sports tournament that takes place annually in the college. The students of H4 always lose miserably and are the last among the ten hostels. Hence, the 'Loser' tag. Raggie (Prateik Babbar) from H3 is a champion who wants all the winning students from other hostels to be in his hostel so that H3 can win the GC. He invites Anni, since the latter is a basketball champion. But Anni refuses, thereby earning the wrath of Raggie. Anni and others from H4 decide to shed the tag of 'Loser' once and for all by winning the H4. However, the road to the trophy is full of hurdles. Cut to present-day. Raghav's condition stops deteriorating after listening to the story of the 'Losers' but there's no improvement either. What happens next, in the flashback as well as in the present day, forms the rest of the film. Nitesh Tiwari, Piyush Gupta and Nikhil Mehrotra's story is entertaining, moving and has potential. The film is more than what the promos indicate. Nitesh Tiwari, Piyush Gupta and Nikhil Mehrotra's screenplay doesn't exploit the story to its full potential however. Sure they try their best and keep the narrative simplistic without complicating it. They also add humour in adequate doses to appeal to the masses. But it also is a bit superficial especially when it comes to the emotions part. A little more depth in terms of characters, their background etc. was required. Nitesh Tiwari, Piyush Gupta and Nikhil Mehrotra's dialogues are simple but funny and well-worded. One however wishes the writers had written some extremely funny liners for the slogan sequence. This is a scene that could have caused a riot but the end result is decent not extraordinary. Nitesh Tiwari's direction is appropriate for most parts. He deserves praise for the way he goes back and forth with the present day and flashback scenes. Also, in the climax, three scenes are running parallel – one of the chess tournament, one of the relay and one of the basketball match. He merges them very well. On the flipside, he skips some of the details with regards to the characters' lives and that hampers the impact. For instance, viewers never come to know properly what exactly went wrong between Anni and Maya that they had to divorce and why didn't Maya take the custody of Raghav. Except Sexa and Mummy, none of the students' parents are ever shown. As a result, we don't know what kind of families they hail from. Not just that, even in present-day portions, except for Mummy and Sexa to an extent, the other characters' lives are not explored at all. Mummy apparently flies from USA to be with Anni. How did he manage to do so that too immediately remains a question mark. Then there are scenes that are unconvincing like Raghav attentively listening to the story of the 'Losers' but at the same time, we are told that he is critical. Even when his health deteriorates in the pre-climax, he doesn't look medically serious. The 'Losers' or Raggie are never really shown studying and we never come to know how they are faring in the exams. It seems like the reason they have taken admission in the college is simply to win the GC. CHHICHHORE begins on a high note, which nicely depicts the kind of mischief happening in hostels as well as the enmity between H3 and H4. The movie then focuses on Raghav getting tensed over his result. The film drops a bit here but the shocking suicide sequence ups the interest. Soon the flashback portions commence and the interest in the film gets maintained. From here, the film is sans complaints as director Nitesh Tiwari uses the first hour to introduce the characters, the college setting and how much GC means to the students. In the second half, the college portions manage to entertain and even raise laughs. Anni's idea of demotivating the rival teams psychologically is interesting and makes for fun watch. However, it also raises questions since the method is deemed to be too effective in even improving their game, which was very poor in the first place. How that happens is bewildering. The climax is based on an interesting idea of three tracks running simultaneously but goes on for too long. The basketball scenes especially go on and on. The end result of the GC might divide audiences with some not finding it acceptable. However, it is in sync with the film's message. Chhichhore | Public Review | FDFS | Sushant Singh Rajput | Shraddha Kapoor
Performances are exemplary by all. It's great to see that not just the lead actor and actress but the others also get a big chance to shine. Sushant Singh Rajput plays the part with ease and is apt as Anni. He's not playing the typical 'hero' as such and slips into the character and performs accordingly. In the older portions, he's quite good and has modulated his voice a bit which is praiseworthy. Shraddha Kapoor lends able support. Her character sadly doesn't have much to do after a point. The romantic track is very weak and doesn't even get sufficient screen time. And she doesn't look that old as compared to others. Varun Sharma is quite entertaining and will be loved by audiences. He was dull in films like ARJUN PATIALA and KHANDAANI SHAFAKHANA. But in CHHICHHORE, he seems to be in form. He also surprises in the entry scene of the older Sexa. Tahir Raj Bhasin looks dashing and performs very well. The pain and anger in his eyes comes out very well. Naveen Polishetty has a good screen presence and is lovely as the guy with the acidic tongue. Tushar Pandey is fine for the character he plays and adds humor to the proceedings. Saharsh Kumar Shukla has a very late entry but has a brilliant screen presence. In the finale especially, he has a major part to play. Mohammad Samad has his moments. Prateik Babbar leaves a mark as the baddie. Shishir Sharma, Sanjay Goradia (Mummy's father), Rohit Chauhan (Chris Cross), Ranjan Raj (the underweight Abhimanyu Rathod aka Danda) and the actor playing the cook are fine. Pritam's music is in sync with the film's mood but won't have a long shelf life. 'Fikar Not' is the best of the lot as it also reflects the film's message. 'Control' comes next as the situation during which it's played is funny. 'Woh Din' and 'Khairyat' fail to make a mark while 'Kal Ki Hi Baat Hai' is played just for a few seconds. Sameer Uddin's background score is subtle but makes an impact. Amalendu Chaudhary's cinematography is appropriate. The hospital, hostel and sports scenes are well captured. Laxmi Keluskar's production design is good. Mukesh Chhabra's casting deserves praise as all actors fit the bill. The casting of Abhimanyu Rathod is quite nice. Sunil Rodrigues's action is not too gory obviously and works. Rohit Chaturvedi's costumes are authentic. The characters are even shown repeating their clothes in hostel scenes to keep the realism. Preetisheel Singh's prosthetics and character design is overall quite good. But in case of Shraddha Kapoor and Tushar Pandey, it's not very convincing. Charu Shree Roy's editing is slick and the present-day and flashback portions are well woven in the narrative. On the whole, CHHICHHORE is a decent entertainer that has its share of entertaining and touching scenes. At the box office, it will be liked by its target audience – the youth and the families. However it will require a positive word of mouth to sustain and excel.
Sometimes, one film is enough to turn an actor into a nationwide star. BAAHUBALI – THE BEGINNING was one such film. It made Prabhas from a regional star to a pan-India sensation and it's sequel BAAHUBALI 2 – THE CONCLUSION cemented his position as a superstar. Almost 2 ½ years later, this macho actor is now back with SAAHO. While BAAHUBALI was a period drama, SAAHO is a modern-day actioner with a bit of a futuristic setup. The hype is tremendous from East to West, North to South. So does SAAHO live up to all the excitement? Or does it disappoint viewers? Let's analyse.
SAAHO is the story of a mysterious man on a mission. The foreign city of Waaji is ruled by gangsters and criminals and the biggest of them is Roy (Jackie Shroff). He cleverly manages to get the approval of an Indian minister, Ramaswamy (Tanikella Bharani) for a hydro project in India. He then reaches Mumbai and this is where he's killed in a road accident. His son Vishwank (Arun Vijay) then takes over, which angers Devraj (Chunky Panday) as he wants to sit on Roy's throne. Meanwhile the Mumbai crime branch is investigating the death of Roy and other related crimes. The case is handed over to Ashok Chakravarthy (Prabhas), a macho and extremely intelligent officer. He insists that Amritha Nair (Shraddha Kapoor) is also made a part of his team after he gets smitten by her photograph. While scanning the CCTV footage, they come across a mysterious person (Neil Nitin Mukesh) who they believe is a suspect. In the absence of evidence though, he can't be arrested. Ashok however manages to speak to him and finds out that he's hunting for a black box which can be used to access the wealth left by Roy in Waaji. Not just this chap but even Vishwank is trying to find the black box, which is hidden in Mumbai. He sends his associate Kalki (Mandira Bedi) who for some reason secures the box but instead of taking it to Waaji, she deposits it in a bank. When the mysterious person comes to get it, the cops who are already on his trial arrest him. However, the cops get a shock of their lives at this point when they realize they have a mole in their team. The mole runs away with the black box and this baffles not just the police force but also the gangsters of Waaji. What happens next forms the rest of the film. Sujeeth's story is strictly okay but it could have been made for an exciting actioner if the screenplay and direction were upto the mark. Sujeeth's screenplay however spoils the show. Till the first half, it is captivating but then the screenplay is all over the place in the post-interval portions. There are so many villains and moreover, there are so many people double-crossing that it gets confusing for viewers to remember the twists. Abbas Dalal and Hussain Dalal's dialogues are simple but a few one-liners are powerful. Sujeeth's direction is quite weak and it is one of the big reasons why this film fails. A film like SAAHO, mounted on such a huge scale, required the execution by an expert and experienced filmmaker. Sujeeth sadly fails to do justice. The plot is weak but still, the film could have been saved with the execution. Sujeeth fails to do so overall. On the positive side, a few scenes are handled very well. These are mainly in the first half like the entry scenes of Vishwank and Ashok, Devraj threatening his father Prithviraj and of course, the interval point. In the second half, he does very well in a brief part of the climax where three scenes are running parallel – one of Ashok, one of Amrutha and one of Kalki. If he had wisely directed the rest of the film, SAAHO would have been on another level. SAAHO has an average beginning. Too much information is laid out and it takes a while to process it all. The film gets a bit better with Ashok's entry. The investigation carried out by Ashok and his team is quite engaging. Also, the politics played out in Waaji amongst the warring factions makes for a nice watch. The best is however reserved for the pre-interval. The sequence where Kalki's car gets attacked is good. The intermission point comes as a jolt. A part of it is predictable but there are too many twists here and hence, it works since viewers won't be able to guess all the unexpected developments. Post-interval, one expects the film to go on another level but sadly the opposite happens. There is too much chaos, visually and otherwise, and the film ceases to make sense. Yes, the action scenes are spectacular but after a point, the audiences get tired of the overdose. There are more twists in the climax but this time, the viewers don't get very impressed. Saaho | Public Review | FDFS | Shraddha Kapoor | Prabhas
Talking of performances, Prabhas puts up a great show. As per his character, he performs well and would be loved by the masses. His dialogue delivery in Hindi however is a bit weak. Moreover, his character sketch is also a bit flawed – throughout the film, his character is always winning and ahead of his enemies. Initially, it works but then it becomes unconvincing. Shraddha Kapoor is quite lovely and suits the part of the no-nonsense officer very well. She is great in action scenes. Jackie Shroff makes a huge impact in his cameo. Neil Nitin Mukesh is dependable and looks quite dashing. Chunky Panday steps into the villain zone once again after BEGUM JAAN and is appropriate. Arun Vijay oozes fear very well and is apt for the part. Murali Sharma (David) has a crucial part and is decent. Mandira Bedi gives a memorable performance. Tinnu Anand doesn't mouth a single dialogue and yet delivers a fine performance. Mahesh Manjrekar (Prince), Prakash Belawadi (Shinde) and Goswamy (Venella Kishore) are okay. Evelyn Sharma (Aisha) suits her part but her character doesn't have much to do. Jacqueline Fernandez is sizzling in the special song. Music is average. 'Psycho Saiyaan' (changed to 'Kaiko Saiyaan') is the best song of the lot and well shot and choreographed. 'Enni Soni' and 'Baby Won't You Tell Me' are forced in the narrative. 'Bad Boy' is visually quite stunning. Ghibran's background score is a bit loud. In a few places, it overpowers the dialogues. Raju Sundaram and Vaibhavi Merchant's choreography is first-rate. Madhie's cinematography is captivating. A few scenes are captured upside down and make for a great watch. The lensman has also captured Mumbai's birds-eye view beautifully. Kenny Bates, Peng Zhang, Bob Brown, Stefan Richter, Dhilip Shubbarayan, Ram Lakshman, Stunt Silva, Parvez Shaikh and Stunt Jashwa's action is excellent when seen individually. But in the film, a few of them seem needless. A few scenes that work well are Mumbai traffic scuffle (by Stunt Silva), Prabhas's entry (by Peng Zhang) and chase sequence in pre-climax (by Kenny Bates). Sabu Cyril's production design is ambitious and larger-than-life, especially the Waaji city portions. But it doesn't seem authentic. R C Kamalakannan's VFX could have helped in making it look real but it fails at places. Thota Vijay Shankar and Leepakshi Ellawadi's costumes are appealing, especially the ones worn by Prabhas, Shraddha Kapoor and Jacqueline Fernandez in the songs. A Sreekar Prasad's editing adds to the chaos and could have been simpler. On the whole, SAAHO suffers from a lackadaisical script and a vacuous screenplay. At the box-office, it is bound to have a huge start and a good extended weekend due to tremendous hype and the fan following of the lead cast but will face obstacles post the weekend.
Just like how Eid is synonymous with a Salman Khan release, the Independence Day holiday isn't complete without an Akshay Kumar starrer. From 2013 to 2018, he has had a release during this beneficial weekend, barring 2014. 2019 is no exception and this time, he is out with MISSION MANGAL, based on an important chapter of India's history. The mood of the film is also apt, considering that just last month, the Indian Space Research Organisation (ISRO) launched Chandrayaan-2 towards the moon. MISSION MANGAL has all the trappings of a blockbuster. So does it turn out to be as exciting and entertaining as expected? Or does the content fails to entice? Let's analyse.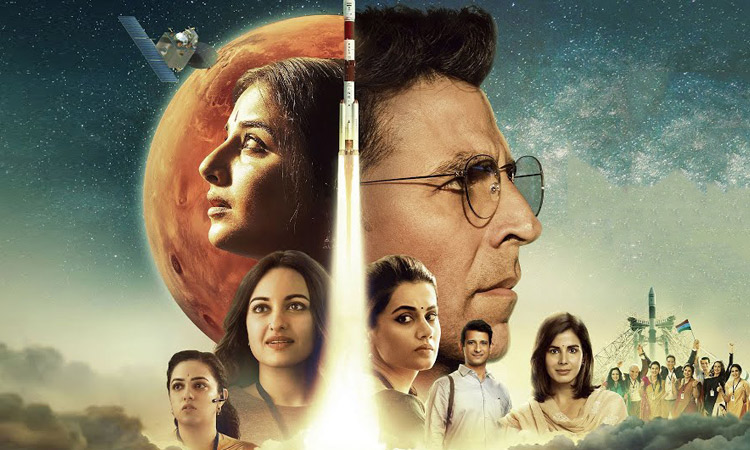 MISSION MANGAL is the incredible true story behind India's mission to Mars. The film begins in 2010. At the Indian Space Research Organisation (ISRO), a space mission under Rakesh Dhawan (Akshay Kumar) fails after Tara Shinde (Vidya Balan) in his team makes an error in judgement. As a punishment posting, he's asked to handle India's Mars program, which is not expected to take off anytime soon. A few days later, Tara while cooking puris in her home has a Eureka moment. She realises that through innovative methods, they can try to get our satellite reach Mars in just two years. She tells Rakesh about the plan and he realises it's a golden opportunity. Rakesh approaches his senior (Vikram Gokhale) for approval who finds the idea unfeasible. Also Rupert Desai (Dalip Tahil) who has come from NASA to join ISRO feels that Rakesh's idea is ridiculous. Rakesh however manages to persuade and begins work. He asks for the best of the men from ISRO for this project. However he's given inexperienced colleagues like Kritika Aggarwal (Taapsee Pannu), Eka Gandhi (Sonakshi Sinha), Varsha Gowda (Nithya Menen), Neha Siddiqui (Kirti Kulhari) and Parmeshwar Naidu (Sharman Joshi) and a very senior employee Ananth Iyer (H G Dattatreya). What happens next forms the rest of the film. Jagan Shakti's story is superb and also very challenging. It's not easy to pen down a mainstream film with such a plot. Also many are not aware of what transpired behind the making of India's Mars mission. Hence it'll be exciting for them to witness the whole journey. Also there are so many twists and turns in the plot that one might not believe that some of the plot points are actually true incidents. R Balki, Jagan Shakti, Nidhi Singh Dharma and Saketh Kondipathi's screenplay not only simplifies the proceedings but also make it massy. The screenplay blends science and entertainment seamlessly. The film's goings on are extremely easy to comprehend. R Balki, Jagan Shakti, Nidhi Singh Dharma and Saketh Kondipathi's dialogues are effective and funny. Jagan Shakti's direction is terrific for a first timer. He had a winning screenplay in his hand and he takes it to another level with his execution. The film has also has subplots of each of the main characters and even these are very well woven in the narrative. And through these tracks too, the makers have made some important comments about religion, parenting, marriage, religious bias etc. and all these contribute to the film hugely. MISSION MANGAL starts off beautifully showing Tara running a house efficiently on the day ISRO has an important launch. Rakesh's entry and the confrontation scene when he's offered Mars program is intriguing as well as entertaining. It also makes it clear that the film won't get serious and that the entertainment quotient will be maintained. The rest of the team is introduced in a quick but interesting montage like sequences and it adds a lot to the film. The first half moves swiftly with no complaints. The second half is longer and the commencing portions are where the film drops. Also to see the team renovating their work station at a time when they are running against time is a bit too much. Thankfully the film soon picks up. The best is obviously reserved for the finale. There are a lot of obstacles faced by the team here and it makes the film even more gripping. The finale is applause worthy.
Mission Mangal | Public Review | FDFS | Akshay Kumar | Vidya Balan | Taapsee Pannu | Sharman Joshi
MISSION MANGAL is embellished with some fine performances. Akshay Kumar is in top form. He gets to play such a splendid role and gets into the skin of his character. And he's very much there throughout the film! The way his character rarely gets serious and makes even serious discussions light and funny is seen to be believed. One of the greatest sequences of the film is when he makes an imaginary call to none other than APJ Abdul Kalam. Vidya Balan dominates most of the first half and suits her character to the T. It's also admirable that she has no qualms playing mother to teenagers. Sonakshi Sinha is lovely and gets to shine. It's great to see how she makes an impact in a supporting role. Taapsee Pannu is also quite efficient and gives her best in the climax. Nithya Menen has a smaller role but it serves as a great debut. Kirti Kulhari manages to score and many would be able to relate to her character's struggles. Sharman Joshi is funny and would surely make viewers smile. H G Dattatreya is adorable and the scene where he teaches Kirti's ex hubby a lesson is too good! Dalip Tahil is appropriate as the pessimist. Sanjay Kapoor (Sunil Shinde) is the surprise of the film. He delivers a fine performance and post interval he goes in another mode that would be greeted with whistles in cinemas! Purab Kohli (Vivek) and Mohd. Zeeshan Ayyub (Rishi) lend able support. Rohan Joshi (Dilip Shinde) is hilarious and even heartening as Vidya Balan's son. Kashmira Pardeshi (Anya Shinde) gets no scope. Vikram Gokhale is decent. Others are also good in their respective parts. Amit Trivedi's music is well interspersed with the proceedings. 'Dil Mein Mars Hai' is entertaining and catchy. 'Shaabaashiyaan' is played at a crucial juncture. Amit Trivedi's background score is engaging. S Ravi Varman's cinematography is quite simple and has the big screen effect. Sandeep Ravade's production design is praiseworthy as it's straight out of life. Debashish Mishra's sound design is also as real as it gets. Sham Kaushal's action is good in the lone action scene inside the metro. Famulus Media and Entertainment's VFX is top class without which the long climax would not have worked so well. Theia Tekchandaney's costumes are appealing yet not too glamorous. Kirti Kolwankar and Maria Tharakan's costumes for Vidya Balan are authentic. Chandan Arora's editing is just perfect as the film neither moves too fast nor drags. On the whole, MISSION MANGAL is engaging and entertaining while being patriotic in its feel. At the box office, it will be accepted whole heartedly by the audiences and has the potential to emerge as Akshay Kumar's highest grosser ever!
Films based on or inspired from true incidents always have an edge, especially if made well. A recent classic example being ARTICLE 15, loosely inspired from Badaun rape case and Una flogging incident, and which became a commercial success. Now Nikkhil Advani attempts to unravel the mystery behind the more-than-a-decade-old Batla House encounter in his flick, also titled BATLA HOUSE. So does BATLA HOUSE give viewers an entertaining and thrilling time? Or does it fail to entice? Let's analyse.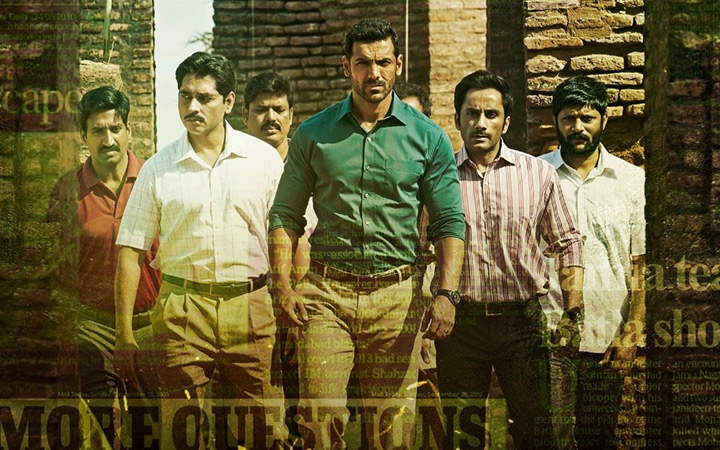 BATLA HOUSE is the story of an upright cop caught in a sticky situation. The year is 2008. The Indian Mujahideen has conducted a series of blasts across the country. Their latest attack is in the capital city, Delhi, on September 13. ACP Sanjay Kumar (John Abraham) is having trouble in his marriage with Nandita (Mrunal Thakur). On September 19, he is informed by his team that the terrorists responsible for this blast are holed up in a flat in L-18, Batla House in the Okhla locality of the city. Before Sanjay could reach the site, his junior officer K K (Ravi Kishan) orders the team to engage with the occupants of the said house. The occupants who are Okhla University students fire at the cops, injuring K K grievously. Sanjay meanwhile reaches and he along with the rest of the police team eliminate the shooters. One of them, Tufail (Alok Pandey) is arrested. Even before the cops could leave, the residents begin raising slogans against the police. Soon, the media and political leaders blame the police for staging a fake encounter. K K on the other hand passes away in hospital. Sanjay meanwhile finds it difficult to prove that he's right and that these residents of Batla House were indeed a part of Indian Mujahideen. He also informs the police department that there were two more guys in the Batla House flat who escaped, one of which is Dilshaad Ahmed (Sahidur Rehman). He escaped to Nizampur, Uttar Pradesh. Sanjay's senior Jayvir (Manish Chaudhari) sternly tells Sanjay not to head to Nimzapur to arrest Dilshaad. Yet, Sanjay defies the orders and heads to nab Dilshaad with his team. In Nizampur, he encounters hostile residents and a leader of a political party who tell him to back off. Yet, he goes ahead and attempts to take Dilshaad back to Delhi. The locals on one hand are baying for his blood. On other hand, Jayvir and other senior cops are slamming Sanjay for his irresponsible action. What happens next forms the rest of the film. Ritesh Shah's story is well researched and gripping. Moreover, it's extremely relevant in today's times. Many might not be aware of this case and how it led to such a huge controversy at that time. Hence, the novelty factor is also there. Ritesh Shah's screenplay is captivating for most parts but is shaky in the first half. The film should have been simpler yet thrilling and devoid of too much of docudrama feel, for a better impact. However, there's no doubt that some scenes are exceptionally scripted. Ritesh Shah's dialogues are acidic and sharp. The one-liners in the climax work very well. Nikkhil Advani's direction is simply brilliant. He understands the material he has in his hand and its sensitive nature. He has handled some scenes deftly and shows his brilliance in the interrogation scene in the first half and later in the courtroom sequences. Also, the Rashomon effect works well here to make the audiences wonder as to which version is correct. However, a few scenes in the first half are not up to the mark. Some scenes might even confuse viewers. For instance, it is bewildering why Sanjay switches off the camera during a crucial interrogation. Thankfully, the plusses outweigh the minuses by a huge margin here. BATLA HOUSE's first half is decent but one misses the overall 'Wow' factor here. The reason behind the straining of relations between Sanjay and Nandita is not explained properly. The encounter is only partly shown and hence, one remains confused as to what exactly transpired between the police and the students. Also, Sanjay's constant hallucination sequences become a little too much after a point. But on the positive side, a few scenes are quite promising. The film picks up in a big way when Sanjay quotes from the Holy Quran while interrogating Tufail. This powerful scene will surely be greeted with claps and whistles and it also proves how vested interests smartly misinterpret religious texts for violent gains. The Nizampur episode is a bit over the top but is quite thrilling. The intermission point also comes at a great moment. Post-interval, the interest levels increase as Sanjay gets determined to nab Dilshaad. The entry of Victoria (Nora Fatehi) adds charm to the film. But the best is reserved for the last 35-40 minutes. The courtroom drama is quite exhilarating and clap worthy. Also, once the entire scenario becomes clear, the film becomes simpler. As a result, audiences would be even more interested once they know the complete picture. Sanjay's monologue at this hour ensures the film ends on a high. Batla House Public Review | John Abraham | Mrunal Thakur | Movie Review | First Day First Show
BATLA HOUSE belongs to John Abraham, without a shred of doubt. He is not just playing a brave, decorated police officer. He also essays the role of a person who is abused and slammed from all quarters. No one wants to know or believe his version of truth. The trauma he faces is brought out beautifully by John. Also, he's first-rate as expected in action scenes and also in dramatic and confrontational sequences. Mrunal Thakur is letdown a bit by the script as the back story is never revealed. But she gives a decent performance. In the second half, she impresses even more as the woman who stands up for her husband. Ravi Kishan leaves a huge mark in a small role. Manish Chaudhari is efficient. Rajesh Sharma (Advocate Shailesh Arya) is quite scathing, as per his character's requirement. Nora Fatehi provides much-needed sizzle in the film. Her character has a small but important role in the film. Alok Pandey and Sahidur Rehman play their respective parts with earnest. Pramod Pathak (Defence counsel P Krishnan) has a late entry but makes an impact. Others also do well. Songs aren't memorable except for of course 'O Saki Saki'. The item song is quite entertaining but it starts off quite suddenly though. 'Rula Diya' and 'Jaako Rakhe' are okay. John Stewart Eduri's background score is subtle yet adds to the impact. Adil Shaikh's choreography in 'O Saki Saki' is visually great. Soumik Mukherjee's cinematography is topnotch. This is especially in the interior scenes of Batla House flat and in the chase sequence in the small town. Priya Suhas's production design is quite realistic. Amin Khatib's action is thrilling and yet not gory or disturbing at all. Maahir Zaveri's editing is razor sharp in many scenes and also stylish. But this kind of editing also affects the impact in some of the scenes in the first half. On the whole, BATLA HOUSE is a powerful saga which is sure to spark off discussions and debates. The relevant plot, watertight screenplay, clapworthy moments and terrific performance by John Abraham makes BATLA HOUSE one of the finest films of the year. At the box office, it will have a promising run. Recommended!
A lesser known film, ANTARDWAND, released in 2010 and sank without a trace. But it stood out from rest of the niche films as it was based on the system of groom kidnappings prevalent in Bihar. Now, newcomer director Prashant Singh attempts to make the idea even more popular with his film, JABARIYA JODI. Unlike ANTARDWAND, which was quite a serious fare, JABARIYA JODI attempts to look at it in a light-hearted manner. Moreover, it stars two known actors – Sidharth Malhotra and Parineeti Chopra. So does JABARIYA JODI entertain and comes across as a respite for its lead actors? Or does it fail in its endeavour? Let's analyse.
JABARIYA JODI is the story of two equals, who come from different worlds. In 2005, two kids – Abhay Singh (Aryan Arora) and Babli Yadav (Gurket Kaur) – fall in love in the Madhopur village in Bihar. But Babli's mother catch them red handed. She and Babli's father Duniya Lal (Sanjay Mishra) decide to leave Madhopur and shift to Patna. Cut to present day. Abhay Singh (Sidharth Malhotra) is now an adult and works with his father Hukum Dev Singh (Jaaved Jaaferi). Abhay's job is to kidnap grooms and get their 'jabariya shaadi' done. Abhay, Hukum and the rest of the gang members believe that they are doing social work with these forced marriages. After all, the bride's father doesn't have to pay dowry in such type of marriages. While getting one such 'jabariya jodi' done, Abhay bumps into Babli (Parineeti Chopra), who is the friend of the bride Shriya (Kirtika Budden). Both recognize each other and sparks fly. For Babli, the timing is just perfect. She has been dumped by a guy for whom she ran away from her house. Abhay too falls for Babli but he also gets apprehensive about the relationship. Moreover, he has political ambitions – he wants to be an MLA and stand for elections next year. Meanwhile, Duniya Lal finds out that she is in love with Abhay. He detests Abhay, since he is a goon and decides to get her married to the supposedly decent and educated fellow, Pappu (Rashul Tandon). But Pappu's parents ask for ridiculously high dowry. With no option in hand, Duniya Lal and his close aide Pathak ji (Neeraj Sood) approach Hukum Dev Singh and request for Babli and Pappu's 'jabariya shaadi'. Babli is told of her marriage but she assumes her father is getting her hitched to Abhay! So she is very glad and happily participating in pre-marriage customs. Abhay meanwhile is sulking as he doesn't want her to get married to anyone else. At this point, the powerful and well-connected Daddan Yadav (Sharad Kapoor) approaches Hukum Dev Singh. He requests him to let go of the deal he made with Duniya Lal since Pappu is his close relative and that he's planning Pappu's wedding somewhere else. In return, Daddan would give Hukum Dev the election ticket from the seat of Gaya. Hukum Dev agrees and he tells Abhay to return the fees given by Duniya Lal at his residence. This is when Babli learns the truth and she is shattered. An angry Babli now decides to do 'jabariya shaadi' with Abhay! What happens next forms the rest of the film. Sanjeev K Jha's story is based on an interesting idea. Many in the country are not aware of 'pakadwa vivah' tradition and the writer succeeds in showing this bit in an entertaining manner. At the same time, he also highlights the downside of such kind of marriages. But the inherent love story is weak and has loose ends. Sanjeev K Jha's screenplay (with additional screenplay by Raaj Shaandilyaa and Neeraj Singh) doesn't really succeed in hiding these minuses. A few scenes are well written and thought of. Also, the writing has the massy vibe. But one wishes the writer and additional screenwriters had done something about the unconvincing plot points. Raaj Shaandilyaa's dialogues (with additional dialogues by Neeraj Singh) are one of the highpoints. The one-liners are sure to be greeted with claps and hooting. In fact, it's a rare film where dialogues help in hiding the goofs of the film. In the emotional scenes, the dialogues work big time. Prashant Singh's direction is very good for a debutant. He understands that the story has a pan-India appeal and executes it appropriately. Also, he keeps the audiences hooked from start to finish without boring them, despite the 144 minutes duration. But he doesn't do much when it comes to unconvincing moments in the movie. The biggest dilemma faced by Abhay Singh in the film is the fear he has that he'll turn like his father and harass his to-be wife and she'll suffer the same fate like her mother (Sheeba Chaddha). This is an important point and should have been explained further. Only the childhood portion shows Hukum Dev Singh indulging in adultery and that he's quite strict. But it's not enough and the director should have tried to explore the dynamics between Hukum Dev and his wife. Also, he allowed the repetition of some sharp dialogues, due to which the impact is not made. Not just that, Hukum Dev's change of heart is too sudden and catches viewers unawares. Lastly, the product placement in the film is too in-your-face and it'll raise laughs. Jabariya Jodi | PUBLIC REVIEW | First Day First Show | Sidharth Malhotra and Parineeti Chopra
JABARIYA JODI starts off on a sweet note, showcasing the love story between two teenagers. The fun continues once adult Babli enters the story and bashes up her boyfriend for not turning up at the railway station. Abhay's introduction too is done in a fun manner. The sidekicks and supporting characters are also quite strong and they also add a lot to the film and its humour quotient. The manner in which Babli is completely oblivious that she is getting married to Pappu and not Abhay is hard to digest. Did no one around her ever even take the groom's name, even as a passing remark? Post-interval portion begins on a promising note as Babli decides to force marry Abhay. The way it's done is pretty hilarious. But soon, the film drops. Thankfully, the action-packed climax, though weak, works and the film ends on a happy and appropriate note. Sidharth Malhotra is in fine form, also look wise as he suits the part. There's a scene where Babli's pals try to kidnap Abhay but get scared the minute they see him. And this bit looks convincing as Sidharth makes Abhay look like someone not to be messed with. But his performance is a bit dry in some scenes. He should have shown a bit more aggression in a few more sequences. Parineeti Chopra does quite better and is just perfect as Babli. In the second half, she gets surprisingly mellow, which seems a bit out of character. But even in this hour, she leaves an impact. The scene where Abhay comes to take away Babli is where she leaves a huge mark. Aparshakti Khurana (Sanku) slips into his part effortlessly. Sanjay Mishra is fair and adds to the humour quotient especially in the scene where he consumes the 'banned' alcohol. Chandan Roy Sanyal (Guddu) is apt for the part. Mohit Baghel (Halla) is quite funny and makes his presence felt. Raashul Tandon goes overboard and yet manages to entertain and raise lot of laughs. Jaaved Jaaferi is decent as the strict father. Sheeba Chadha gets a raw deal. Neeraj Sood has a few funny dialogues but one wishes he had a lengthier role. Sharad Kapoor is strictly okay. Gopal Dutt (Inspector Tiwari) is very good in the cameo role. Aryan Arora and Gurket Kaur are sweet as young Abhay and Babli respectively. Elli AvrRam is sizzling in the item song. Music is not great as it doesn't suit the feel and theme of the film. 'Zilla Hilela' is the only track in the film that matches with the film's setting. 'Khadke Glassy' is also nice but comes in the end credit. 'Dhoonde Akhiyaan' works because of the picturization. 'Khwabfaroshi', 'Ki Honda Pyaar' and 'Macchardani' are disappointing. Joel Crasto's background score is dramatic. Bosco Martis' choreography ('Khadke Glassy') and Adil Shaikh's choreography ('Zilla Hilela') is good. Vishal Sinha's cinematography is fair, with few scenes capturing the small-town India very well. Rajat Poddar's production design is realistic. Malavika Kashikar, Niharika Jolly and Akshay Tyagi's costumes are stylish. But Parineeti Chopra's crop tops seem a bit out of place and doesn't go well considering the film is set in Patna. Vikram Dahiya's action is realistic. Dev Rao Jadhav's editing could have been crisper by a few scenes. On the whole, JABARIYA JODI is a decent entertainer and works because of the novel idea of forced marriages, performances and hilarious and witty dialogues. At the box office, it will do decent business before the Independence Day biggies take over.
The Fast And Furious franchise started way back in 2001. Since then we have seen the franchise evolve from racing to something that includes, heists, spying and of course fast cars. Now two years after the last release in the series THE FATE OF THE FURIOUS hit screens in 2017, we see a spin off feature film in the form of FAST & FURIOUS PRESENTS: HOBBS & SHAW. But will this new action flick woo the Fast and Furious audience or will it like so many other actioners be all glitz and no content is what we analyse.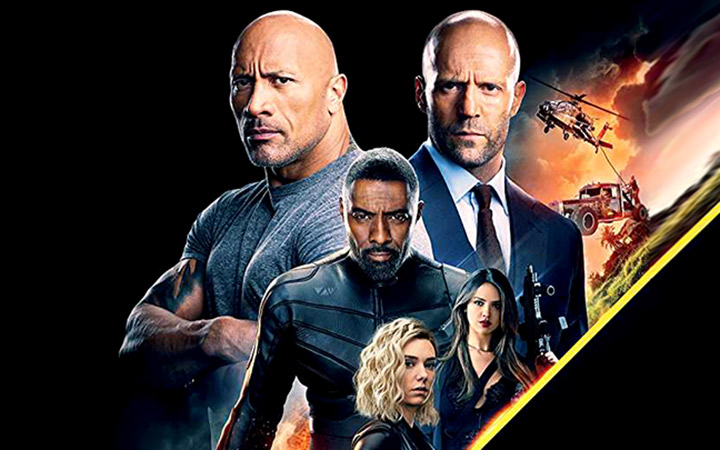 Starting off, FAST & FURIOUS PRESENTS: HOBBS & SHAW is centred around the titular Luke Hobbs (Dwayne Johnson) and Deckard Shaw (Jason Statham), characters introduced in the main series. The film begins with a crew of MI6 agents attempting to retrieve a virus, Snowflake, which can be programmed to decimate millions of people, from terrorist organization Eteon. Brixton Lore (Idris Elba), an Eteon operative with advanced cybernetic implants, arrives and kills all agents except for their leader, Hattie Shaw (Vanessa Kirby), who injects Snowflake into herself as a dormant carrier and escapes. Brixton frames Hattie as a traitor who killed her team and stole Snowflake, forcing her to go on the run. Luke Hobbs and Deckard Shaw are both informed of the missing virus and are assigned to work together reluctantly to track it down. From here on begins a cat and mouse game to save Hattie and the world while keeping the deadly 'Snowflake' out of the wrong hands. Much like the previous FAST & FURIOUS films, this spin off too is an action entertainer that promises edge of the seat stunts, fast cars, and big explosions. While there were initial questions raised whether a spin off on a series like F&F would work and hold the audience's interest, FAST & FURIOUS PRESENTS: HOBBS & SHAW proves that such films if made well, not only keep the audience in their seats but also provides for a fun filled thrilling watch. Director David Leitch, who has in the past proved his mettle with JOHN WICK (2014), ATOMIC BLONDE (2017) and the more recent release DEADPOOL 2 (2018), has done it again. Thanks to a background as a stuntman with professional martial arts training, Leitch is able to execute and shoot some rather difficult action sequences with precision. Keeping in mind the background of the franchise, Leitch has capitalized on characteristic traits of Hobbs and Shaw to develop seamless fight sequences that are well co-ordinated. As for the story of the film, like most action flicks, this one too features a wafer thin plot. However, it isn't the plot that is the film's mainstay; instead it is the eye popping relentless action that is interjected with well-placed humour to break the monotony. Coming to the performances, Dwayne Johnson as Luke Hobbs does what he does best, which is smashing things. Assisting him on this endeavour is Jason Statham as Deckard Shaw who takes the more refined approach as compared to Hobbs' brute force technique to eliminate targets with finesse. Vanessa Kirby as Hattie Shaw does a commendable job and manages to hold her own despite the fact that the film is centred on the characters of Hobbs and Shaw. However it is Idris Elba as Brixton Lore who steals the limelight. A cybernetic enhanced superhuman hybrid, Brixton is capable of feats that push the boundary. Despite having such power, Elba's restrain is clearly evident, thus preventing the film from becoming too over the top. The dialogues, though not much are good in places with well time punch lines that deliver. As for the action, well it is a spin off from the FAST AND FURIOUS franchise, so expect tons of it. Though unlike the previous films in the series, this one features fewer high end cars, skimpily clad women and debauchery, but rest assured David Leitch has done well with the action. Adrenaline pumping, edge of the cliff (quite literally) gasoline fuelled explosions that are sure to satiate your hunger for destruction. On the whole, FAST & FURIOUS PRESENTS: HOBBS & SHAW lives up to the FAST & FURIOUS tag, with insane stunts, high octane action, well timed humour and an entertaining rollercoaster ride that keeps you in your seat. At the box office, the film that releases in four languages, English, Hindi, Tamil and Telugu is expected to open well and will see an increase in footfalls over evening and night shows. With little competition at the box office, FAST & FURIOUS PRESENTS: HOBBS & SHAW looks set to dominate the weekend.
Comedy is an established genre in Bollywood. Since audiences are now ready for hatke stuff, filmmakers are constantly trying to push the boundaries in the existing genres too. This Friday coincidentally sees the release of two such films, although both the movies are as different as chalk and cheese. While JUDGEMENTALL HAI KYA has violent undertones, the other film – ARJUN PATIALA – is like a spoof comedy, on the lines of famous Hollywood films like SCARY MOVIE and DEADPOOL. Bollywood has rarely made such films and one recent film in this space was WELCOME TO NEW YORK [2018]. It was a huge failure in all respects and now its lead actor Diljit Dosanjh appears in another spoof film, ARJUN PATIALA. So does ARJUN PATIALA manage to entertain and emerge as a pioneer of this genre in Bollywood? Or does it fail to entice? Let's analyse.
ARJUN PATIALA is the story of a cop trying to achieve a crime-free district. A struggling director (Abhishek Banerjee) meets a rich third-generation producer (Pankaj Tripathi). After ensuring that the director has put all the necessary 'ingredients' needed for a masala entertainer, the producer allows the narration of the script. The director then starts to tell his story – that of a police officer named Arjun Patiala (Diljit Dosanjh). He becomes a sub-inspector through sports quota and he is posted at Ferozpur Police Station in Punjab. Within a few days, he falls for Ritu Randhawa (Kriti Sanon), an honest reporter working for Tezz News Channel. He is also visited by his senior, DSP Gill (Ronit Roy). Arjun looks up to him since childhood and he is the reason why he decided to be a cop. DSP Gill shares with him his dream of making Ferozpur a crime-free district. Ritu meanwhile helps Arjun in sharing the list of baddies in the area. There's Baldev Rana (Amit Mehra) who is so brash that he even beats up police officers if they come in his way, Sukool (Mohd. Zeeshan Ayyub) who runs a brick kiln, his brother Anda (Sumit Gulati) and finally Dilbaug Singh (Himanshu Kohli) who runs his business from jail and also has haemoglobin problems. Arjun devises a plan – he generates a gang war between them, hoping that they'll all kill each other and hence DSP Gill's dream will be achieved. However, there's also MLA Prapti Makkad (Seema Pahwa) who seems to be the biggest villain of all and also has ulterior motives of her own. What happens next forms the rest of the film. Ritesh Shah and Sandeep Leyzell's story is outdated. The writers had some good ideas but fail to put it together on paper. Ritesh Shah and Sandeep Leyzell's screenplay is shockingly horrible. It's like an apology of a script. The attempt to make a spoof comedy and taking a dig at conventional Bollywood films is something that could have paid dividends. They also had some very funny characters and any other worthy writer would have made a complete laugh riot. Alas, the writers of the film let these characters go waste. They add some dry and beaten-to-death moments and twists. In fact, it's bewildering how this script got approved in the first place. Ritesh Shah and Sandeep Leyzell's dialogues are also dry and fail to evoke laughter. Rohit Jugraj's direction is smooth for most places but with such a poor script, there isn't much he could have done. At a few places however, he rushes through the film and this was avoidable. For instance, it's never properly established why Sukool agrees to bump off other villains in the district. A few more minutes should have been spent in establishing the tensions between the various gangs. If Rohit had done the needful, the end result would have been better but still, the film would have emerged as a disappointment as the content itself is not worth it. ARJUN PATIALA begins on a great note. The manner in which the producer and director converse over the 'masala' script is interesting. The opening credits sequence, a spoof on James Bond style of films, is witty. But soon, one realizes there's nothing much happening in the film. Yes, there are a bunch of villains but they are not utilized properly. In fact, after a point, the film stops being funny. A few scenes are interesting here and there like Sukool assassinating Baldev Rana or the way romance blooms between Arjun and Ritu. But these are few and far between. The twist in the tale in pre-climax is something that one can see from miles away. The finale is hardly funny and reeks of lazy writing. Laugh Riot: Diljit & Kriti's Most Hilarious Rapid Fire | SRK | Hrithik | Kartik | Sara | Deepika | Arjun Patiala
Diljit Dosanjh is apt as the cute and naughty police officer. He genuinely plays his part and tries to rise above the script. Varun Sharma (Onida Singh) is likeable although he's repeating himself now. Kriti Sanon is also sincere and plays the entertaining part well. The sequence where she narrates her tragic part is where she gives her best. Sadly, the makers spoil the show with an animated flashback running below on the screen and it takes away the impact of her performance too. Mohd. Zeeshan Ayyub is the best amongst the villains. He shines and it's sad that such a cool villain won't get his due to the bad script. Ronit Roy fits the part to the T. Seema Pahwa is decent. Amit Mehra, Himanshu Kohli and Sumit Gulati get no scope. Biswapati Sarkar (Editor of Tezz News Channel) is appropriate. Ritesh Shah (Arjun's father) and the actor playing her mother are poor. Sunny Leone (Baby) is sizzling. Pankaj Tripathi and Abhishek Banerjee are the funniest in the film. Sachin-Jigar's music is nothing compared to their previous works. 'Main Deewana Tera' has the chartbuster feel but doesn't have a long shelf life. 'Crazy Habibi vs Decent Munda' is situational. 'Dil Todeya' and 'Sachiya Mohabbatan' are okay. 'Sip Sip' is played during the end credits. Ketan Sodha's background score is theatrical. Sudip Sengupta's cinematography is fine. Parijat Poddar and Shekhar Ujjainwal's production design is a bit television show-like. Vikram Dahiya's action is sans any gore. Veena Kapur Ee's costumes are appealing, especially the ones worn by Kriti. Huzefa Lokhandwala's editing is too quick at places. On the whole, ARJUN PATIALA is a shockingly poor fare, riddled with an outdated and tragic script. At the box office, it will be rejected outright by the cinegoers.
How will you define 'normal' human behaviour? And what is the criteria to be followed by a person that he/she can be considered as 'normal'? We have seen in films like MY NAME IS KHAN [2010], TAARE ZAMEEN PAR [2007] etc. wherein the protagonists' behaviour were such that they stood out and were even ostracized. But still they were special and earned respect in society after a long struggle. Now, writer Kanika Dhillon and director Prakash Kovelamudi bring us JUDGEMENTALL HAI KYA that tackles these issues but unlike the aforementioned films, this flick goes into an unconventional zone with even a murder occurring in the narrative. So does JUDGEMENTALL HAI KYA manage to entertain and thrill the audiences? Or does it fail to make the impact? Let's analyse.
JUDGEMENTALL HAI KYA is the story of a woman with mental issues trying to solve a supposed crime. Bobby Batliwala Grewal (Kangana Ranaut) is an orphan who has lost her parents at a young age. She is partly responsible for their demise. Bobby grows up as a disturbed individual and her grandfather (Lalit Behl) takes care of her. She stays separately from him and works as a dubbing artiste for South films. She is on medication for her mental condition but she doesn't consume her pills. She is in a relationship of sorts with Varun (Hussain Dalal) who is desperate to get physical with her. But she doesn't give him the opportunity. At this point, Bobby gets a new tenant – Keshav (Rajkummar Rao) and his wife Meena (Amyra Dastur). Both are deeply in love with each other. Bobby spies on them and she starts to imagine herself with Keshav. However, she also gets intrigued since Keshav seems mysterious. In front of Meena, he pretends to be a non-smoker and a vegetarian. But Bobby catches him smoking heavily and also relishing chicken. She starts to trouble them and then it reaches a point where Keshav and Meena decide to move to another place. Before that can happen, a gas explosion occurs in their kitchen and Meena dies. The cops (Satish Kaushik, Brijendra Kala) begin their investigation. Bobby makes it categorically clear to them that Keshav has murdered Meena but doesn't have concrete proof. The police officers interrogate Kehsav as well but realize it was a case of accidental death. Hence, they decide to close the case. An enraged Bobby assaults Keshav and she's sent to mental asylum for a brief period of time. Two years later, Bobby seems to be in control. She's started regular medication and her grandfather sends her to her cousin Megha's (Amrita Puri) place in London to help in a stage production on Ramayana. All is going fine when Bobby gets a jolt when she spots Keshav. What happens next forms the rest of the film. Kanika Dhillon's story is unconventional and quite promising and entertaining. Kanika Dhillon's screenplay is interesting but in some parts, she falters. This is particularly in the second half where the film goes into another zone and doesn't seem convincing. She however raises some interesting points on the idea of 'normal' and even draws parallel with Ramayana. Only if all these things had come together well, the impact would have been manifold. Kanika Dhillon's dialogues suit the film, especially the ones mouthed by Kangana. Prakash Kovelamudi's direction is appropriate and he uses his technical knowledge well. The film is very stylishly narrated which goes with its theme and also the title. In a few scenes, he shows his brilliance but goes over the top in the second half's pre-climax especially. Also, a few scenes might seem difficult to digest, particularly the scene where Bobby confronts Keshav. He was treading line with this film and sadly, he trips at places and this affects the impact. Judgemental Hai Kya | PUBLIC REVIEW | First Day First Show | Rajkummar Rao | Kangana Ranaut
JUDGEMENTALL HAI KYA's intro scene shows the disturbed childhood of Bobby in a brief and concise manner. Once Bobby grows up, it takes a while however to get in the film's flow. This is because the character is unconventional and unlike anything that we have seen in Hindi films. Hence her mannerisms, actions, way of living life etc. are not exactly 'normal'. Things get interesting once Keshav and Meena arrive to reside at her place as tenants. Keshav also seems mysterious and the scene where he is fixing the fuse at midnight is quite nicely done. The Lonavala sequence also is funny. But it's when Meena passes away that things begin to heat up. The intermission point is a shocker. Post-interval, the interest level is maintained with some unexpected developments. But this is also the point where bizarre things start happening in the film. One can argue even the first half had its share of bizarre stuff but in the second half, the makers go completely overboard. The film is still unpredictable but the theme and execution will restrict its audience to only multiplexes of urban areas. Performance wise, Kangana Ranaut nails the part. This was probably her most challenging part yet and she delivers as per expectations. Any other actress in her place would have to put a lot of effort and it might have made her performance mechanical. But Kangana slips into the part with ease and takes it to another level. Rajkummar Rao also gets to shine. He's too good as the mysterious Keshav. But he's at his best in these two scenes wherein he begs Bobby to spare him and his wife. Amyra Dastur is cute and plays the supporting part well. Same goes for Amrita Puri. Satish Kaushik and Brijendra Kala are apt for their respective roles. Hussain Dalal is a talent to watch out. He's very funny and adds a lot to the film. Jimmy Sheirgill (Shridhar) is endearing in the special appearance. Lalit Behl is decent. Kanika Dhillon (Sita), also the writer of the film, is stunning and gets to play a fine part in the film. Songs don't really make an impact. The title song stands out but comes at a time when the film turns very bizarre. 'Kis Raste Hai Jana' is okay. 'Wakhra Swag' appears during the end credits. Daniel B George's background score however is way better and is zany just like the film's theme. Pankaj Kumar's cinematography is conventional and yet works in a film like this. Sheetal Sharma's costumes are quite quirky especially the ones worn by Kangana Ranaut and she looks great. In fact, costumes add a lot to her character. Ravi Shrivastav's production design is praiseworthy, especially for the Ramayana play. After's VFX is average and the cockroach shots could have been more realistic. Shweta Venkat's editing (with additional editing by Prashanth Ramachandran and Shieeba Sehgal) is fine. The duration of the film is just 116 minutes and that's a plus point. On the whole, JUDGEMENTALL HAI KYA is a well-made film with powerful performances from both Kangana Ranaut and Rajkummar Rao. At the box office, it will cater mainly to the multiplex frequenting audience.
Years back in 1994 we saw the release of the animated Disney film THE LION KING, which went on to become a cult classic that kids the world over have grown up on. Now, decades on, we see a remake of the film with photorealistic computer animated characters. But will this remake entice the audience or will the film be just another heavy on visual effects extravaganza, is what we analyse.
In the African savanna, the young lion Simba idolizes his father, Mufasa, and longs to succeed him as King of the Pridelands. But not everyone in the kingdom celebrates the new cub's arrival. Scar, Mufasa's brother — and former heir to the throne — has plans of his own. A jealous Scar initiates a coup which results in Mufasa's death and Simba's exile. While in exile Simba grows up in the company of Timon and Pumbaa, a meerkat and warthog pair with a carefree lifestyle. As tensions rise, he is drawn back into a battle with Scar by the friends from his past life. Will Simba take back what is rightfully his is what the rest of the film is about. Starting off since the film is a shot for shot remake of the 1994 animation do not expect differences, though an obvious fact is, more often than not viewers are left waiting for something new to happen. That being said, THE LION KING does not live up to the previous film. In fact, save for the photorealistic computer generated animatronics, little else makes an impression. When compared to the '94 version, this new age visual effects masterpiece only brings in more colour, vividness and life like realism to a story that has since been told a million times over. Sadly, this is not where it ends, instead unlike the previous film, the new LION KING seems lacking the emotional connect. Contrary to what THE JUNGLE BOOK accomplished, THE LION KING fails to establish an emotional rapport with anyone older than a fifth grader. However, it isn't all bad. Once the film begins, viewers are hard pressed to believe that the on screen visuals are not live action, from the way hair and particles move in the wind, to the physics of flowing and still water, the makers of THE LION KING have paid attention to the minutest detail. WOW: Shah Rukh Khan PAIRS UP With Aryan Khan For LION KING | Mufasa | Simba
Coming to the direction, Jon Favreau has quite literally remade the original. A frame to frame copy of the 1994 film, THE LION KING features everything that made the original heart touching and endearing. Retaining James Earl Jones as the voice of Mufasa as homage to the original is something that takes the relatability of the film a notch higher. Sadly though, the rest of the voice over cast leaves a lot to be desired. Chiwetel Ejiofor as Scar to John O Oliver as Zazu, Donald Glover as Simba to Beyonce Knowles Carter as Nala, and Billy Eichner as Timon to Seth Rogen as Pumbaa have each given it their best, but the emotional connect that developed an instant rapport in the first film is sorely missing. Crisp editing, and well executed sequences that resemble the original almost shot for shot without looking repetitive is definitely a high point for Favreau. In terms of music, the background score and the tracks are well, let's just say perfect. Favreau has retained a lot of the original charm in this new age rendition of a classic. On the whole, THE LION KING features nothing new, and is in fact a step down from the original. It will however attract kids and younger audiences. At the Indian box office, the Hindi version of the film may have a better appeal as it features voice-overs by Shah Rukh Khan and his son Aryan Khan.
Overpopulation is one of the biggest ills plaguing the country. The number of people in this country vis-à-vis the education institutes available are fairly disproportionate. As a result, lakhs of students every year have to struggle and study hard in order to get a few thousand seats in elite educational institutes. The problem gets compounded when students belong to low-income groups and hence, their access to fine tutoring at affordable prices is even lesser. Anand Kumar from Bihar came as a godsend for many such aspirants. He gave free coaching to students and guaranteed them a seat in IIT. This feat made him a household name and now Hrithik Roshan is all set to reprise his role in SUPER 30. The film has faced lots of obstacles and also few delays. So does SUPER 30 manage to do justice to the journey of the man and yet manage to entertain? Or does it fail to entice? Let's analyse.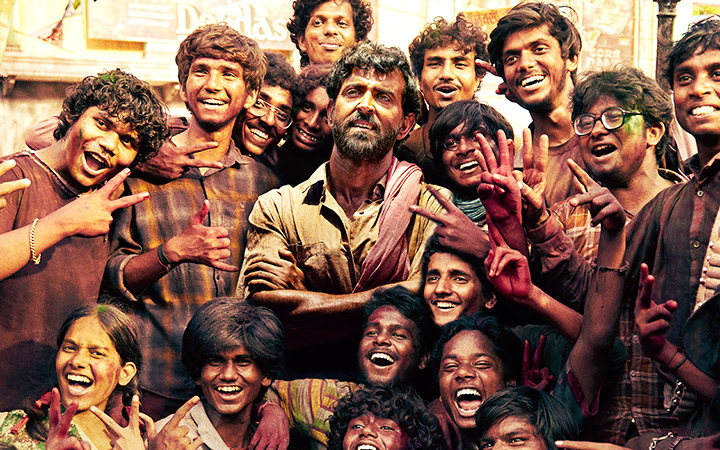 SUPER 30 is the story of a selfless man fighting for the cause of education-for-all. The year is 1996. Anand Kumar (Hrithik Roshan) has completed his graduation and is passionate about mathematics. He's so good in the subject that he is felicitated at the hands of the education minister (Pankaj Tripathi). Anand manages to solve a complex mathematical problem, which has baffled scholars all around the world. His feat lands him a seat in the prestigious Cambridge University. His father Eshwar Kumar (Virendra Saxena) is a postman who takes out his PF to fund Anand's foreign education. When the money falls short, he and Anand knock at the doors of the education minister, who had promised him help. But the minister refuses to help. Meanwhile, Eshwar passes away one day suddenly. He was the only earning member of the family and hence, Anand sheds his ambition and begins selling papad to survive. One day, he bumps into Lallan Singh (Aditya Srivastava) who runs Excellence Coaching Centre, an institute for those giving the IIT-JEE exams. He is aware of Anand's brilliance in mathematics since he was in the college when Anand was felicitated. He gets Anand enrolled in his coaching institute as a premium teacher. Since Anand's teaching methods guarantee success, he becomes quite sought after. Excellence Coaching Centre management even promote themselves by using Anand's picture on their banners. Anand's financial condition also improves as he's even made one of the signatories. However, he soon realizes that some brilliant students aren't getting a fair chance to excel in life because of their underprivileged background. Overnight, Anand quits Excellence Coaching Centre. He starts his own centre, where he decides to teach 30 students for IIT entrance exams for free. Not just that, he even arranges for their accommodation and food. Lallan obviously is livid and he tries his best to persuade Anand. When nothing works, he tries to demotivate Anand, saying that all his students who fail will go back to their impoverished lives. It's important that each and every student of Anand manages to crack the IIT exam. What happens next forms the rest of the film. Sanjeev Dutta's story is decent and has the potential. However, the incidents shown in the film seem too unreal at places. The makers claim it's based on a true story but some of the episodes of the second half seem fictional. Sanjeev Dutta's screenplay is watertight in the first half. There's too much happening but it's all written down well. The writing in the second half is a bit shaky. Also, the writing seems quite dated. The good vs bad battle is something we have witnessed in countless number of films before. Many of the scenes of the baddies are typical of the 90s films especially the manner in which they are plotting to strike against the hero. Sanjeev Dutta's dialogues are acidic and make the right impact. Vikas Bahl's direction is average and could have been better. In the first half, he manages to handle everything well but cracks begin to develop in the second half and it shows. There are several loose ends; for instance, what angered Lallan and the minister so much about the Super 30 programme that they even get ready to eliminate Anand? The funny part is that Vikas hints a bit on the entire education scam. But for a better impact, he should have delved a little bit more on the topic. In the absence of the detailing, it looks quite superficial. Secondly, some characters appear all of a sudden. There's a way of introducing important characters. In SUPER 30, Raghunath (Amit Sadh) and Purshottam (Manav Gohil) suddenly spring out of nowhere and it takes a while to understand who they are and what their relevance to the plot is. Similarly, some major characters vanish without a trace as well, towards the climax. The biggest goof up by Vikas however is in the Holi sequence. It falls completely flat. It also gives one a déjà vu of Vikas Bahl's earlier film, SHAANDAAR [2015]. Even the hospital scene in the end seems stretched. Super 30 | PUBLIC REVIEW | First Day First Show | Hrithik Roshan, Mrunal Thakur | Vikas Bahl
SUPER 30 has an interesting start, depicting Fugga (Vijay Varma) as a kind of narrator who tells the story of Anand to an audience in London. The focus soon shifts to Patna and the beginning portions are not very well directed. But they keep one glued to the screen. A lot happens in the first half – from Anand getting selected for Cambridge to the struggle faced to get funds to his father's demise to becoming rich and famous after being employed at the coaching institute to starting his own centre. Hence, there's never a dull moment in the 75-minute-long first half. The second half begins well and the sequence of the competition between Excellence students and Anand's students is impressive. But then things go downhill, in the Holi sequence. It's bizarre to say the least and the intended message just doesn't come across. The climax too might seem filmy for a section of audience. But it is thrilling and also moving due to which the overall impact is not affected much. The final scene is quite uplifting and is an apt way to end the film. SUPER 30 belongs to Hrithik Roshan, no two doubts on that! He's the soul of the film and the reason why one looks forward to the proceedings despite issues in the second half. He's completely convincing as a Bihari and his accent, clothes, make-up, body language etc. are spot on. He proves yet again why he's one of the most accomplished superstars at present! Mrunal Thakur (Rashmi) suits the part and delivers a decent performance. It's a very small role but has a relevance to the story. Aditya Srivastava is quite good in the villainous role. Pankaj Tripathi is gimmicky. In some scenes, it works but in few places, it doesn't come across as intended. Virendra Saxena is adorable and his character is sure to win hearts. Nandish Singh (Pranav Kumar) is fine as Anand's brother. Amit Sadh (Raghunath) is too good and has a badass look which suits him. Sadly, he's hardly there and this is one character you wish had more screen time. Vijay Varma is entertaining in the intro scene but later on his character's significance will be questioned by the viewers. Rajesh Sharma is wasted and one wonders why his character is even there in the film. Manav Gohil is natural. Karishma Sharma is sizzling in the item song. As for the students, all have done a superb job but the ones who leave an impact are Ghanshyam Kumar (little Fugga), Deepali Gautam (Kusum) and Rahul Raj (Kishore). Ajay-Atul's music is not of chartbuster variety and one wishes the film had one chartbuster, theme-like song. 'Jugraafiya' is the best of the lot. 'Paisa' is situational. 'Question Mark' seems like a good idea on paper but execution is weak. 'Niyam Ho' is played at a crucial juncture. 'Basanti No Dance' is horrible. Ajay-Atul's background score is a bit loud but correctly makes the impact. Anay Goswamy's cinematography is appropriate. Allan Amin's action is realistic and is not over the top. Amit Ray and Subrata Chakraborty's production design is quite real. Subodh Srivastava and Niharika Bhasin Khan's costumes are straight out of life. None of the characters look glamorous by any angle. Vikram Gaikwad's make-up is praiseworthy, especially in the case of Hrithik. Mukesh Chhabra's casting deserves applause, in the case of the casting of students particularly. Sreekar Prasad's editing is disjointed and from an editor of such a calibre, a better job was expected. On the whole, SUPER 30 has a fine first half but goes downhill in the second hour. Yet, the impact is made due to the high emotional quotient and also thanks to Hrithik Roshan's superlative performance. At the box office, it will require a good word of mouth to rein in the footfalls.