Last month, during the promotions of his flick MISSION MANGAL, Akshay Kumar made a startling revelation. He said that he believes that success depends on 70% luck and 30% hard work. His statement surprised many but the fact is that many around the world of different nationalists, communities and even class believe a lot in luck and the concept of lucky charm. No wonder, the business of numerologists and astrologists is thriving. Anuja Chauhan's novel 'The Zoya Factor' tackles this idea and it was written so well that it became a bestseller. The rights were soon picked by Shah Rukh Khan's Red Chillies Entertainment but the production house failed to make the film within the stipulated period. Aarrti Shetty and Pooja Shetty Deora then bagged the rights and turned the novel into celluloid, while keeping the title of the film the same as the book. So does THE ZOYA FACTOR turn out to be as entertaining as the novel? Or does it fail to impress? Let's analyse.
THE ZOYA FACTOR is the story of a girl who considers herself unlucky but is the lucky charm for the country. Zoya Solanki (Sonam K Ahuja) is born on June 25, 1983, the day India won the 1983 Cricket World Cup final. Her father Vijayandra Singh Solanki (Sanjay Kapoor) declares that she'll prove beneficial for the cricket team, having born on such an auspicious occasion. While growing up, Zoya indeed turns out to be a lucky charm for Vijayandra and her brother Zorawar (Sikandar Kher) when they used to play Gully Cricket. As an adult, Zoya however considers herself unlucky. The madness that her family members have for cricket makes her dislike the sport. She works as junior copywriter at an ad agency called AWB and is constantly making mistakes, much to the annoyance of her boss Monita (Koel Purie). Monita sends Zoya on ad campaign comprising of the Indian cricket team in Sri Lanka and warns not to make an error in what she calls a small, simple shoot. Zoya reaches Sri Lanka and becomes friends with Nikhil Khoda (Dulquer Salmaan), the captain of the Indian team. This is a time when the players have lost back to back matches. The World Cup is just a month away and the pressure is killing them. On the day of their match in Sri Lanka, Nikhil invites Zoya to have breakfast with the players. Here, Zoya casually mentions about her date of birth and lucky charm bit. On that day, India miraculously wins the match. The players realise that she is indeed a lucky charm. They make flimsy pretext to stop her from going back to India and try to get her to have breakfast with them for the next match. As expected, they win again. Nikhil however doesn't believe in luck and The Zoya Factor and feels that it's hard work that works. Yet he can't help but fall for Zoya who too is in love with him. Meanwhile, the Indian Cricket Board's Jogpal Lohia (Manu Rishi Chadha) comes to know about Zoya. He approaches her with an offer – dine with the boys in blue before every World Cup match and get paid Rs 1 crore! Zoya however refuses the offer. Jogpal realises that they need Zoya anyhow and hence, they hand over the World Cup campaign to AWB with instructions that Zoya should be leading it. Jogpal is also aided in this plan by his nephew Robin (Angad Bedi) who is also in the team and is Nikhil's rival. He wants to see Nikhil being removed from captaincy and he uses Zoya for his ulterior motive. What happens next forms the rest of the film. THE ZOYA FACTOR is based on the novel by the same name by Anuja Chauhan. The story has a lot of promise and is also relatable. A lot of people believe in luck as well as are cricket fans and hence in a country like ours, such a story can connect with the viewers. Pradhuman Singh Mall and Neha Sharma's screenplay (with additional screenplay by Anuja Chauhan) is effective for most parts. They don't make the film too emotional even at a single point. The idea is to keep the film light and entertaining from start to finish. In a way, it's great but at the same time, the film misses the emotional touch. Pradhuman Singh Mall and Anuja Chauhan's dialogues are very witty and contribute a lot to the laughter. The dialogues mouthed by the commentator are sure to be loved by audiences. The Zoya Factor Public Review | Sonam Kapoor Ahuja | Dulquer Salmaan | Abhishek Sharma | FDFS
Abhishek Sharma's direction is decent. He has handled some scenes with élan but there were also scenes where he really rushed through the proceedings. But the creativity of his execution comes through in several sequences. The scene where it rains is one such sequence – the focus is on Nikhil returning to the pavilion while Zoya could be seen on the giant screen in the foreground. Also, he has used subtle hints to show that the film is set 9 or 10 years back. This is evident through the use of old mobile phones. The idea to not base THE ZOYA FACTOR in 2018 or 2019 makes sense as Zoya's age is supposed to be not more than 26 or 27. Moreover, the product placements can be an eyesore in most films but here, it's like an integral part of the film. The Cadbury Silk TVC, for example, is well woven into the narrative. THE ZOYA FACTOR has a very impressive commencement that gives an idea about the cricket and luck elements of the film. Shah Rukh Khan's witty narration and the animated sequence adds to the fun. The initial scenes of Zoya are okay but the film gets better once she reaches Sri Lanka and interacts with the Indian team. The romantic track also has its moments. Two scenes stand out here – Zoya's interaction with Nikhil in the elevator and Nikhil meeting Zoya's family and family friends. Post-interval, the film slips a bit. Also, the film seems too quick at places. The World Cup sequence in the pre-climax and climax however revives the interest. The performances are great by all actors. Sonam K Ahuja suits the part to the T. One can't imagine anyone else for this role and she does total justice, whether in the scenes of her being love struck or acting pricey or even acting mature and giving out some important lessons to Nikhil in times of need. Dulquer Salmaan is super-dashing but he also gets his act right. He's totally into his character and convincingly seems the captain of the team. Angad Bedi gets a great part and also screen space and is fine as the baddie. Sikander Kher is the surprise of the film. His role might remind one of Prateik's character in JAANE TU YA JAANE NA [2008] but his part stands out and Sikandar ensures that happens. One of his best scenes is when he offers tea to the very protestors who have come to vandalize his house! Sanjay Kapoor is a natural. Manu Rishi Chadha is fine and it's good that he doesn't overdo the lisping bit. Koel Purie is strictly okay. Pooja Bhamrrah (Sonali) looks quite glamorous and plays the supporting part well. From the other crickets, the ones who leave the mark are Abhilash Chaudhary (Shivi), Gandharv Dewan (Harry) and Sachin Deshpande (Lakhi). Shankar-Ehsaan-Loy's music is in sync with the film's mood. 'Lucky Charm' is the best of the lot followed by 'Kaash' and 'Maheroo'. 'Pepsi Ki Kasam' is played in the end credits. Indrajit Sharma and Parikshit Sharma's background score (with additional background score by Kingshuk Charavarty) is dramatic and adds to the fun. Manoj Lobo's cinematography is suitable and the lensman does a good job in the cricket scenes especially. Theia Tekchandaney, Abhilasha Devnani and Gayatri Thadani's costumes are very appealing. The ones worn by Sonam especially are too good which was expected. Rajat Poddar's production design is rich. After Studios' VFX is quite good, although it's a bit poor in some scenes. But overall, it's a good job considering that quite a many scenes are shot against the green screen. Utsav Bhagat's editing gives the film a pacy feel but some scenes could have had a bit of slow, slow-motion effect especially in the finale. On the whole, THE ZOYA FACTOR is a feel-good popcorn entertainer that works chiefly due to concept, treatment, humour and performances. At the box office, it has the potential to grow dramatically due to a good word of mouth.
Over the years, Ayushmann Khurrana has become nothing short of a brand. He attained success with quirky and urban comedies. Last year, he surprised as he switched gears with ANDHADHUN, a thriller black comedy and earlier this year with ARTICLE 15, a no-nonsense crime drama. Now this talented actor will be seen in DREAM GIRL, a thorough commercial fare, his first ever. The trailers and songs have done the trick and the film is carrying a lot of expectations. So does DREAM GIRL turn out to be a well-made entertainer? Or does it fail? Let's analyse.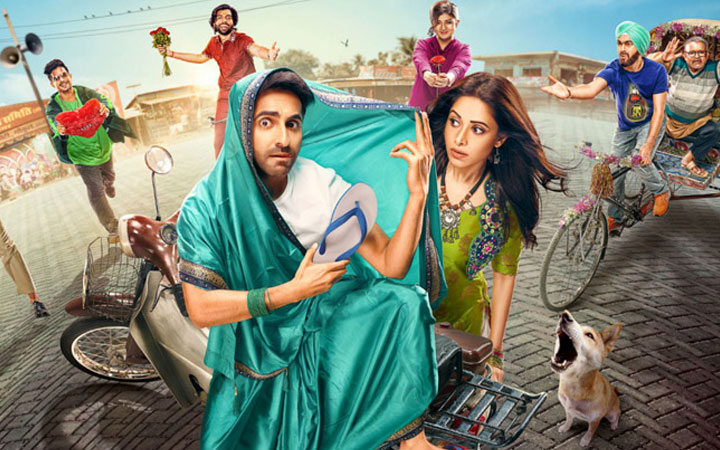 DREAM GIRL is the story of a man masquerading as a woman to earn his living. Karamvir aka Karm (Ayushmann Khurrana) is an unemployed youth in Mathura who is desperately looking for a job. His father Jagjeet (Annu Kapoor) runs a shop that sells funeral items and has taken a huge loan. The recovery agents have been harassing him over unpaid dues. Karm is known locally for playing female roles in plays and Jagjeet detests this side of Karm. One day while returning home from an unsatisfactory job interview, Karm comes across an advertisement for a call centre job. Karm reaches the venue and is surprised to know that it's a Friendship club involving women calling men and talking seductively with them. The owner of this place, W Ji (Rajesh Sharma) however hires Karm when he realises that Karm can talk like a women very convincingly. Karm gets the job and he turns into Pooja. Karm does so well in his work that W Ji pays him handsomely and even gifts him a car. Meanwhile Karm falls in love with Mahi (Nushrat Bharucha) and both get engaged. Once Karm repays the loan of his father and gets settled in life, he realises he no longer wants to be Pooja. But W threatens Karm that he'll tell his father, Mahi and everybody in the neighborhood about how he seduces men daily by assuming Pooja's identity. Karm hence continues his work. He also realises that he is in for a bigger problem as four of his customers – Mahendar (Abhishek Banerjee), coincidentally his to be brother in law, a hot headed teenager Toto (Raj Bhansali), a cop-cum-shayar Rajpal (Vijay Raaz) and a man-hating journalist Roma (Nidhi Bisht) are crazily in love with him or should we say with Pooja. If this is not enough, Karm's father Jagjeet too starts talking to Pooja and wants to marry her. What happens next forms the rest of the film. Nirmaan D Singh and Raaj Shaandilyaa's story is excellent and it has a very wide appeal. It is reminiscent of the 90s David Dhawan, Govinda comedies. Hence there's also a nostalgia value attached to the plot. Incidentally the manner in which Karm hides his real profession from his near and dear ones gives one a déjà vu of Ayushmann Khurrana's debut flick VICKY DONOR (2012). Nirmaan D Singh and Raaj Shaandilyaa's screenplay is terrific as the writing packs in so much in 132 minutes. Often, great idea goes kaput at the screenplay level. In case of DREAM GIRL, the screenplay enhances the winning plot. Raaj Shaandilyaa's dialogues further add to the fun and madness. The one liners are so smart and naughty that viewers will be amazed with the writer's wittiness. Raaj Shaandilyaa's direction is superb, especially considering that it is his first film. He handles the man-talking-in-woman's-voice bit very nicely. He also has a bit of an experience since he has scripted Kapil Sharma's show which involves drag acts for laughter. But in this case, Raaj is not only writing but also executing the content and in all departments, he shines. It's a bit slow in the beginning of the second half and some of the references to religion might not be liked by a few. But these are minor cons. What's also praiseworthy is that he makes an important comment about loneliness in the society that drives so many men (and women) to resort to a Pooja. Nushrat Bharucha: "Ayushmann is Very SMART Person But He Is…"| Kartik Aaryan | Dream Girl
DREAM GIRL begins with a bang and makes it clear that it is laced with some smart writing and smooth direction. Not much time is wasted and in no time, Karm turns into Pooja and begins the seductive game on call. The romantic track is not that exciting but has its moments and keeps the interest going. The intermission point is a big surprise. Post interval the film drops initially. But it goes on a high when Jagjeet goes crazy over Pooja and goes to insane lengths. This bit is going to bring the house down! The climax is a bit serious but works well. DREAM GIRL is embellished with some fine performances and Ayushmann Khurrana shines the most. This is his most massy role yet and he hasn't done such a part before. But he slips into his character effortlessly. He also sheds his inhibition beautifully. To see him emoting and dancing like a woman while talking like Pooja is a joy to witness on screen. DREAM GIRL will go a long way in getting mass acceptance for Ayushmann. Nushrat Bharucha has lesser screen time but makes her presence felt. Annu Kapoor raises maximum laughs among all the lovers of Pooja. Initially he doesn't make an impact but in the second half, he's a riot. Vijay Raaz comes next. His part is adorable and is sure to chuckle audiences with his shayaris and comic timing. Nidhi Bisht is apt for the part and she also has a unique background score reserved for her. Raj Bhansali is effective. Manjot Singh (Smiley) is too good as the sidekick. Abhishek Banerjee gets a bit overpowered by so many actors around but is good nevertheless. Neha Saraf (Chandrakanta) makes an impact as Vijay Raaz's wife. Neela Mulherkar (Mahi's grandmother) is very funny. Rajesh Sharma is as good. Meet Bros' music is foot tapping and suits the narrative. 'Radhe Radhe' is grand and makes for a great watch. 'Dil Ka Telephone' is the best of the lot and very well placed. 'Ik Mulaqaat' looks a bit forced but is soulful. 'Gat Gat' is played in the end credits. 'Dhagala Lagali' is missing in the film. Abhishek Arora's background score has the massy feel. Aseem Mishra's cinematography is decent. Rajat Poddar's production design is a bit daily soap like but doesn't affect the impact. Niharika Bhasin's costumes are appealing and realistic. Hemal Kothari's editing is just right. On the whole, DREAM GIRL is a laugh-a-minute-riot that fulfills all the expectations. At the box office, it has the chances of scoring big time with its target audience and is likely to enter the 100 crore club.
The #MeToo movement took off in a big way in 2017 in Hollywood after well-known producer Harvey Weinstein's sexual harassment episodes became public. It reached India a year later and became a huge social movement. Although the movement made people aware of some genuine cases, it also came to light that some of the allegations were false or were made with ulterior motives. The latest film SECTION 375 is inspired from cases of this nature and expects to make a hard-hitting point. So does SECTION 375 manage to succeed in its endeavour? Or does it fail to impress? Let's analyse.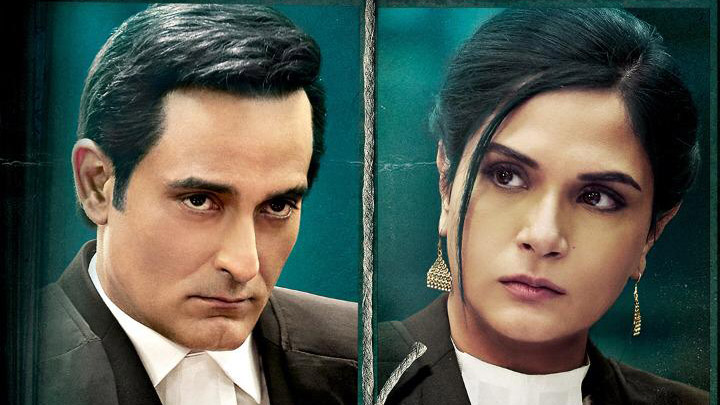 SECTION 375 is the story of a filmmaker accused of rape. Anjali Dangle (Meera Chopra) is a junior costume designer on a film set. She's told to go to director Rohan Khurana's (Rahul Bhat) residence to show him the costumes. When she reaches the house, Rohan and the house maid are present. Rohan sends the maid out of the house on some pretext and then forces himself on Anjali. Anjali reaches her house and tells her family that Rohan raped her. The same evening, Rohan is arrested from his film set. The Sessions Court finds Rohan guilty and sentences him to ten years of rigorous imprisonment. Rohan's wife Kainaaz (Shriswara) approaches famous criminal lawyer Tarun Saluja (Akshaye Khanna) to file the case in the Bombay High Court. Tarun goes through Rohan's file and realizes that the Sessions Court verdict was unfair. The case gets accepted in the High Court and the trial begins. Tarun's ex-protégé Hiral Gandhi (Richa Chadha) is the public prosecutor and Anjali's lawyer. As the case begins, a lot of unknown and intentionally hidden details tumble out. What seemed like an open and shut case of rape turns out to be murkier than expected. What happens next forms the rest of the story. Manish Gupta's story has tremendous potential and is the need of the hour. It is also quite relevant in today's times. Manish Gupta's screenplay (with additional screenplay by Ajay Bahl) is quite effective for most parts. The film gets a bit technical but will be easy to comprehend for its target multiplex audience. Manish Gupta's dialogues (with additional dialogues by Ajay Bahl) are quite acidic and sharp. However, at places, there are far too many English dialogues. Ajay Bahl's direction is quite apt. He captivates the viewers with his storytelling and doesn't lose their attention even once in the 120 minute duration. Also, he presents both sides quite nicely and convincingly. This is a courtroom drama but like conventional Bollywood films in this genre, the film is not made in a dramatic fashion. Yes, a lot is happening in the film but it is all done a bit more realistically. On the flipside, the second half is where the film drops a bit. One expects a film with so many unpredictable moments to end with a bang. Sadly, that doesn't happen. Also, it's bewildering why Hiral, who used to shout 'Objection' each time Tarun would present anything or make an attention grabbing statement, doesn't react at all when Tarun explains to the court how Anjali got the injury marks on her inner thighs. Except for Tarun, the private lives of Hiral and Anjali are never shown and it takes away the impact to an extent. SECTION 375 begins on a fine note. Tarun Saluja explaining the concept of justice and law by giving the instance of the 2012 Nirbhaya gang rape case makes for a strong point and it also indicates what is to follow. The scene where Anjali meets Rohan in his house and the alleged rape happens is quite smartly executed and only a part of it is shown to keep the unpredictably going. This is followed by probably the most gut wrenching scene of the film – the medical officer asking the gory details of rape to Anjali quite nonchalantly, in front of her mother. And also, the said medical officer is a male! The film obviously goes on a high once the trial begins. The manner in which it comes to light that the investigating police officer Milind Kasle (Shrikant Yadav) did an extremely shoddy job is bound to shock viewers. Post-interval, the interest is maintained as many more details pour out in the courtroom. The finale however lacks punch. Also, the verdict announced in the end might leave viewers divided. "Aamir Khan Will Make a Good Politician": Akshaye Khanna | Rapid Fire | Section 375
Akshaye Khanna takes the cake when it comes to performances. Other actors also do well but Akshaye leaves a very strong impact. Whether it's his dialogue delivery or his interrogating style in the court or his shrewd smile when confronted by the judges or Hiral, Akshaye's performance is spot-on. Richa Chadha is very good as the no-nonsense lawyer whose idea of justice differs from that of Akshaye's character. One of her heartening scenes is when Hiral is discussing about her partner and sharing her meal with her 'rival' Tarun. Rahul Bhat gets into the skin of his character. He's too good in the beginning scene when he comes on the set and blasts everyone. Meera Chopra has very few dialogues initially but in the second half, she has a crucial part and does well. Krutika Desai (Justice Bhaskar) is good while Kishore Kadam (Justice Madgaonkar) is very impressive in his part. The latter also contributes to the laughter quotient. Shriswara speaks a lot through her silences and makes her presence felt. Shrikant Yadav is too good. His less-than-a-minute-conversation with Richa after he messes up in the court is memorable. Same goes Dibyendu Bhattacharya – his performance takes one of the most important scenes to another level. Sandhya Mridul (Shilpa) is lovely in the special appearance. SECTION 375 is a songless film. Clinton Cerejo's background score however is subtle and dramatic. Sudhir K Chaudhary's cinematography is quite appropriate. The alleged rape sequence is shot well in different angles and the perspective changes with each angle. And he also makes use of some hand-held, zoomed-in shots that also helps with the impact. Nilesh Wagh's production design is decent. Ameira Punvani's costumes are realistic. Praveen Angre's editing is crisp. On the whole, SECTION 375 is a hard-hitting courtroom drama that raises some important points. At the box office, it has the potential to grow significantly in multiplexes once the word of mouth spreads among its target audience.
Video games are an inherent part of the lives of many. In today's times, it's not uncommon to see people playing games on their smartphones as a stressbuster or as a hobby for long hours. Hollywood has made films where these games are the USP like JUMANJI: WELCOME TO THE JUNGLE [2017], READY PLAYER ONE [2018], WRECK-IT RALPH [2012] etc. When it comes to Bollywood, apart from RA.ONE [2011], no other film has had this element. Now GAME OVER attempts to get into this space. This is a dubbed Hindi film and is originally shot in Tamil and Telugu. So does GAME OVER manage to give viewers a thrilling time? Or does it fail? Let's analyse.
GAME OVER is the story of gamer fighting demons inside her and also in the outside world. In December 2017, in Sector 101 in Gurugram, a young girl named Amrutha (Sanchana Natarajan) is stalked by an unknown killer while she's enjoying her meal in her house, all alone. Sometime later, the killer enters her house, assaults her and takes her out of the house in a football field. Here, he beheads her and sets her body on fire. A year later, Sapna (Taapsee Pannu), who stays in Dhankot in Gurugram is having a traumatic time. She is a video game designer and a video game addict who stays alone in a palatial house along with her house help Kalamma (Vinodhini Vaidyanathan). A couple of weeks after Amrutha was murdered, Sapna too had a harrowing time, on New Year's Eve, when she was raped and the whole act was filmed. With December 31 approaching, she begins to have panic attacks. Since the rape, she has not been able to stay in darkness for more than few seconds. In the midst, she begins to face a new problem. She has a game-centric tattoo on her wrist and it begins to ache badly. Before going to the skin specialist, she goes to the tattoo artist Varsha (Ramya Subramanian) to check if it's something to do with the tattoo. Varsha hesitatingly informs her that she had mistakenly put a memorial tattoo on Sapna. Meaning, a small amount of ash, of Amrutha, was mixed in the tattoo ink. It was to be used for the tattoo of Amrutha's mother Dr. Reema (Parvathi T) but by mistake, it was applied on Sapna. Sapna is obviously aghast on knowing this information. She attempts to kill herself but survives. After a meeting with Dr. Reema and knowing the kind of fighter Amrutha was, Sapna decides to start life afresh. At this point, however, the killer who killed Amrutha begins to stalk Sapna. On December 31, he decides to murder her. What happens next forms the rest of the film. Ashwin Saravanan and Kaavya Ramkumar's story is a bhel puri of various aspects. The film touches upon trauma faced by rape survivors, cancer survivors, serial killing, video game addiction etc. And it's not stitched together well. Ashwin Saravanan and Kaavya Ramkumar's screenplay gets affected because of the poor and random storyline. The second half is better and though it reminds one of JUMANJI: WELCOME TO THE JUNGLE, it manages to engage a bit. Shruti Madan's dialogues are nothing great and the ones by Vinodhini Vaidyanathan could have been better written. Ashwin Saravanan's direction is nothing great. Though he understands the technicalities, he fails to do justice to the overall plot and that's not surprising since the writing itself is flawed. A few scenes are quite engaging with one sequence in the second half guaranteed to give viewers a jolt. But he should have made the narrative simpler and not culminated the film on such an abrupt note. Moreover, the loose ends in the film are way too many.
GAME OVER's biggest problem is that it is dubbed in Hindi. When the makers were shooting it in two Southern languages already, they should have also shot it in Hindi especially since lead actress Taapsee Pannu is a popular face in Bollywood. The film has been shot in South but the makers attempt to pass it off as Gurugram and it just doesn't work. Not just the exterior settings, even the interiors are not convincing. What exactly does Sapna do for a living that she's able to afford such a huge bungalow? Despite having such a vast place, Sapna doesn't have her own bedroom and sleeps on the sofa in what seems to be the room where she works. No explanations given! In fact, a lot of things are left unexplained till the very end and it really dilutes the impact. The entire rape episode is never properly touched upon. The serial killer bit too is not properly dealt with. Moreover, the film's genre keeps changing. It starts off as a violent crime drama. Later, it becomes a psychological thriller, even giving a déjà vu of the Hindi film PHOBIA [2016]. In the scene where Sapna meets Dr. Reema, it becomes an emotional saga. The second half is like a different film altogether. The twist here is novel and that thankfully arrests attention. It's also completely action packed and that somewhat helps in entertaining the viewers. But it's not enough to impress the audiences on the whole. Taapsee Pannu is quite good in her part as always. Very few actresses can convincingly play such a part with élan and Taapsee definitely impresses. She constantly tries to rise above the weak script. Vinodhini Vaidyanathan has a very crucial part and is okay. Ramya Subramanian has a fine screen presence. Sanchana Natarajan is quite likeable. Her track is heartwarming but doesn't make the desired impact as it seems like a misfit in such kind of a film. Anish Kuruvilla (Psychiatrist) is passable. Ron Ethan Yohann's music is exhilarating. The theme played during the opening credits is splendid. A Vasanth's cinematography is appropriate for such kind of a film. Sachin Sudhakaran and Hariharan M's sound design is nothing special and should have been better considering the film's genre. Shiva Shankar's art direction is decent. "Real" Satish's stunts and N K Nandini's costumes are realistic. Richard Kevin A's editing is nothing remarkable. On the whole, GAME OVER packs in too much in a single film and hence the desired impact is not made. The buzz is negligible and hence, GAME OVER will surely face a tough time at the box office.
Over the years we have seen superhero films grow into a genre of its own, especially with Marvel's characters entertaining us on the big screen. Now, continuing the same is the latest release from Fox Star in the form of X-MEN: DARK PHOENIX. But will this new film, which will essentially mark the end of an arc in the X-MEN franchise, match up to the ones that have already been release, will it bring clarity to the muddled up timeline of the X-MEN universe or will it be just another actioner devoid of soul is what we analyse.
X-MEN: DARK PHOENIX starts off by introducing Jean Grey as a child who realises her mutant abilities via a gruesome accident. From there, Jean is taken to Professor Charles Xavier's institute, where she eventually grows to become part of the X-Men team. Unfortunately on one fateful mission in space Jean is nearly killed when she is hit by a mysterious cosmic force. Once she returns home, this force not only makes her infinitely more powerful, but far more unstable. Wrestling with this entity inside her, Jean unleashes her powers in ways she can neither comprehend nor contain. With Jean spiralling out of control, and hurting the ones she loves most, she begins to unravel the very fabric that holds the X-Men together. Now, with this family falling apart, they must find a way to unite — not only to save Jean's soul, but to save our very planet from aliens who wish to weaponize this force and rule the galaxy. Will the remaining X-Men manage to overpower what Jean has become, will Jean manage to fight against the forces within her are some questions that make up the rest of the film. Starting off, the film begins by laying down the premise and introducing Jean Grey's character and her mutant abilities. Though the first half of the film is rather slow thanks to this setup being introduced, the second half does pick up. However, despite a more rapidly progressing second half, action sequences are sparse and far between. Although, the few action sequences that are there are well executed and are sheer visual treats, one expects more from what is essentially the last film in a character's arc. X-MEN: DARK PHOENIX has in its run up to release been promoted as an edge of the seat thrill ride that promises an adrenaline pumping action, the onscreen product though is far from it. In fact, more often than not, the viewer is left impatiently waiting for what comes next. Director Simon Kinberg seems to have focussed more on telling the story of an individual mentally tussling with herself to gain the upper hand, while unknowingly affecting those around. Sadly, this latest offering in the X-MEN franchise is as muddles as the recent releases in this series. Unfortunately, unlike the other Marvel sagas, the X-MEN franchise has been subject to rather random time jumps and shifts that have left their core audience at a loss. If you think you will gain clarity about the time line with reference to X-MEN: APOCLYPSE and X-MEN: DAYS OF FUTURE PAST, you will be let down. But it isn't all downhill, we have to admit that the CGI is well developed and seamlessly woven into the live action bits, from the space mission to the wanton destruction that happens, each CGI heavy sequence is modelled and executed to perfection. The background music too is on point, and with Hans Zimmer as the music director, one expects nothing less. Coming to performances, Sophie Turner as Jean Grey is decent. She does well in her given role; however there are times when it may all seem a bit over the top. But, Turner does hold her own, even when sharing screen space with the likes of Michael Fassbender and James McAvoy. As for Fassbender and McAvoy, both have done equally well in their given roles. In fact, both the actors have over the time adapted to their characters and embodied them perfectly. As for the rest of the cast, each of them have done fairly well in their limited roles. A special mention needs to be made here for Jessica Chastain as Vuk, she plays the emotionally and expression devoid character with aplomb. On the whole, X-MEN: DARK PHOENIX is just another action movie that you won't regret not watching. And if you are an X-MEN fan there are high chances that you be disappointed. At the box office, the film hits screens alongside the Salman Khan starrer BHARAT, and will face an uphill task. However, the release across 1100 screens in multiple languages will certainly assist in posting decent figures.
In Bollywood, a film that covers an entire lifespan of a character is very rare and is only seen in biopics. Hollywood has done that quite often in fictional films but in our cinema, it has rarely been witnessed. Blockbuster director Ali Abbas Zafar, after delivering two Rs. 300 crore grossers, is now back with BHARAT. It stars Salman Khan in the lead and he'll be seen in various avatars as he ages through the film. The looks of the superstar has been appreciated but will these praises be there for the film as well? Will BHARAT work despite being such an atypical entertainer? Let's analyse.
BHARAT is about the journey of a man and a nation together. The story begins in 1947 in Mirpur village near Lahore. Bharat (Salman Khan) is a kid and his father Gautam Kumar (Jackie Shroff) dotes on him. This is the time of Partition and Bharat and his family are compelled to leave for India. At the railway station, Bharat is climbing on top of the train with his sister Gudiya (Barbiee Sharma) when she falls down on the station. Gautam has already managed to safely climb atop the train but he goes down to search Gudiya. But before that, he gives his watch to Bharat and assures him that he'll be back. He also tells him to go with his mother Janki (Sonali Kulkarni), brother and sister to Gautam's sister Jamuna (Ayesha Raza Mishra)'s shop, Hind Ration Store in Delhi. Bharat and his family cross over to India and thus go to the ration shop as asked by Gautam. They are quite poor and Bharat starts doing odd jobs. Bharat soon grows up as a dashing young man (Salman Khan) and he and his childhood friend Vilayati (Sunil Grover) join a circus. Here he comes across the sizzling Radha (Disha Patani). Both Bharat and Radha get into a relationship while also doing death defying stunts. However when Bharat realises his stunts might be influencing youngsters to do the same without proper training, he quits the circus. He goes to employment exchange where he meets Kumud (Katrina Kaif) and gets smitten by her. Bharat and Vilayati are sent to Middle East to work in the oil fields. The money is good but not as much as he expected to earn. Hence, Bharat decides to work in the dangerous underground mines. Kumud who is now in love with Bharat stops him from taking up the project since she's aware that the risk is quite high. Bharat however still takes up the work. All is well at first but 21 days later, an explosion takes place in the underground mine. It seems near impossible for Bharat and his other colleagues to come out alive. What happens next forms the rest of the film. BHARAT is based on the 2014 Korean flick Ode To My Father (directed by Yoon Je-kyoon; written by Park Su-jin). The story has been Indianized very well and the important events of post-Independence India like the death of Jawaharlal Nehru, rise of unemployment, the 1983 Cricket World Cup final, era of liberalisation and globalisation, emerging trend of redevelopment etc are well inserted in the narrative. Ali Abbas Zafar and Varun V Sharma's screenplay is effective and keeps viewers engaged from start to finish. The emotional sequences especially are quite well written. Ali Abbas Zafar and Varun V Sharma's dialogues are simple and sharp, and even quite funny at places. Ali Abbas Zafar's direction is topnotch. Unlike his previous films, this film is in a different zone but Ali handles it all like a pro. The film changes tracks every 15-20 minutes and to handle such a film is not a cakewalk. For instance, after the tragic Partition scene, the film gets a bit comic and even quite colourful in the circus sequence. The switch however happens quite seamlessly and this can be seen throughout the film. On the flipside however, the humour is forced in a few scenes and doesn't make the desired impact. Also, the National Anthem scene seems unwarranted for and could have been written in a better way. BHARAT begins very well, showing the 70-year-old Bharat and his life in Delhi. One might feel that the makers perhaps have shown too much at this point. But one need not worry because there's a lot that the principal character goes through in his life and it slowly gets unveiled. The childhood portion is moving while the circus scenes are vibrant and entertaining. The real fun however begins once Bharat meets Kumud and later when he starts working in the Middle East. Till this point, there hasn't been much conflict in the tale. But it finally enters the narrative once Bharat and his teammates get trapped. The manner in which the film goes on a high at this point is seen to be believed. The second half gets better thankfully. The scenes of the ship are quite good and watch out for how the humour is so well infused in the sequence where the pirates attack the vessel! The best however is reserved for the pre-climax. An interesting development takes place here and it'll surely bring tears to the eyes of viewers, a la BAJRANGI BHAIJAAN [2015]. The film ends on a justified note. Bharat Movie Review | Salman Khan, Katrina Kaif, Sunil Grover, Disha patani | Public Review
Salman Khan as expected rocks the show. He is dashing and entertaining in each and every avatar. And he seems convincing in all these makeovers. In the circus scene, he's supposed to be below 30 years ago and it comes out just right. Even as an old man, he fits the part and makes subtle changes in his speech, body language etc. His fans are surely in for a treat! Katrina Kaif looks ravishing and performance wise, she is first rate. She gets to essay a very well-written part and she does justice to it. Her conversation with Salman while munching on shawarma is quite memorable. Sunil Grover gets a lot of screen time and is almost like the second lead of the film. And he makes good use of the opportunity and would surely be appreciated. Jackie Shroff's screen time is very limited but he has a crucial part and he makes his presence felt. Disha Patani is sizzling and has a fine screen presence. Tabu (Meher) has a powerful cameo. Aasif Sheikh (Mehek's husband) stands out with his characterization and humour. The kid actors – Barbiee Sharma, Kabir Sajid (young Bharat), Aaryan Prajapati (young Vilayati) and Matin Rey Tangu (young Jimmy) are adorable. Nora Fatehi (Sussan) looks quite hot but is wasted. Sonali Kulkarni, Kashmira Irani (Mehek), Kumud Kumar Mishra (Keemat), Ayesha Raza Mishra, Shashank Arora (Chhote), Rajiv Gupta (Gulati) and Ivan Rodrigues (Gupta) are decent. Meiyang Chang is hardly there but his look is quite badass. Vishal-Shekhar's music is good but could have been better. 'Slow Motion' is the top song of the lot followed by 'Chashni'. 'Aithey Aa' is well choreographed. 'Zinda' is exhilarating. 'Tupreya', 'Aaya Na Tu' and 'Thap Thap' are okay. Julius Packiam's background score is better and exhilarating, especially in the emotional scenes. Vaibhavi Merchant and Adil Shaikh's choreography is appealing, especially in 'Slow Motion' and 'Aithey Aa'. Marcin Laskawiec's cinematography is captivating and some scenes are very well captured. Rajnish Hedao's production design is quite rich. Ashley Rebello, Alvira Khan Agnihotri, Veera Kapur Ee and Lolveen Bains's costumes are authentic and also glamorous. The ones worn by Katrina Kaif and Disha Patani stand out. SeaYoung Oh, Parvez Shaikh and Dave Judge's action is not too gory and is appropriate. Rameshwar Bhagat's editing falters in a few places but overall, it's commendable, considerable the expansive storyline. On the whole, BHARAT is a super-entertainer with emotions as its strong USP and Salman Khan like never before. The superb combination of Salman Khan, emotions and the release period [Eid] will ensure fireworks at the ticket windows. At the box office, it will fetch bumper profits for all concerned. Bharat Review Bharat Movie Review Bharat Movie Review
Since many years, there have been extraordinary tales of heroism and bravery pertaining to national interest. At times, these news items made it to the newspapers and yet didn't become a talking point. Or there were times when it never made it to the headlines at all. Director Raj Kumar Gupta made a film last year, RAID, which fell in the latter category. And now he tells a story that comes in the category of former in his upcoming film, INDIA'S MOST WANTED. So does INDIA'S MOST WANTED manage to entertain and keep the viewers gripped? Or does it fail? Let's analyse.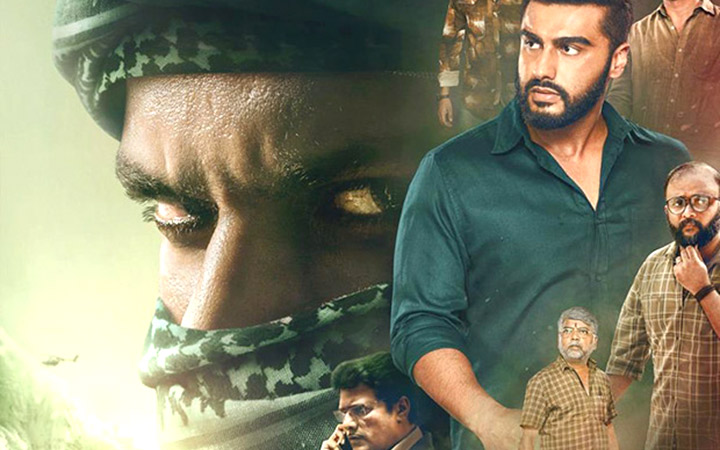 INDIA'S MOST WANTED is the story of a sensational capture of a terrorist. Prabhaat Kapoor (Arjun Kapoor) is an intelligence official based in Bihar and has the reputation of capturing several high-profile criminals. He one day gets a tip from a mysterious source (Jitendra Shastri) about a dreaded terrorist's hideout in Nepal. This terrorist is none other than Yusuf (Sudev Nair), who has masterminded several terrorist attacks in India. Thanks to his track record, he has been hailed as India's Osama Bin Laden. After getting permission from his senior Rajesh Singh (Rajesh Sharma) unofficially, Prabhaat leaves for Nepal along with Pillai (Prasanth Alexandrr), Amit (Gaurav Mishra) and Aasif Khan (Bittu). Without informing Rajesh, Prabhaat takes financial and manpower help from Ravi (Bajrangbali Singh) and the team reaches Kathmandu, capital of Nepal. They meet the source and he tells them that Yusuf had met him through his acquaintance Nadeem to send money to Saudi Arabia. But the source doesn't know where Yusuf exactly resides. Thus begins the hunt for Prabhaat and his team. However, the challenges in front of them are aplenty. They are not authorized to use weapons and are on the mission illegally. Moreover, Pakistan's ISI have a heavy presence in Nepal and they'll do anything to save Yusuf from the clutches of Team Prabhaat. What happens next forms the rest of the film. Raj Kumar Gupta's story is strictly okay and reminds one of the second half of Akshay Kumar-starrer BABY [2015]. He has tried to remain authentic to the real incident. In doing so, Raj Kumar Gupta's screenplay suffers. The episode of how the terrorist was nabbed was sensational especially the bit of getting hold of him without firing a single bullet. But in other words, this also means that the film is devoid of action and some real entertainment. Raj Kumar Gupta's dialogues are nothing great. Raj Kumar Gupta's direction is not upto the mark, especially considering his work in the past films like AAMIR [2008], NO ONE KILLED JESSICA [2011] and RAID [2018]. The writing is surely the biggest culprit here but even his direction doesn't do much to salvage the situation. A few scenes here and there are fine but these are far and few between. The element of thrill is certainly missing. Moreover, the idea of inserting shots of various serial blasts followed by Yusuf's justification at regular intervals is very random and spoils the film's narrative. Arjun Kapoor On Freedom Of Expression | Bolne Me Sau baar Sochna Padta | We Are Soft targets
  INDIA'S MOST WANTED starts on an average note. Prabhaat's entry is intended to be heroic but it doesn't come out well. The sequence where Prabhaat's members pool in money for the Nepal trip from their own pocket is moving especially considering that all of them hardly have any savings. This is the only time one can feel for them. Otherwise, throughout the film, one doesn't really root for them and also they don't seem convincing about their record of successfully executing some crucial missions in the past. The pace of the film is slow and some scenes just add to the confusion and length. The character of India's Most Wanted terrorist also is weak. He doesn't come across as powerful or heinous but thankfully, no attempt is done to show his back story or his sufferings. The interrogation of the source is well executed. The intermission point is quite dramatic. Also, the climax is when the interest really piques. But again, the sequence of Team Prabhaat's journey from Nepal to India seems rather convenient. The finale is a bit exhilarating and that helps the film end on a somewhat decent note. Arjun Kapoor delivers a performance that can be called passable. His act is not consistent – in some scenes, he really acts genuinely but in some scenes, he doesn't seem in complete form. His best act is when he sets his eyes on the terrorist for the first time. Rajesh Sharma is quite dependable. Jitendra Shastri is entertaining, especially his looks and character. Prasanth Alexandrr, Gaurav Mishra and Aasif Khan are strictly okay. Same goes for Bajrangbali Singh. Sudev Nair tries his best to look and act in a heinous manner. Amit Trivedi's music is forgettable. 'Vande Mataram' doesn't evoke any sense of patriotism. The club song 'Dil Jaani' is forced although it's hummable. Amit Trivedi's background score is in sync with the film's mood. Dudley's cinematography is nothing special. Too many aerial shots have been used. Rita Ghosh's production design is realistic. Rohit Chaturvedi's costumes are also quite authentic. Parvez Shaikh's action lacks excitement. Bodhaditya Banerjee's editing is flawed as the film could have been much shorter. India's Most Wanted Review : On the whole, INDIA'S MOST WANTED is an average fare thanks to its poor writing and direction. At the box office, the film is going to face an uphill task owing to the lack of excitement and buzz. India's Most Wanted Review : India's Most Wanted Movie Review
In Indian society, a marriage of a younger woman with an older man is seen as completely acceptable. However, terms and conditions apply especially if the age gap between the two is considerable. Such marriages are quite common and yet they continue to raise eyebrows and become a topic of gossip. Luv Ranjan, known for making quirky relatable romcoms, now takes up this topic in his latest offing, DE DE PYAAR DE. But this time he's just the writer and producer as he passes on the director's hat to well-known editor and first time director, Akiv Ali. So does DE DE PYAAR DE manage to entertain and give a gala time, just like Luv Ranjan's previous works? Or does it fail to deliver? Let's analyse.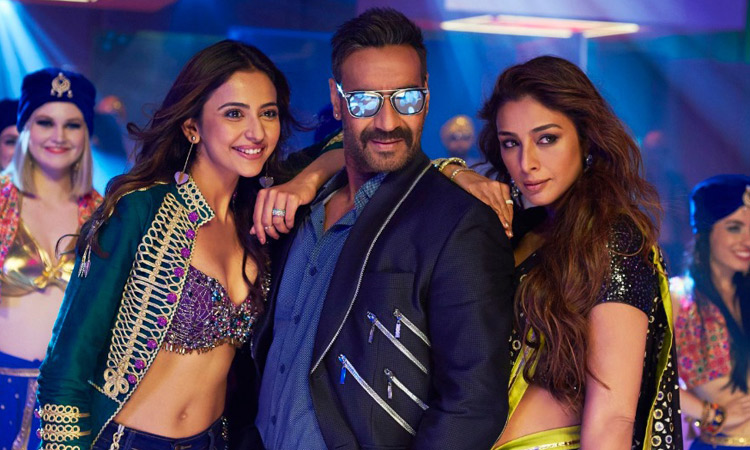 DE DE PYAAR DE is an unusual love story. Ashish (Ajay Devgn), 50, is based in London. He is separated from his wife, Manju (Tabu). At a common friend's wedding, he comes across Aisha (Rakul Preet Singh) who is 26 years old. She is free-spirited and carefree and both she and Ashish get attracted to each other. In no time, she moves into his place. When the topic of marriage comes up, Ashish hesitates but realizing how much he loves Aisha, he agrees. He takes her to his hometown in Manali to get his parent's approval. He decides to go there unannounced and as soon as he reaches there, all hell breaks loose. Ashish has not been in contact with them since years and hence his family comprising of Manju, daughter Ishita (Inayat), son Ishaan (Bhavin Bhanushali), father (Alok Nath) and mother (Madhumalti Kapoor) are startled to see him and that too with Ashish. Ishita gets livid as her to-be-father-in-law Atul (Kumud Mishra) is about to come to meet the family. She is petrified since she told Atul and her boyfriend Rishi (Rajveer Singh) that Ashish is no more! Ashish develops cold feet on seeing so much of negativity upon his arrival. What happens next forms the rest of the film. Luv Ranjan's story is entertaining and also quite progressive and mature. He gives a very important message but peppers it with entertaining and funny sequences to keep the interest going. Luv Ranjan, Tarun Jain and Surabhi Bhatnagar's screenplay is also just right and very effective. There's so much happening in the film every minute that throughout the 135 minute duration, one doesn't get bored at all. A few sequences are unconvincing here and there but the plusses outweigh the minuses in a huge way. Tarun Jain and Luv Ranjan's dialogues are as expected very well-worded, witty and funny. The lingo is of today's generation and that is refreshing. The muting of abuses however is a downer. Akiv Ali's direction is quite good and as a first-timer, it is very praiseworthy that he has handled the film and its plot with sensitivity and finesse. The film is also a bit bold for the Indian audience due to the stigma attached with couples having unusually huge age gaps. Also, a sequence related to Raksha Bandhan might raise eyebrows. Same goes for the pre-climax twist. Hence, a section of moviegoers might get uncomfortable. But the writing along with Akiv's direction ensures that it'll be accepted and will be seen in the right spirit. Also, it reflects the changing times. DE DE PYAAR DE begins on a rocking note. Aisha's entry is smoking hot and the manner in which she develops feelings for Ashish is gradual and seems convincing. The track of Sunny Singh (Akash) adds to the fun. A surprise of the first half is when the laughter vanishes and the narrative gets moving. However, it doesn't take the film down and prepares audiences for the fact that the film is not a laugh-a-minute caper. The intermission point is clapworthy and comes at an excellent point as one knows that from hereon, it's going to be all fireworks. And that's what happens in the second half. The madness goes on another level as Ashish gets attacked from all quarters. At the same time, it will also make viewers teary-eyed. The sequence where Ashish bats for live-in relationships and the effect it has on others is too good. But the best is deserved for the pre-climax and climax. Some unexpected developments take place and Manju's outburst is seen to be believed. The film ends on a great note and there's even a hint of a sequel! Ajay Devgn is subtle and underplays his part beautifully. When it comes to comedy, in recent times he's known for films like GOLMAAL where he is over the top. But in case of DE DE PYAAR DE, Ajay understands the space well and keeps the whole thing real and at the same time entertaining. In the initial scenes, he speaks with his eyes a lot without mouthing many dialogues and it creates a tremendous impact. And there's a lovely SINGHAM surprise in the film which will make the masses crazy! Rakul Preet Singh shines like a star and it is her most accomplished work in Bollywood. She appears very confident as the hot bombshell and performance wise, she is spot on. In fact, she dominates many sequences of the first half. Tabu on the hand is the soul of the second hour. Her character is fleshed out very well and with her performance, she makes it even more special. Her part would be accepted with open arms and after ANDHADHUN [2018], this is yet another feather in her cap! Jimmy Sheirgill adds to the humour though in some scenes, his character seems a bit forced. Alok Nath seems to have sleepwalked from the sets of Luv's previous film, SONU KE TITU KI SWEEETY [2018]. No complaints though as he's funny. Kumud Mishra adds a lot to the film. Inayat is too loud and though that was the character requirement, she goes slightly overboard. Bhavin Bhanushali is adorable and his track too adds to the madness. Jaaved Jaaferi (Sameer) and Sunny Singh contribute to the laughter quotient in the first half. Madhumalti Kapoor and Rajveer Singh are okay. Songs are not of chartbuster variety but work in the film. 'Vaddi Sharaban' is the best of the lot due to its picturisation, situation and choreography (Bosco Caesar). 'Dil Royi Jaye' comes next and the moving track is beautifully sung by Arijit Singh. 'Mukhda Vekh Ke' is foot-tapping, 'Chale Aana' is visually strong while 'Tu Mila Toh Haina' is sweet. 'Hauli Hauli' is played in the end credits. Hitesh Sonik's background score adds to the entertainment. Shashank Tere's production design is rich and appealing. Niharika Bhasin Khan and Aki Narula's costumes are glamorous especially the ones worn by Rakul Preet. Even Ajay and Tabu are styled nicely. Chetan M Solanki's editing is praiseworthy as the pace of the film is neither too quick nor dragging.
On the whole, DE DE PYAAR DE is a paisa vasool entertainer with plenty of laugh aloud moments and strong emotions as its USP. At the box office, the film has the potential to work big time basis a strong word of mouth. Recommended!
Some of the most popular films on OTT platforms at present are those that are set in schools or colleges. These are usually light-hearted films dealing with love and other school based aspects. Not just on streaming platforms, even in cinemas, this genre has never gone out of fashion and Hollywood regularly churns such films. But when it comes to Bollywood, one can hardly recall handful of such films. The only memorable movies one can recollect in the last 10-11 years are JAANE TU YA JAANE NA [2008], 3 IDIOTS [2009] and FUKREY [2013]. STUDENT OF THE YEAR 2 hence is an important film in this regard. Its first part, released in 2012, was a success and established three new actors – Varun Dhawan, Alia Bhatt and Sidharth Malhotra. Now, Karan Johar has released STUDENT OF THE YEAR 2 and this time he casts two new girls – Ananya Panday and Tara Sutaria – along with popular actor Tiger Shroff. However, it's Punit Malhotra who's wearing the director's cap for the sequel. So does STUDENT OF THE YEAR 2 manage to entertain and be as good or better than its predecessor? Or does it fail to entice? Let's analyse.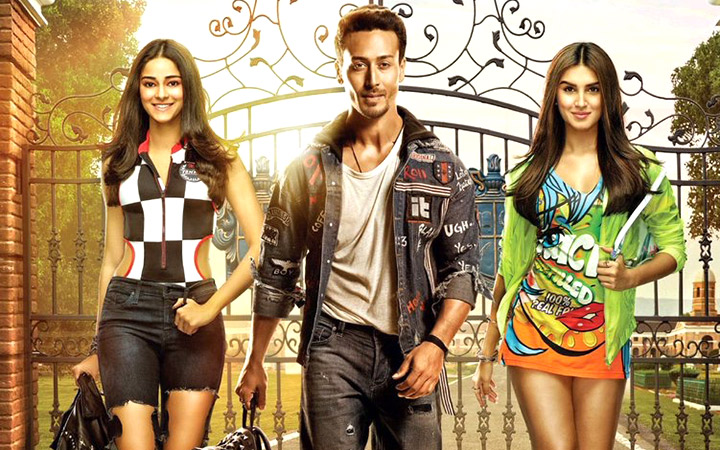 STUDENT OF THE YEAR 2 is the story of triumph, love and making a comeback. Rohan (Tiger Shroff) and Mridula (Tara Sutaria) study together in Pishori Chamanlal college. Both are in love and there comes a time when Mridula changes her college and gets admission in the prestigious St Teresa College. Rohan too wants to get admitted in this institution but knowing that the fees there are too costly, he abandons the plan. He still tries his luck and seeks admission under the sports quota. As luck would have it, his admission is approved. Rohan reaches there and realizes Mridula has changed. For starters, she now calls herself Mia. She also gets a bit detached with Rohan. However, in no time Rohan wins her heart and they both again become a couple. Meanwhile, Rohan is introduced to the Teresa's stud and star athlete, Manav Mehra (Aditya Seal). They quickly become friends but Manav's sister Shreya (Ananya Panday) detests him. She always tries her best to put Rohan in a spot. At the time of the dance competition of the college, Rohan and Mia team up while Manav and Shreya jointly participate. For both the girls, winning the competition is very crucial. Mia wants to attain popularity and she realizes that this dance competition will be a step in that direction. Shreya, meanwhile, wants to escape the clutches of her tyrannical father Mr Randhawa (Chetan Pandit) and also her over-achiever brother Manav and enrol in a dance school in London. During the competition, Manav and Shreya win while Rohan and Mia get defeated as Mia loses her grip. Mia is devastated and when Rohan goes to console her, he finds Mia and Manav cosying up to each other. An angry Rohan punches Manav. This action leads to Rohan's expulsion from St Teresa. Manav, still cross over getting hit by Rohan, gangs up and beats Rohan black and blue. What happens next forms the rest of the film. Arshad Syed's story, with additional inputs by Paulomi Dutta, is nothing new and novel. However, it's written keeping in the mind the genre. Arshad Syed's screenplay however is praiseworthy as its peppered with some entertaining, dramatic and even moving moments. The beginning however is a bit haphazard. Arshad Syed's dialogues are witty and some one-liners raise guffaws. Punit Malhotra's direction is appropriate. He understands the space in which the film is set and does justice to the plot in hand. He had a tall order to reach considering that the first part was very well helmed by Karan Johar. In that regard, he comes quite close and that's quite a feat. Despite the unreal world, Punit puts his earnest effort in making it seem convincing. At a few places, he does falter though, story-wise. Shreya's turn around in the second half is difficult to digest. Also, a twist in the first half revolving around Mia is surely a shocker but might raise questions. STUDENT OF THE YEAR 2 doesn't have a great opening as such. The beginning portions don't really engross viewers. It's only when Rohan gets admission in St Teresa that the film picks up. The stark contrast between Pishori and St Teresa is well depicted. Also, the issues Rohan faces while adjusting in the new environment and the way he upgrades his wardrobe to fit in is very relatable. The scene at Jeffrey's is funny but the scene to watch out for in the first half is when Mr Randhawa slaps Shreya. It takes the film to another level as viewers realize Shreya's life isn't as lovely as it seems to be. Another sequence that comes close is the intermission point – quite impactful. The second half gets better as Rohan changes gear and also his life dream. A few sequences stand out here – Shreya celebrating her birthday alone, Rohan, Shreya and Mia arguing in the café and the fight at the college stadium. The climax keeps viewers on the edge and though predictable, it makes for a fine watch. ROFL: Tiger Shroff, Ananya Pandey & Tara Sutaria's FUNNIEST Quiz Ever | SOTY 2
Tiger Shroff is completely in his element and as always, does a great job. His screen presence is electrifying and though he is perceived as a killing machine, it's still believable when he's the one getting bashed up by the baddies and he doesn't even fight back. However, when he does make a comeback, it's seen to be believed! In fact, the praise should also be showered on Punit Malhotra for using Tiger's action potential to the fullest and also seamlessly making it a part of film's narrative! Ananya Panday is a complete star and she proves it. She looks very convincing as a spoilt rich brat. Her change of heart might seem unconvincing but once that happens, she impresses even more, acting-wise. Her's is in fact the most moving character in the film and she wins hearts! Tara Sutaria too puts her best foot forward. Her screen presence too is something to watch out for. Sadly, she gets a bit sidelined in the second half but she surely gets noticed and is set for a bright future in Bollywood! Aditya Seal is well casted and he is terrific as the baddie. Watch out for the scenes where he's silently observing and without saying a word, he conveys a lot! Harsh Beniwal (Puggi) is quite entertaining and raises laughs. Ayesha Raza (Principal Singh) and Manoj Pahwa (Coach Mahipal) are a bit over the top but it was as per the requirement of the character. Samir Soni (Principal Gujral) tries to be funny but fails. Gul Panag (Coach Kuljeet) shines in a small role. Chetan Pandit is alright. Rajesh Kumar (Rohan's astrologer uncle) is hilarious in his entry scene. Manasi Joshi Roy (Roshan's aunt) is unrecognizable and doesn't have much to do. Samreen Kaur (Mia's mother) is there for just one scene which is also needless. Rajveer Singh (Security guard Lahiri Singh) gets noticed. Will Smith is seen for a few seconds while Alia Bhatt adds to the glamour quotient in the end credit song. Vishal-Shekhar's music is not that great. The first part had very memorable songs while in this part, songs are below-par. 'The Jawaani Song' is the best of the lot and most entertaining. 'The Hook Up Song', appears in the end credit, is okay. 'Main Bhi Nahin Soya' is moving, more so because of the visuals. 'Fakira' and 'Jat Ludhiyane Da' are also alright. 'Mumbai Dilli Di Kudiyaan' is not a part of the film. Salim-Sulaiman's background score is energetic and dramatic. Ravi K Chandran's cinematography is rich and gives the film a brilliant look. Choreography is visually appealing by all three – Remo Dsouza ('The Jawaani Song'), Adil Shaikh ('Fakira' and 'Jat Ludhiyane Da') and Farah Khan ('The Hook Up Song'). Sumayya Shaikh's production design is superior in terms of visuals and ups the film's richness. Manish Malhotra and Nikita Jaisinghani's costumes are also a treat to the eyes. Though they might seem a bit too over the top, especially the costumes worn by Ananya and Tara, it will be liked by the target audience and might soon even set a new trend in fashion. Sham Kaushal's action defies logic and laws of gravity at places but in a film of this zone, it actually works well. Ritesh Soni's editing is praiseworthy. The film is nearly 145 minutes long but doesn't seem lengthy. On the whole, STUDENT OF THE YEAR 2 is an entertaining and an enjoyable fare which will strike a chord in the audience's hearts. At the box office, it has the potential to do excellent business! Student Of The Year 2 Review Student Of The Year 2 Movie Review
Before Tara Sutaria and Ananya Panday make their much awaited debuts next week in STUDENT OF THE YEAR, there is one more newbie who will step into the world of Bollywood – Karan Kapadia with BLANK. The film and the actor both have been talked about since Karan is the nephew of Dimple Kapadia. Even Akshay Kumar has lent his support to the film by agreeing to do a promotional song. With the marketing aspect being taken care of, the questions that arise now are – Is BLANK well-made worth all the hype and buzz? Or does it fail to strike a chord with the audience? Let's analyse!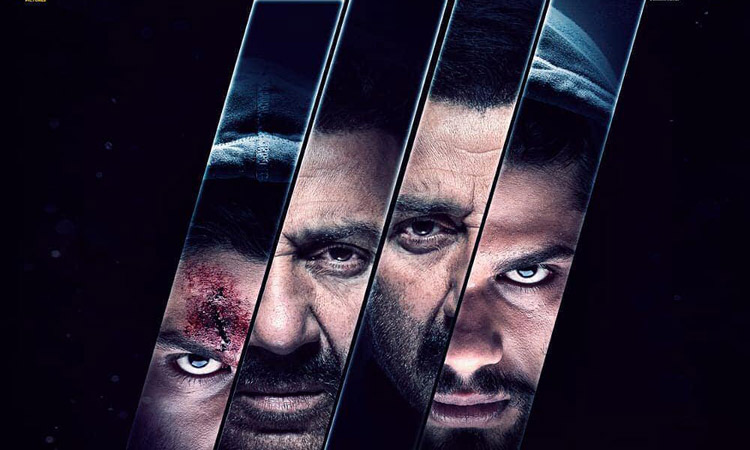 BLANK is the story of a terrorist who is a 'living explosive'. Hanif (Karan Kapadia) is a part of a terrorist group called Tehreer Al-Hind, headed by Maqsood (Jameel Khan). He has arrived in Mumbai along with other terrorists with a deadly plan – to set off 24 bomb blasts, each by a terrorist. However, on the D-Day, he meets with a road accident. He faints and is taken to the hospital. The staff there is astonished to see a timed bomb fixed to his body! Immediately, the ATS chief S S Dewan (Sunny Deol) is informed. The doctors are unable to detach the bomb from his body as its connected with his heart. Once Hanif regains consciousness, another obstacle emerges in front of Dewan. Hanif has lost his memory due to the accident and doesn't remember anything at all about the bomb or where he has come from. Dewan's juniors, Husna (Ishita Dutta) and Rohit (Karanvir Sharma) meanwhile nab another suicide bomber, Farukh. Realizing that the police now has the second terrorist to extract information from, Dewan's senior Aruna Gupta orders that Hanif be taken to the outskirts of the city and be killed. Dewan accompanies the party that takes Hanif to a salt pan. On the other hand, Husna successfully locates Hanif's residence where she finds the blueprint of the bomb attached to Hanif's body. She realizes that killing Hanif will trigger other 24 bombs in the city and she quickly informs Dewan of the same. At this moment, a team of terrorists arrive at the salt pans and attacks the cops. They also take away Hanif. What happens next forms the rest of the film. Pranav Adarsh's story is average. His screenplay is decent but also has its loose ends. Some small developments are also skipped which is bewildering. After all, the film's duration is quite less and 4-5 minutes of extra scenes wouldn't have harmed the film. Behzad Khambata's dialogues are simple and work well. Behzad Khambata's direction is quite good, also considering that it's his directorial debut. He has some handled some scenes deftly. BLANK is just 111 minutes long but it seems quite lengthy. The film starts off well at a crucial moment and then goes on a flashback mode. The first half doesn't go on a high but is decent and sans complaints. Hanif's fight sequence in the hospital is nicely done. His interrogation sequence gets a bit dragging but keeps viewers engaged. The intermission point however is the best part of the film. Three developments are happening simultaneously here – Husna is searching Hanif's house, Rohit is in search of the godown whereas Dewan is about to execute Hanif. And all these episodes are well directed. Post-interval however, the film goes downhill. A track is needlessly added about Hanif's father during the 2002 riots. Remove this bit and the film still would have made sense. The action scene in the tourist office is quite long and well executed. The climax is quite unexpected and unpredictable. That is a plus but at the same time, logic goes out of the window. The masses especially would find it difficult to understand the developments regarding the bomb attached on Hanif's body. Sunny Deol, Karan Kapadia and Ishita Dutta grace the trailer launch of the film Blank | Part 2
Karan Kapadia makes a fine debut. He succeeds in pulling off this uni-dimensional character. Shockingly, the film is marketed extensively on his name but for most of the second half, he is not there on the screen. Sunny Deol is excellent and after a string of bad films and acts [YAMLA PAGLA DEEWANA PHIR SE, MOHALLA ASSI, BHAIAJI SUPERHIT], he finally proves his worth in this film. The audiences will get to see the Deol they love, in this film. Ishita Dutta gives her best shot. Karanvir Sharma looks dashing and makes his presence felt. Jameel Khan (Maqsood) is entertaining. But his act might remind one of his character in BABY [2015]. Kishori Shahane (Dewan's wife) is wasted. The actors playing Farukh, Bashir, Aruna Gupta and Dewan's son Raunaq are average. Music has no scope. 'Ali Ali', featuring Akshay Kumar, appears in the end. 'Himmat Karja' is wasted and the way Sunny Deol and others start doing a particular hand movement in a serious moment looks out of place. 'Warning Nahi Dunga' is played during the opening credits and goes well with it. Rooshin Dalal and Kaizad Gherd's background score however is quite powerful and escalates impact. R Dee's cinematography is top-class and gives the film a superior look. Watch out for the bird's eye shot of the salt pans – simply breathtaking! Vikram Dahiya's action is visually nice and not too gory. Rajinder Sharma's production design is appropriate. FutureWorks Media Ltd's VFX is authentic. Sanjay Sharma's editing is okay. On the whole, BLANK is well directed and performed and is based on the relatable events of terrorism. Sunny Deol's fans will love him in an action packed role after a long time. At the box office, it will be an average fare!
Over the past decade or so Marvel and Disney have introduced the audience to superhero films that have since become some of the highest grossing cinematic ventures ever. With a fan following that rivals any army, audiences throng to the cinema halls each time a film from the Marvel Cinematic Universe releases. Now, after 22 films we finally see the release of the concluding chapter with AVENGERS: ENDGAME hitting screens. But how do you wrap up over a decade of stories, with twice as many films while tying up loose ends is the biggest task this week's release faces. Will the new release that comes with immense hope and anticipation attached to it live up to expectations or will AVENGERS: ENDGAME be yet another CGI filled actioner is the question.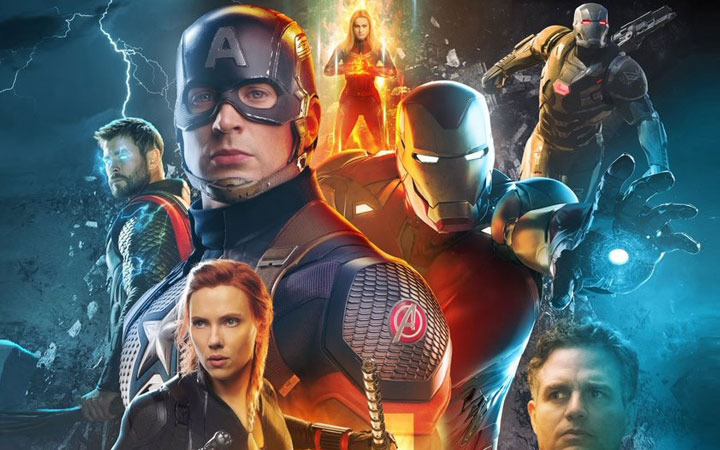 AVENGERS: ENDGAME starts off from where the chaotic events of AVENGERS: INFINITY WAR left. After the snap, Earth's mightiest heroes are left picking up the pieces of what remains following Thanos wiping out half of all life. The film details the mental anguish and trauma each character goes through, the loss they feel and cope up with and eventually them formulating a plan to turn back events. Will the arrival of Captain Marvel that was revealed in the previous film be the game changer? Will the Avengers who have survived 'The Decimation' be able to band together and save the day, or will a new evil threaten what remains on Earth is what forms the rest of the film. Right from the word go, the viewer is plunged head first into the Avengers universe, detailing what remains after Thanos' infamous snap that has been christened 'The Decimation'. We learn how each of our favourite superheroes are dealing with the loss. But the film does not dwell upon this topic for long, from there on the viewer is taken on a chaotic ride filled with twists, plots and sub plots as the remaining Avengers conceptualize and execute a way to bring back the fallen. Though the runtime of AVENGERS: ENDGAME has been a point of ongoing discussion, the film which is over three hours long seems like a breeze. Not once does the film let the viewer know how much time has passed. In fact the film brings a sense of normalcy after the chaotic happening in INFINITY WAR, while keeping the viewer gripped. Like any of the previous films in the Marvel Cinematic Universe, AVENGERS: ENDGAME, if not the best is by far one among the best made films in a saga that has lasted for over a decade. A fitting conclusion to a 22 film build up that literally no one could have seen coming, the film is a perfect ode to a story that has entertained a generation. Be it writing, direction, acting or editing, each aspect has been dealt with excellence. Here, a special mention needs to be made for writers Christopher Markus and Stephen McFeely, who have done a brilliant job with the character. Both Markus and McFeely understand each character and their relevant lines so well that they have managed to breathe life into their on screen renditions, while at the same time keeping in mind the happenings over the past 22 films to bring them all together in a fitting, gut-wrenching, emotional climax. However, AVENGERS: ENDGAME isn't perfect; the film does have its share of flaws coming in the form of confusing plots and sub-plots that intertwine with each other to create a confusing mesh of time travelling mashup all done to defeat Thanos. And here in lies some of the biggest loopholes, given the fact that the film has teased time travel with set photos finding their way to the internet. The big questions then arises is, how do the Avengers maintain the space-time continuum while skipping back in time to change events. Though it may not follow the beaten path as films based on time travel have in the past, ENDGAME sees its own laws of time travel unravel. While this certainly is entertaining to watch, fans might just be plagued with a few unanswered questions at the end. Avengers Endgame: First Day First Show Grand Celebration with Fans | Public Review
Coming to the performances in AVENGERS: ENDGAME, each of the cast members from Robert Downey Jr. to Scarlett Johansson, to Chris Evans, Josh Brolin, Mark Ruffalo Chris Hemsworth and the others have done stellar jobs. Here, a special mention needs to be made for RDJ, who proves why he was the one Avenger who had the entire script of ENDGAME. Directors, Anthony and Joe Russo too have done a commendable job, as ending an era of films with a visual spectacle that entertains is no easy task. But the director duo has done exceedingly well to encompass the fandom and fan theories that have evolved over the years. With twists that keep you gripped and well executed action sequences that leave you in awe, AVENGERS: ENDGAME makes for a thrilling watch. Along with a good story, excellent direction and flawless performances, AVENGERS: ENDGAME also features visually stunning CGI that has been woven into the live action sequences seamlessly. Besides this there is also the background score of the film that adds a whole new dimension to what is happening on screen. The well intoned notes and crescendos build up the proceedings for a thrilling climax. A special mention needs to be made about the editing of the film, which seamlessly merges past and present events while at the same time ensuring not to confuse the viewer. On the whole, AVENGERS: ENDGAME is a fitting end to a journey that lasted over a decade. While the climax itself might leave viewers wanting more, the journey the film takes them on is an experience that will not be forgotten soon. A definite must watch roller coaster ride that will leave you speechless. At the box office, with shows running right through the night in some locations, and with an ardent fan following, AVENGERS: ENDGAME looks set to establish new box office records in India.
At one time, multi-starrers were in vogue but of late, such films barely come out of Bollywood. A few franchises like GOLMAAL and HOUSEFULL have kept this tradition alive. Even DHAMAAL can be counted here and its recent instalment TOTAL DHAMAAL was one of the biggest multi-starrers in a long time as Ajay Devgn, Anil Kapoor and Madhuri Dixit got added to the star cast. KALANK goes one step ahead as it stars six actors, all of whom are big and prominent names in their own right. So does KALANK manage to be a memorable multi-actor flick, replete with ample entertainment and drama? Or does it fail to entertain? Let's analyse.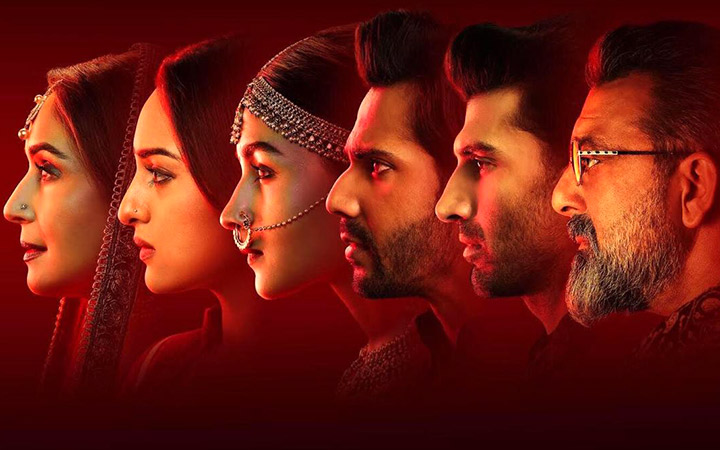 KALANK is the story of lovers not destined to be together. The year is 1945. Satya Chaudhry (Sonakshi Sinha), wife of Dev Chaudhry (Aditya Roy Kapur) is diagnosed with cancer and she is told that she has just a year or maximum two years to live. Realizing that Dev will be shattered after her demise, she decides to find a second wife for him. Her search takes her to Rajputana, Rajasthan where Roop (Alia Bhatt) resides. The families of Roop and Satya go back a long way. Roop at first rejects Satya's offer but upon knowing her medical condition, she agrees. However, she has a condition – Dev will have to marry her first and only then she'll move into the house of the Chaudhrys. Satya, Dev and Dev's father Balraj (Sanjay Dutt) agree. Dev and Roop get married and the former makes it clear to the latter that this will be a marriage of convenience. After marriage, Roop moves to Husnabad near Lahore where the Chaudharys reside. At first she feels lonely but then gets curious by the voice of Bahaar Begum (Madhuri Dixit). She decides to learn music under her tutelage. Satya and others at first are aghast on hearing this decision since Bahaar runs a brothel and that too in the infamous part of the city called Heera Mandi. Roop protests and the Chaudharys give in. Bahaar meanwhile is impressed by Roop and decides to teach her singing. At Heera Mandi, Roop bumps into the flirtatious Zafar (Varun Dhawan). Both get attracted to each other. Zafar is a blacksmith and works for Abdul (Kunal Kemmu) and the latter has a communal mindset. He's also against Dev's newspaper Daily Times that promotes the idea of one nation theory, rejects the notion of Partition and recommends industrialization even at the cost of job loss of blacksmiths. Bahaar senses that Roop is getting attracted to Zafar and she gets horrified. After all, she knows that Zafar has ulterior motives behind romancing Roop and it get can lead to disastrous consequences. What happens next forms the rest of the film. Shibani Bathija's story is poor and silly and rests on a wafer thin plot. Except for Roop-Zafar's track, all other parts of the story are not well fleshed out and are full of loopholes. Abhishek Varman's screenplay doesn't do much to salvage the situation either. Instead of wrapping up scenes quickly, he lets them go on and on. And again, he doesn't do much to hide the glitches. Hussain Dalal's dialogues are quite good at places. But in some scenes, it's too filmy and might even induce unintentional laughter. Abhishek Varman's direction is not upto the mark. He was quite in control in his directorial debut, 2 STATES [2014]. But in the case of KALANK, he makes a mess. Anyways he couldn't have done much when the script itself is flawed. The only plusses are that the climax is engaging and he is able to handle the visual grandeur of the film very well. KALANK has a surprising commencement since the trademark and famous title card of Dharma Productions is not displayed in its usual style! The three production houses associated with the film are quickly mentioned and the film begins. Again, here the principle cast is depicted quite smartly, without showing their faces. This might make everyone believe that one is about to see a film laced with a superlative script and execution. In no time, it becomes evident that it's not going to be the case. The biggest problem with the film is that most of the developments are not convincing. In the beginning itself, audience will be bewildered as to why Satya went to Rajputana of all places to search for a bride. Roop reminds Satya that the latter's family had helped the former's family at one point but no details are ever given. It is also quite laughable that Zafar had never seen the face of Dev Chaudhary ever despite the fact that he had so much poison against the Chaudharys and also that Dev is a prominent figure of the town. The entire track of the blacksmiths revolting against industrialization and also for a separate nation also seems superficial. Why was Abdul so insecure about what gets published in Dev's newspaper? Agreed that Dev's daily must be having a wide readership. But it can't be the only newspaper in circulation? He could have taken the help of other newspapers to spread his agenda. The film moreover is too long and some scenes could have been done away with. The bull fight sequence, for instance, serves no purpose and was just added to appeal to the masses. On the positive side, a few sequences are well directed. The intermission point, though predictable, makes for a nice watch. The sequence of Bahaar Begum, Balraj and Zafar in the second half is quite dramatic. Also, the climax and the madness at the railway station will keep the viewers engrossed. Kalank | PUBLIC REVIEW | First Day First Show | Varun Dhawan | Alia Bhatt | Madhuri Dixit | Aditya Roy Kapoor
Varun Dhawan and Alia Bhatt save the film from becoming an ultimate disaster. Varun is as always at his best and gives his hundred per cent to the role. He also contributes to the laughter quotient. In the climax however, he is terrific. Alia Bhatt also puts her best foot forward and just like Varun, even she is let down by the poor writing. She arguably has the maximum screen time out of all six actors and makes great use of it. Aditya Roy Kapur seems monotonous but this is how his character is. His dialogue delivery is quite good and in the scene with Varun, he does quite well. Sonakshi Sinha is sincere but her role will remind one of her act in the second half of LOOTERA [2013]. Madhuri Dixit looks stunning and gives a decent performance. Sanjay Dutt, credited as special appearance, is okay. Kunal Kemmu (Abdul) plays the villainous role with panache. Achint Kaur (Saroj), Hiten Tejwani (Ahmed) and Pavail Gulati (Aditya; journalist interviewing Roop) are fine. Kiara Advani is royally wasted. Kriti Sanon looks glamorous in the item song. Pritam's music could have been much better. 'Ghar More Pardesiya' leaves impact followed by 'Tabaah Ho Gaye'. The title track is relegated to the background. 'First Class' is catchy and 'Rajvaadi Odhni' is okay, but they come almost back to back. 'Aira Gaira' is forcefully added. Sanchit Balhara and Ankit Balhara's background score is dramatic and adds to the effect. Binod Pradhan's cinematography is captivating and has the big screen appeal. Amrita Mahal Nakai's production design is surreal and though it might remind one of Sanjay Leela Bhansali films, it is praiseworthy. The Heera Mandi set and especially the brothel of Bahaar is stunning. Manish Malhotra and Maxima Basu Golani's costumes are appealing but doesn't seem authentic in terms of the era and the economic condition of some characters. Sham Kaushal's action is fine and not too violent. Remo Dsouza, Bosco-Caesar and Saroj Khan's choreography is worthy. Fluiidmask Studios and NY VFXWaala's VFX is good overall but quite bad at certain places, especially in the bull fight sequence. Shweta Venkat Mathew's editing is very disappointing as the film is quite lengthy at 168 minutes. On the whole, KALANK is a visual spectacle that lacks soul and falters big time on account of its writing, length as well as music. At the box office, the film will suffer due to negative word of mouth and therefore the collections will drop after the initial euphoria subsides. DISAPPOINTING! Kalank Review Kalank Movie Review
A simple internet search will reveal how so many conspiracy theories exist when it comes to some important episodes of History. The scenario in India is no different and a lot of people strongly believe that what history has taught us is not entirely true. Hollywood has made films and documentaries out of it while India has lagged behind. But now director Vivek Agnihotri tries to put forward an investigative thriller based on Lal Bahadur Shastri's death. The result is THE TASHKENT FILES and it releases in the middle of the exciting election season. So does THE TASHKENT FILES shake the viewer with its content and execution? Or does it fail to impress? Let's analyse.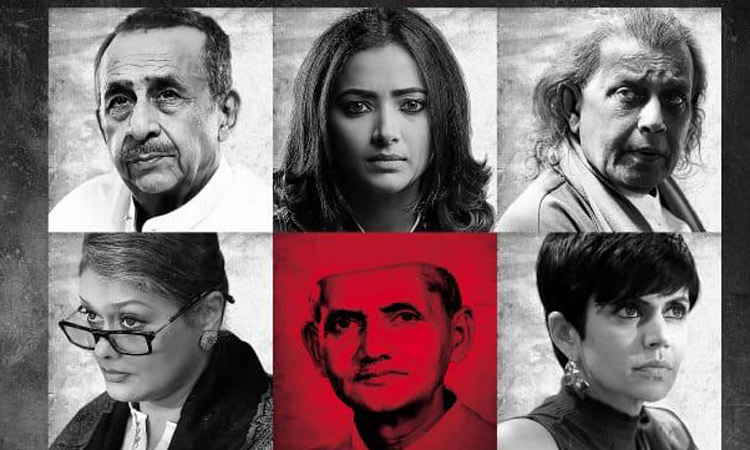 THE TASHKENT FILES is the story of a group of people trying to understand whether there was any foul play in the sudden death of a significant Indian Prime Minister Lal Bahadur Shastri. Raagini Phule (Shweta Basu Prasad) is a rookie political journalist in Delhi working for a newspaper called 'India Times'. She has been given an ultimatum by her editor (Asif Basra) that she has to submit a scoop in a few days or else she'll be transferred to arts and culture, a beat that Raagini abhors. One day she receives a call from an unknown person (voiced by Vivek Agnihotri) and he asks her to write about the mysterious death of India's second Prime Minister Lal Bahadur Shastri. He had died on January 11, 1966 soon after the Tashkent Agreement was signed following the end of India-Pakistan war. The unknown caller even provides all the evidences and references needed for Raagini to file the story. The article gets published and it goes viral. Shyam Sunder Tripathi, leader of the opposition, uses this opportunity to score brownie points against the ruling government. Realizing that the matter has become too big, PKR Natrajan (Naseeruddin Shah), the minister of home affairs, forms a committee, and its members are to decide if there is indeed any foul play in Shastri's demise. Shyam Sunder Tripathi is made the head of the committee. Other members include Raagini, author and historian Aisha Ali Shah (Pallavi Joshi), social activist Indira Joseph Roy (Mandira Bedi), director of National Archives Omkar Kashyap (Rajesh Sharma), scientist Gangaram Jha (Pankaj Tripathi), ex RAW chief G K Ananthasuresh (Prakash Belawadi), president of the Young Indian Congress Vishwendra Pratap Singh Rana (Prashantt Guptha) and retired Supreme Court judge Justice Kurian Abraham (Vishwa Mohan Badola). A few of them in this committee, like Aisha Ali Shah and Vishwendra Pratap Singh Rana, vehemently deny that Shastri's death was mysterious and stress that he died of natural causes. Raagini and others put a counter view to prove the matter should be investigated. Soon, it comes to light that nobody really cares for Shastri and all are there for some ulterior motives. What happens next forms the rest of the film. Vivek Agnihotri's story is interesting and the film rests on a brilliant idea. The material is well-researched and it shows. But the character development ought to be a bit stronger. Vivek Agnihotri's screenplay is not very effective. A few committee scenes are well written and thought of. However, at certain places, it becomes a mess as there's too much of information thrown at the audience. Vivek Agnihotri's dialogues are acidic and add to the impact. Vivek Agnihotri's direction is average. There's no doubt he has handled some scenes deftly. The sequence where Raagini is wiping the cake off her face and talking to the caller is well executed. A few committee scenes are also impactful, especially the finale. On the flipside, the exterior scenes look substandard. This is especially for the slow-motion jogging scenes. Vivek has also shot a crucial sequence in Tashkent and even a layman can make out that a lower quality camera has been used. These are all shaky, hand held shots and one wonders why he didn't opt for at least a cheap tripod! Vivek Agnihotri & Team talk about film Tashkent files-who killed Shashtri
THE TASHKENT FILES is a 2.24 hours long film and could have been shorter and tighter for a better impact. The opening scenes are decent but again, too much time is wasted in establishing the setting and characters. The fun kicks in once the committee starts discussing about Shastri. The manner of the argument and even some character traits give an instant déjà vu of the Hollywood classic 12 ANGRY MEN [1957] and its Hindi remake EK RUKA HUA FAISLA [1986]. Post-interval, things do heat up at some places, especially Gangaram showing his true colours and his extremist views. At the same time, a few developments are quite unconvincing. The sudden killing of an important character is bewildering. Also, Raagini suddenly becoming a villain in the eyes of people and media doesn't seem easy to digest. Shyam Sunder Tripathi's monologue in the pre-climax is sharp but the impact is not much. The climax thankfully comes as a shocker and revives interest. The film tries to appeal to that vast section of people who feel that we have been taught incorrect history and who believe that a particular political party has been in the wrong all along. Although they'll love the information and shocking details provided in the film, it doesn't mean they'll go to cinemas to see it as the treatment is not massy. Moreover, the plethora of information is laid out in such a way that the common moviegoer will get confused and overwhelmed. A few details are needlessly given to the viewers, like the role of Kamraj. Hence, it starts to feel like the makers wanted to also impress audiences with their research and not just tell a good story. THE TASHKENT FILES has some fine actors but Shweta Basu Prasad rocks the show. She gets a very meaty role and she gives her hundred per cent. In the climax especially, she goes on another level. Mithun Chakraborty is a bit over the top but it works and it is good to see him on screen after a hiatus. Pankaj Tripathi adds to the fun initially and then surprises viewers with his extremist views. He is fine although one might also feel that he just walked out of the sets of last year's hit STREE and shot for this film without making any change in his look or dialogue delivery! Pallavi Joshi is efficient while Mandira Bedi doesn't get much scope. Prakash Belawadi is dependable and also contributes to the film's fun quotient. Prashantt Gupta is strictly okay. Rajesh Sharma and Vishwa Mohan Badola don't get much scope. Asif Basra is fine. Vinay Pathak (Mukhtar) looks too young for the part of a spy who has worked few decades ago. His entry is laughable. Naseerudin Shah is nothing special. Achint Kaur (PKR Natrajan's wife) is completely wasted. Ankur Rathee (Imran) is over the top and showing that he had a past association with Raagini serves no purpose. Yusuf Hussain (P K Bakshi) leaves a mark. Rohit Sharma's music is entirely forgettable. The promotional song 'Saare Jahan Se Acchha' is missing from the film. 'Sab Chalta Hai' doesn't generate impact. Satya Mannik Afasr's background score is okay and could have been more dramatic. Uday Singh Mohite's cinematography is appropriate in the committee scenes but in the exterior scenes, it is nothing great. Uday Prakash Singh's production design is theatrical. Khatri Irfan's costumes are appealing. Sattyajit Gazmer's editing should have been sharper as the film is too long. On the whole, THE TASHKENT FILES is laced with an excellent idea and provides some shocking facts related to the sudden demise of Lal Bahadur Shastri. But the film has zero buzz and is riddled with too many loose ends. At the box office, the film is bound to sink without a trace.
When it comes to spy films, one usually thinks of the big-budget action flicks that have made mark in Bollywood like AGENT VINOD [2012], PHANTOM [2015], BABY [2015], BANG BANG [2014], EK THA TIGER [2012], TIGER ZINDA HAI [2017]. But RAAZI last year changed it all and made a mark in this space as the spy was not shown kicking ass but quietly doing her job for the country. Now a film in a similar space, ROMEO AKBAR WALTER, is all set to release. The comparisons with RAAZI will be inevitable, also because it is based in the same time period. So does ROMEO AKBAR WALTER manage to stand out from RAAZI or any other spy film? Or does it fail to deliver? Let's analyse.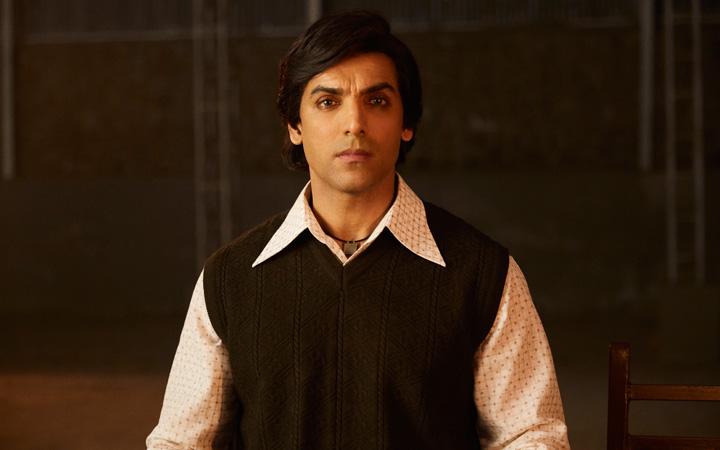 ROMEO AKBAR WALTER is the story of a patriot who takes extreme risks while spying in enemy country. The year is 1971. Romeo Ali (John Abraham) works in India in a bank. He stays with his mother Waheeda (Alka Amin) who is overprotective about him since Romeo's father had died while serving the country. Romeo too has the passion to work for India but is unable to do so due to his mother. However one day he meets Shrikant Rao (Jackie Shroff), head of RAW, and he asks Romeo to join them and spy on Pakistanis on their soil. Romeo agrees and before leaving for training and eventual trip to Pakistan, he lies to his mother that he has been promoted in the bank and that that's why he has been sent for training. In Pakistan, he manages to smartly win the trust of arms dealer Isaq Afridi (Anil George), who's very close to General Zorawar (Purnendu Bhattacharya). While spying on their conversations and activities, Romeo stumbles upon an important information. The Pakistani forces are planning an air strike in Badlipur area of the then East Pakistan. This part of Pakistan is getting rebellious and wants independence. The rebels meanwhile are being trained by Indian forces and a lot of them are stationed at Badlipur, where the Pakistanis plan to drop bombs. What happens next forms the rest of the film. Robbie Grewal's story is promising and could have made for an exciting thriller. Robbie Grewal and Rahul Sen Gupta's screenplay however is very weak and flawed. The scenes don't flow well and the narrative is quite incoherent. Audiences might not be able to easily comprehend what's going on. There are too many loopholes that even a layman will be able to point out. Robbie Grewal, Ishraq Eba and Shreyansh Pandey's dialogues are well worded but nothing memorable. Robbie Grewal's direction is not upto the mark. It is evident that he has put in a lot of research but it's of no use when you are not able to use it well. Moreover, audiences won't be able to help but compare the proceedings with RAAZI and it was a far superior product. So this factor also comes in play. Except for the final scene, one doesn't root for Romeo. His bond with his mother seems half baked. Even the romantic track with Parul (Mouni Roy) seems forced. The makers don't even bother to show what happens to Parul later on. ROMEO AKBAR WALTER has a shocking start but then goes downhill. The film suffers from problems at many places. Audiences might not be able to comprehend what's going on in the story. Quite a few sequences are difficult to digest especially how Pakistanis start to trust Romeo so easily. A few scenes do spark interest like the intermission point, Colonel Khan (Sikandar Kher) searching Romeo's house, the lie detector test sequence etc. But such scenes are immediately followed by not-so-exciting or flawed developments. The last few minutes do evoke patriotism and tries to move viewers and the makers succeed only partly as it comes too late in the day. Romeo Akbar Walter PUBLIC REVIEW | First Day First Show | John Abraham | Mouni Roy
John Abraham gives his hundred per cent. The film might disappoint but he won't. His deadpan expressions work very well for his character. Mouni Roy has an interesting part to essay. Though she does well, her character gets a raw deal. Jackie Shroff is dependable but at places, it's difficult to understand what he's speaking. Sikandar Kher oozes fear and terror and gets the accent right. Suchitra Krishnamoorthi (Rehana Kazmi) is fine but has very little to do. Anil George is damn impressive. Raghubir Yadav (Mudassar) leaves a mark. Purnendu Bhattacharya is okay. Rajesh Shringapure (Awasthi) and Nawab Afridi (Shadaab Amjad Khan) do well. The music has no scope and seems forced. 'Bulleya' fails to strike a chord. 'Maa' is forcefully added. 'Vande Mataram' is played in the end credits. 'Allah Hoo Allah' is needless while 'Jee Len De' is there for just a minute. Hanif Shaikh's background score is quite loud but works in enhancing impact. Tapan Tushar Basu's cinematography is appropriate. Madhur Madhavan and Swapnil Bhalerao's production design gives the film a nice retro touch. Same goes for Ameira Punvani's costumes. The clothes worn by Mouni is in sync with the era shown. Prana and Pixel D's VFX is passable. Nilesh Girdhar's editing is quite slow and the film is too long at 144 minutes. On the whole, ROMEO AKBAR WALTER fails to impress as it suffers from a flawed script as well as a weak and lengthy execution. At the box office, it will have an uphill task to register impressive numbers.
In the age of electronic media and social messaging apps, the charm of handwritten letters and note is even more special. At such a time, Salman Khan presents NOTEBOOK. Although it is based in time period of the last decade, it is not exactly a period film and talks about some of the relatable issues of Kashmir, and also of the matters of the heart. So does NOTEBOOK manage to entertain and touch a chord among the viewers? Or does it fail to do so? Let's analyse.
NOTEBOOK is the story of the bond that develops between two lonely teachers without even meeting each other. Kabir (Zaheer Iqbal) is based in Jammu and has quit the Army following a traumatic incident. He is called to Srinagar by an acquaintance who recommends him to join a school started by his father in Wular. The school's only teacher Firdous (Pranutan Bahl) has quit the school just some time back. With no other teacher there, Kabir agrees to join. Wular is located in a remote town and the school is built in a rundown houseboat. There are only a handful of students around and Kabir starts teaching them. In the drawer in the teacher's desk, he finds a notebook written by Firdous. She has written her thoughts, fears, insecurities, strengths etc. while she was teaching in Wular. It helps motivate Kabir and he also falls for her. Also, the manner in which the students speak highly of her makes it clear that she's a kind-hearted person. Firdous also mentions in her diary that she is having an on-off relationship with a man called Junaid. Moreover, one day the school is hit by a storm during which Firdous's notebook falls in the water. Kabir tries to save it but fails. What happens next forms the rest of the film. NOTEBOOK is the official remake of the 2014 Thai film TEACHER'S DIARY [Directed by Nithiwat Tharatorn; story and screenplay by Nithiwat Tharatorn, Sopana Chowwiwatkul, Thodsapon Thiptinnakorn and Supalerk Ningsanond]. Darab Farooqui's adapted screenplay comes across as inconsistent. The script had to be watertight in this film keeping in mind the loopholes in the plot. Sharib Hashmi and Payal Ashar's dialogues are fine and work well within the context of the film. Nitin Kakkar's direction is poor, which is shocking considering how well he had executed his previous films, FILMISTAAN [2014] and MITRON [2018]. The first sign is seen in the opening scene itself depicting Kabir suffering from the horrors of his past. However, this bit is shown just once. Ideally, the director should have shown it multiple times that he's getting flashes of the horrendous episode he suffered when he was in the armed forces. Secondly, an action scene is needlessly forced in the first half and it serves no purpose. NOTEBOOK is a niche, multiplex-type urban film and the masala fight sequence looks so out of place. In fact, this niche appeal is also an issue as audiences might not get exactly the gist of some scenes. Take for instance the scene where Kabir reaches Delhi Public School to find Firdous. It is not clear at this juncture whether he managed to recognize Firdous. If he did, it's bewildering why he didn't talk to her. If he didn't, then why didn't he ask around in the school about her whereabouts. Lastly, it is laughable to see that Kabir never reads Firdous's book fully. He's reading just few pages each time. Note that he's in a remote town and he has no other means of passing time. Also, he has fallen crazily for this girl. In such a situation, anybody in his place would have read the notebook in one go. But Kabir doesn't and it's only a few months later that he realizes that she has also written about her marriage! Due to such silly sequences, the impact goes for a toss. NOTEBOOK is around two hours long but moves at a snail's pace. The introduction part is engaging and the manner in which the school is depicted initially is intriguing. One can actually feel that the school is located in the middle of nowhere. Kabir trying to adjust to his new surroundings makes for a fine watch. The sequence of Kabir making friends with the kids is okay as the humour seems forced. The best part of the first half is however when Kabir catches his girlfriend Dolly cheating. The use of the song 'Accha Sila Diya' adds to the fun. The intermission point is quite arresting. Post-interval however the film falls. Kabir could have easily met Firdous by making enquiries but the makers don't allow that to happen. Hence, it seems very unconvincing. Also, the film deals with too many topics like terrorism in Kashmir, exodus of Kashmiri pandits, importance of education for Kashmiri children etc. These tracks however are more interesting than the principle plot and that's not good news for a film that is essentially a love story. The film ends on a fine note but it's too little, too late. NOTEBOOK rests on some fine performances with both the debut actors doing an excellent job. Zaheer Iqbal is quite sincere and genuinely does a good job. Despite his tough look, he plays the vulnerable part very well and comes across as quite endearing. Pranutan Bahl is stunning and has a supreme screen presence. She delivers a first-rate performance and can definitely make a mark in Bollywood, provided she signs some well-written films. From the kids, Mir Mohammed Mehroos (Imran) has an important track and is a natural. Soliha Maqbool (Shama) is most adorable. The others – Mir Mohammed Zayan (Tariq), Baba Hatim (Waqar), Adiba Bhat (Dua) and Hafsa Ashraf Katoo (Iqrah) also put their best foot forward. Mir Sarwar (Iqbal's father), recently seen in KESARI, is fine. Zahoor Zaidi (Hameed Chacha), Mozim Bhat (Junaid) and Farhana Bhat (Dolly) are decent. Notebook HONEST Public Review | Salman Khan | Zaheer Iqbal | Pranutan Bahl
Vishal Mishra's music is melodious. 'Nai Lagda' is the best song of the lot and is also picturized well. 'Bumro' is peppy although it comes up all of a sudden. 'Main Taare' comes next though Salman Khan's voice doesn't come across properly at a few places. 'Safar' and 'Laila' are forgettable. Vishal Mishra's background score is as per the film's theme. Manoj Kumar Khatoi's cinematography is stunning and captures the remote Kashmir locales beautifully. Urvi Ashar Kakkar and Shipra Rawal's production design is rich. The entire school-in-houseboat bit is fascinating. Sanam Ratansi's costumes are appealing. Shachindra Vats's editing could have been tighter. On the whole, NOTEBOOK boasts of exemplary performances by the debutants and is beautifully shot while stressing on the importance of education. At the box office, the film would appeal only to multiplex audience.
The gentle giant, elephant, at one point was a significant part of some very important films. The most memorable film in this regard was HAATHI MERE SAATHI [1971]. Then there were films like MAA [1976], SAFED HAATHI [1977] etc. that also dealt with elephants and made for a great, entertaining watch. Almost 40 years later, the jumbo makes a mighty comeback in Bollywood with JUNGLEE. The film has been noticed for its trailer and plot. Moreover, it's a rare Bollywood film directed by a Hollywood director, Chuck Russell. So does JUNGLEE manage to be an 'ideal elephant film', just like its predecessors? Or does it fail to entice? Let's analyse.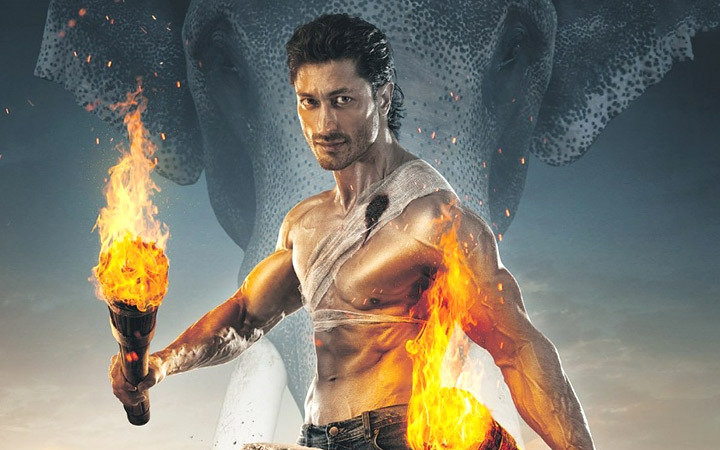 JUNGLEE is the story of a vet trying to fight an international poacher's racket. Raj Nair (Vidyut Jammwal) is based in Mumbai and is a renowned veterinarian. He has an estranged relationship with his father, Dipankar (Vijaya Kumar Arcot Ramachandran), who runs Chandrika Elephant Sanctuary. Their relationship soured 10 years ago after Raj's mother passed away. On her 10th death anniversary, Dipankar requests Raj to come back. This time, Raj agrees and he's accompanied by journalist Meera Rai (Asha Bhat), who wants to interview Dipankar for his contribution in safeguarding elephants. Raj is welcomed with open arms by his childhood friend Shankara (Pooja Sawant), who's also a female mahout. Meanwhile, Kotian (Atul Kulkarni) is a poacher working for a client in Taipei. They realize an elephant in the sanctuary, Bhola, has unusually large tusks. If they manage to retrieve it, they can get amazing returns for it. Kotian accepts the assignment and after a thorough recce, he attacks Bhola at night. Dipankar however reaches the spot and Kotian kills him. The goons working with Kotian also kill Bhola and escape with his tusks. Raj too goes to the rescue of Bhola but is defeated. What happens next forms the rest of the film. Rohan Sippy, Charudutt Acharya, Umesh Padalkar and Ritesh Shah's story is poor and dated. The only plus is that it educates audiences about the horrors of poaching and wildlife conservation. But audiences also need entertainment along with enlightenment and that's where this film falters. Adam Prince and Raaghav Dar's screenplay is ineffective for most parts. There's a lot the screenwriters could have done here but they don't and it's a loss of a golden opportunity. Akshat Ghildial and Suman Adhikary's dialogues are nothing special and some of them are even awkward. Chuck Russell's direction is shockingly bad. One expected this director from Hollywood would work his charm and entertain audiences. Instead, he makes a mess. He takes too much time to establish and build up. It's still fine for the scenes of Raj bonding with the elephants as it has novelty value. However, the sequences of Raj and his father are very unconvincing and looks staged. Also, he goes overboard while depicting the Indian culture and customs. In this regard, there are some ridiculous developments in the second half which would leave the audiences shocked. It's unbelievable how it got approved in the first place. JUNGLEE is just 115 minutes long and that's a big advantage. The beginning portions, depicting the sanctuary and presence of poachers is neat and sans complaints. Raj's entry sequence and the fight scene at the skywalk are also decent. One expects fireworks once he reaches the sanctuary. His scenes with Bhola and a female elephant, Didi, are also quite good. But the film drags a lot out here with nothing much happening. In fact, this goes on for a long time till the pre-intermission point. The interval point is a shocker and gears up audiences as they anticipate a roller-coaster ride from hereon. But sadly, apart from Raj's escape from the prison, no scene really makes a mark. The film also gets silly and ridiculous here. The sequence where Raj imagines talking to Lord Ganesha is when the film touches a low. The finale is also nothing special. Junglee Public Review | Vidyut Jammwal | Pooja Sawant | Asha Bhat
Talking of performances, Vidyut Jammwal's performance is nothing great but he has a fine screen presence and that helps. Also, his action scenes are always first-rate. Pooja Sawant looks stunning and arguably is the best performer of the film. Asha Bhat keeps her performance controlled thankfully. Makrand Deshpande (Gajja), on the other hand, hams like anything. Atul Kulkarni is passable. Vijaya Kumar Arcot Ramachandran gives a decent performance. Akshay Oberoi (Dev) is sincere, in a special appearance. Vishwanath Chatterjee (Inspector Khan) is quite theatrical. Rohan Joshi (Jayesh) tries to be funny and fails. Same goes for Lars Kjeldsen (Vane; villain in Taipei). Agnelo Chang (Mr Sinaki; buyer of the tusks) and Ania Zeyne (Crimson lady) push the envelope when it comes to giving the worst performances of the year. Sameer Uddin's music doesn't work. 'Dosti' is sweet and is well shot. 'Fakeera Ghar Aaja' could have been touching but it comes at a time when the film is really dragging. 'Garje Gajraj Hamare' is played in the end credits. Sameer Uddin and Tanuj Tikku's background score is better and has that big-screen appeal. Mark Irwin and Sachin Gadankush's cinematography is average in most scenes. Also, too many long and bird's eye view shots are used and it kills the impact. Chung Chi Li, Parvez Shaikh and Seayoung Oh's action is entertaining. Special mention should also go to Vidyut Jammwal's additional action choreography and it adds to the film. Mukund Gupta's production design is a bit unreal but works nevertheless. Urvashi Shah, Anirudh Singh and Dipika Lal's costumes are glamorous. NY VFXWala's VFX leaves a lot to be desired. And it's very bad in the Lord Ganesh scene. Jayesh Shikarkhane and Vasudevan Kothandath's editing should have been sharper in the first half. On the whole, JUNGLEE is a clichéd revenge drama and reminiscent of the 80s and 90s action fare. The use of elephants might attract a section of audiences but in the long run, it's bound to suffer at the ticket windows.
A sub-genre developed in Hollywood in recent times is that of superhero black comedy. DEADPOOL [2016] and KICK-ASS [2010] are fine examples of it and have been loved across the world. In India we have lagged considerably here. Forget superhero black comedy, even films with dark humour are seldom made probably since such films lack mainstream appeal. But now director Vasan Bala has taken up the challenge and the result is MARD KO DARD NAHI HOTA. The protagonist is not a superhero here although his condition does make him a force to reckon with. With such an interesting idea, does MARD KO DARD NAHI HOTA manage to work and give an entertaining time to the viewers? Or does it fail in its endeavour? Let's analyse.
MARD KO DARD NAHI HOTA is the story of a young chap with an extraordinary ability. Surya (Abhimanyu Dassani) is born with a rare defect called congenital insensitivity to pain. In simpler words, he can't feel pain at all. This lets him go wild as a child and even get injured multiple times, since he doesn't realise when he has broken a bone or requires medical intervention. His father Jatin (Jimit Trivedi) is therefore very cautious about him. Having lost his wife and Surya's mother (Shweta Basu Prasad) days after Surya is born, his father is hence even more concerned. But Surya's maternal grandfather (Mahesh Manjrekar) who also stays with the two is more open and adopts an unconventional method of parenting. In school, Surya gets bullied because of his condition and the only one who comes to his rescue is Supri (Radhika Madan). She however has an abusive father and she's helpless in front of him. Surya feels obliged to help her and while doing so, he ends up pushing her father from the terrace of a three-four storeyed building. The father thankfully survives but Surya and his family are compelled to leave their residence and shift elsewhere. Here, Surya grows in a controlled environment under the strict watch of Jatin. He's allowed to go out only once. In the present-day, Surya is around 21 years of age. Jatin is in love with a woman named Nandini and he wants Surya and the maternal grandfather to meet her at her residence. Both hence venture out. But in a funny misunderstanding, the grandfather is taken away by the cops and gets separated by the Surya. Surya meanwhile bumps into Supri, who has now grown up as a badass girl. He sees her posting publicity posters of Karate Mani (Gulshan Devaiah), who Surya has idolized since he was a kid. Surya decides to meet Karate Mani immediately and also Supri. However, once he reaches the karate centre, he's shocked to see the place ransacked and Karate Mani injured. This is when he learns that Karate Mani needs help as he's being tortured by his evil twin brother, Jimmy (Gulshan Devaiah). What happens next forms the rest of the film. Vasan Bala's basic plot is novel and unlike anything viewers have seen in Bollywood. However, the plot on the whole is quite waferthin. It's a bit unconvincing to see that Surya and others are simply retrieving a gold locket stolen by Jimmy and nothing else. Vasan Bala's screenplay however tries to add some creative and entertaining moments to keep the interest going. Vasan Bala's dialogues are quite sharp and funny. Supri's remarks on Rumi are sure to bring the house down. Vasan Bala's direction is top notch despite some rough edges. The treatment is quite unique and that makes the film engaging to a great extent. The manner in which he has executed some sequences and Surya's manner of thinking are also quite fun. The use of pop culture references further add to the charm. If only the film had a solid and convincing storyline, MARD KO DARD NAHI HOTA would have been in another level. MARD KO DARD NAHI HOTA begins on a fun note. The childhood portions are interesting but get stretched a bit. Memorable sequences here that stand out are Surya pushing down Supri's father and Jatin confessing to Surya's maternal grandmother that he loves Nandini. The latter is hilarious and would surely be loved. However, the first half is only used for build-up and establishing characters. It's only in the second half that the film really gets interesting as Karate Mani's characters gets defined properly and also Jimmy is introduced in the narrative. The fight in the security office is entertaining and even the finale is fun. However, the fight sequences are quite dragging. The film also doesn't end on a justified note, especially what happens with Karate Mani. The makers do drop a hint about a possible sequel though.
Abhimanyu Dassani makes an extremely confident debut and impresses with his histrionics. Radhika Madan, last seen in PATAAKHA [2018], gets to play a 'pataakha' yet again. She has a fine screen presence and adds to the film's entertainment quotient. Special mention should also go to her action scenes. Gulshan Devaiah is the surprise of the film. His double role act is superb especially the part of the antagonist. He induces the maximum laughs in the film. Mahesh Manjrekar is also at his best and after a long time, he gave such a memorable performance in a Hindi film! Jimit Trivedi, who impressed in 102 NOT OUT, also adds to the fun. Shweta Basu Prasad leaves a mark in a cameo. The actors playing the young Surya and Supri are quite something. The actors playing Nandini, Atul, Supri's mother and the old, moralistic security officer do well. Karan Kulkarni's music won't become a chartbuster but is utilized well in the film. 'Rappan Rappi Rap' is like a theme of the film. 'Life Mein Fair Chance Kiska' has a nostalgic vibe, with the singer crooning in the style of S P Balasubrahmanyam. 'Tere Liye' is touching. 'Nakhrewaali' is well shot. 'Dreamtime' comes at a crucial juncture while 'Kitthon Da Tu Superstar' and 'Shaolin Sky' don't make the desired impact. The background score however is in good sync with the film. Jay I Patel's cinematography is neat. Eric Jacobus and Anand Shetty's action is one of the highpoints of the film. It's very well-choreographed and would be loved. A few shots do get a bit gory though. Prateek Parmar, the martial art consultant, also deserves praise for his services. Ratheesh U K's production design is realistic. Abhilasha Sharma's costumes are glamorous, especially the ones worn by Radhika. Prerna Saigal's editing could have been tighter. The 137 minute long film ought to have been at least 10 minutes shorter. On the whole, MARD KO DARD NAHI HOTA rests on an interesting idea and is well directed and performed. At the box office, it will need to depend on a strong word of mouth to post decent numbers at the ticket windows.