MyShadi Bridal Expo Presents A Unique Bridal Event MyShadi Bridal Expo
Crowne Plaza Ravinia 4355 Ashford Dunwoody Rd NE, Atlanta,
GA 30346 on Sunday, April 17, 2011 • 12 Noon to 6 pm
The MyShadi Bridal Expo in Atlanta is well on its way to becoming a unique and hands-on experience for all attendees. For the first time ever at this year's Expo, mehndi and make-up artists will be doing live demonstrations to give brides ideas of looks for their wedding day. These live demonstrations will occur once an hour and are truly a unique way for brides to get excited about their special day. Brides and their families can enter raffles for fabulous prizes, including a free honeymoon trip to India, provided by Platinum Sponsor Qatar Airways.
Attendees will also be dazzled by a unique fashion show that will highlight the latest trends in wedding and formal fashions. A wide range of event planning vendors will be on hand to showcase their products and services. Mandaps and reception table settings will be on display to guide brides and their families in their wedding planning decisions. Photographers will be available to present their work and discuss their style, which is sure to put couples and their families at ease. Caterers and bakeries will be offering guest delectable samples. Guests will even be able to shop on site for clothing, jewelry, and accessories.
MyShadi Bridal Expo welcomes the opportunity to work with Platinum Sponsors Crowne Plaza Ravinia, Occasions by Shangri-la, TV Asia, and Qatar Airways.
Fashion Show by Mehr 'n Nisa
A unique combination of rich customs, exquisite culture and handmade beauty will be presented. Contact Mehr n' Nisa at (404) 275-3628.
Live Demo by Elegant Henna
Bindu Malbari, owner and primary artist, serves the metro-Atlanta, and specializes in intricate, one of a kind, themed henna art for various occasions.  Contact Elegant Henna at (678) 978-6661 or visitwww.ElegantHenna.net.
Live Demo by Sovi Salon
SOVI also provides services for bridal makeup, hair, and facials. Be So Fresh, Be So Beautiful, Be SOVI. Contact Sovi Salon at (770) 442 – SOVI (7684).
Live Demo by Aarti Amin
Once just her passion, making brides feel and look beautiful is now her profession. Aarti Amin artistic and creative side helps her to specialize in bridal henna, hair, and makeup. Contact Aarti Amin at (678) 717-7303 or visit www.aartiamin.com.
Live Demo by Ruby Beauty Center
Specializing in bridal henna, hair, and makeup, Ruby Beauty Center combines western style with traditional eastern touches Visit http://www.rubybeautycenter.com/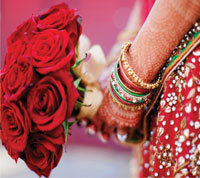 Fashion Show by Queeniee Indian Couture
Manufacturers and exporters for the past 40 years, Queenie Indian Couture can accommodate custom orders professionally designed by a team of designers in India. A wide collection of bridesmaid and groomsmen attire is also available. call (678) 538-3000.