Bollywood Today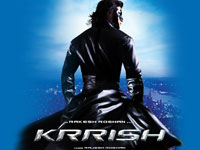 In a first, the film Krish2 has already been sold without a single shot, or even a concrete set in place. Rakesh Roshan, the great planner and strategist, has sold the domestic and overseas rights of his new film Krish2 even before he has commenced shooting. While shooting is only due to begin in November, the rights have already been sold completely, as has the music, which Tips has bagged. Ironically, save one song of which they have heard samples, there is no music in place for the film either. Almost clear to be a success, Krish2 is in a league of superhero movies which always have an avid audience, combined with an interest for children too. Without any real expenses, Rakesh Roshan has already made a lot of money. The rights are obviously pegged at an astronomical price, but most distributors look to make it, and plenty more back. Let's see just how high this superhero soars.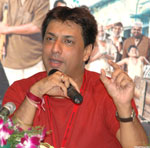 Hero Stands By Heroine
Madhur Bhandarkar's films have always had something to show. However, even without a release, he has been in public eye recently – because his latest Heroine has run into trouble. Having to stall production since lead actor Aishwarya announced her pregnancy, he has not just run into trouble with his film, but also the public. While some claim he is being unprofessional and unethical , others have shown some sympathy. Bhandarkar now goes on to say that he has not written off Heroine, and that it will eventually see the light of day. If this is just a knee jerk reaction to public ire or a steady promise we cannot say for now, but if Madhur has said it, it must be for a reason. Who will be the ultimate "Heroine," and whose fate will be sealed here?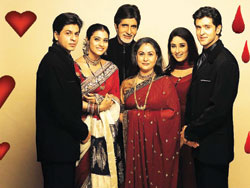 The Drama, Tears and Grandeur Returns to K3G
Kabhi Khushi Kabhi Gham was a film that made history. A grand cast, lavish sets and costumes, and a superb story told by the finest stars saw one of the most successful films in Indian history being brought to the audience. In characteristic Karan Johar style, K3G stole hearts everywhere. Now, ten years after it changed lives, K3G may just be set to come back to us again. Although there has been no official announcement, there are strong rumors and undertones to suggest that there will be a sequel to K3G. This is not surprising at this stage, considering sequels to films have been doing rather well at the box office recently. With a strong plot that looks to take the movie forward from where it left us, there is every reason that stands in favor of the film being made. With a great keenness from the stars to be a part of the film, there is little that Karan can find in his way. We are also waiting to lap this one up Karan – do hurry!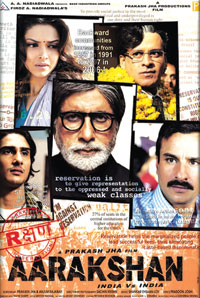 Perils and Panic for Aarakshan
Prakash Jha did not really imagine that his film Aarakshan would run into as much trouble as it currently faces. There are constant roadblocks, and the going has never been smooth. While being shot, the film first built a set on disputed land. Now that the film is complete, the commission for scheduled castes and tribes has asked that the film be shown to them prior to release since it deals with minority communities and issues. While Jha maintains a firm stand that he has no interest in having the film screened to them, he must have his fingers crossed until the film does finally make its way to the cinemas. We have seen the promotional rushes and love the look of the film. However, you cannot deny that the undertones are bound to ruffle some feathers. Can Jha emerge unscathed? Time will tell.