Bollywood Today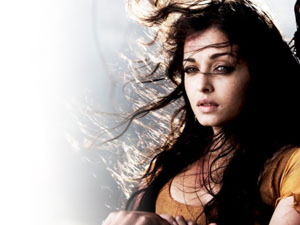 Raavan may have won mixed reviews for the movie, but several components have been widely received by everyone unanimously. Among them are the masakali anarkalis, traditional dresses, worn by Ash. These have become the rage not only in parts of India, but have caught on in Malaysia as well!
The biggest hit in Raavan is the masakali. The people of Malaysia love Ash, and love her costumes even more. Many different varieties of the masakali have been designed to make them more special. Some of these include the Raavan masakali and also the Robot masakali. Aishwarya sure has struck gold this time!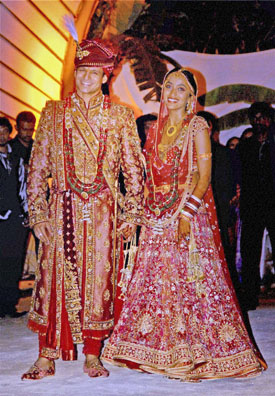 Vivek joins the Married Bandwagon
Vivek Oberoi just joined the league of married men and in the process has broken many hearts. Several people thought (and hoped) that this wedding, which had no element of Bollywood in it save the groom, would be called off. Sadly, Oberoi did marry Priyanka Alva in a quiet, intimate celebration in Bangalore. Not many people were invited, and few actually made it. The bride and groom, looking resplendent in outfits designed by Tarun Tahiliani, solemnized their wedding in the Alva residence, which was transformed into a grand palace. While skeptics have been silenced for now, it remains to be seen if this one is really for keeps. Here's wishing the couple the very best!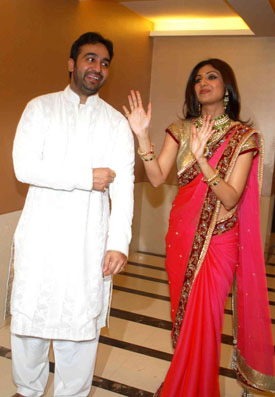 Karva Chauth lives up to its star promises
All women look forward to Karva Chauth. It's no different in Bollywood. David Dhawam threw a grand bash to celebrate this festival with his loved ones, and the girls took the glam quotient up many notches. Shilpa Shetty lived up to all expectations and arrived in a gorgeous blue sari with dapper looking beau Raj Kundra in tow. Raveena Tandon came in with husband Anil and was her charming self as usual. Other guests included Chunkey and Bhavna Pandey, Sanjay Kapoor, Queenie Dhodie and Sajid Nadiadwala. As the wonderful wives waited dotingly on their husbands, they were indulged with plenty of wonderful moments in return for their dedication and love.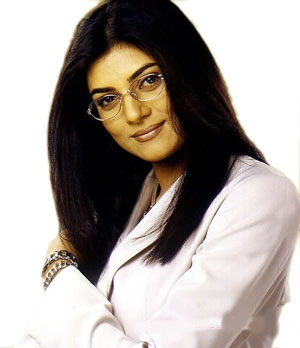 Where oh where can Sush be?
She made several promises and announced some grand projects, but Sushmita does not seem to be making any headway with her films yet. This strong feminist has some rather interesting women- centric ideas including a biopic on the life of Rani Laxmibai. She has grand plans and wants to leave no stone unturned, which is why she is still busy looking for funds and has not begun work on it just yet. In the interim, she is busy looking after her two little babies and enjoying being a mother. Ask her if she wants to expand her brood, and she says that she just knows she will be the biological mother if it is to be a boy. This girl is sure of what she wants, and knows how to get it.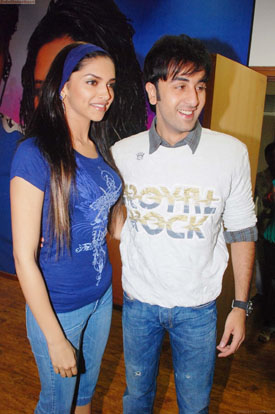 Ranbir still part of Deepika's life
Although several people, including the couple themselves, may have admitted to the fact that Deepika and Ranbir are no longer an item, Deepika still has him as part of her life. The 'RK' tattoo that Deepika got for him in their happier days is to stay. She claims she has definitely moved on, but this decision makes her stance a little suspect. Meanwhile, the latest story doing the rounds is that she is set to play the part of Aalia, a commitment-phobe much like the real life Ranbir, in her next movie Break ke Baad. Given that she had two years of being close and personal with Ranbir and his traits, there is plenty of value she can add to that role.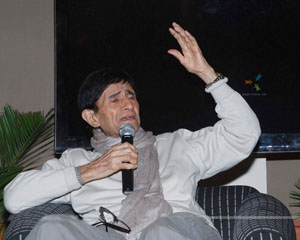 Dev Anand comes back with a bang
Dev Anand's presence was missing for many years, but he is back with a vengeance. This time he is ready with not one but two releases. His film Chargesheet is complete and slated for release in December. In addition, he has also decided to re-release his immensely popular hit film Hum Dono, this time in color.
There is plenty to look forward to. Dev Anand fans will have a new dose of the actor they knew fifty years ago and the actor as is today. With iconic songs, the classic Dev style and plenty of action, Dev has much more that he is looking to accomplish. That's the spirit!
Hera Pheri comes back with new promises, new stars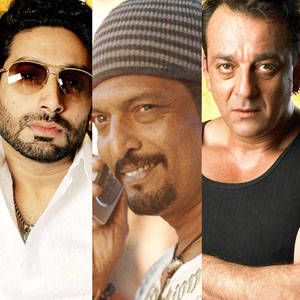 Everyone loved Hera Pheri and its sequel. And while the audience waited expectantly for yet another surprise to follow, no such news came their way. Finally, after a wait of four years Feroz Nadiadwala finally announced Hera Pheri 3. This time, though, the entire cast has changed. The three stooges in this newest offering are Nana Patekar, Abhishek Bachchan and Sanjay Dutt. While Akshay was the original choice to continue playing the lead for obvious reasons, Feroz was simply unable to afford him. It is almost impossible to beat benchmarks like Hera Pheri, but Feroz promises that this one will be in a new league altogether.