Bollywood Today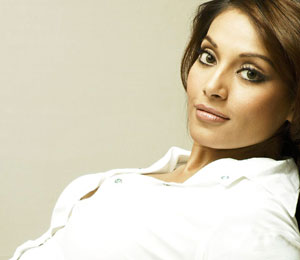 Bip's Tweeting
The hot and dusky beauty of Bollywood, Bipasha Basu has also joined hands with her Bollywood counterparts. Sensing the active role of other leading celebrities of the tinsel town, actress Bipasha Basu made her appearance on the famous micro blogging website, Twitter, and has an amazing fan following. Just after she joined, her fan following went up to 27,000 in a day's time and it continues to grow. Her first tweet reads, "Hello guys! Late entry in twitter verse but nevertheless am here now. A big thank you to all my fans for helping me become that I am 2day." She has posted several other tweets on the website and one of them says that she will convince her beloved John to also join hands with her. Well, it seems the recent joining of Aamir Khan on Twitter has invited attention from other Tinsel Town celebrities. Others who are on the site include Shah Rukh Khan, Salman Khan, Hrithik Roshan, Abhishek Bachchan, Priyanka Chopra and Mallika Sherawat.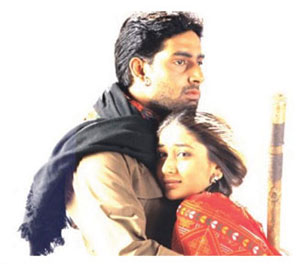 After Refugee, they're back again
After a long hiatus, Kareena Kapoor and Abhishek Bachchan are likely to work together in Sanjay Leela Bhansali's film Hira Mandi, a lavish period film based on the red-light district of Lahore. Says an insider, "Earlier, people thought that SLB would ask Hrithik to do the film, considering he has done Guzaarish with him and likes to repeat actors." However, Abhishek seems to be better suited for the role given that he has already done period film like Umrao Jaan with Aish. Heera Mandi is Sanjay Leela Bhansali's most ambitious and expensive venture, and might star two other heroines besides Kareena. The ace filmmaker is keen on casting Aishwarya Rai and Preity or Rani and Preity with Kareena. Well, we look forward to watching this multi-star cast offering.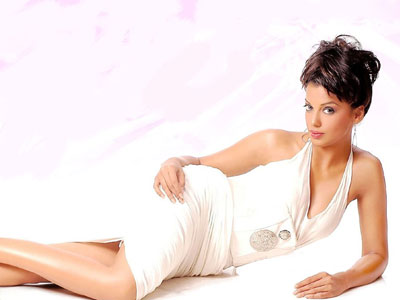 Mugdha dares to bare
After her stunning performance in the movie Fashion, model-turned-actor Mugdha Godse dares to bare it all in her upcoming movie Help opposite Bobby Deol. Mugdha is said to have done some bold scenes for this horror thriller and had no problem getting into a bikini either. She thanks her modeling background for helping her feel comfortable in the attire. Her debut film too required her to be in a two-piece bikini. When asked about her bold shots, Mugdha said, "I wasn't conscious about wearing a bikini as it was the demand of the script. But I had to work quite hard to keep my body in shape." She preferred wearing a plain white bikini than to a fluorescent colored one designed by Ashley Rebello, who designed her dresses in the film. The difficult part was playing two different characters. She said, "What was tough for me to portray the two looks I have in the film — at certain times it was glamorous while other times it had to be ghastly." The film Help is planned to release on August 13, "It's Friday the 13th and considering its subject the makers wanted it to be out on that day," says Mughda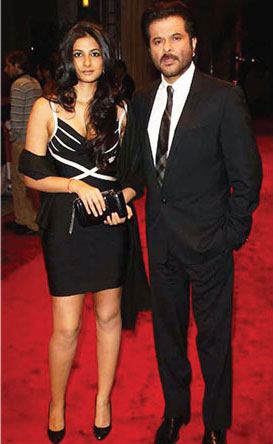 Kapoors set to rule Bollywood
After the father played Mr. India, his daughters seem to befit the crown of Ms. India, rather Ms. Bollywood. Anil Kapoor's family is all set to rule Bollywood. The proud dad's daughters are carrying forward his successful legacy with their skills in both acting and production. While one of Kapoor's daughter, Sonam, is flying high with her sweet smile and inherited acting quality, his second daughter, Rhea, appears to one of the youngest and hottest producers in Bollywood with her upcoming film Aisha. Rhea's film Aisha is the directorial debut of Rajshree Ojha and features music by Amit Trivedi. Her sister Sonam Kapoor, Abhay Deol, Cyrus Sahukar, Amrita Puri, Lisa Hayden, Arunodhay Singh and Ira Dubey also play a role in the film, which will be released on August 6. Just as Sonam Kapoor is flooding television screens with promos of Aisha and I Hate Luv Storys, sister Rhea, the producer of Aisha, says she will always stay behind the screen. Rhea admits she studied theatre in the US, but acting will always be a hobby. "I may have given it a shot if Sonam had not become an actress. But now I have experienced everything almost first hand with her. And I don't think I will enjoy doing it for my life," says Rhea. "Production however suits me better as I am a control freak. I might also try directing in a couple of years," adds this younger sister. While both sisters are quite different, they are both similar in one aspect – both would like to direct. In fact Sonam even assisted Sanjay Leela Bhansali before she started acting.
Farah picks her Big Boss contenders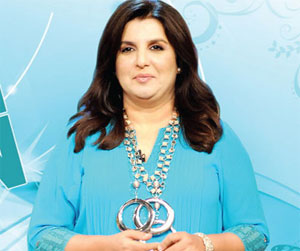 Now that TV Channel Colors is all set to launch its third season of Bigg Boss in October, the show's biggest fan Farah Khan is quite excited. Every year when the show begins, the director hosts a dinner at her home and only fans of the reality show are invited to this party. Watching the show with BB devotees is quite the event at the Khan home. Here she picks 10 people she wants to see on the show. And this year's picks include Bappi Lahiri, Kim Sharma, Abhijeet Bhattacharya, Deepak Parasher, Barkha Dutt, Madhur Bhandarkar, Barbara Mori, Mamta Kulkarni and Saahil Khan. She vows by her choice and claims that these are people who can actually make this season's show a real success. Let's see if the Big Boss pays heed to Farah's recommendations.