Bollywood Today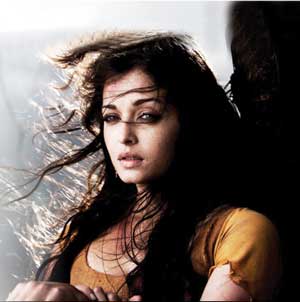 AISHWARYA WAITING FOR RAAVAN
Aishwarya Rai is eagerly awaiting the release of her upcoming movie, Mani Ratnam directed Raavan. This movie, she says, gave her a chance to showcase her acting abilities and not just be a glam doll. "My role is completely non-glamorous," says the glamorous actor. Taking cue from the title, grapevine has it that the movie is based on the Hindu mythological epic Ramayana.  While Aishwarya plays modern-day Sita, her husband Abhishek plays Raavan. Aish says that she had to dance, emote and also face up to the local goon played by Abhishek. However, she refrains from accepting that the movie is actually a modernised version of Ramayana and maintains that Raavan cannot be compared to any mythology. "It is different and audience would understand the theme once they come to watch the movie. I play Ragini, a strong woman and very relatable to the modern Indian woman. She speaks her mind," says the actor. She further adds that working on this project has been a great learning experience for her as also for Abhishek.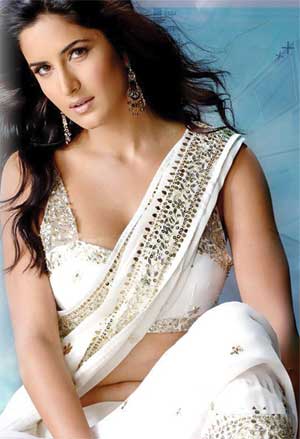 KATRINA'S STUNNING STUNTS
After Lara showed some enthralling water stunts in Blue, and Deepika did some scuba-diving in Housefull, it's now Katrina's turn to join the stunts bandwagon. The sultry siren will not only be seen doing deep-sea diving but also dirt biking in her next film. Katrina, Abhay Deol, Hritik Roshan, and Farhan Akhtar are all set to show off the best of their talents in Zoya Akhtar's Riding With the Bulls.
Although not much of an adventure gal, Katrina is super excited about her action-packed role and has already begun training for it. Claiming that this is one of the best scripts that she's been offered, she wants to leave no stone unturned and wants to give it her best shot. Kat says, "I have done some diving in Mauritius when I was there on a holiday and learnt some basic stuff while shooting for an underwater ad with the equipment used for diving, but Zoya wants some hardcore scenes underwater for which I have to be properly trained." The under-sea portions will be shot in Spain.

Training with Jasmine Karachiwala, Katrina adds, "I have told Zoya to let me do the scenes in shallow waters as I am a bit nervous about shooting underwater. The deep sea is very mysterious and I feel bit scared at finding out what's there." The deep blue sea might be making her nervous but the lovely lass, in the company of Hrithik, Farhan, and Abhay, are all upbeat to uncover the mysteries of hidden life under water. With the kind of hard worker she is, we are sure that she will adapt to the sea like a beautiful mermaid.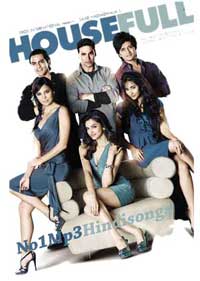 HOUSEFULL GOES HOUSEFUL
The recently released Housefull went houseful indeed! Living well up to its title, the comic caper saw packed theatres throughout the weekend earning the biggest opening of the year so far. After several disastrous movies released since the beginning of the year, this light comedy came as quite a treat for movie buffs. Credit it to the star value (Akshay Kumar, Deepika Padukone, Riteish Deshmukh, Lara Dutta, Arjun Rampal and Boman Irani), huge promotions or the two-month dry spell at movie theatres post-IPL, the opening weekend collection exceeded the $6.8 million (net) mark and business is still going strong. While trade circles are comparing the business of Housefull with that of last year's blockbuster hit 3 Idiots. The film's promoters have come out with ads which boast of huge collection figures thereby making people feel that it's indeed a bigger hit than 3 Idiots. This is motivating even more crowds to the theatres, and an excellent publicity gimmick. Akshay is playing his usual comic self in the movie. Riteish and Lara's presence adds comic value to the movie. However, it takes bikini-clad Deepika Padukone and Jiah Khan to add the oomph factor.
AFTER 3, IT'S 4 IDIOTS
No, no. Rajkumar Hirani is not coming up with a sequel to his mega blockbuster hit 3 Idiots. Drawing inspiration from the film, producer Biswaroop Roy Chowdhary is coming up with 4 Idiots, an animated film. The filmmaker claims that the storyline and star cast will be totally new and different. The only similarity between the two films will be the voice accent of  'Chatur Ramalingam,' the South Indian nerd who tries to speak literary, Sanskrit-clad Hindi. Omi Vaidya aka Chatur Ramalingam will be doing the voice over for the lead character in the movie – Pappu, a school-going intelligent boy who studies in a school that is similar to Amir Khan's Ladakhi school in 3 Idiots. Here also students are quite innovative. The makers intend to keep the actual plot, a secret. The producers have decided to premiere the movie at the World Unity Convention Centre in Lucknow, Uttar Pradesh.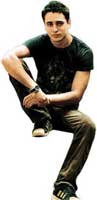 IMRAN KHAN: THE NEW GAY ICON
Imran Khan (the nephew of Aamir Khan) has been out of sight for a while. However, he has made a comeback – impressive and enchanting. His sexy shirtless shots for the upcoming Karan Johar flick have created some huge frenzy. Imran's gay fans are totally bowled over. So much so that, ever since these shots were splashed in major newspapers, he has been bombarded with mails and calls from his gay fans asking him for autographed pictures. Some of them even claim that he's the sex symbol they've been waiting for. Diplomatically confirming the news, Imran says, "Yes, my marketing department has asked me to sign a lot of pictures. They could be for the gay community. But I haven't dug into the details." After having swayed many female hearts with his debut romantic comedy, Jaane Tu Ya Jaane Na, Imran must be feeling quite happy these days. He doesn't seem to mind the label either. "If I can capture the male audience as well as the female audience, it's all the better for me," says Imran.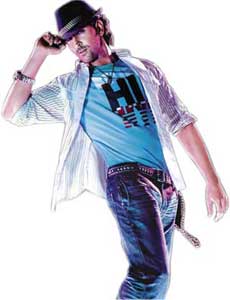 AFTER AKBAR HRITHIK TURNS ROMAN EMPEROR
Hrithik Roshan played the Mughal emperor Akbar in Jodhar Akbar with much poise and grandeur. The Bollywood actor, who was born with royal, classical looks, is all set to play a Roman emperor in a new television commercial. Directed by Indrajit Nattoji, the ad is for cookie brand Milano for which Hrithik is the brand ambassador. "Set against a background of 10,000 warriors, we are almost filming a Gladiator (movie) in 30 seconds. We'll be going the way of the Hollywood hit 300. Putting Hrithik in an uber cool period, packaging in 30 seconds was a high," Nattoji said in a statement. All praises for Hrithik Roshan and his classical looks, he adds, "I was quite influenced by his conventional good looks reminiscent of a Greek god. His regal bearing as a Mughal emperor in Jodhaa Akbar also helped in determining his new avatar." The first phase of the ad was shot in Mehboob Studios in Mumbai, and the second phase that involves a war scene is to be shot in Gran Sasso Campo, 93 miles from Rome. Sanjeev Mulchandani designed Hrithik's costume for the ad. Post-production of the ad will be done in Malaysia. Hrithik is looking forward to shooting the ad film. He says, "I was quite fascinated by the idea of enacting a Roman Emperor in an ad film. Let's see how it unfolds."
DESI-AMERICAN MUSICAL FLURRY
Music lovers can expect great fusion music. Bollywood composers are now collaborating with US artists for their world-tour ventures. Composer Bappi Lahiri has been composing music in Los Angeles for the past month. While work was going on his album titled Jackson 5, he decided to make an album for world peace.  He then got in touch with Gerald Albright, a legendary American saxophonist, and sisters Julia and Maxine Waters. Meanwhile, the music director trio of Shankar Mahadevan, Ehsaan Noorani and Loy Mendonsa, are hoping to rope in international names for their world tour. Inspiration Rock On Live in Concert, Shankar, Ehsaan and Loy's first world tour will perform 12 concerts in cities across the United States, United Kingdom, and Canada in the span of one month. Friends Mahalaxmi Iyer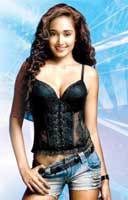 and Richa Sharma will also be part of the tour. The trio is also in talks with various US artists to join them in their concerts, but names are yet to be finalized. The concerts will take place between July 15 and August 15.
JIAH BAGS TWO HOLLYWOOD  ROLES
The bold and beautiful Jiah Khan began her Bollywood career starring opposite the Big B, Amitabh Bachchan. Since then she has never had to look back. Her next movie Ghajini features her paired with Aamir Khan. And her latest flick Housefull  saw her as a sexy seductress.  What's more, she has now bagged not one, but two Hollywood films. Talking about the Hollywood projects, Jiah says, "Yes I am doing the two films but I can't talk much about them except that one of them is an adaptation of a classic English play."