Bollywood Today
Its end of June – Time for half yearly results !!
In comparison to the first half of 2005, which saw only two hits – Black and Page 3, the first six months of 2006 has been a dream run for Bollywood. Kick-started by Rakeysh Mehra's Rang De Basanti and followed subsequently by big budget films like Kunal Kohli's Fanaa, Neeraj Vora's Phir Hera Pheri and just released Rakesh Roshan's Krissh – which has already been declared a hit; the small to medium budget films like Priyadarshan's Malamaal Weekly, Rajat Kapoor's Mixed Doubles and Homi Adajania's Being Cyrus were all big grosser – in multiple times of the cost of the project. Even films like Emraan Hashmi – starrer Gangster and Aksar, and John Abraham's Taxi No. 9211 fetched above average returns.
Buoyed by this success, it seems that the upcoming releases in the second half of the year will also give Hindi film industry a big lift, esp. as they include Karan Johar's Kabhi Alvida Na Kehna, J.P. Dutta's Umraao Jaan, Yash Chopra's Dhoom 2 and Farhan Akhtar's Don.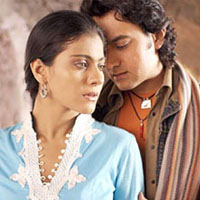 Fanaa controversy– far from being over!!
The controversy regarding the screening of Aamir Khan's Fanaa in Gujarat is yet to take the backseat. Despite all the protests and opposition by the BJP regarding the release of the film in the state and the subsequent unofficial ban on screening, Ambar theatre in Jamnagar tried to act different by being the only one to show the film. But, its effort was short-lived as it closed down the screens following the self-immolation of Pravin Joshi on 11th June in a bid to protest against Aamir's anti-Gujarat remarks.
Robot to co-act in Hindi Film !!
A robot is said to enact a major role in Harry Baweja's Love Story 2050 starring Priyanka Chopra and introducing his son Harman Baweja. The film touted to be the first commercial science fiction of India is supposed to be set in the backdrop of a futuristic Mumbai of 2050 and will have an estimated budget of around Rs. 45 crores.
Yorkshire to host 2007 IIFA!!
After the tremendous success of International Indian Film Awards ceremony in Dubai in the month of June, the county of Yorkshire in North England has been chosen as the venue for this prestigious award ceremony next year. English towns such as Sheffield, Bradford, York, Hull and Leeds will play host to several IIFA awards related events that are expected to be attended by thousands of Asians from the region and elsewhere in Britain.
Pakistan has reservation about Bollywood lyricist and movies alike!!
It is no more a news that the famed lyricist Javed Akhtar was denied visa to visit Pakistan for participating in Pakistan TV's telethon – aimed at collecting funds for the October 2005 earthquake victims. While the event was subsequently called off, the Pakistan-India Peoples Forum for Peace and Democracy has expressed its serious concern over the refusal of visa by the Pakistan Government. However, back in Pakistan, Culture Minister G.G. Jamal has said that while actors from India would be allowed to visit the country, films made in India will not be permitted for screening under any condition.
Bollywood's brush with the law !!
Back home in India, the Bollywood stars seem to be rubbing the wrong side of law. While on one hand, Bollywood actor Shahid Kapoor had to appear before the customs department in Mumbai to record his statement in regard to alleged tax duty evasion on his imported car; on the other, the woes of Salman Khan are far from over. Recently, a local court issued a notice to Salman for filing a false affidavit in connection with his gun license in the illegal arms case. At the same time, Salman Khan is facing legal consequences for his alleged involvement in the eight years old Chinkara poaching case in Kutch and also for his infamous hit-and-run case in Mumbai four years ago.
The beleaguered playback singer Udit Narayan is also facing a tough time fighting the summons of law. He failed to appear before Bihar Women's Commission for the sixth time but said that efforts were on for an out of court settlement with Ranjana Jha, who claims to be his first wife, and sought a week's time for "meaningful" reconciliation.
Krissh success to be followed by sequel !!
The response generated from the audience about Hrithik Roshan-Priyanka Chopra starrer – Krissh has been so remarkable, that it's producer-director Rakesh Roshan is all set to make another sequel to this series! He said recently that it would be unwise not to do another film in the series right now when there's such a rage all over the world for Krissh.
Chuk de India – from the house of Yashraj Films !!
The forthcoming film from the Yashraj banner – Chuk de India involves around a girl's football team, and will have the unputdownable Shahrukh Khan as the coach of the football team. The film proposed to be released in August, is being directed by Shimit Aamin, who is presently busy shooting the grooming session of a group of newcomer girls – supposed members of the football team to be coached by Shahrukh and these snippets will be used as teasers during film promotions.
Sanjay Dutt and John Abraham join hands for Karan Johar Production !!
Director Soham, inspired by the success of his debut film Kaal, is all set to make his next venture under Karan Johar's production house. The yet to be titled film will have Sanjay Dutt and John Abraham, who will again be seen sharing screen space after delivering a stupendous performance in Sanjay Gupta's Zinda.