Bollywood Today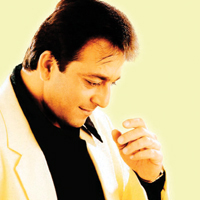 Bollywood breathes a sigh of relief after Sanjay Dutt verdict!!
The entire Bollywood fraternity breathed a sigh of relief as the TADA Court acquitted superstar Sanjay Dutt from the charges relating to his direct involvement in the 1993 Mumbai Blasts and held him guilty of the lesser charge of possessing illegal weapons under the Arms Act. Moreover, the special TADA court extended his bail till Dec 18 and directed him to surrender before the court on Dec 19. It is being heard that an amount of over Rs. 125 crores has been invested on various Sanjay Dutt starred films that are coming up. Hence, the industry was waiting with baited breath about the outcome of the trial.
With Sanjay's verdict under the Arms Act scheduled for sometime in January 2007, the Film industry had initially planned for a signature campaign on the 12th of December to garner support for the accused actor. It was decided that the film industry will observe a close-down on that day for the activity. But later on, the program was withdrawn after Sanjay, while thanking all for their support, himself requested the organizers to refrain from such activity which may result in contempt of court.
International awards for Bollywood personalities pours in !!
Awards are coming thick and fast for our Bollywood actors and directors. Shabana Azmi and Farah Khan will be honoured by the Triangle Media Group for their contribution to Indian cinema. Apart from them, celebrated film maker of Indian origin Jagmohan Mundra will also receive this prestigious Global Media Award to be given to them at the University of Leicester. On the other hand, petite actress Kangana Ranaut becomes the first ever Indian to bag the coveted best debutant award for her role in her debut vehicle, 'Gangster – A Love Story', at the Asian Festival of 1st Films in Singapore. To add to her joy, few Days later she received her second award – the best debutante of the year – at the Global Indian Film Awards (GIFA) concluded on in Kuala Lumpur. Acclaimed Bollywood filmmaker Vishal Bhardwaj has been named the best director at the 30th Cairo Film Festival for "Omkara".
Aishwarya given clean chit by Customs after rigorous inquiry
The matter regarding the mysterious package dispatched from the Netherlands in the name of ex-Miss World and Bollywood actor Aishwarya Rai seems to be heading towards a cool end. The package alleged to have contained branded shirts, DVD Players, Mobile phones and Euros 23,000 (Rs.3.7 million) in cash. The Customs authority had launched an full scale investigation and had questioned Ms Rai for two hours about her knowledge in this matter. Earlier, Ms. Rai's father had visited the Customs personally to present her point of view in this connection. Of late, the Customs sleuth have given Ms. Rai clean chit and disassociated her name from any alleged involvement.
Shahrukh to replace Big B as KBC quizmaster.
The baritone voice of Big B saying 'Lock kar Doon' will not be heard again. Instead, one may hear 'Lock kkkkkk.. kar doon' in Star Plus's mega show – Kaun Banega Crorepati – as it will be the inimitable King Khan – Shahrukh to don the mantle of this hugely popular game show, when it resumes in January, 2007.
According to Star sources, the channel had pursued Amitabh Bachchan for a long time, but BIG B was probably not very keen due to health issues. SRK, who was once offered the show at the time of inception, made no mistake in grabbing the offer this time. It seems Shahrukh loves to do what Sr. Bachchan does – right from advertisements in common to the role of DON and now, KBC !
Govinda Ala Re…
The one time No. 1 hero of Bollywood and now a Member of Parliament was losing his hold on Bollywood. But, recently, aided by true friends like Suneil Shetty, Salman Khan and David Dhawan, Govinda seems to be regaining his foothold back in the industry. Apparently, Shetty had given up his role in Priyadarshan's Bhagam Bhag for Govinda- the film being touted as Govinda's comeback film.Moreover, Suniel is so impressed with Govinda that he plans to give him another role in his next home production Chal Chala Chal. On the other hand, Govinda is all set to star in David Dhawan's next film Partner. Truly, it seems happy days are again back for Chi Chi !
Govinda has also been appointed as the official Brand Ambassador of the Bhojpuri Film Awards (BFA) recently, adding another feather in his cap.
Global acceptance of Indian films continue to grow day by day
The popularity and acceptance of Indian films all over the world is certainly on the rise. A reflection of that fact can be easily manifested by the participation of Indian films in International film festivals all over.
Festivals that see a significant Indian participation include the South Asian International Film Festival in Manhattan, New York City; Pusan International Film Festival, South Korea; Sixth International IAAC Film Festival in New York organised by The Indo-American Arts Council Inc (IAAC).; second Asian Festival of First Films in Singapore; the Third Dubai International Film Festival, Dubai UAE and the River-to-River Florence Indian Film Festival in Italy, which calls itself "the first festival in the world entirely devoted to films from and about India".
In the meanwhile, three Bollywood films – Rang De Basanti, Omkara, and Lage Raho Munnabhai will vie for nominations for the best foreign films at the 64th Annual Golden Globe Awards from among 184 live-action feature films that are under consideration.
In Pakistan too, Indian film stars have a huge fan following. Recently, actors like Urmila Matondkar, Shilpa Shetty, Milind Soman and Dino Morea wowed the Pakistani audience as they modelled outfits by Indian designers Manish Malhotra and Tarun Tahiliani at a Lux carnival in Karachi.
Upcoming ventures in Bollywood
According to industry sources, Aishwarya Rai, Abhishek Bachchan, John Abraham and Govinda are teaming up for Suniel Shetty's untitled next home production. To be directed by debutante Vicky Singh, the film will also cast Anupam Kher's son Sikander Kher, though Suneil himself will not be seen in front of the camera.
Sajid Nadiadwala's HEY BABY directed by Sajid Khan, starring Akshay Kumar, Vidya Balan, Fardeen Khan and Ritesh Deshmukh has been in the news recently. The buzz about this film is an interesting special appearance by a top billed actor whose name is yet to be disclosed. Rumour mills are speculating the actor to be either Hrithik Roshan or Salman Khan. However, as this movie already has 20 top actresses of Bollywood in a song sequence – one doubts that whether the movie will be more of special appearances than anything else.
Shooting is going on for Vikram Bhatt directed RED- The Dark Side, a suspense thriller starring Aftab Shivdasani, Celina Jaitley and Amrita Arora. The ubiquitous Himesh Reshammiya has scored the music of the film. The film apparently explores the dark side of love. It deals with mystery and deception in the name of friendship.
Lastly, lot of news from the Bachchan camp
The Bachchans never cease to be in the news. Indeed, the spicy of all news remains to be the speculation about Junior B's relationship and impending marriage with Aishwarya Rai – esp. after they were seen together performing rituals done only by married couples in two major temples in Varanasi.
Abhishek however, has his share of accolades too. He was conferred Uttar Pradesh's highest cultural honour – Yash Bharti – at a ceremony in Lucknow by the state Chief Minister Mulayam Singh Yadav. A token Rs. 500,000 was given to all the 11 eminent awardees from the state, but Abhishek donated his share towards 'any social welfare programme of the Uttar Pradesh government'
For the Big B, he is never short of work. While his Babul has hit the screens, his forthcoming ventures include Balkrishnan's "Cheeni Kam" with Tabu; 'Bhootnath' for producer Ravi Chopra; Ram Gopal Varma's 'Sarkar 2' with son Abhi; apart from the much in news Sholay. Amitabh also have films with Rakeysh Mehra and Shojeet Sarkar in the offing.
And when the son and the husband are so busy, how the mother can be left behind, Jaya Bachchan too has her hands full. She is doing Rituparno Ghosh's bi-lingual Sunglass and Pradeep Sarkar's untitled film. Ironically, in both the films, Jaya will be acting as Konkona Sen Sharma's mother – in Sunglass and also in Sarkar's film, where her screen daughters will be Konkona and Rani Mukherjee.
Finally, not to forget about Bhairavi – the planned project of Rakeysh Mehra , set against the backdrop of music and familial heritage. This is the mother of all projects as it will feature for the first time – all the Bachchans – Amitabh, Jaya and Abhishek – something that the cinegoers wanted to watch for a long time.