Bollywood Today
Deepa Mehta to recreate 100-year-old Canadian immigration tragedy
Award-winning movie director Deepa Mehta plans to make a film about the tragic case of a shipload of Indians refused entry into Canada nearly 100 years ago.
The film, provisionally titled "Exclusion", will tell the story of more than 300 Indians barred from Canada in 1914 after an immigration dispute arose. On their return to India, passengers were arrested and the British colonial officials planned to send them back home to the northern state of Punjab. Some of them refused to go and 20 were killed when police opened fire on a demonstration.
Amitabh Bachchan and John Abraham have expressed interest in the project but casting has yet to be finalised for the "big budget" movie.
Hollywood grooves to "Chhaiyan Chhaiya" song
AR Rahman's hit song "Chhaiyan Chhaiyan" from Dil Se makes a surprise appearance in filmmaker Spike Lee's first Hollywood-backed film "Inside Man".
The song is used in the background at the opening of the heist thriller starring Jodie Foster, Denzel Washington and Clive Owen. It is played again at the conclusion of the movie, which has drawn strong critical notice.
Bollywood goes English to widen urban appeal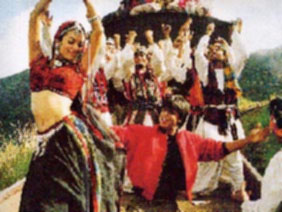 Bollywood is trying to woo a new breed of young urban audiences as India becomes a world hub of outsourced call centres and attracts overseas companies.
Producers, who could not incorporate the traditional Hindi song and dance routine in English, have started to make their first cautious foray into English language films.
Bollywood trade analyst, Vinod Mirani says, "There's a good chance that a trend can start of English films if one clicks and makes it big at the box office".
"Being Cyrus", Bollywood actor, Saif Ali Khan's first English film was released on March 24 with trade analyst and Bollywood awaiting box office results.
Foreign actors eye Bollywood to launch careers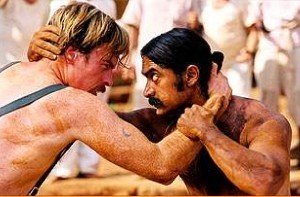 Foreign actors are eying Bollywood to launch their careers, grasping opportunities to play major roles in the traditionally insular Hindi film industry as a new generation of filmmakers explore issues beyond the typical song and dance filled epics of the past.
British actor Toby Stephens, who played a villain in James Bond film "Die Another Day" received rave reviews for his portrayal of an English army officer in the Bollywood film The Rising: Ballad of Mangal Pandey. Tania Zaetta, an Australian actress appeared in two of last year's biggest Bollywood blockbusters "Bunty Aur Babli" and Salaam Namaste while British actress and daughter of the last governor of colonial Hong Kong, Alice Patten, got a role as a moviemaker in the year's biggest hit so far, "Rang de Basanti".
The future of foreign actors appears bright. India's British colonial past, the use of English as the language of the country's booming business and an attempt to reach wider audiences is seeing a small number of Bollywood movies filmed entirely in English.
NRI popstars rock the party
Indipop, remixes and now, NRI pop is the new beat that music lovers are swaying to. Panjabi MC, Rishi Rich, Juggy D are just some of the acts making waves on music charts.
The trend isn't very new (remember Noble Savages), but the wave became a flood with the success of Mundiyan Tho Bachke. In comparison to Indipop, the music is definitely professional, original, and more importantly, cutting-edge.
Jay Sean has sold around 80,000 units since the release of his album in India last January, Juggy D notched up about 40,000 units since May and Veronica 30,000 units since August last year," says Shawn Fernandes.
It's the blend of Asian and international influences that seems to be making all the difference. Singers like Rishi Rich who have made music with the likes of Craig David, Mis-Teeq and top R&B groups in the UK along with senior Indian artists like Kumar Sanu and Udit Narayan enjoy a wider base in the Asian and English markets. Shows of artistes of Indian origin like Raghav, Bombay Rockers and Juggy D are almost always sold out.