Bollywood Today
Bollywood's Top Ten Romances of 2011
We have bid the year 2011 its final farewells with the hope that the New Year brings greater promise. Even in Bollywood, there are love bugs crossing their fingers and praying their love ties strengthen. Here are the best romances and the most promising love stories of 2011.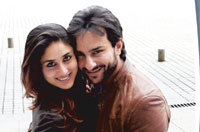 Saif Ali Khan and Kareena Kapoor
They may not have begun their relationship last year, but it did come across the radar when Kareena was seen by Saif's side all throughout the year. She was present at Pataudi after his father passed away and even during his polo matches. The relationship resulted in new rumors of marriage early this year.
Riteish Deshmukh and Genelia D'Souza
The funny man and his petite girl tried very hard to keep silent about their relationship. Both like to keep a relatively low profile, this is exactly how they wished to keep their relationship status. That in no way is an indication that the relationship is undecided. Riteish and Genelia will be man and wife before we know it with a wedding planned for February. If their love story is any bit as fascinating as the mystery that surrounds it, it is sure to last for more than just this life.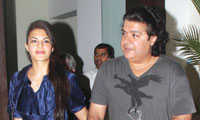 Sajid Khan and Jacqueline Fernandez
He has made some of the nicest films we have seen in the past. The Sri Lankan beauty, on the other hand, has given men many more reasons to smile. The couple met on the set of a film and has been going strong ever since. While Sajid is fiercely guarded about the roles and scenes that Jacqueline shoots, she has been complying so far. Marriage, they say, is on the horizon. Maybe 2012 has lots of luck in favor of these two.
Siddharth Roy Kapur and Vidya Balan
The head of UTV Motion Pictures has much more than his hands full with Vidya Balan. They have never spoken about each other in public or opened up about their relationship. However, their holidays together have given us enough reasons to believe they are a couple. With her beauty and talent, and his ability to give her plenty of places to showcase them, this coupleworks well in various capacities.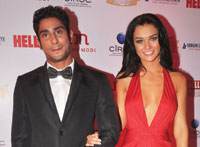 Prateik Babbar and Amy Jackson
Although there is no dearth of beauty and charm in Bollywood, it is model Amy Jackson who has taken the fancy of Prateik Babbar. A striking boy who is said to have immense potential, we hope that Prateik's career and his love for Amy only get stronger.
Deepika Padukone and Siddharth Mallya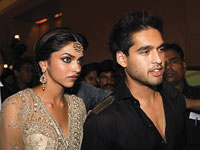 She is Bollywood's darling. Her career as star seems to get better with each passing day. The long legged, sporty beauty has many hearts fluttering with her dimpled smile. Although Siddharth is not a Bollywood man, he has all the charm and charisma that typifies a hero. After finding and losing love in many men, we hope Deepika finds true love with Siddharth.
John Abraham and Priya Marwah
John seems to have learned his lesson well when his rock steady relationship with Bipasha Basu fizzled out. However, he was quick to bounce back and has found love in banker Priya Marwah again. It looks like he is set to make amends with talks of a wedding sometime this year.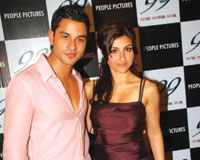 Soha Ali Khan and Kunal Khemu
While Saif and Kareena are looking to formalize their relationship, sister Soha Ali Khan is not far behind. She has been with Kunal Khemu for some time now, and the two are also looking to get married, though we are not sure if it will be this year. It seems that good news comes in pairs.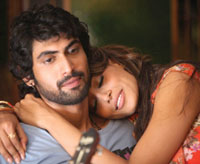 Bipasha Basu and Rana Dugabatti
They are both tall, great looking and make a handsome couple. While neither is willing to talk about the other, they are constantly flying in and out of cities to be in the same place. Whether for her birthday or his or even a celebration in Goa, neither spares the chance to be together. If this isn't love, what is?
Sonam Kapoor and Punit Malhotra
They insist they are 'just friends,' but we know only too well what 'friends' means in Bollywood. The intimacy and chemistry they share is apparent even when they are around friends, and it is quite clear that the two are a couple. What 2012 will mean for them we cannot say, but we certainly wish them the best.