Book Review June 2008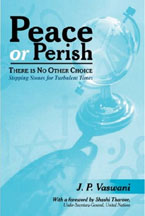 Peace or Perish There is No Other Choice: Stepping Stones for Turbulent Times
by J.P. Vaswani
Here is a practical blueprint for an authentic peace, a long-lasting peace, a worldwide peace – and, it begins with you, the individual!
Leaning on the world's great religious, literary, and spiritual traditions for inspiration, Dada J. P. Vaswani's Peace or Perish makes the compelling argument that the building blocks of global peace are rooted in three dimensions of peace – peace within, peace between nations, and peace with nature. This is an irresistible invitation to experience a new Golden Age that awaits each one of us willing to accept Dada's challenge to walk his path.
In the shadows of a post 9-11 world – one in which the words terror, war, and calamity are a part of our daily vocabulary – one question looms larger than life: Is peace possible?
"Yes!" insists spiritual visionary and humanitarian Dada J. P. Vaswani in Peace or Perish: There is No Other Choice, an optimistic manifesto for building a more harmonious and peaceful world amidst unpredictable times. "Peace may be fragile and vulnerable – but peace is possible and peace is attainable, even in a turbulent world like ours."
"Peace is your birthright," declares one of India's leading spiritual luminaries in this seminal work. Through thoughtful anecdotes and an encouraging voice, a contemporary beacon of universal brotherhood offers practical stepping stones to help you attain peace – and challenges you to walk the path. It's an irresistible invitation; one that you won't want to pass up.