Celebrating Diwali in a Meaningful Way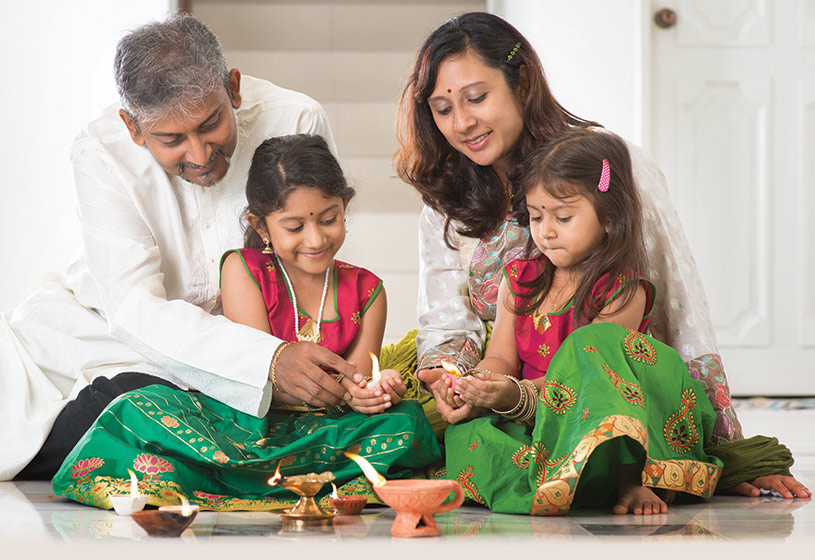 Celebrating Diwali in
a Meaningful Way

By Aditi Wardhan Singh
As the Indian festive season begins with Rakhi, we begin mentally preparing for and rejoicing all the series of festivals leading up to Diwali. The Festival of Lights, that brightens up our lives with love and hope. Festivals, though, are not only a time to splurge, eat and enjoy. They are a treasure trove of core values like humility, being inclusive, empathy, experiencing life with all our senses (food, fireworks, new clothes), spending wisely, the importance of community and being yourself in every circumstance.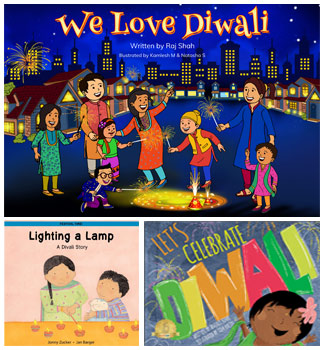 Impart Real World Values
Using Mythological Stories
The stories behind festivals like Ganesh Chaturthi, Janmashtami, Dussehra, and of course Deepavali or any festival around the world are wondrous examples of teaching kids how there is always good within all that seems bad. Mythology though, is hard to comprehend by young minds. It is paramount we connect these stories to real world examples to make them easier to understand and digest.
Read children's books featuring stories about Ramayan, Ganpati, etc.
Encourage kids to ask questions about the story lines.
Explain to kids in the simplest possible terms what every aspect of the story means.
Create Traditions That Carry Meaning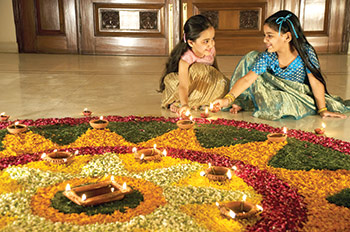 Every year start a new ritual that convey life lessons and encourage creativity. Below are some great ways to connect as a family and dare I say, save money too. Being frugal of course is a wonderful trait to foster.
Cook sweets or cookies together.
Create cards or decoration together.
Discuss and put up decorations together.
Find new ways to use the older years' decorations.
Visit a local orphanage or old age home with gifts or treats.
Create Rangoli at home with flowers or sidewalk chalk or pulses.
Exchange Gifts From the Heart
In a materialistic world, it is important to teach kids to value presents made with thought.
Make cards together for your extended family. Send them in advance. This is a great way to stay connected with family far away.
Create idols from play doh or earthen/eco friendly clay.
After spring cleaning (a tradition of Diwali), donate items that are old and have not been used for more
than six months to those in need.
Connect with Community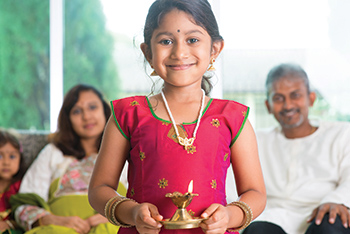 In an age where people often get lost in the hustle of everyday life, it is important to connect with your friends and neighbors on this wonderful occasion. Organize a get together to create flower arrangements, Rangoli designs or art creations. Getting creative together in groups is a wonderful way to bond and break ice with new friends.
Find New Ways to Celebrate The Festival of Light
It is fall season. What a wonderful time to collect dry
leaves, twigs, etc. Use these to create a bonfire in your
backyard.
Fill up balloons with glitter or pieces of colored paper.
Burst these in the evening for a vibrant ambiance.
Kids could even blow up paper bags and burst giving you the cheerful sound of crackers.
Make Diyas out of wheat flour. It is very simple and beautiful way to decorate your home.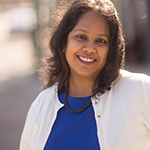 About the Author
Aditi W. Singh is mom of two and positive parenting coach specializing in cultural sensitivity. Founder of Raising World Children ezine and a freelance writer for Huffington Post, Thrive, Richmond Moms Blog, she has been featured in NBC12 News and Richmond Family Magazine. Through her work, she provides parents with tools to empower their children to become positive, global thought leaders.