Centenary Celebrations of Swami Chinmayananda's Life and Legacy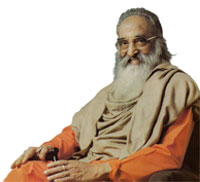 Gurudev Swami Chinmayananda (1916‐1993) is counted among the greatest spiritual leaders of India in the 20th century. He is considered an authority on the ancient Indian scriptures of Advaita (nondual) Vedanta, especially the Bhagavad Gita and Upanishads. He inspired the formation of Chinmaya Mission to spread these teachings. Beginning 1951, he spearheaded a Hindu spiritual and cultural renaissance that popularized the religion's scriptures, teaching them in English across India and abroad. He authored 95 publications and conducted university lecture tours in many countries. Gurudev attained Mahasamadhi on August 3, 1993; yet through his Vedantic teachings, publications, centers, ashrams, and social service projects around the globe, he continues to guide the cultural and spiritual evolution of millions of spiritual seekers.
Swami Chinmayananda was born as Balakrishna Menon on May 8 , 1916. A precocious youth, he graduated with degrees in Literature and Law. Balan became a journalist, and determined to help bring his country out of bondage, he joined the Freedom Movement. Balan was imprisoned for several months and was not released until nearly dead of typhoid. Later, while working for The National Herald, Balakrishnan decided to write an exposé, calling the bluff (as he then believed) of the swamis of India. Thus, he travelled to Swami Sivananda's ashram in Rishikesh. Unwittingly at the door of one of India's finest spiritual teachers, Balakrishnan's journey of inner spiritual evolution began. Swami Sivananda's divinity, love, and Vedanta teachings inspired the young skeptic. He began questioning and reflecting upon the purpose of life. In the company of saints, and through the clarity of their teachings, the highly intellectual seeker soon chose to become a renunciate himself.
On Mahashivaratri 1949, Balakrishnan was initiated into the sannyasa order by Swami Sivananda, who blessed him with the name 'Swami Chinmayananda Saraswati'. Chinmayananda means 'filled with the bliss of pure Consciousness.' Swami Sivananda then guided Chinmayananda to a renowned Vedanta master, Swami Tapovanam, who lived in Uttarkashi. Swami Tapovanam rarely took on disciples and put forth strict conditions, but these were no deterrent for the young renunciate; Chinmaya accepted his Guru's terms unconditionally and began a period of intensive study and austerities as Tapovanam Maharaj's disciple.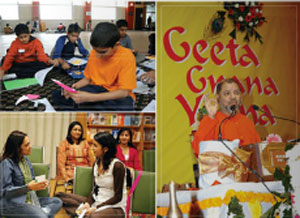 Having seen widespread spiritual and social degradation in parts of India, Swami Chinmayananda felt the urge to share the knowledge that had brought fulfillment in his own life. He received his guru's blessings, and began his teaching. Swami Chinmayananda conducted his first Jnana Yajna (a series of spiritual discourses) in December 1951, at a small temple in Pune. Jnana Yajna, a term he coined from the Bhagavad Gita, refers to the offering of ignorance into the fire of scriptural Self‐Knowledge. Going against the convention of the times, he taught the Sanskrit scriptures in English in order to reach the modern public.
His teachings are based on the authority of the Vedas and augmented by his own direct experience. Highly appreciated, the number of devotees eager to learn from Swami Chinmayananda's powerful, dynamic, logical, and witty discourses increased rapidly. From that grew an inspired band of devotees who formed 'Chinmaya Mission' on August 8, 1953.
Gurudev, as Swami Chinmayananda came to be known, had a keen sense of observation. He knew people by being among them, seeing them, talking to them. He also perceived the degeneration in values and family systems, and knew that the way to restoration and sustenance was through communicating to the youth, using contemporary idiom and appealing to their value for logic and science.
Swami Chinmayananda's lectures were soon converted into books. He personally authored over 95 books, including commentaries on the major Upanishads and an extremely popular commentary on Bhagavad Gita. Named simply The Holy Geeta, it has been acclaimed as one of the most refined, insightful, and practical commentaries ever written on the Gita. He is credited with bringing about a worldwide Vedantic renaissance in the late 20th century through his introduction of Adi Sankaracharya's teachings to the masses. Whether in his writings or his orations, his dedication to Sankara's works is underscored. Swami Chinmayananda was famed for his depth, clarity, eloquence, wit, and humor, which shone in every book he wrote and every lecture he delivered.
In his 42 years of tireless service, Swami Chinmayananda left an indelible mark in the hearts and minds of people, and his footprints on the multifarious service projects he inspired. He created a vast legacy ‐ a global organization committed to Vedanta; a huge network of Bala Vihars and Chinmaya Yuva Kendras (CHYKs); Study Groups; rural development projects under CORD; and Vedanta Institutes called Sandeepanys that have trained hundreds of Swamis and Acharyas; as well as Chinmaya Vidyalayas ‐ schools based on his value‐education platform.

Through all the programs he started, Swami Chinmayananda enlivens the Mission with his love and knowledge. From pulpits and platforms throughout India and the world, he taught hundreds of thousands who came to listen and learn. By the time he left his physical form and attained Mahasamadhi in 1993, Swami Chinmayananda had conducted 576 Jnana Yajnas as well as numerous Family Spiritual Camps, crisscrossing the globe, and transforming millions of lives directly and indirectly. His spirit and teachings continue to inspire people, and under the guidance of his dynamic successor, Pujya Guruji Swami Tejomayanda, have led to the growth of Mission centers that continue to practice and share the age‐old wisdom of Vedanta.
Centenary Celebrations of Swami Chinmayananda's Life and Legacy