Incorporate Superfoods into Your Diet
These days, it seems like your doctor, nutritionists, and your friends are suggesting you try this diet or that. With so many different diets, from weight­loss to improving heart health, it can be difficult to figure out what first step to take in your journey to live a healthy lifestyle.
Set the diets aside, and try adding superfoods to your diet. Most of these superfoods are already part of your everyday diet. Just try increasing the amount of fruits and vegetables in your diet as a small step towards improved health.
Superfoods
Beans: Beans are a great source of iron and fiber. Pairing beans with foods that are high in vitamin C will increase the effectiveness of iron absorption. Increasing fiber in your diet is beneficial for a healthy gut and can be effective at maintaining a healthy cholesterol level. Beans can be added to soups, salads, and vegetable dishes.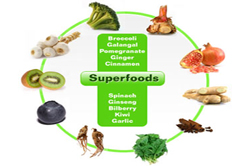 Berries: While all berries are packed with antioxidants, vitamin C, and fiber, blueberries have the added benefit of improving your memory! Tiny, tart, and sweet, you can simply snack on these, add to your favorite smoothie, or stir into some plain yogurt.
Chia Seeds and Flaxseed: Both of these are chock full of omega­3s, which have been linked to improved heart health. While chia seeds can be easier to digest than flaxseed, both are a good source of protein, fiber, and omega­3s, particularly for those who follow a vegetarian diet. Chia seeds can be eaten whole, while it is best to grind flaxseed for best digestion. Throw a handful of either into your smoothie or stir into yogurt.
Coconut Oil: Though coconut oil is high in saturated fat, the type of fat in coconuts has been shown to increase your good cholesterol levels. Coconut oil has also been shown to improve immune systems by helping bodies resist viruses. And we all know how well it works to keep hair moisturized! You can replace coconut oil for your usual oil. It even works well in baked goods.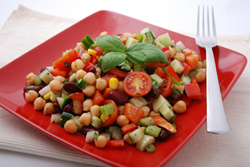 Nuts: Nuts have gotten a bad reputation over the years, but these crunchy treats contain much needed healthy unsaturated fats. Like chia seeds and flaxseeds, nuts are also high in omega­3s. When eaten in moderation, nuts, like walnuts and almonds, have been shown to help maintain "good" HDL cholesterol levels.
Leafy Greens: Of course all vegetables are good for you, but greens such as spinach, kale, and chard, are especially healthful. Like all the other superfoods mentioned here, leafy greens are high in fiber, which is crucial for a healthy heart and gut. In addition, greens contain a variety of vitamins and nutrients needed to improve your immune system, maintain blood sugar levels, and protect your skin. Try adding a handful of greens to your smoothies, daal, and vegetable curry dishes.
Blueberry Chia Smoothie
A quick and delicious way to incorporate chia seeds into your diet. Chia seeds become gummy once blended with liquids, so be sure to drink your smoothie right away.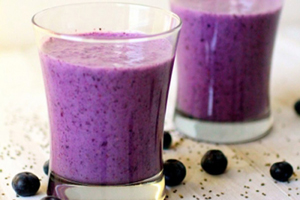 1 1/2 cups almond milk
1 cup blueberries (frozen is best)
1 cup of spinach or kale
splash of pure vanilla extract
Pinch cinnamon
Honey or agave nectar, to taste
Directions
Place all ingredients in a blender and blend until smooth. Drink immediately!
Mixed Bean Salad
The perfect lunch or appetizer for your next party. Mix up the types of beans used and add additional vegetables, if desired.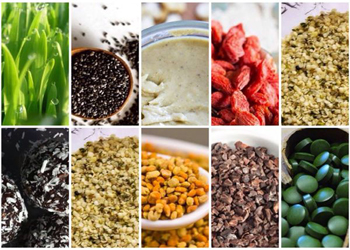 1 cup cooked red kidney beans
1 cup cooked black­eyed beans
1 cup cooked garbanzo beans
1 cup chopped tomatoes
1⁄4 cup diced red onion
1­2 handfuls spinach leaves, chopped
1­3 green chilies, chopped (amount to taste)
chopped cilantro for garnish
1 teaspoon minced garlic
1 lemon, juiced
2 teaspoons chaat masala
salt and black pepper to taste
2 tablespoons extra­virgin olive oil
Directions
1. In a large bowl, whisk the dressing by adding lemon juice, garlic, masala, salt/pepper, and olive oil.
2. Next add all of the beans and remaining ingredients. Mix well and serve