MyShadi Bridal Expo Atlanta
The temperature was rising in Atlanta at the Renaissance Waverly (www.marriott.com/hotels/travel/atlrb-renaissance-waverly-hotel) on Sunday, March 25th as Desh-Videsh hosted its hugely popular MyShadi Bridal Expo. With seven MyShadi Bridal Expos under their belt, Desh-Videsh has come to represent quality and professionalism in the wedding expo business. The venture was first started in Fort Lauderdale then moved to Orlando, with this show being the second Expo presented in Atlanta. The event was covered by TV Asia and was also featured on FengLong's website (www.fenglongphoto.com), the event's official photographer.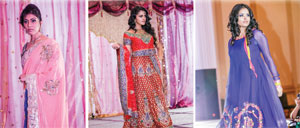 The widely attended event was a one-stop shop for brides and grooms-to-be, with every possible type of vendor represented by over 70 booths. Attendees had the opportunity to meet personally with photographers, hotel and banquet hall representatives, event planners, and decorators. Who could resist the scrumptious samples of wedding cake and tasty bites of food fare?!?! There were also professional mehndi and make-up artists providing live demonstrations of their art. There was even a competition amongst the mehndi artists – each of them entering one of their intricate works of creative magic – the winner was Nirjary Desai of KIS (cubed) Events (www.kiscubedevents.com). Other entrants included Crimson Art Henna (www.crimsonart.com), Ruby Beauty Center (www.rubybeautycenter.com), Rubina Zariwalla, and Sweet Saloni.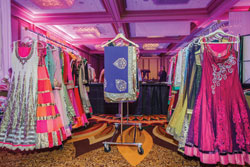 Bride-to-be, Kavita Singhal, enthusiastically proclaimed, "I just got engaged a few months ago and have been to a few Western bridal shows, but none of those compared to the Desh-Videsh MyShadi Bridal Expo! The quality and diversity of products and services geared specifically to the Indian bride truly made my wedding planning infinitesimally easier!"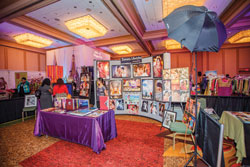 DJ Neal and Sahil K of Prime DJ (www.prime-djs.com) in Atlanta rocked the Bridal Expo with amazing music and lighting, showing everyone that they know how to mix business with pleasure. Prime DJ also brought along their live dholis to pump up the energy at the Expo.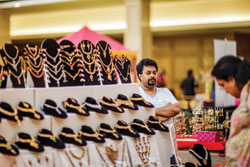 The atmosphere of the MyShadi Bridal Expo was supercharged with two breathtaking performances by professional dancer Sanam (www.sanamstudios.com) who offers not only dance performances at mehndis and sangeets, but also teaches and choreographs custom numbers.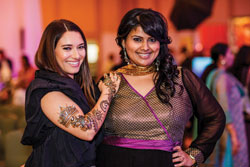 Against a stunning stage ackdrop provided by Mandap World (www.mandapworld.com), beautiful models strutted their stuff in the most elegant wedding finery. The first fashion show featured custom designs by Neelam Mathrani of Red Paisleys Designer Collections (www.redpaisleys.com), jewelry by Eshaan Jewelers from Charlotte, NC (www.eshaanjewelers.com), and make up by Rital Patel of MiABelleZZa(www.miabellezza.com). The second fashion show was geared toward the bride on a budget showcasing unique party wear and accessories from Desi Consignment (www.desiconsignment.com), an Atlanta-based company specializing in the resale of gently used Indian and Pakistani formal wear.
At various intervals throughout the afternoon, brides lined up for their chance to win one of several toss-out prizes, including a number of weekend bridal/spa packages at some of the hotel vendors at the show. But the high point was two couples winning complimentary tickets to India generously provided by Qatar Airlines (www.qatarairlines.com) and Just India (www.justindia.us), a destination marketing company.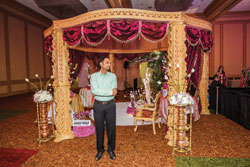 DJ Ameet Lilani (www.djameet.com) had this to say about the show, "What an amazing response at the BRIDAL SHOW! Congrats to all vendors and specially Ramesh, Aruna and Raj! Kudos to Desh Videsh for putting together an awesome show!" All in all, the Desh Videsh MyShadi Bridal Expo was a spectacular event.
Stage Decorated by
Mandap World
www.mandapworld.com • 678-640-4100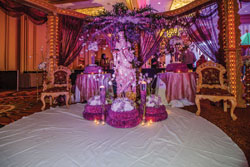 Don't miss the next MyShadi Bridal Expo on Sunday, April 29th at the Fort Lauderdale Marriott Coral Springs Hotel. If you are a vendor looking to secure a booth or a bride or groom planning the wedding of your dreams, or just someone looking to browse through a wide collection of beautiful clothing and jewelry, be sure to visit www.myshadibridalexpo.com.
Thank You……
Stage Decorated by


Mandap World
www.mandapworld.com
678-640-4100
Desh-Videsh Booth Decorated by
Occasions By Shangri-La
www.occasionsbyshangrila.com
407-963-6720
Photography by
FengLong Photography
404-955-8311
www.fenglongphoto.com
Stage Lighting Provided by
Prime DJ
www.prime-djs.com
404-510-6325Live Mehndi and
Live Make up Area decorated by
TAJ Tents
www.tajtents.com
1-855-368-TENT(8368)
Fashion Shows
Sponsored by Red Paisleys
www.redpaisleys.com
Choreographed by Rita Patel
www.MiABelleZZa.com
Sponsored by Desi Consignment
www.desiconsignment.com
Choreographed by Annie Khan