'Comicstaan' Trailer Unveiled by Amazon Assures Extra-Laughter Dose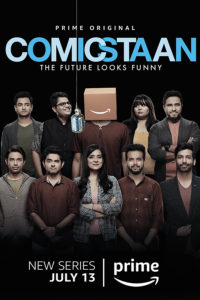 The much awaited second season of the Indian Comedy show "Comicstaan" is all set to release on July 12 this year. The show will be the first Indian Amazon Original to launch a second season.
As a part of its prime day 2019 celebrations, the trailer of Comistaan was launched by Amazon, where Ace comedians Zakir Khan, Neeti Palta and Season 1 host Sumukhi Suresh will join season one judges Biswa Kalyan Rath, Kanan Gill, Kenny Sebastian, and Kaneez Surka to find India's next aspiring comedian.
Vijay Subramaniam, director and head of Content for Amazon Prime Video India, said, "When we first launched the service in India, we identified comedy as one of the most important genres for our customers and we focused on providing a strong selection while also creating a disruptive unscripted format for them. We believe we delivered on this promise through "Comicstaan" Season one, which, in many ways, was a game-changer in the way unscripted comedy content is viewed in India. The show with its pioneering format received a phenomenal response from audiences and encouraged us to push the boundaries of creativity further. So here we are, with a brand new season of this exciting show with fantastic new talent, a new jury panel and newer, rib-tickling jokes. Our customers are in for many treats."
Comicstaan season 2 has been brought by Amazon prime video after the grand success of season 1. Again, it will be an 8-episode hunt for finding India's next big comedian, where the judges will be sharply judging the skills of the contestants to make people laugh like hell. The show is expected to be packed with new jokes, and other comedy perks combining a greater dose of laughter. Amazon Prime members across 200 countries and territories can watch the first three episodes of Comicstan Season 2, on every Friday release from July 12.
Comedy show "Comicstaan"
Amazon Original
Zakir Khan
Neeti Palta
Sumukhi Suresh
judges Biswa Kalyan Rath
Kanan Gill, Kenny Sebastian
Kaneez Surka
Vijay Subramaniam
Amazon Prime Video India
Rib-tickling jokes