Community Pride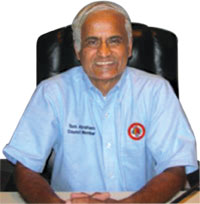 INDIAN American nuclear medicine technologist Tom Abraham was elected as a council member in Orange City, Florida in 2007.
He was born in India on August 8, 1945, in the ancient port city known as Alleppey.
His love for English Literature and Teaching led him through the Colleges and Universities in India for a Master's in English, and Education as well as a special post-Graduate teaching degree. As an immigrant in the U.S, Mr. Abraham was immediately given a Certificate to teach West Virginia public schools for six years.
Abraham found new pastures in America, and became a Certified Nuclear Medicine Technologist and is currently in his Nuclear Cardiology position in Orange City- a medical specialty field he has handled for the last 22 years. Married, with three grown boys, and a grandbaby, Abraham believes he is independent enough to spend lot of time for Orange City, and its next generation.
Mr. Abraham entered active public life through the city election of 2005, after having served a Home Owner's Association in Melbourne, Florida. He has also volunteered his time for the County Health facilities Authority before his 2007 election. Tom Abraham, a very common name among the Syro-Malabar Christians in India, is one the few Indian- Americans now serving city councils in the U.S.
Abraham says he is an independent thinker who wants to bring new ideas to improve the council's credibility and accountability through increased public participation.