Congratulations to the Graduating Class of 2014

To those who are graduating from high school in 2014, congratulations and best wishes for your future endeavors as well.
I was recently speaking with Iha Kaul, who is graduating from college soon. She shared a note of her experiences during her school years that she had written just before her graduation from high school. I requested her permission to share that note with the readers of Shehjar and she allowed it, as she agreed that it might be helpful to other kids who are now in the transition phase of life, between high school and college. Her note titled "My Vision" is an inspiring read, and we thank Iha for sharing it.
Separately, I had also written a note to a dear niece who I have seen from a child and who is now in college. I adapted parts of that [note] to write the below thoughts that may be considered for reading by the graduating class of 2014.
For the Graduating Class of 2014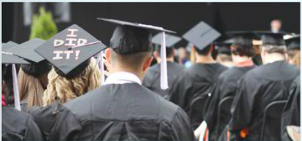 It is the younger years that give you the mind and the energy to achieve the most out of your potential. The later years may make you better at analyzing things, but the power of achievement is in the youth. Old age is about reflection and savoring the moments. There will always be exceptions like people hitting the 9th inning, final pitch, game winning grand slam, but what I say above is true in most part. So, get it all done in the coming years, which you can easily make the most productive of your life. There is also a saying, "Whatever you put your focus on, grows." Do all that you want to do but one thing at a particular time.
Learning stays, everything else may come and go. "The best of all things is to learn. Money can be lost or stolen, health and strength may fail, but what you have committed to your mind is yours forever." (Louis L'Amour) My family, along with about a hundred thousand other Kashmiri Hindu families was forced out of Kashmir with just the clothes on their back. In just about 20 years or so, the community has rebounded from the atrocities committed on it and rebuilt, bigger and better than before. The one thing that helped them overcome such adversity so soon was education that the refugees had acquired prior and the education that they ensured for their children later, even as they lived in makeshift tents, in 45 degrees Celsius weather. Do not take your opportunity to learn for granted. Make the most of it dears. It will hold you in good stead, forever.
As you head to college, you will have far greater freedom of action but then you are directly responsible for its causal effects. Freedom brings in expectation and requirement of prudent behavior. Consider this: you expect a certain behavior from your grandpa who may be closer to 68, and if he is to behave or act outside convention, it would shock you. Your own expectations of yourself and the expectations of others from you could not be any lower. You may want to consider this in your moments of action. Even though, you can do what you want, your choices are important; do only what seems right to you and is generally right by others as well.
About the Author
Arun Koul is on the editorial board of Shehjar E-Magazine and also manages its IT infrastructure needs and software application platforms. Koul encourages young readers to share thoughts about their own experiences that may be helpful to others.