MathWizard

Prepare your student for today's academic demands and rigorous standardized testing

Students are under more academic pressure now than ever before. With the implementation of the Common Core State Standards this upcoming fall, students will be thrown into a new rigorous curriculum that they may not be prepared for.

MathWizard knew that Common Core would be a vast adjustment for students, and decided to proactively help students prepare. We have aligned all of our curriculum topics with the Common Core Standards. The concepts MathWizard has integrated into each topic exercise students' critical thinking skills, which are necessary for Standardized Testing.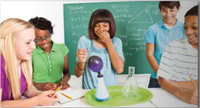 The MathWizard program prepares students for academic success through our 2 pronged approach:
1. Build basic concepts like math drills, vocabulary, and grammar
2. Enhance problem-solving skills with analytical and critical thinking word problems, comprehension, and writing
As a leading provider of supplemental education in math, English, and Science, we, at MathWizard, think of every child as gifted. Please visit www.mathwizard.net or call (866) MATH-MATH to learn more about our Learning Centers and Tutoring by Mail program.