Coronavirus Lands in Boney Kapoor's Home, Household Help Test Positive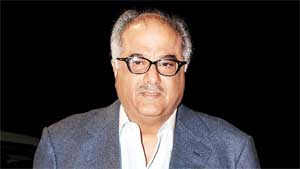 This one did not fly over the cuckooo's nest. COVID-19 jumped right into Boney Kapoor's home and had a go at their household help. They tested positive. Thankfully, he and his daughters Khushi and Janhvi tested negative. Maybe the virus could not get through or found them to be more than a handful.
During a routine test, one member of the domestic household help staff was tested and found positive. Therefore, all other staff members and family members had to undergo the test. All proved asymptomatic, except for two hired help who tested positive. Those who tested positive are quarantined. Boney, Janhvi and Khushi are under self-imposed home quarantine at the moment of writing. We will know within a fortnight how they passed time.
In what can only be termed as commendable, Boney is paying attention to his staff and is making sure they all receive treatment. That is his humanitarian side, one to be appreciated as there are thousands who have let go their domestic help.
Khushi Kapoor
domestic household help
Boney Kapoor
home quarantine
Covid 19