Alia Bhatt Thinks Jaideep Ahlawat is Simply Outstanding in Paatal Lok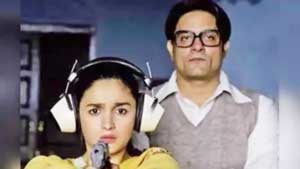 Alia Bhatt, probably with lots of time on her hands during the lockdown, took to watching the Anushka Sharma web series Paatal Lok in which fellow co-star from Raazi Jaideep Ahlawat also stars. After watching Paatal Lok, Alia Bhatt took to Instagram and gushed with a vengeance. "Jaideep Ahlawat you are outstanding! Means no words, and the full cast I can go on and on fan girling hard right now…" she gushed. Now, if she were gushing oil and Ahlawat was an oil prospector he would be mighty pleased about striking black gold. That, essentially, among other things, is what you get from Paatal, if we know it right. Anyway the series Paatal Lok premiered on Amazon Prime and has won critical acclaim for addressing hot topics like class, gender and religious equations.
Jaideep said in an interview to Pinkvilla that he remembered Alia from her first film, Student of the year and that she has been growing with each film she makes and that she is a hardworking actor. He claimed she was pure. The honesty, he states, comes from within her, so we take it that her praise is straight from the heart. Jaideep was interested by the story and felt he fit the role well. So, if Alia goes all cross and starry eyed, it is understandable. Let's hope she too gets a meaty role and comes up with a stellar performance.
Paatal Lok
Amazon Prime
Instagram
<Raazi/h2>
Pinkvilla