Cupid Strikes Rajal weds Jay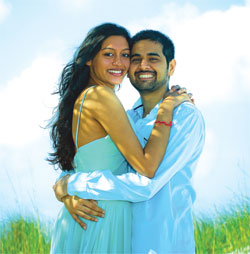 Cupid works his magic in many ways. Though many love stories seem similar, no two love stories are really the same. While Cupid may decide to use friends, jobs, a city or even a special occasion to bring people together, you cannot deny that his work plays an important role in our lives. Giving us a new lease on life, a reason for living, and a partner with whom we can spend the rest of our lives, Cupid truly has magic powers. In the case of Rajal and Jay, Cupid connected the two through shaadi.com.
While you may think that Rajal and Jay's marriage was a conventional arranged affair, the two met on shaadi.com and dated for almost a year before they decided to take their relationship to the next level.
On a trip to New York, Jay proposed to Rajal as they were casually taking photographs around special spots. Although they had been talking about marriage and even the ring, Rajal had no idea that this was really the moment, and she fought back tears of happiness just so she could say 'yes.' The couple spent less than a year planning for the special day.
The initial stages of wedding planning seemed like a breeze, and Rajal decided to look into details herself. While it did give her a lot more control and happiness, it was also her undoing, as she found herself stretched too thin with just days to go before the wedding.

Functionality was priority when planning, which was why the families decided on the Palm Beach Gardens Marriot, which is clost to the airport. With so many guests coming from out of town, proximity to the airport and lodging were very important. Given that all events were to be held at the hotel, the hotel took care of as many arrangements as were possible.
The sangeet was arranged for in a setting that used mirrors and candles to set the mood for the occasion. Fabrics, ornate decorations, centrepieces, a canopy and typical Indian motifs created an ambience which was bright and inviting, and the music and food took care to ensure the guests were comforted and happy.
An afternoon wedding at the Marriott changed the look of the venue entirely. Occasions by Shangri La designed a Jodha Akbar styled mandap and setting, which included impressive columns and drapes. Every moment from the walk down the aisle to the culmination of being pronounced man and wife, the ceremony was spectacular. Keeping with the mood by including instrumental Indian music and also pieces for each segment of the wedding ceremony, Firoz Dodha mixed the best music available.
With the dazzling combination of purple and gold, and the extravagant use of a variety of flowers that included orchids, roses and lilies, nothing was wanting at this special reception. LED lights and candles as well as a specially crafted candy station brought out not just the best mood in the bride, but also the spirit for all guests to truly enjoy themselves. Special songs and speeches by members of the family, and a special dance for Rajal and Jay may have been a fitting conclusion to the wedding celebrations, but also served as the beginning of the bliss they will enjoy for life.
Rajal now concedes that it is impossible to micromanage a wedding, and that it is important to have someone trusty who is clued in on contracts and details. She also says that there is rarely ever a perfect wedding, and some minor mishaps are bound to occur. However, when you realise the importance of the occasion, they only seem trivial. Snce this will happen only once in your life, it is important to relish every moment.