Daisy and Anup
They took their wedding vows beside the water, with a carpet of flowers strewn over their path. As man and wife, they welcomed their guests in a magical ambience. Creative and imaginative, Daisy Gandhi began her new journey of marital bliss with Anup Solsi with beauty, elegance, and style (from head to toe). Their martial journey began on the first day of 2022.
Daisy and Anup met on the dating app Dil Mil. After dating her for a year, he proposed to her during a trip to Malibu. And then, the preparations for marriage began with great enthusiasm. Daisy had had a fascination with the idea of a wedding by the waterside. So, they chose Charlotte Harbor Conference Center at Punta Gorda, as it had a waterfront.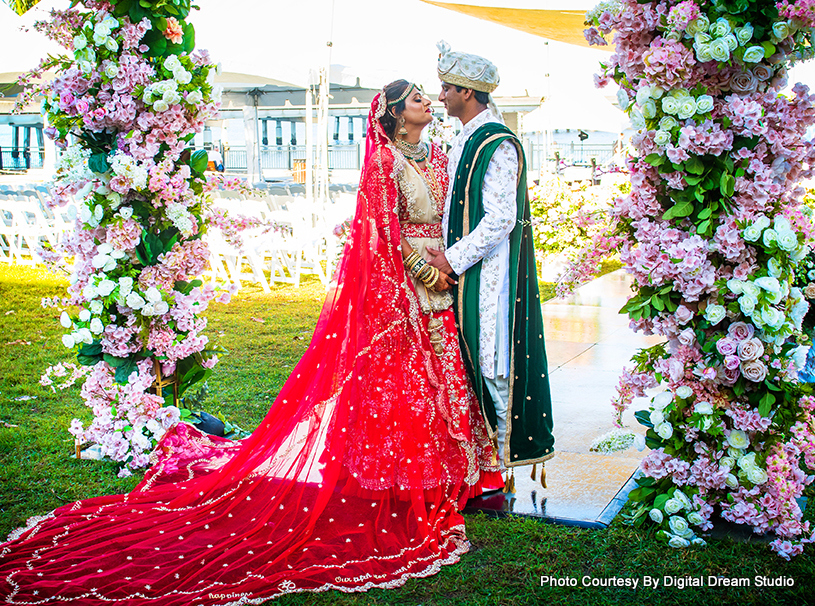 ---
BANQUET HALLS Charlotte Harbor Event & Conference 941-833-5452 | BEAUTICIANS Michele Renee The Studio and Salon 813-531-7770 | CAKE Black market cakes 941-286-4934 | CATERING India's Grill – Fort Myers 239-931-6751 | Khasiyat Restaurant 407-252-8756 | DECORATOR Prashe Decor 972-980-4483 | ENTERTAINMENT Rhythm of Dreams 281-932-8933 | EVENT PLANNER Elite Dream Creations 407-504-1499 | MEHNDI Henna by Gayatri 813-445-9496 | PHOTOGRAPHER Digital Dream Studio 407-791-6064 | PRIEST Acharya Ramesh Mehta 813-453-9334 | RENTAL SERVICES Tech-Tronics 239-939-5463
---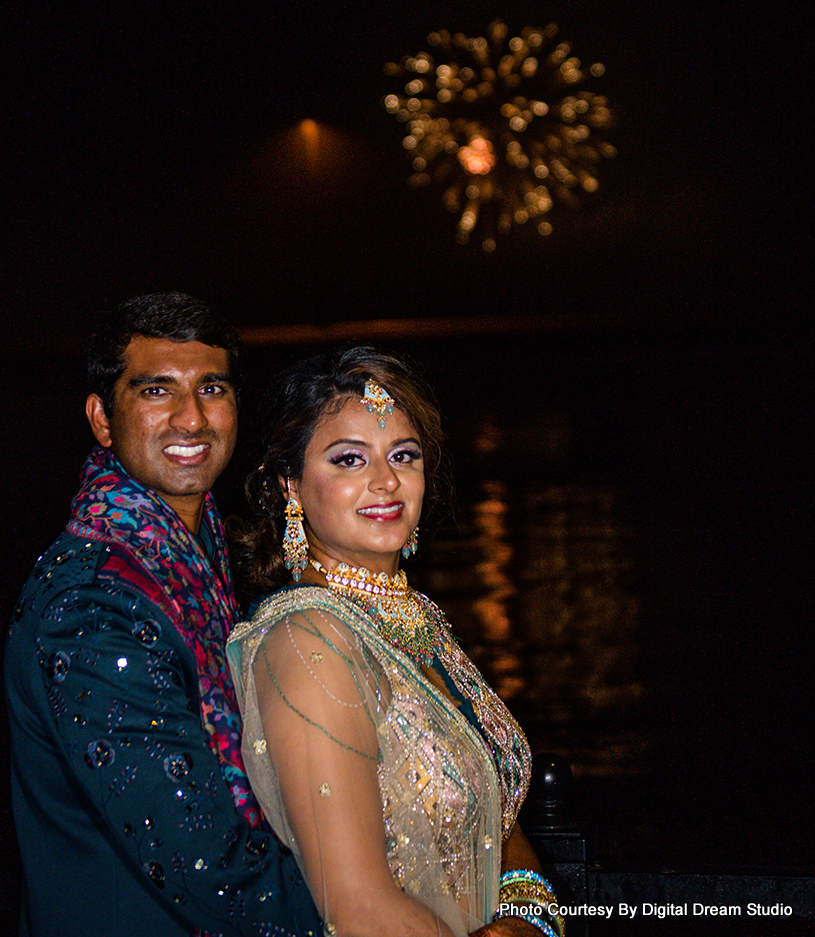 They celebrated Pithi, Grah Shantak, and Sangeet among the pre-wedding rituals. Each ceremony had its own color theme and mood. Pithi had a color theme of pristine white, and it was followed by a splash of colors like the festival of Holi. Grah Shanti had the colors of marigold and fuchsia flowers. The happy couple celebrated Sangeet on New Year's Eve. It was a totally fun fiesta, recreating an Indian street market.
The following day, the wedding was held in the morning. It was a grand outdoor ceremony featuring a whole host of unique and innovative ideas by Daisy. She came to the wedding venue in a horse-drawn carriage, together with her two maternal uncles and aunts. The wedding Mandap was given a floating touch, with acrylic pillars and hanging flowers on top and flowers spread on the floor.
The bride gave touches of creativity to the bridesmaids' dresses. The bridesmaids wore Indian-style jumpsuits designed by none other than Daisy! Everyone in the family, including the women, wore turbans or safa. The bride's side wore emerald green safa, and the groom's side wore navy blue safa.
Daisy looked ethereally beautiful in a spectacular red lehenga, and Anup looked dashingly handsome in a beautiful hand-worked white sherwani with an emerald green dupatta and matching necklace. He arrived in a blue Corvette. Daisy wore a 10-foot long red dupatta with the 7 vows (satapadi) embroidered around the edges.
Baraat came with a flashy musical mix of dance numbers and party songs comparable to a blend of "Sajan Ji Ghar Aaye" and "Mehndi Laga Ke". Other songs and mixes were played for the bride, groom, and others.
The reception was a dreamy ceremony held at night. All the guests entered as two groups representing the bride and groom's sides of the family. The centerpieces had white and blush flowers and a mix of candles. The head tables were canopy tables bedecked with hanging flowers and candles. The dance floor was overhung with leaves and wisteria flowers in white, pink, and purple colors. There was music, dancing, and a touch of romanticism and magic everywhere. All 500 guests thoroughly enjoyed the marriage ceremony of Daisy and Anup.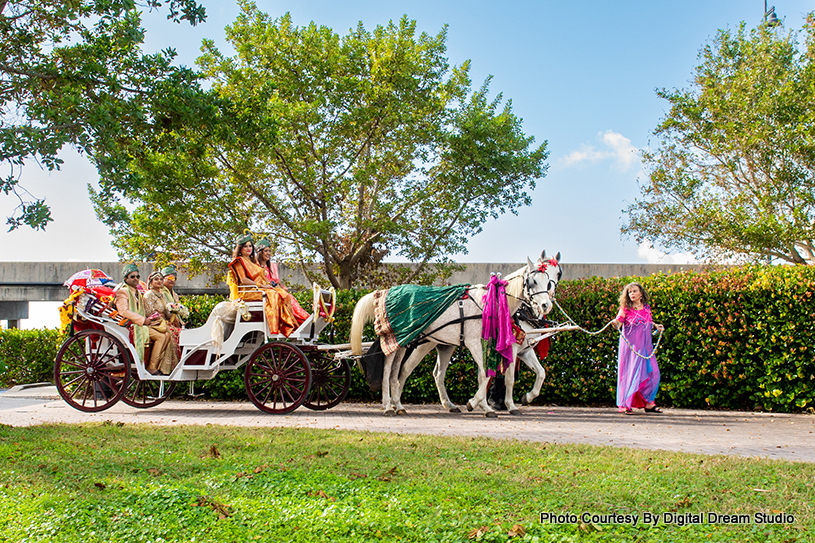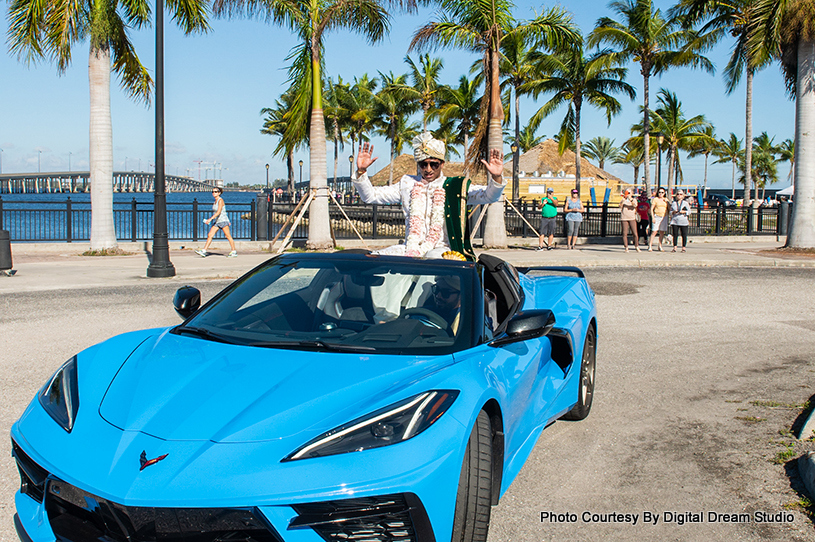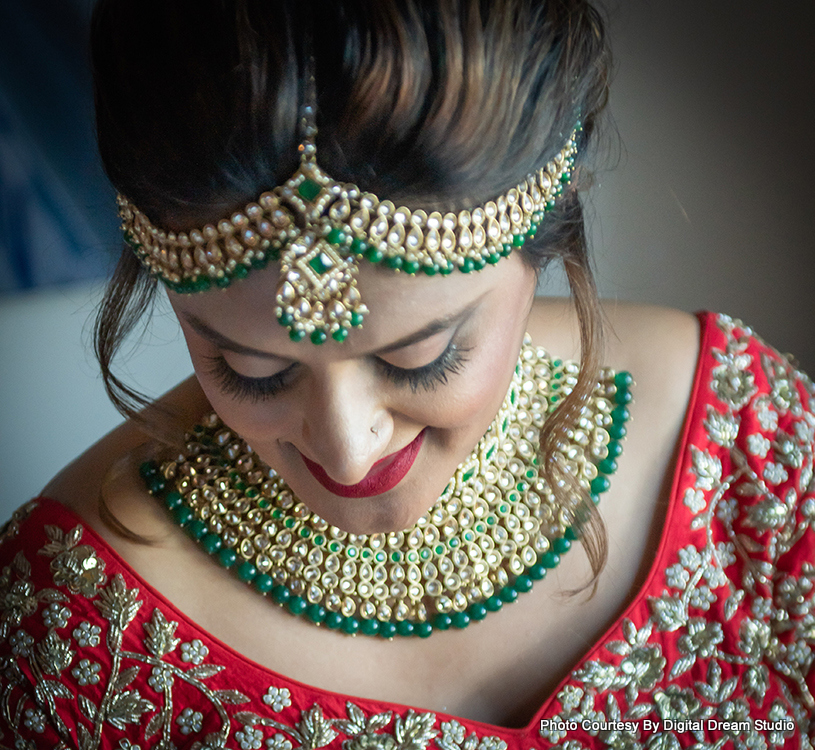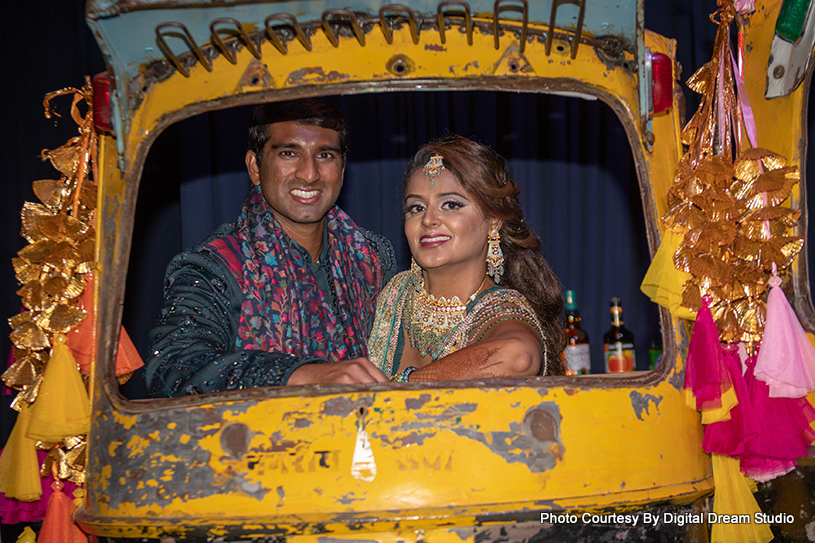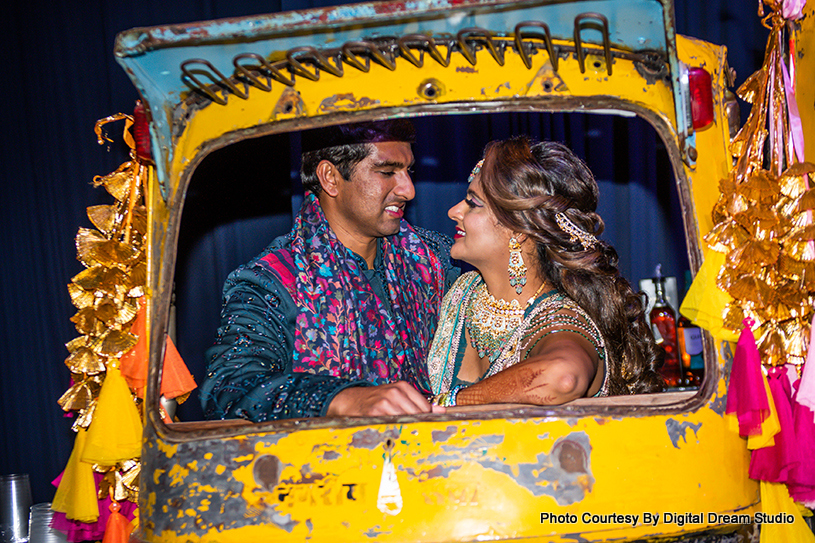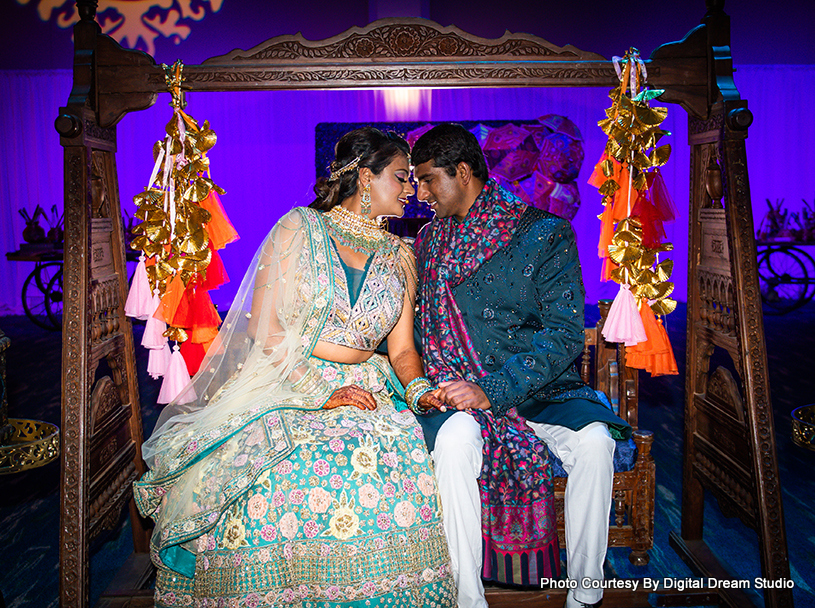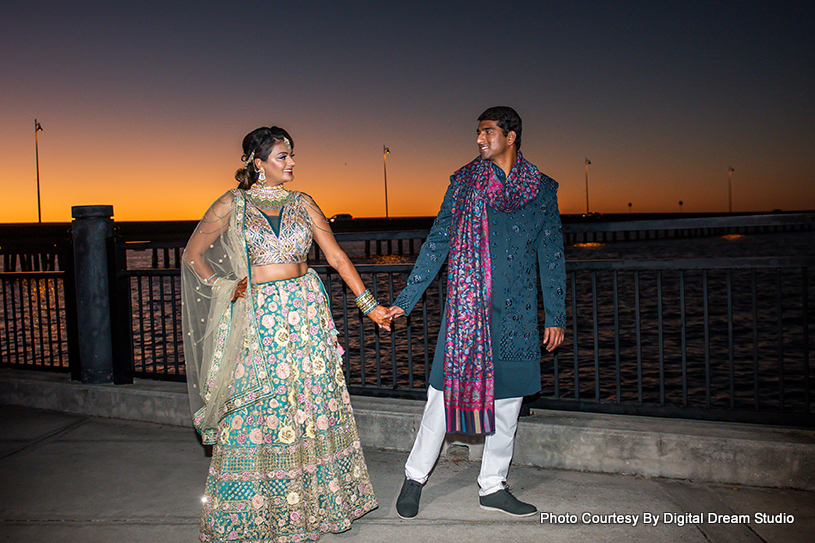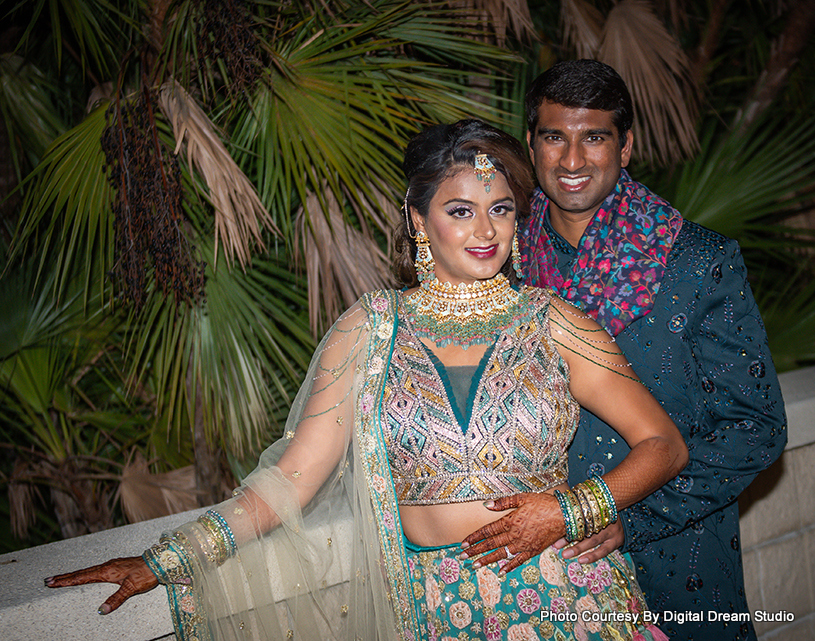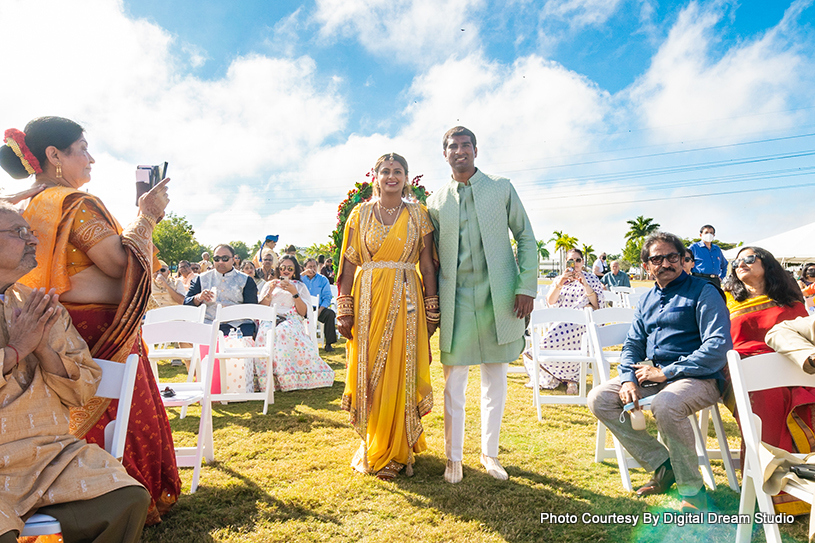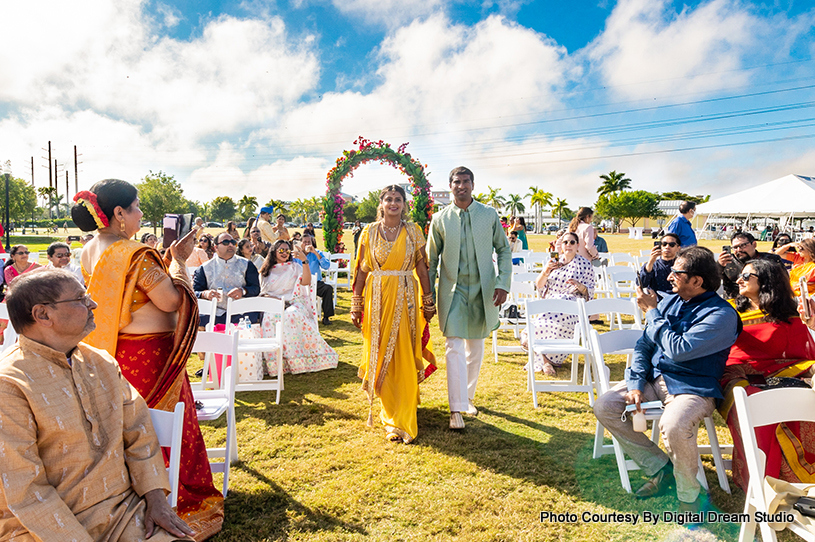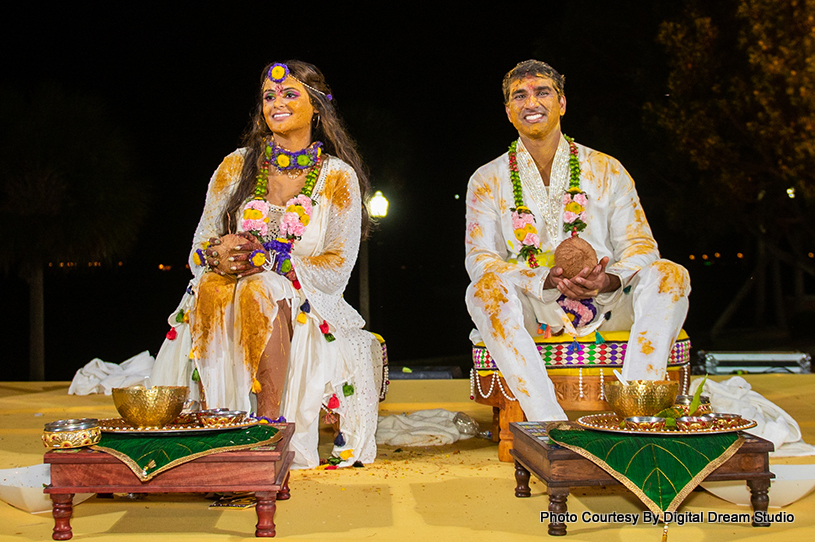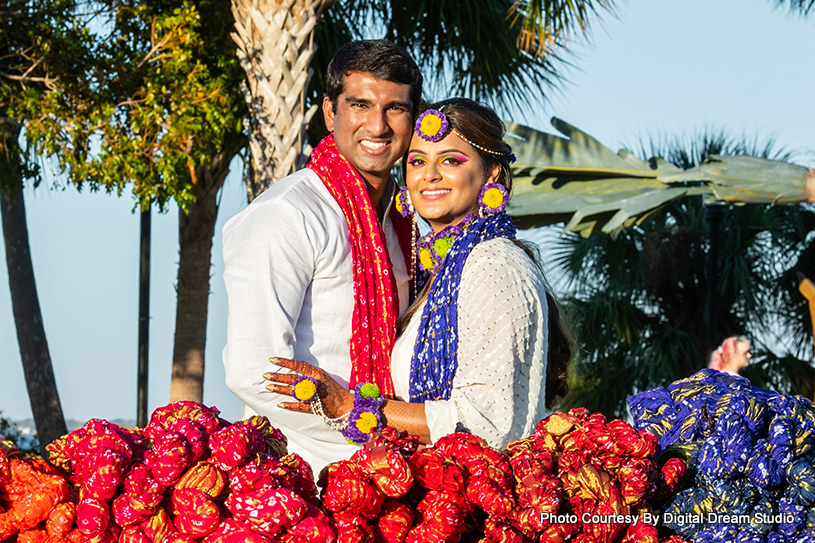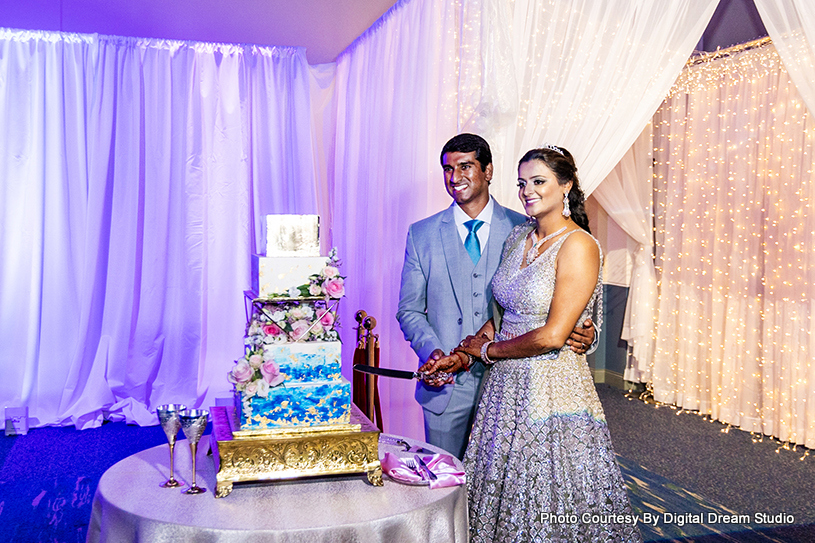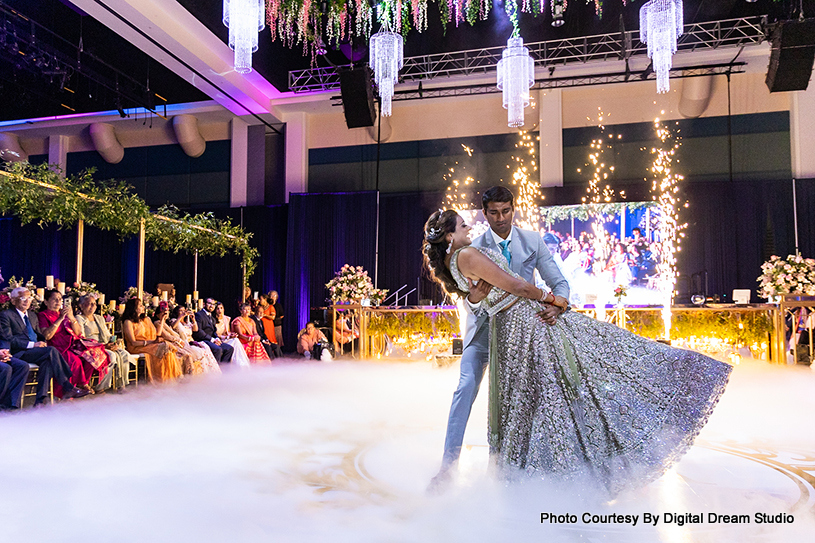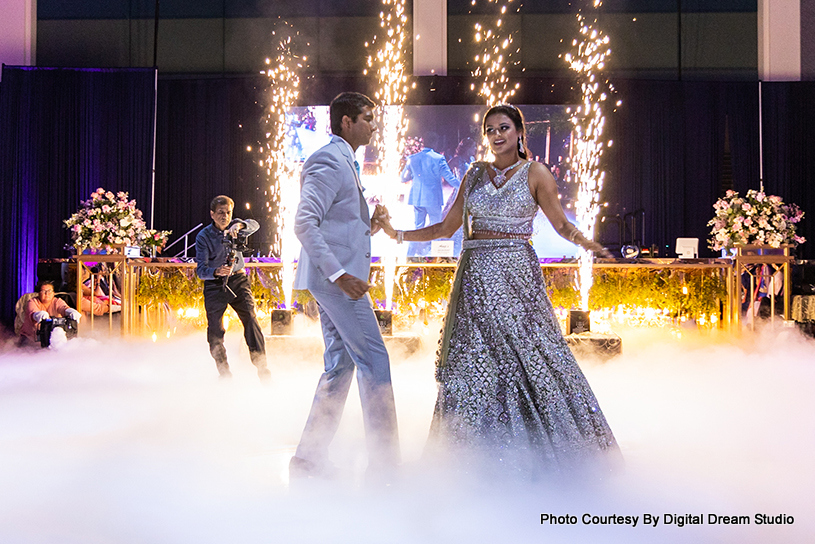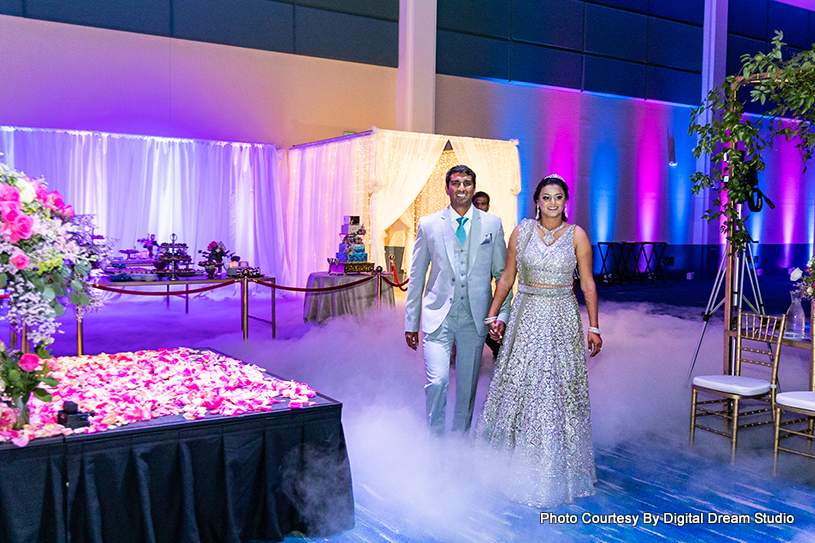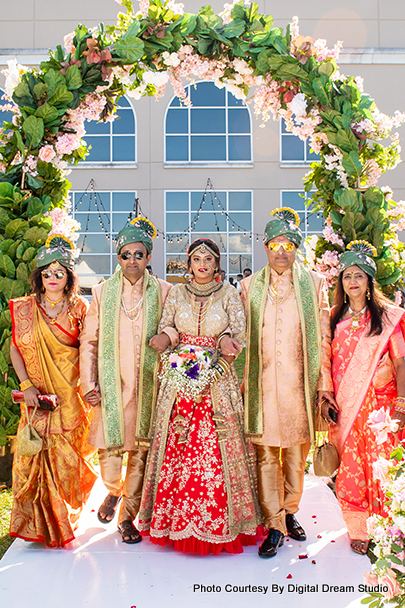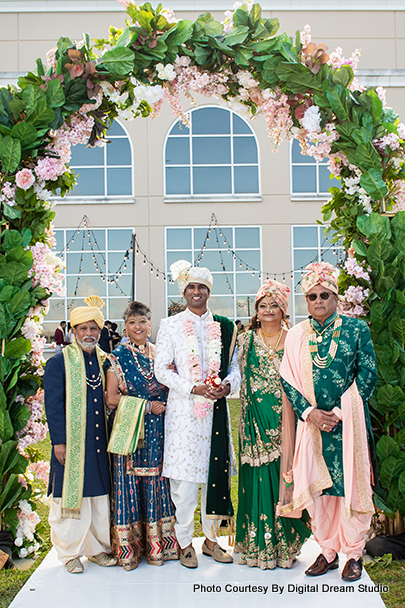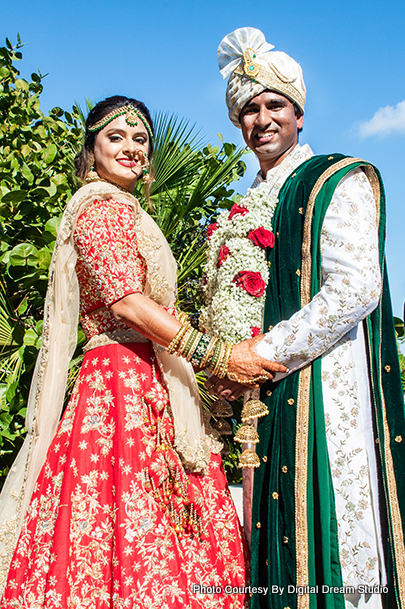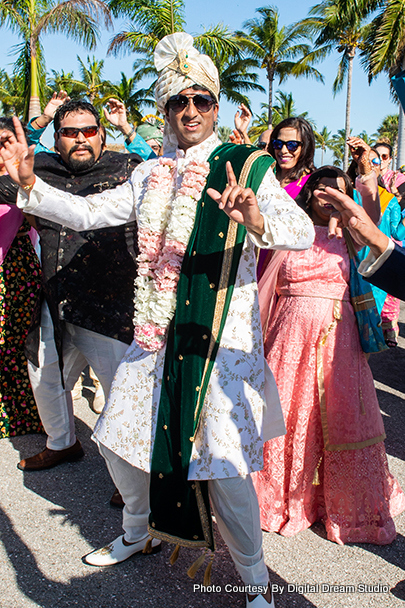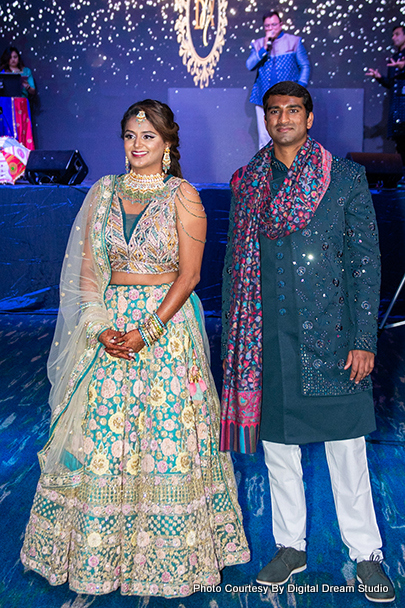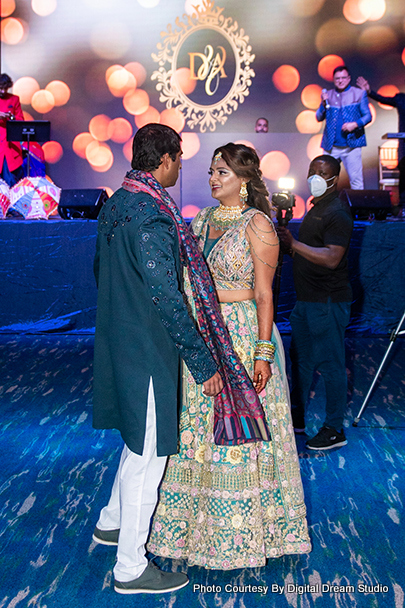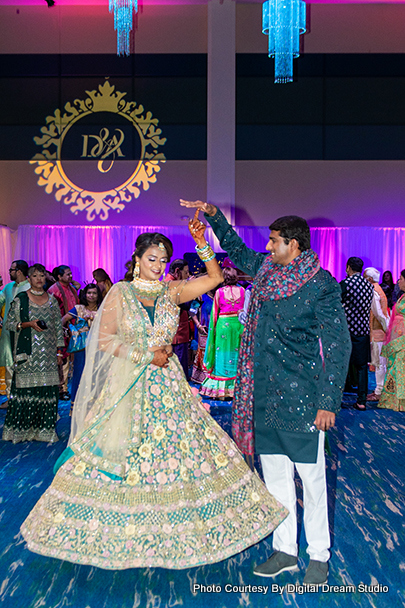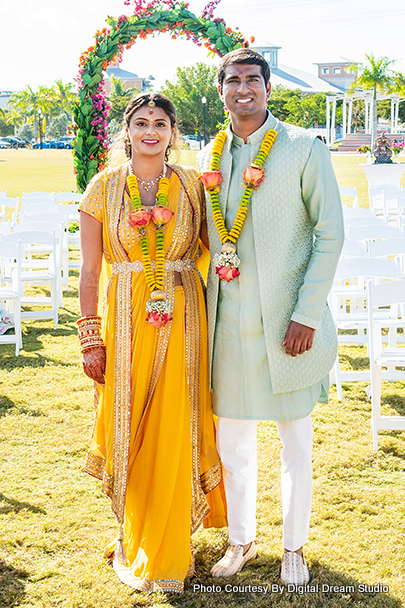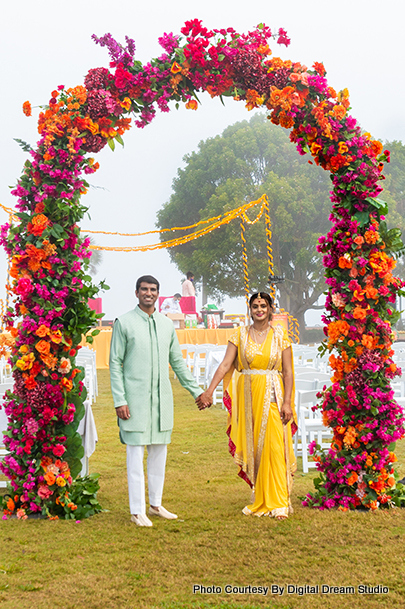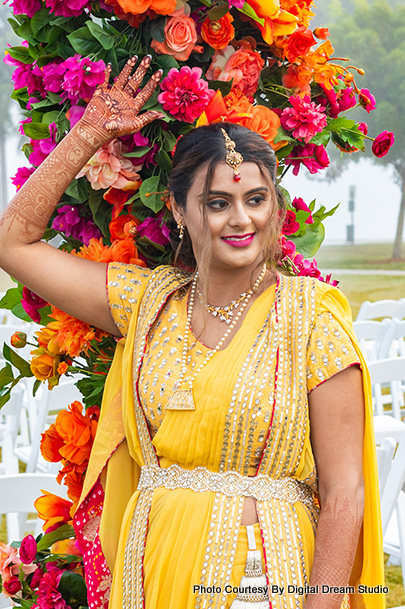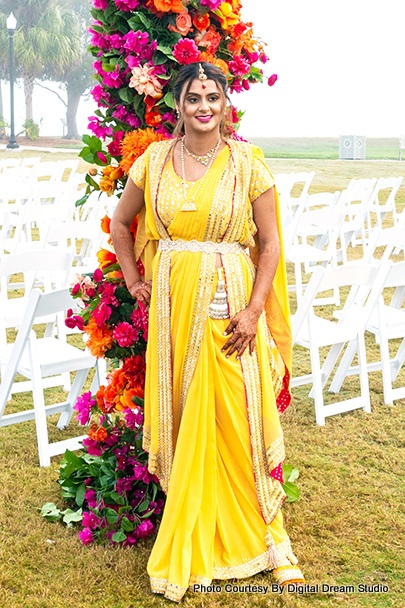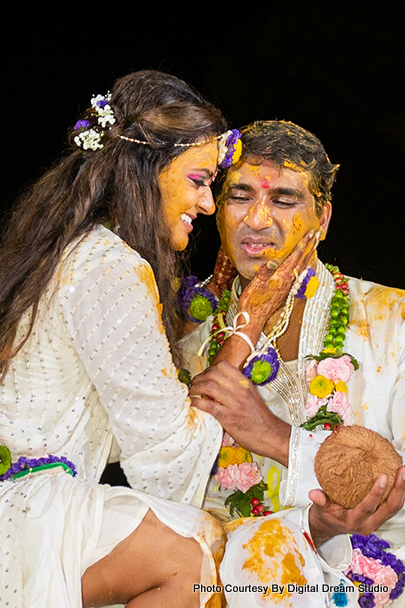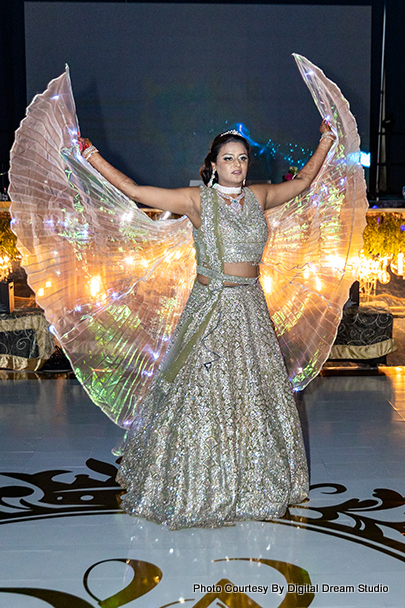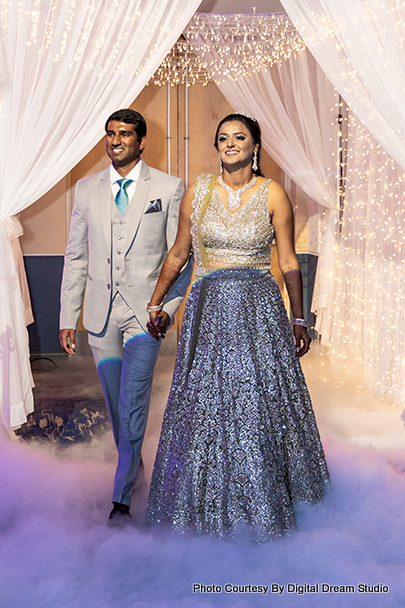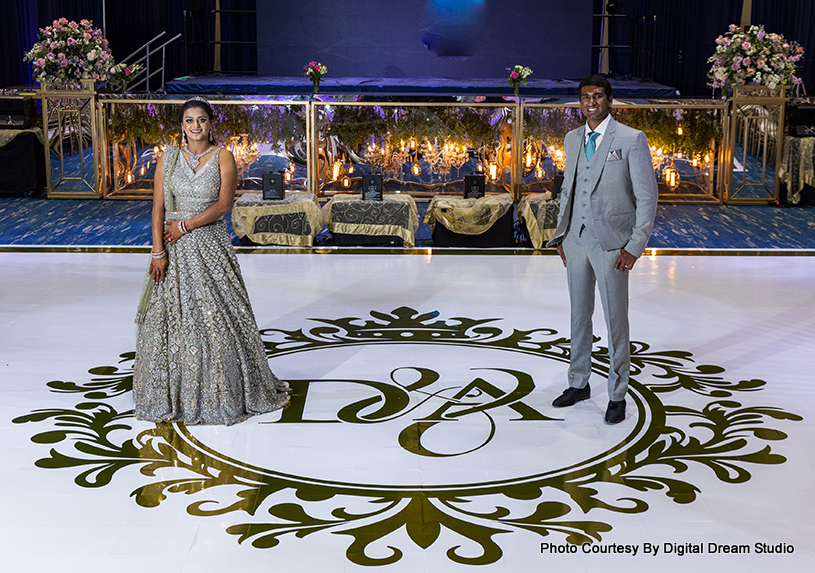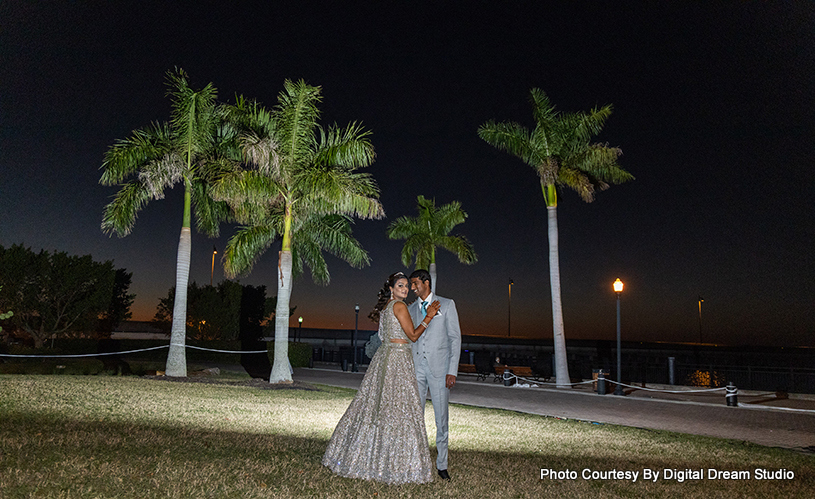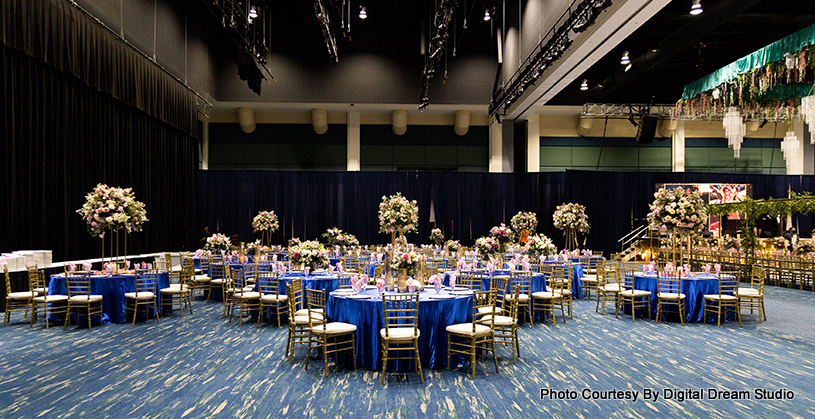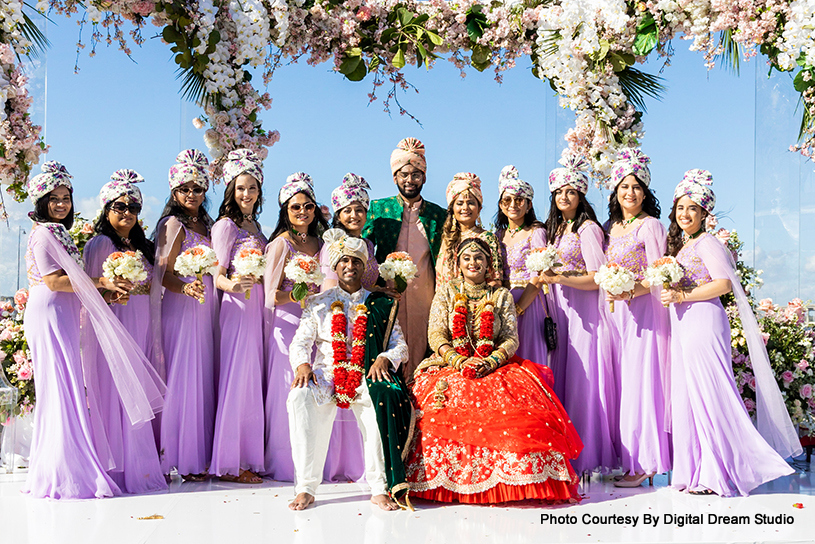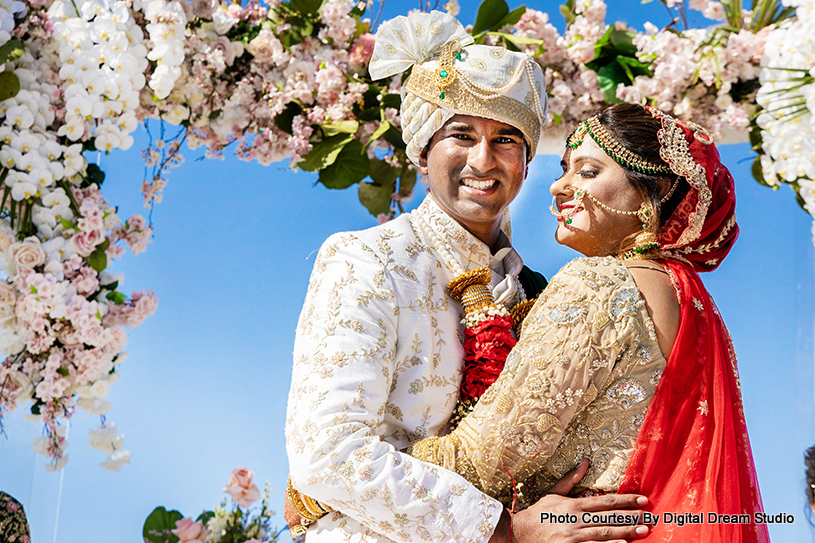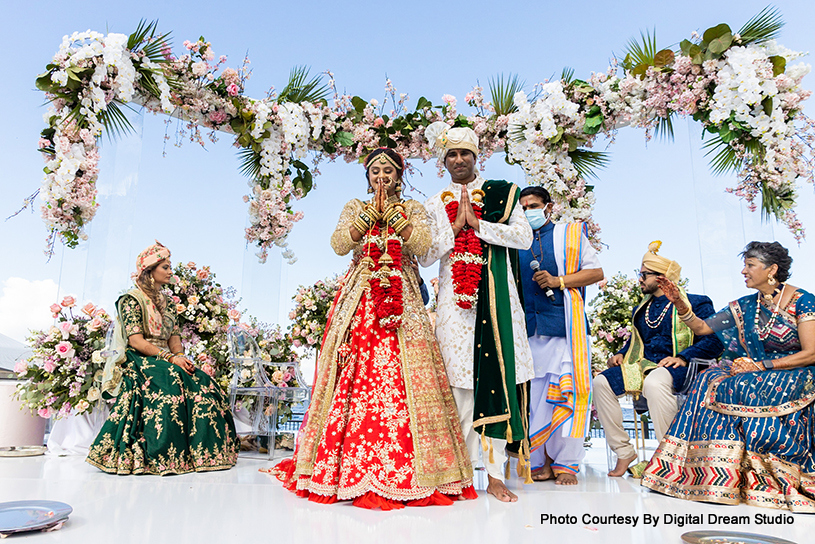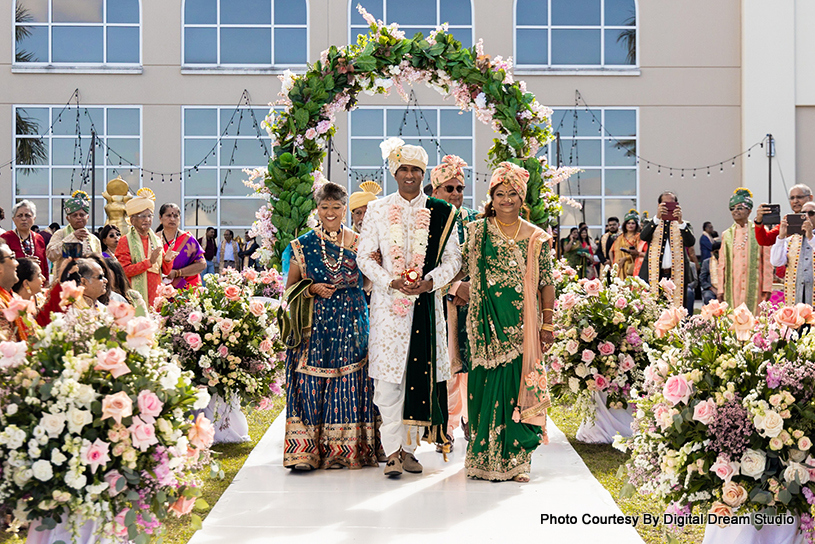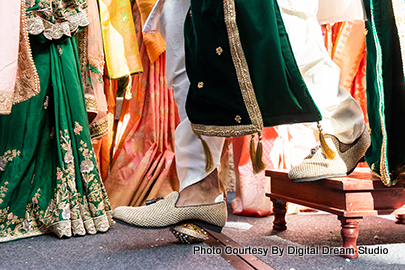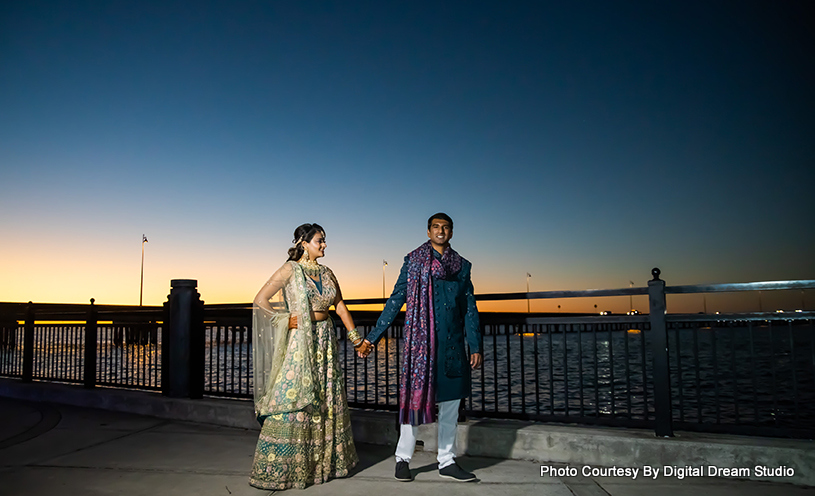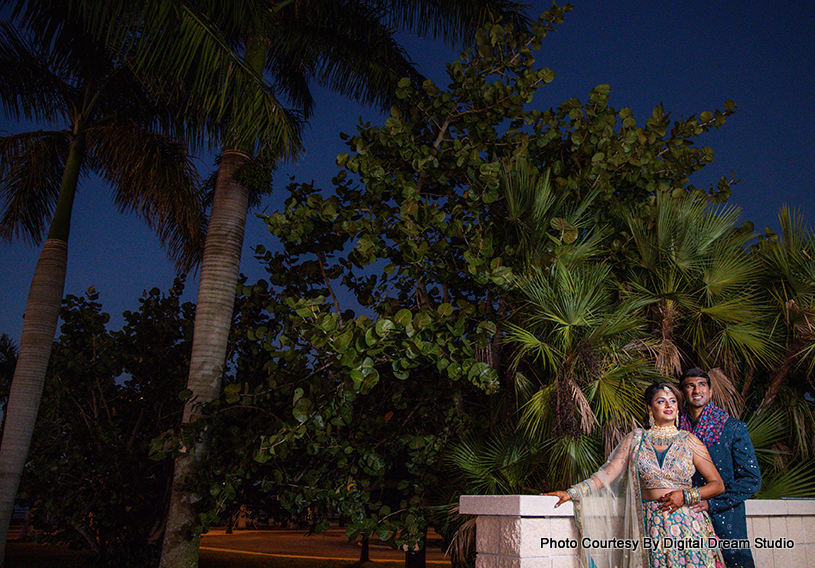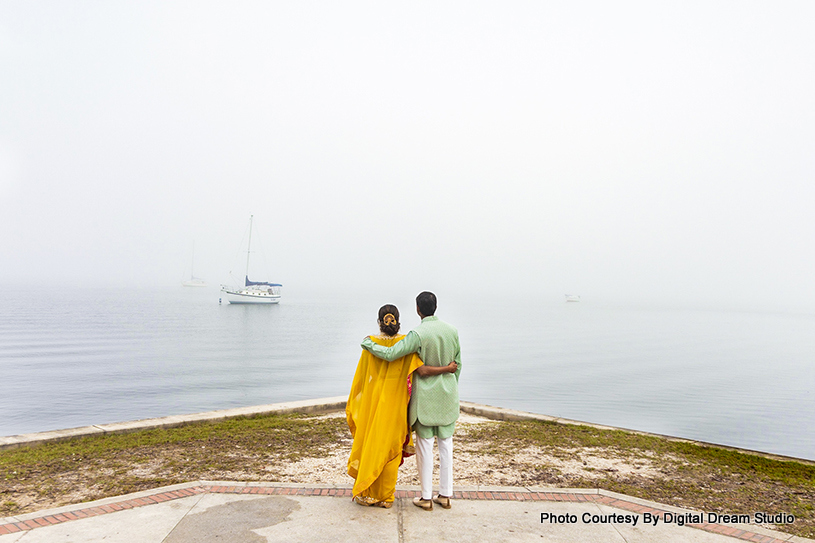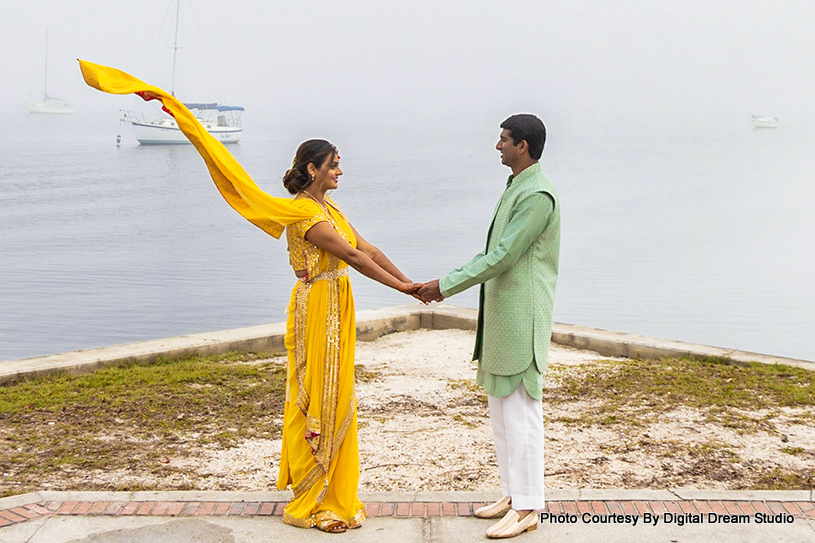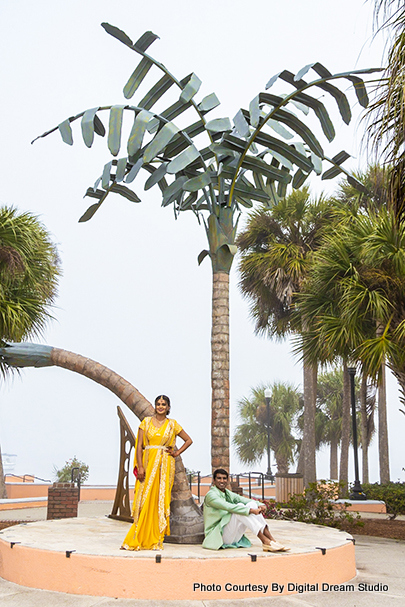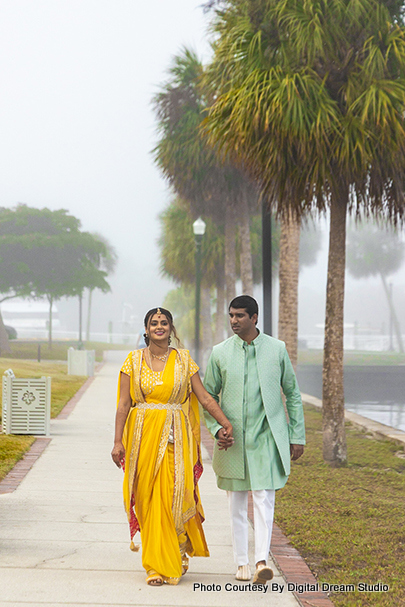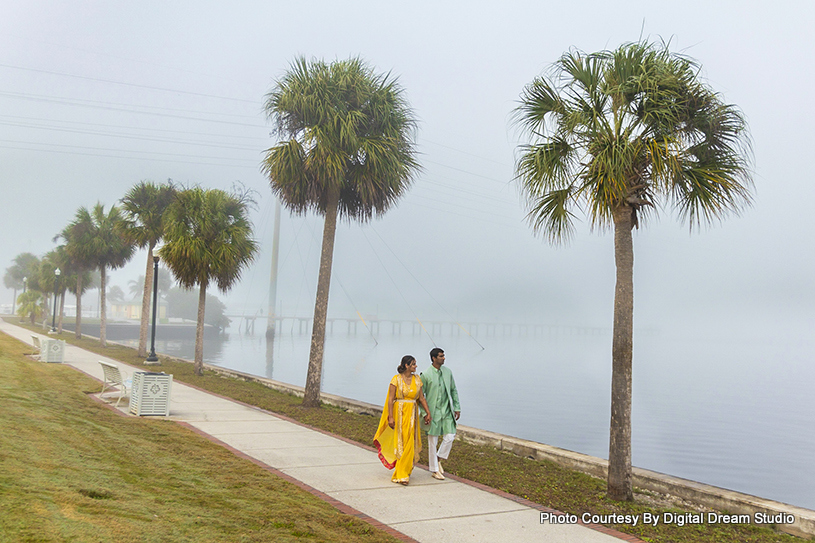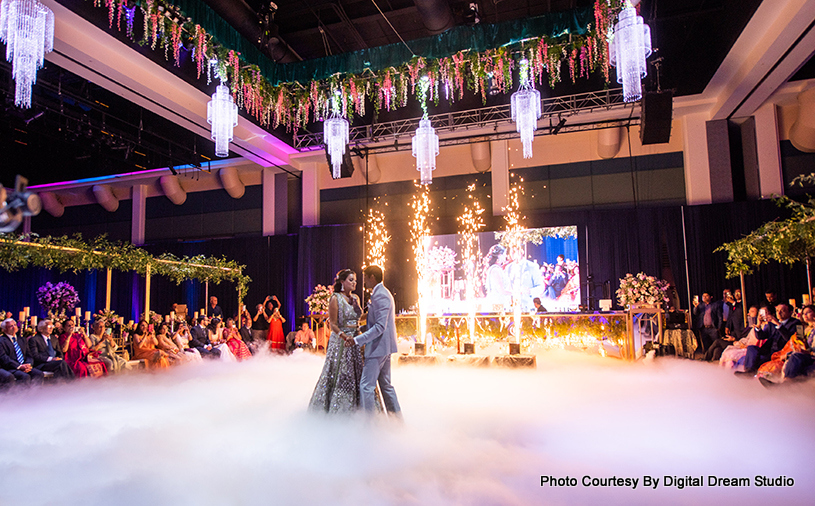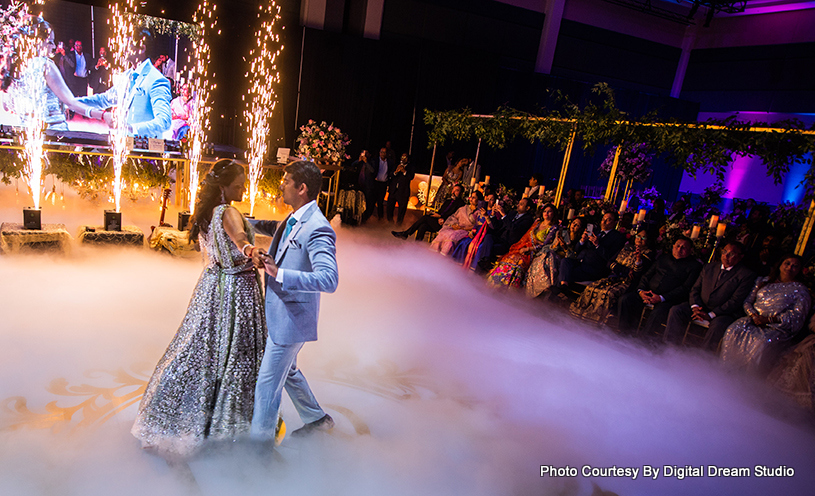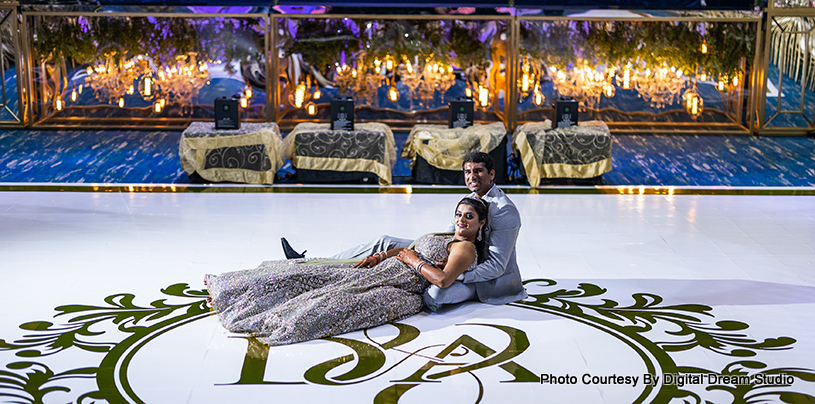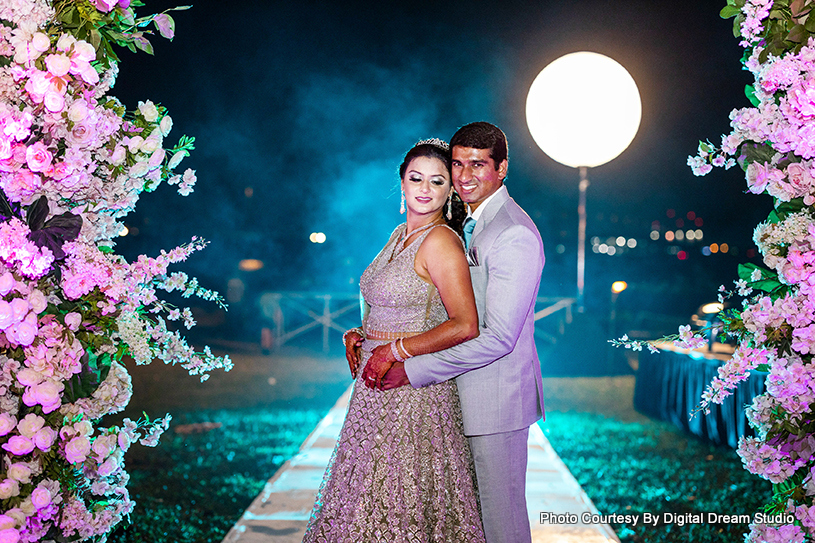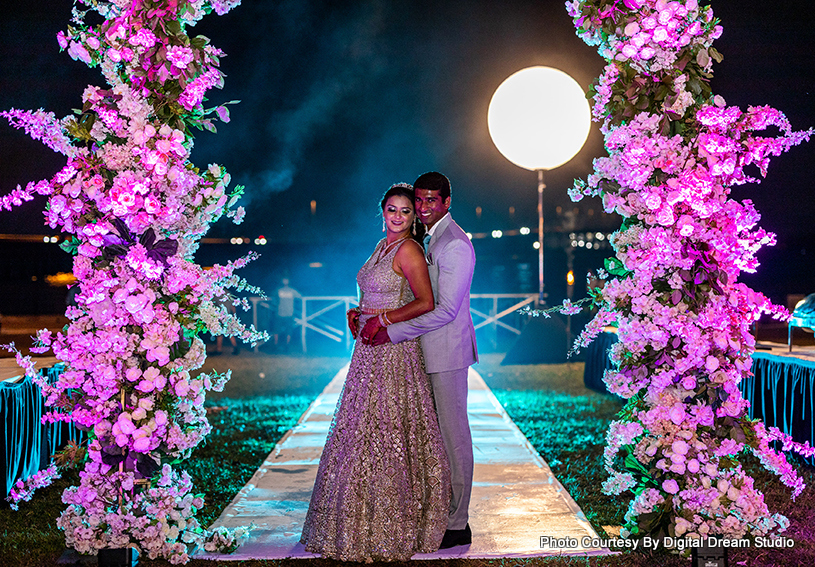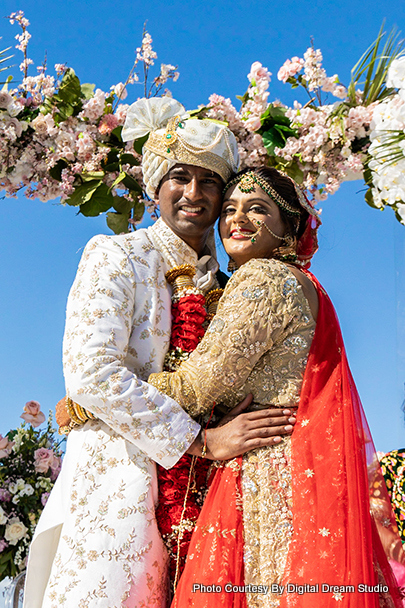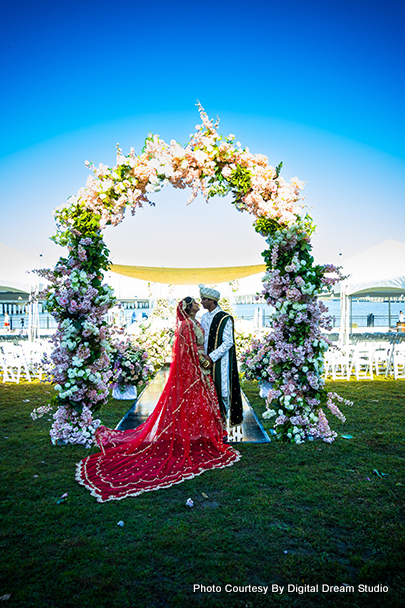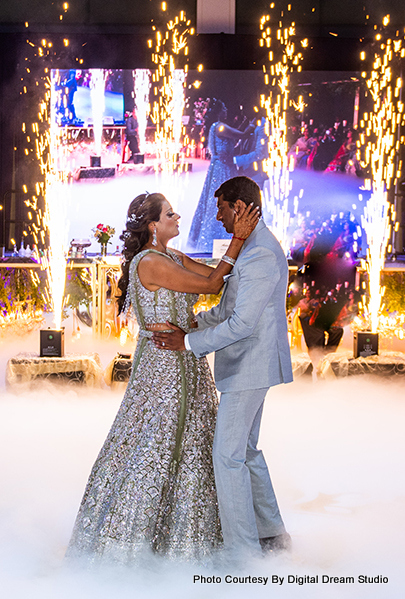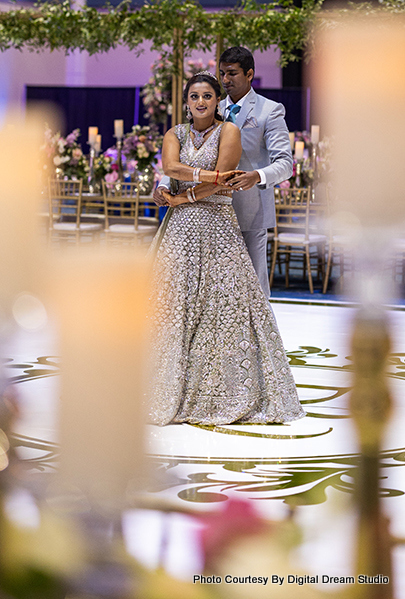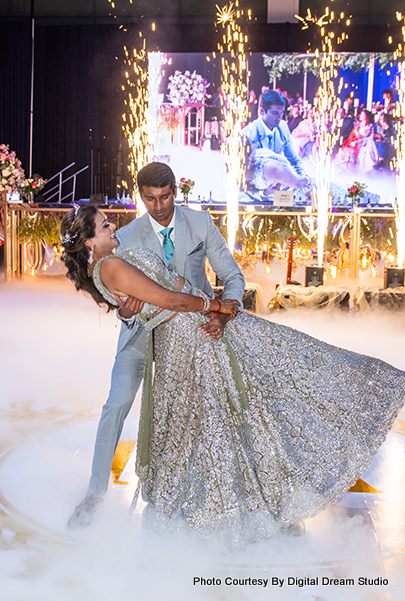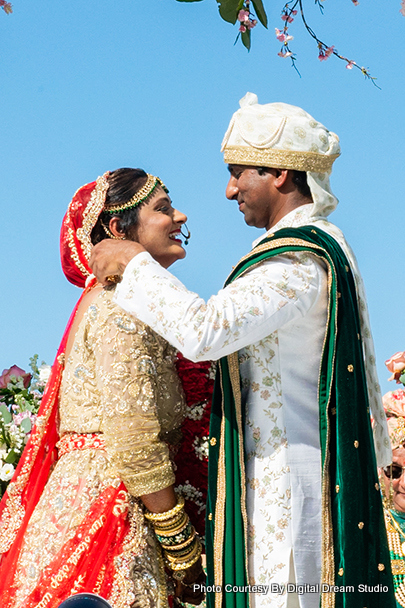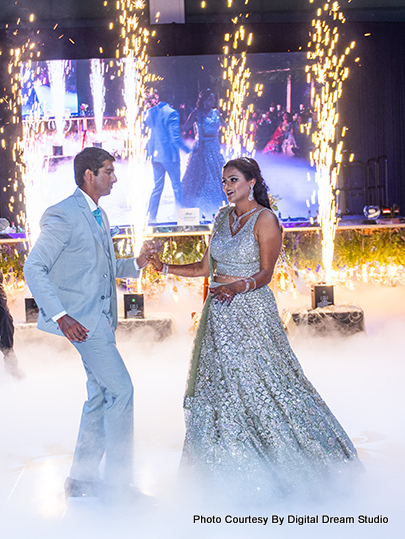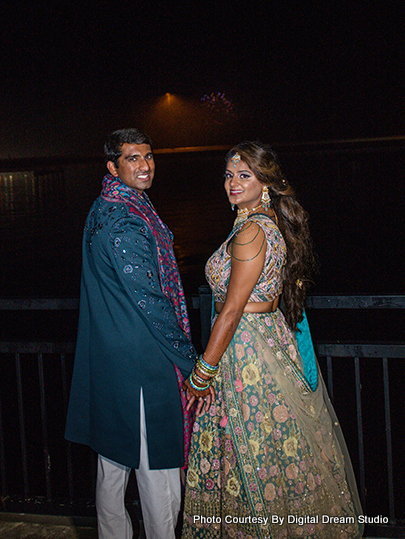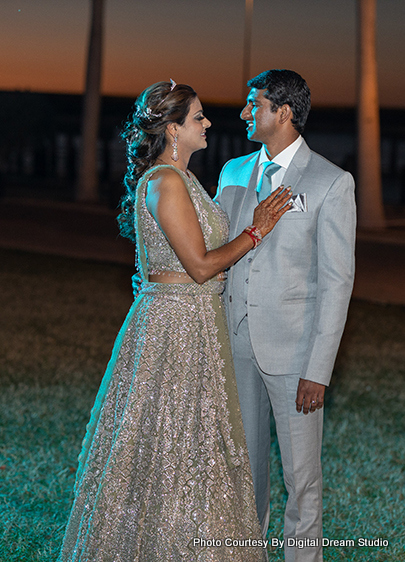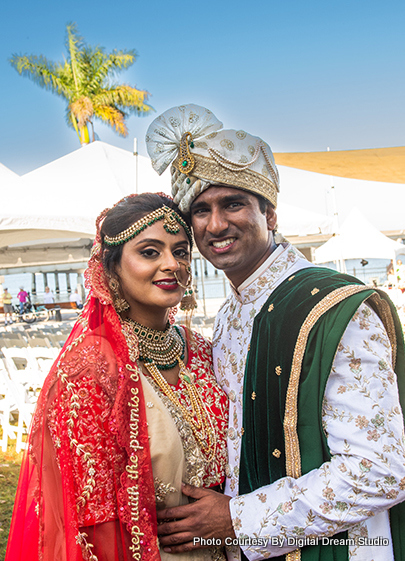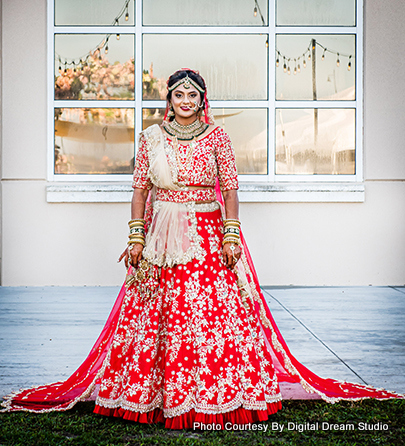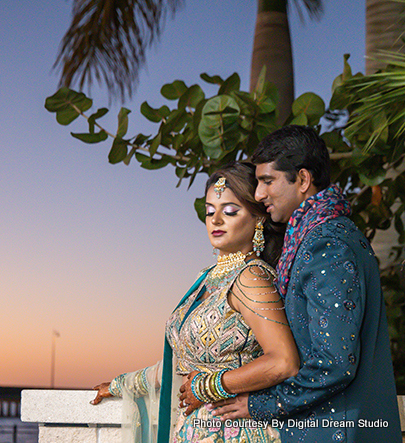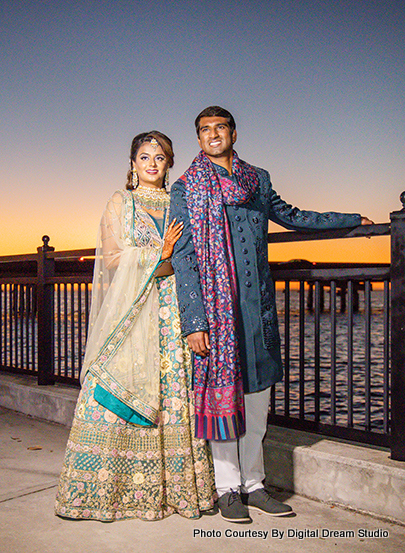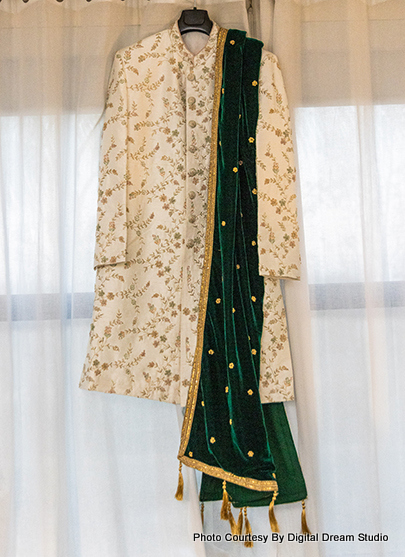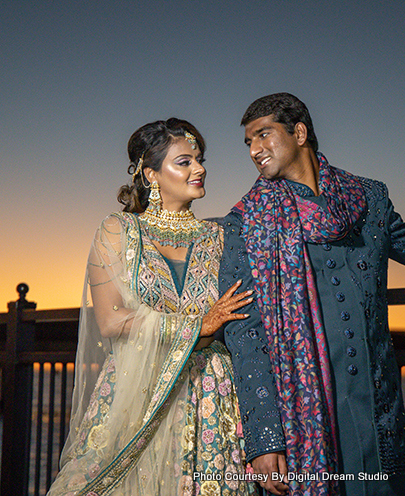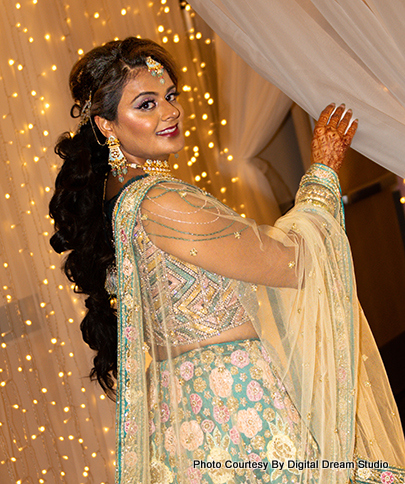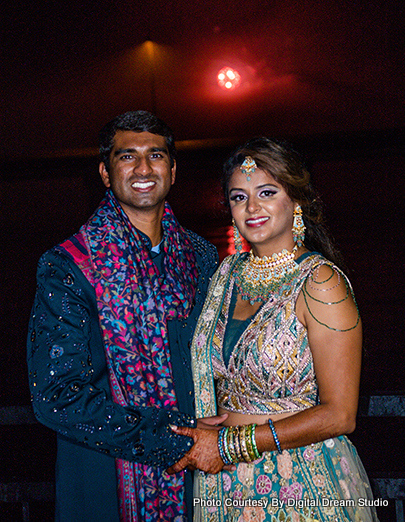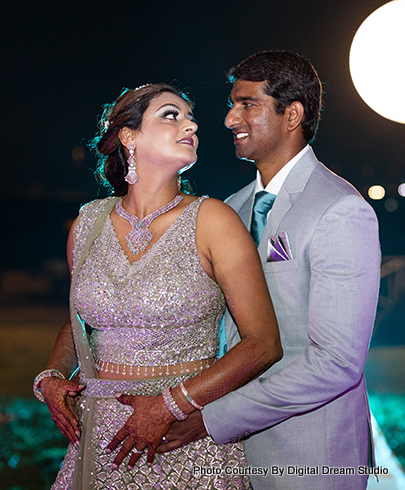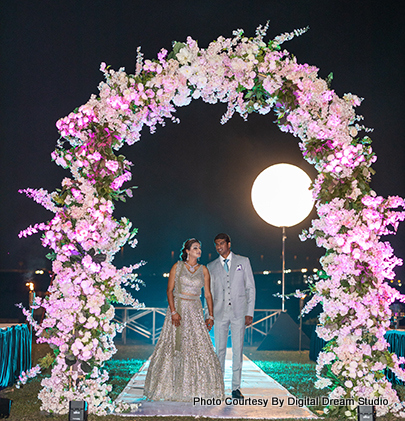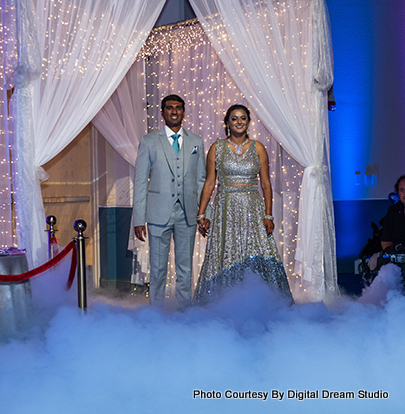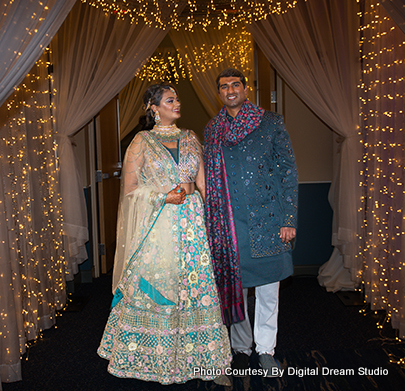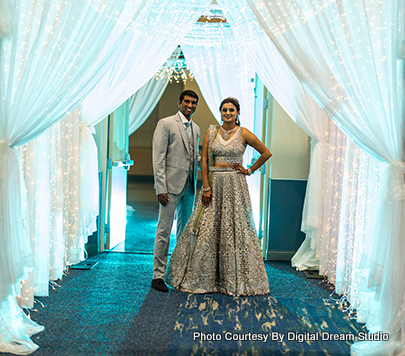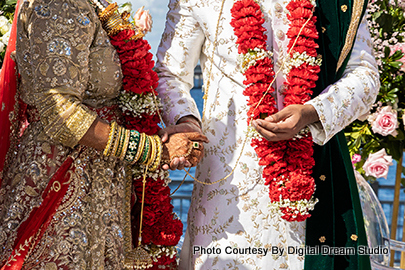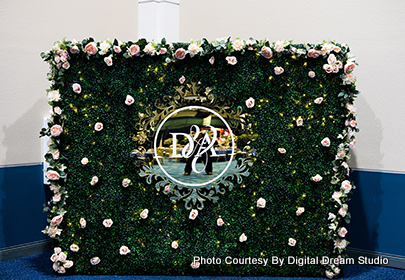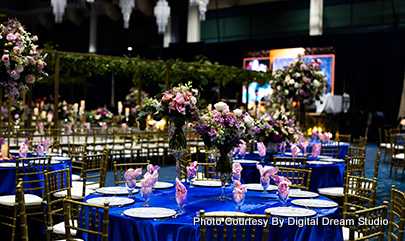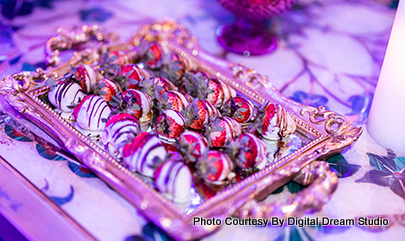 Indian Wedding Banquet Halls Charlotte Harbor Event & Conference
Indian Wedding Beauticians Michele Renee The Studio And Salon
Indian Wedding Cake Maker Black Market Cakes
Indian Wedding Catering India's Grill – Fort Myers
Indian Wedding Khasiyat Restaurant
Indian Wedding Decorator Prashe Decor
Indian Wedding Entertainment Rhythm Of Dreams
Indian Wedding Event Planner Elite Dream Creations
Indian Wedding Mehndi Henna By Gayatri
Indian Wedding Photographer Digital Dream Studio
Indian Wedding Priest Acharya Ramesh Mehta
Indian Wedding Rental Services Tech-Tronics
Pithi ceremony
Grah Shantak
Sangeet night
wedding Mandap
spectacular red lehenga
emerald green dupatta
Sajan Ji Ghar Aayesong
Mehndi Laga Ke song
dreamy ceremony