Christine and Shivam
There was something about Shivam that made Christine feel that he was the one—her 'Mr Right'; her partner for life. They met in 2012 when they were both in college. However, it wasn't until 2016—when both moved to New York City—that they started dating. After dating for three years, Shivam proposed to Christine while walking together on a pier along the Hudson River. They embarked on their new journey together in this romantic place.
Both Christine and Shivam wanted a long engagement. The beautiful thing about their union was that both of them had enormous respect and love for each other's culture, customs, and religion. That is why they wanted to have both Hindu and Christian wedding rituals followed at their wedding. During their love-filled courtship, they fixed their marriage date on May 21, 2021.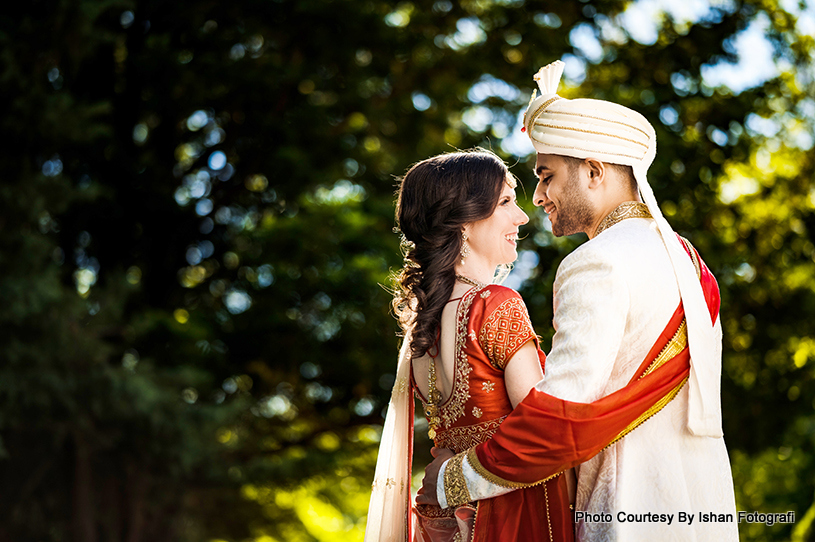 ---
BANQUET HALLS Brooklake Country Club 973-377-2235 | The Westin Governor Morris 973-539-7300 | CATERING Moghul Caterers 732-549-7976 | DECORATOR Nirali Decor 609-703-5879 | DISC JOCKEY Kapoor Entertainment 848-448-0082 | EVENT PLANNER Blissfully So 917-830-7788 | FLORIST SK Floral Expressions
201-288-7166 | MUSICIAN Kapoor Entertainment 848-448-0082 | PHOTOGRAPHER/VIDEOGRAPHY Ishan Fotografi 973-934-8043 | Wedding Pro Art 302-363-8247
---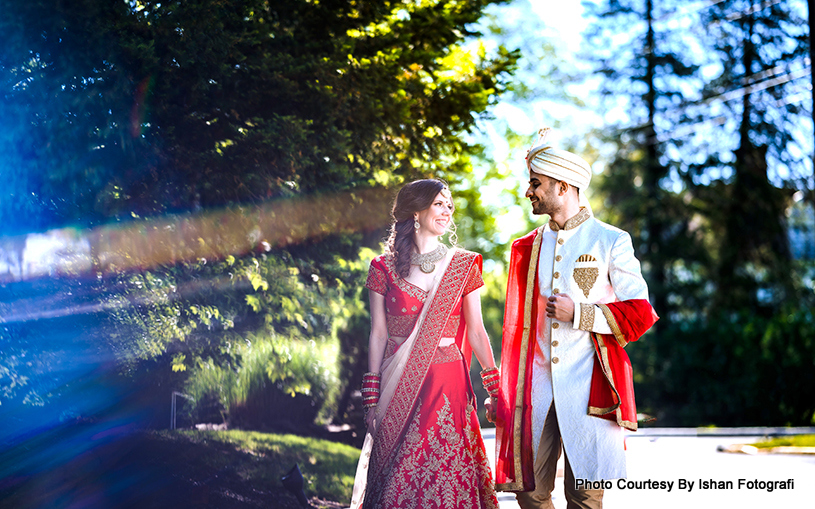 They organized everything in advance. Since the Hindu ceremony was scheduled for the morning, they booked the hotel Westin Governor Morris in Morristown, New Jersey so that the guests could rest and change for the Christian ceremony followed by a reception in the evening. The venue for the reception was set for Brooklake Country Club in Florham Park, just 10 minutes away from the venue for the wedding itself.
The venues had originally been booked for January 2020. However, the COVID-19 pandemic broke out, and the wedding had to be postponed for over a year. In March 2020, they had to cut the guest list to half. As responsible citizens, Christine and Shivam insisted that all their guests be vaccinated before the marriage. Their initiative was successful—and more than 90% of the guests were vaccinated before the wedding.
Pre-wedding ceremonies included Mehndi, Vidhi, and Pithi. They had a Mehndi night in the backyard of Shivam's house. It was an informal and intimate reunion with close friends and family. Christine loved the traditional Indian rituals of Vidhi and Pithi so much that she happily joined in celebrating these rituals.
The Hindu wedding ceremony took place in the morning, in the open air. Nirali Décor created a wonderful Mandap with pink and white flowers. Christine has great admiration for the concept of baraat, and that is why she hired a three-wheel convertible Polaris Slingshot for her groom. Happy and ecstatic, Shivam danced with his parents. And at the end of the baraat, both Christine and Shivam surprised all 170 guests with some 'flash-mob-style' dances. Shivam's sister helped the couple with the dance moves.
The reception, too, was delightfully beautiful and utterly enjoyable. Spring flowers, a fog machine, and colored lights created the perfect ambience for a dreamy reception. "God Only Knows" by the Beach Boys was their first dance song; and they entered by playing "Blinding Lights" by The Weeknd, a top favorite of both. Christine displayed framed pictures of her parents and grandparents as a mark of respect.
Christine was mesmerized by the colorful traditions and rituals of the Indian wedding. For her, becoming a part of this rich cultural heritage was literally a dream come true. This respect became the foundation of their bonding for life.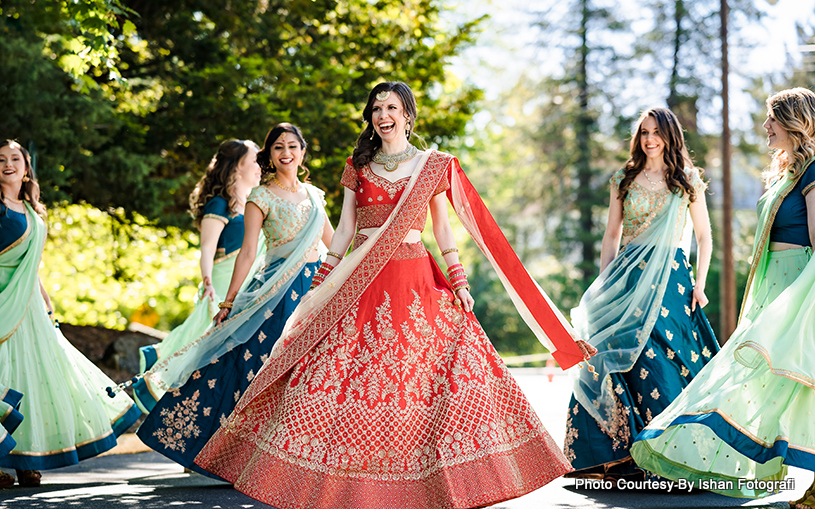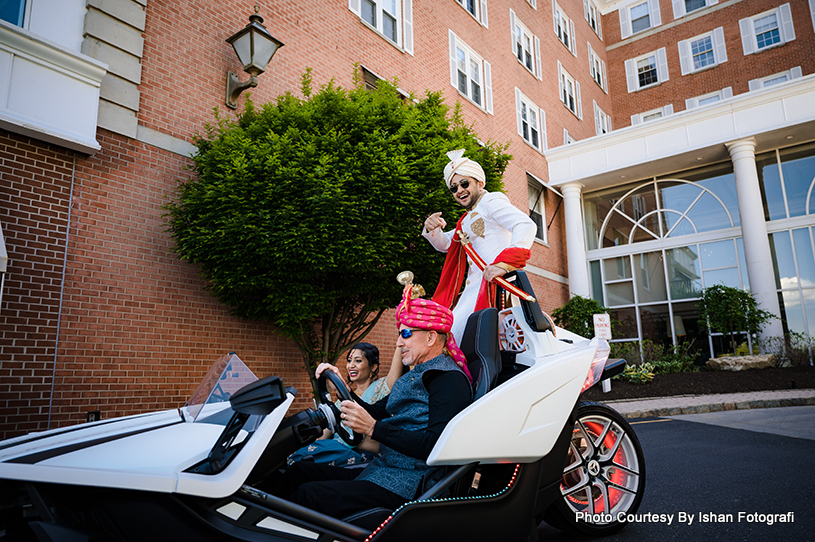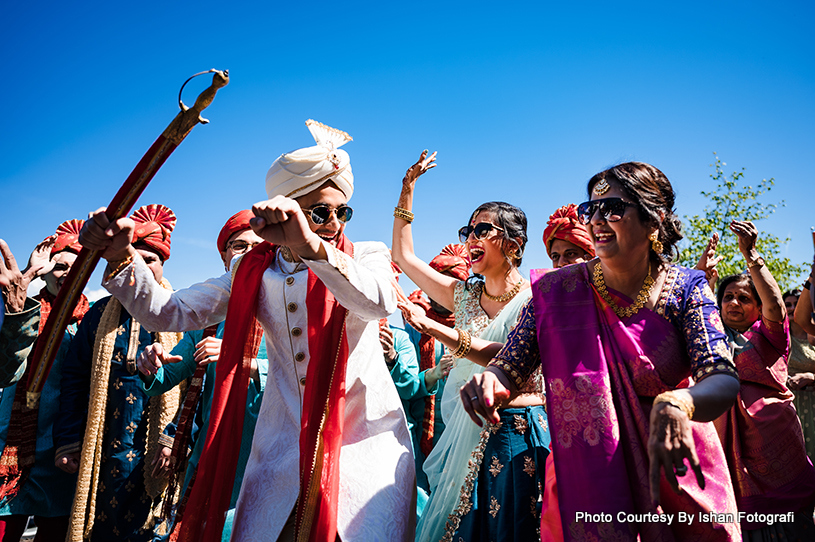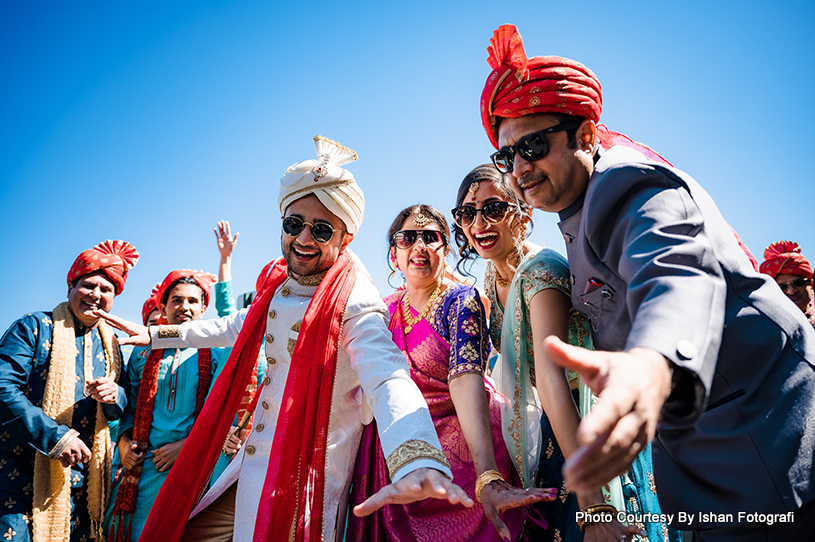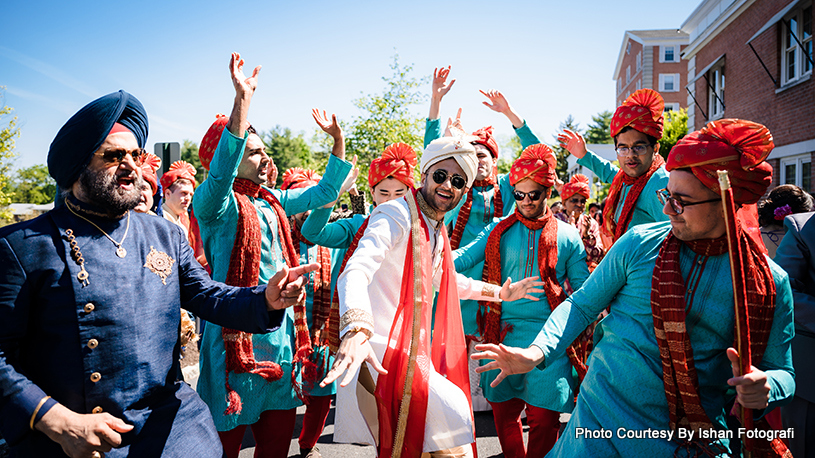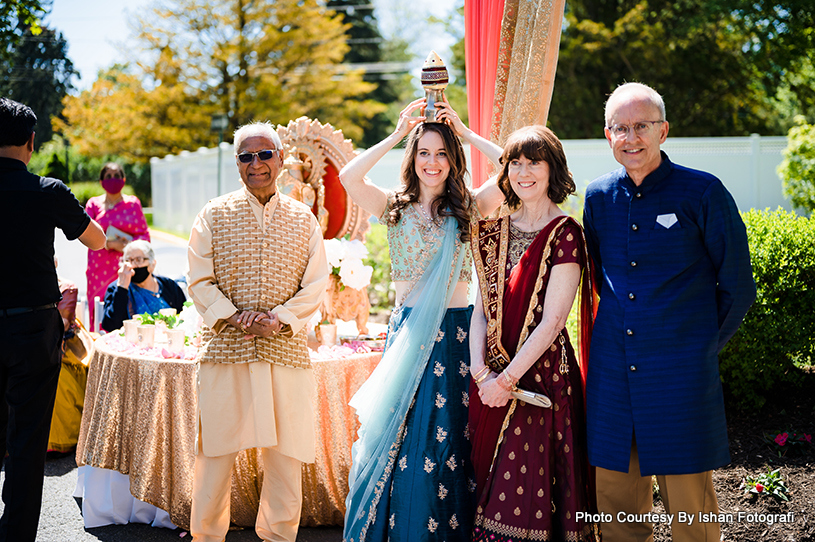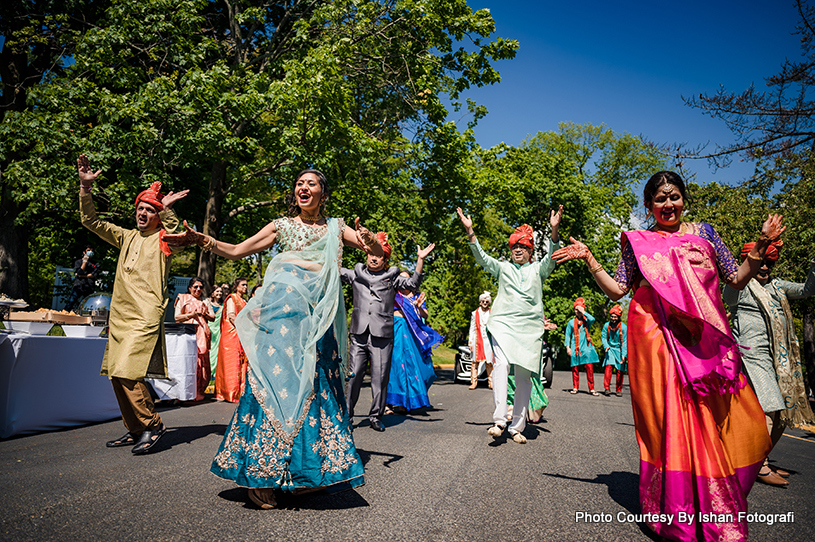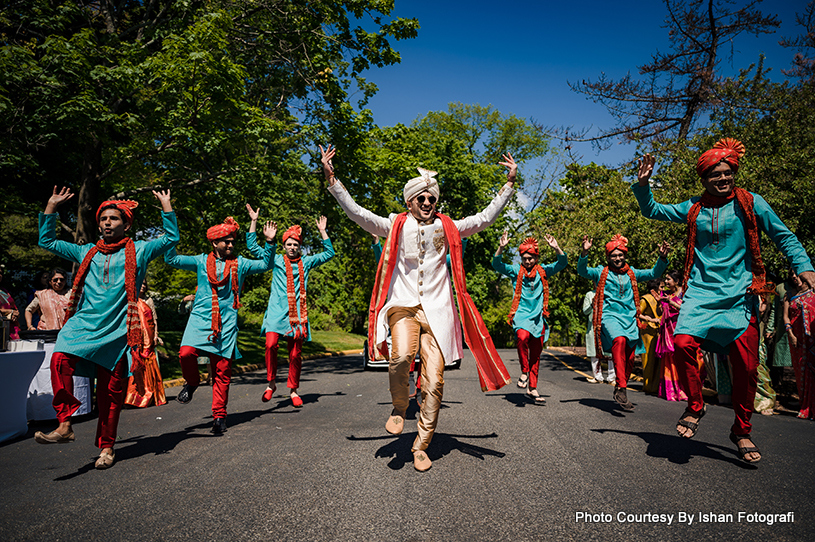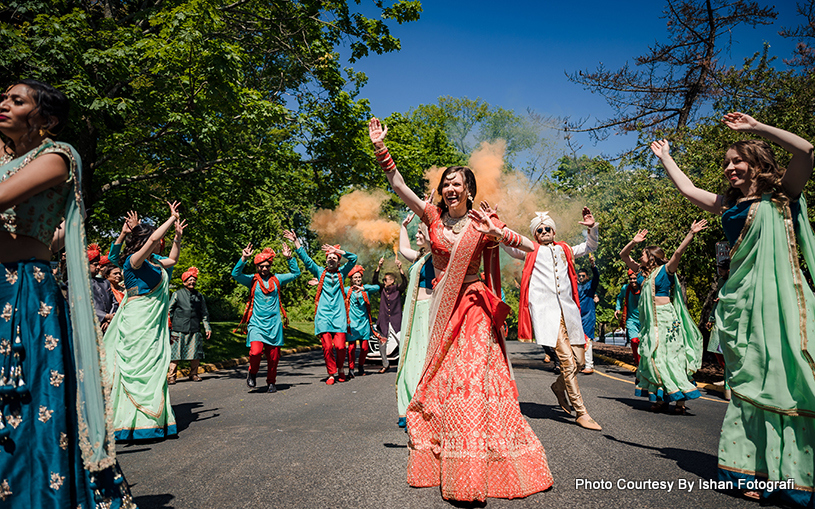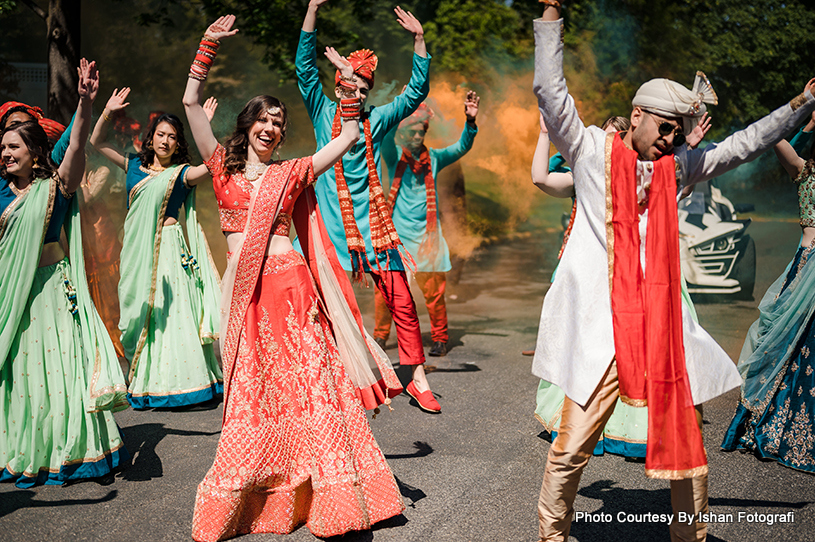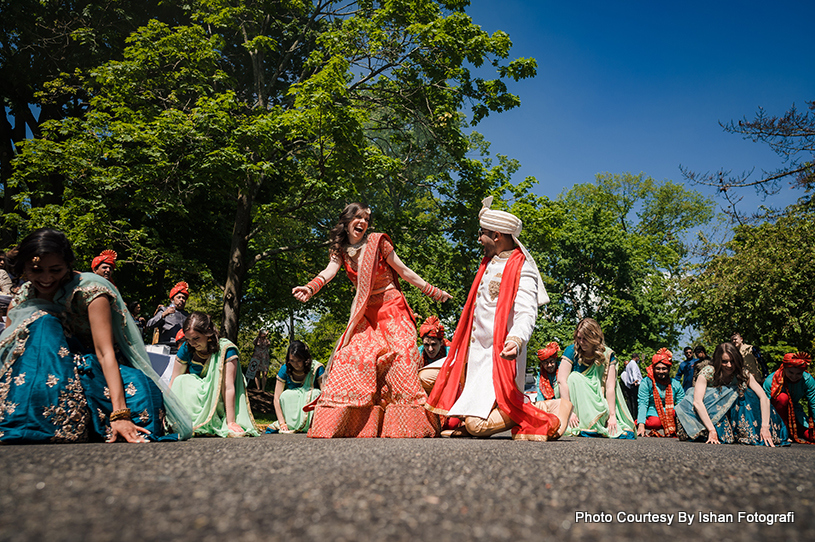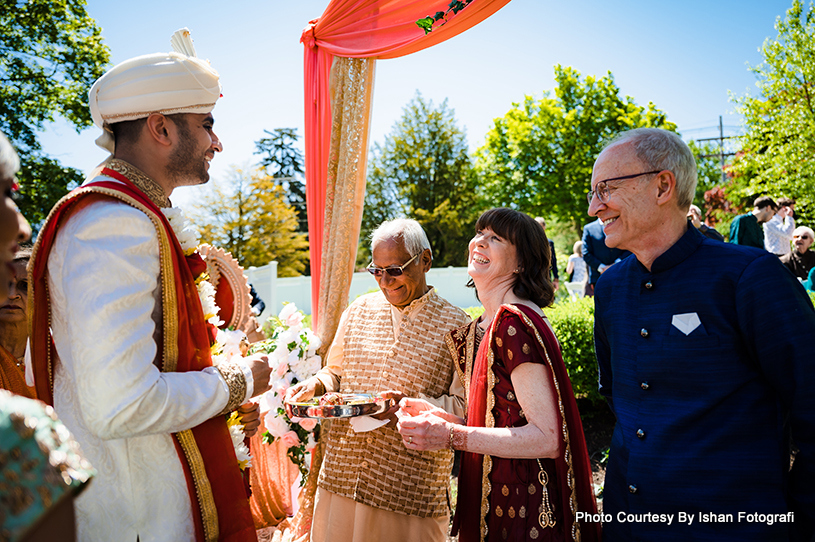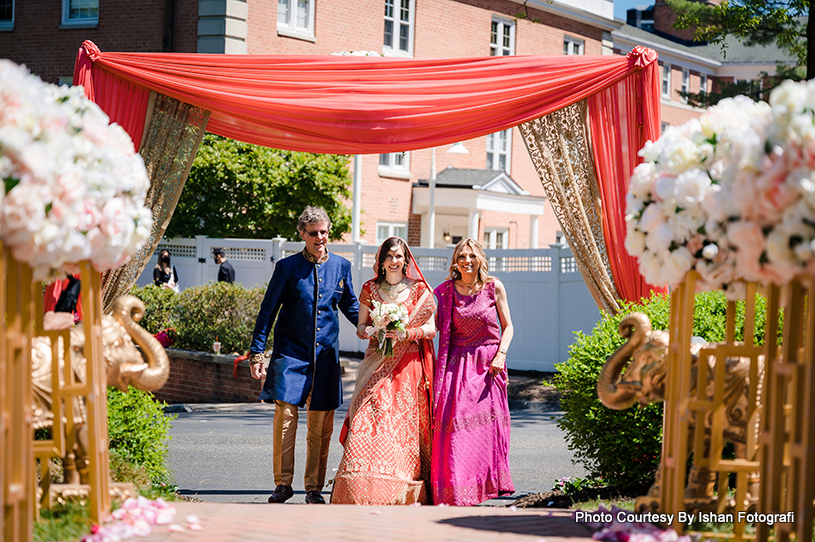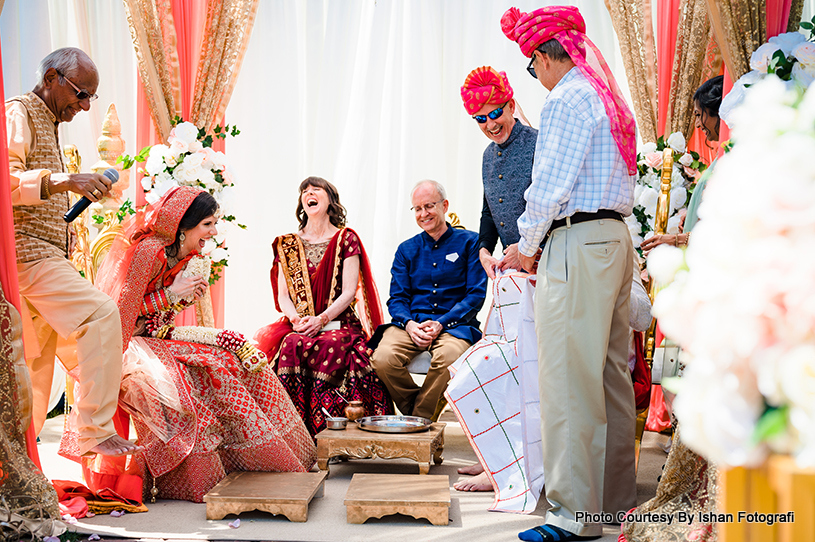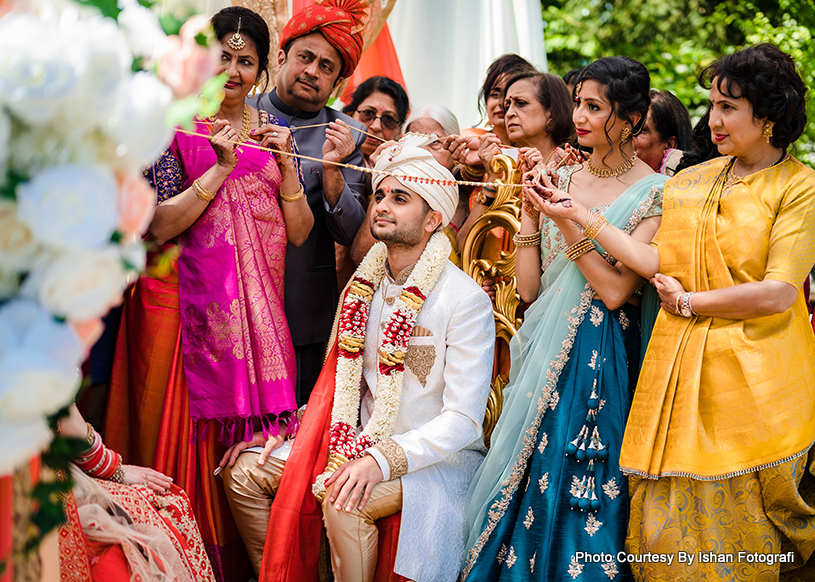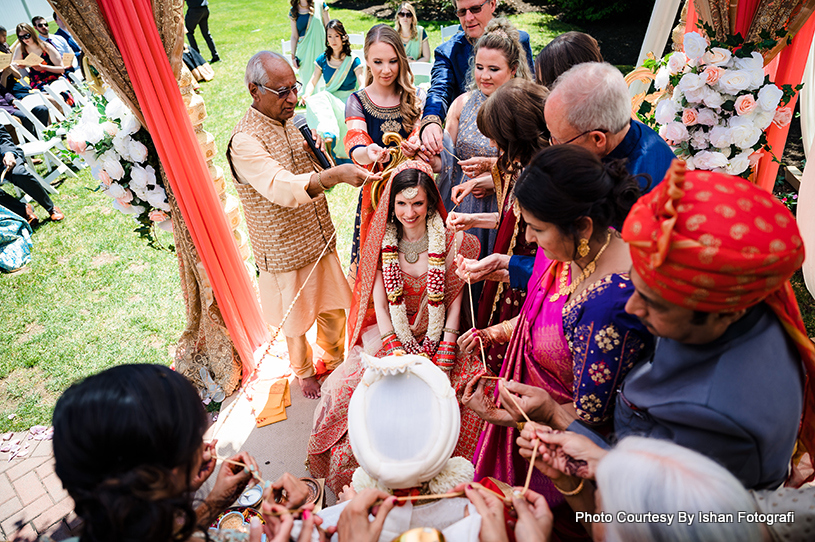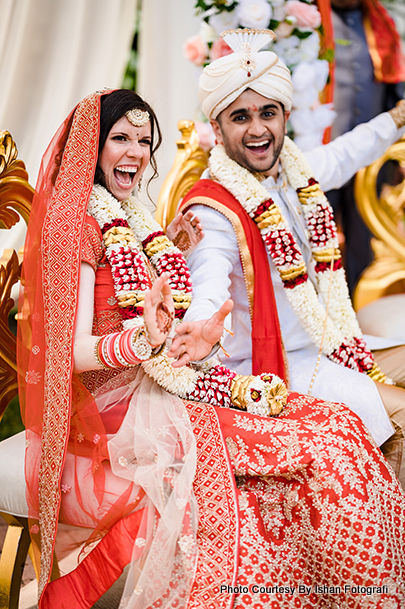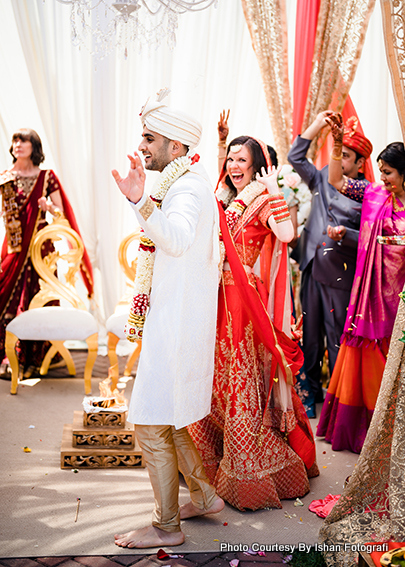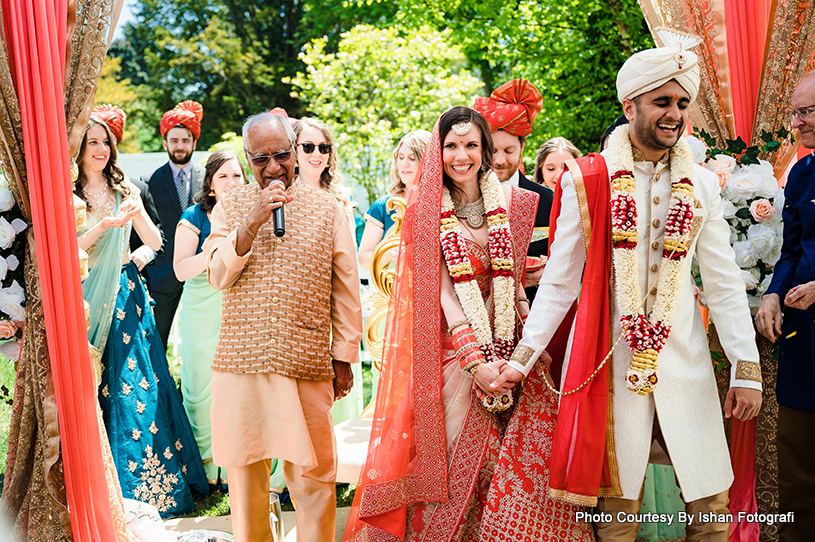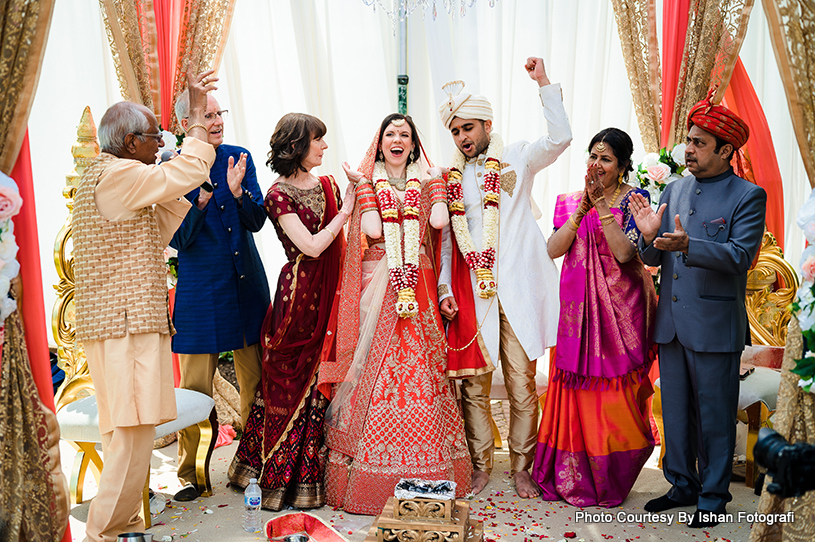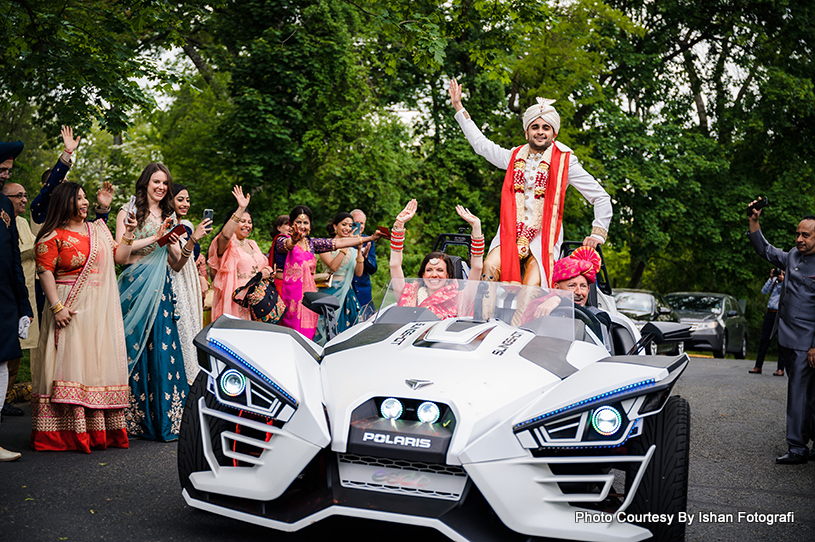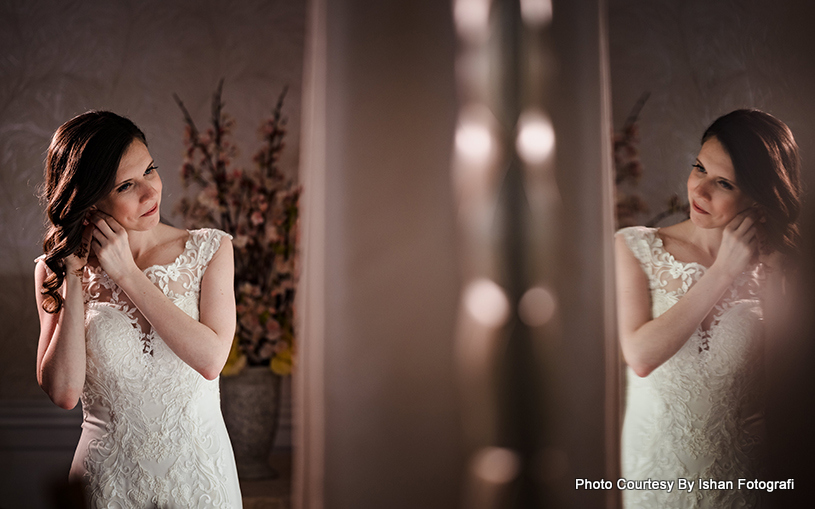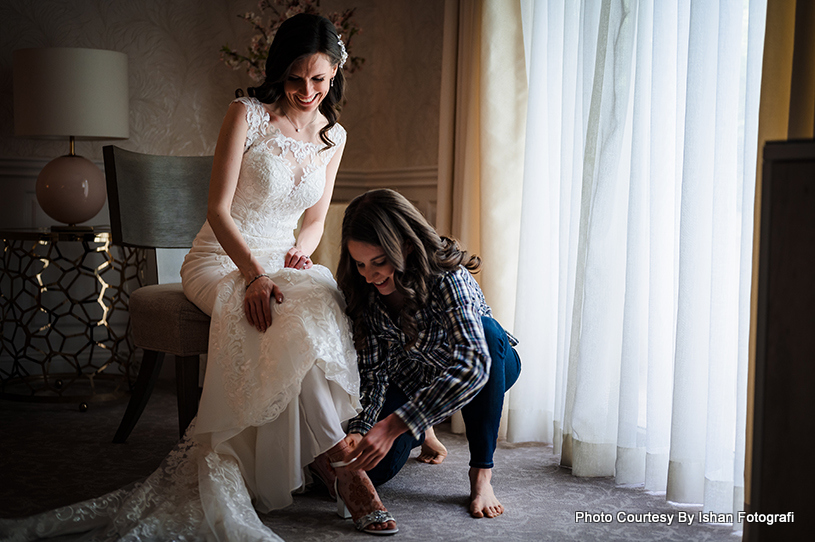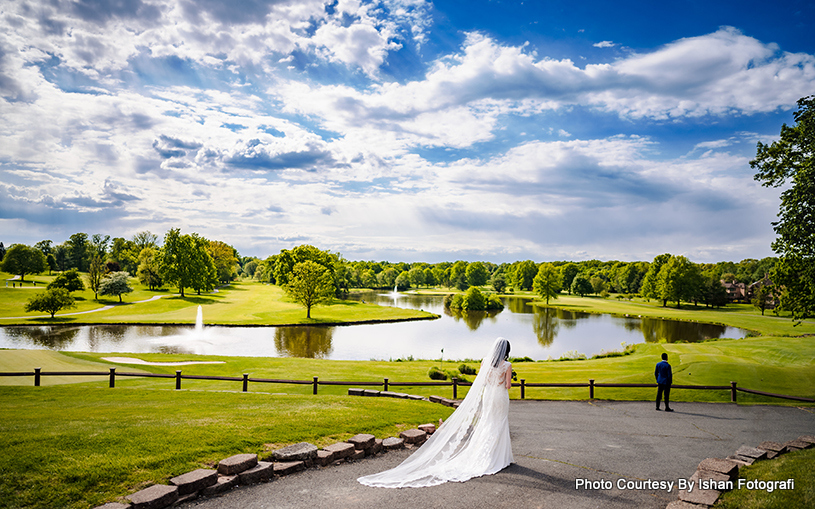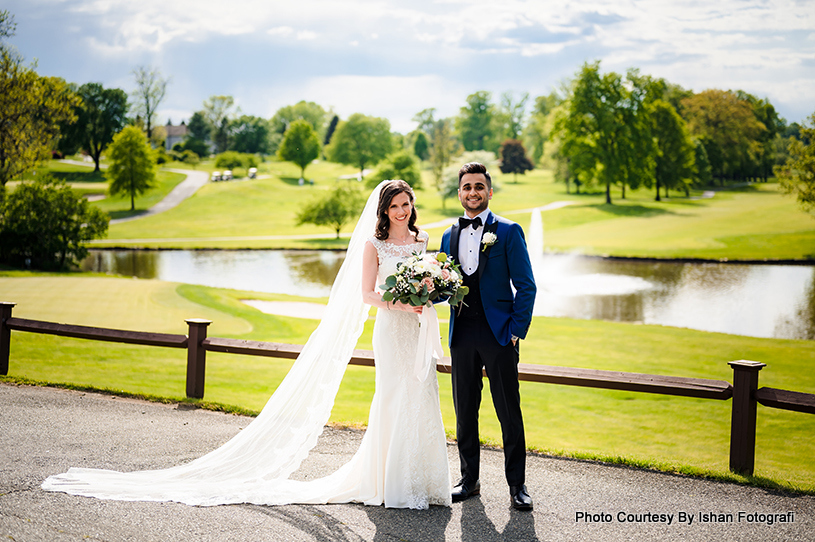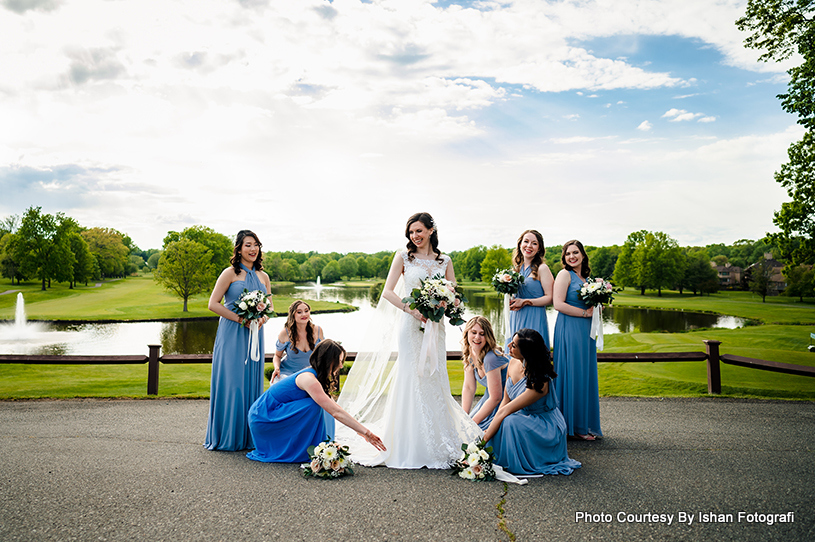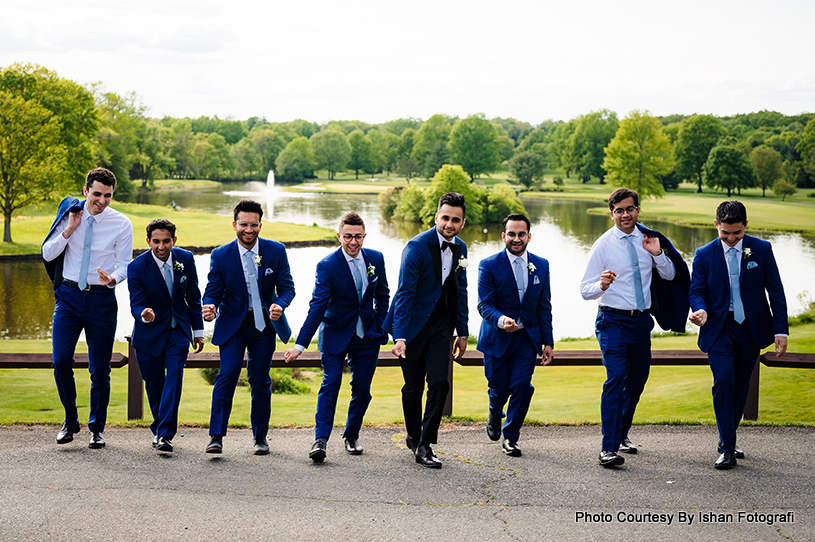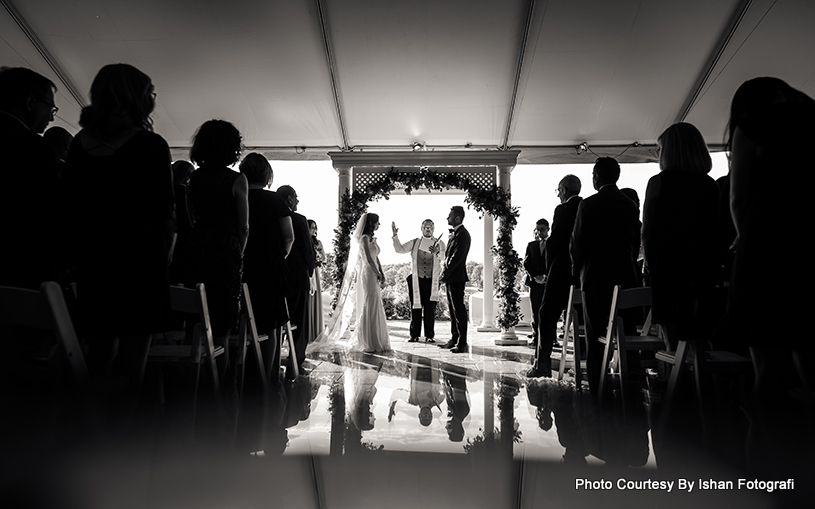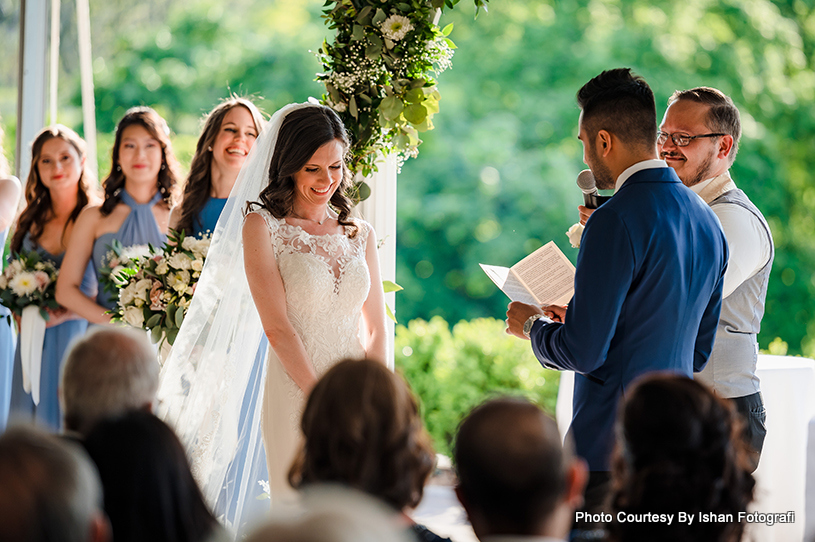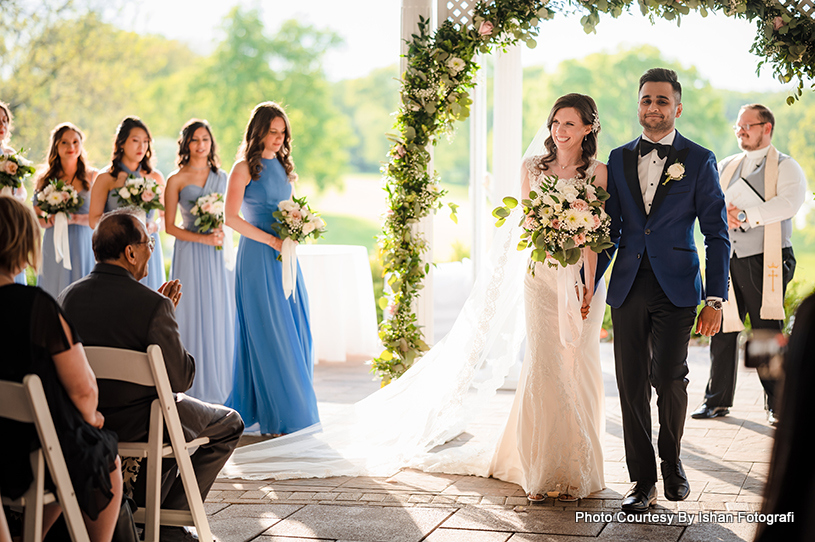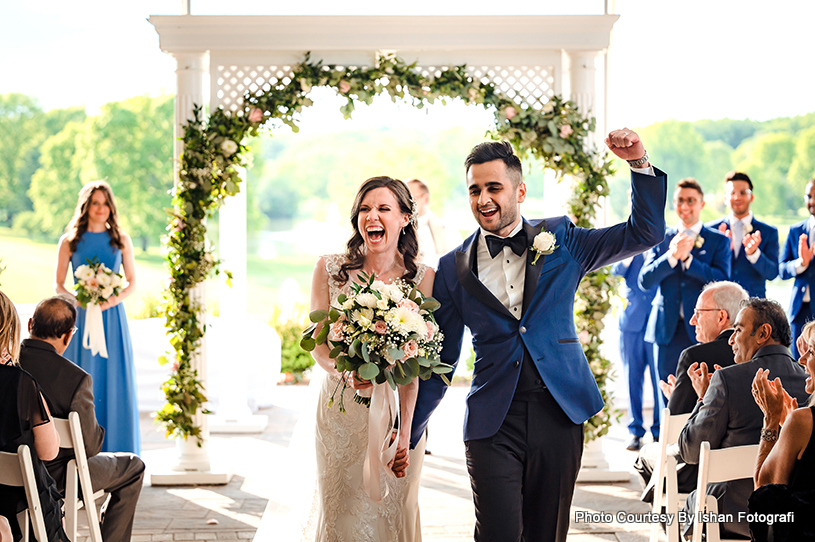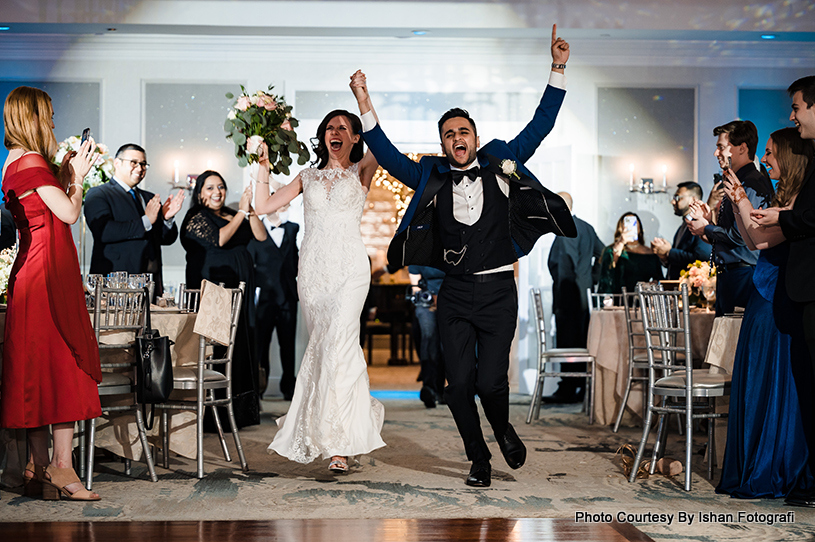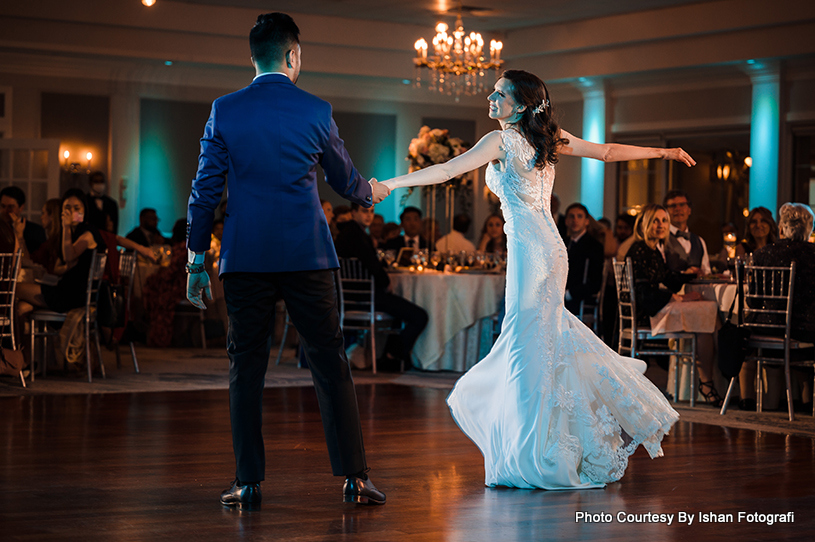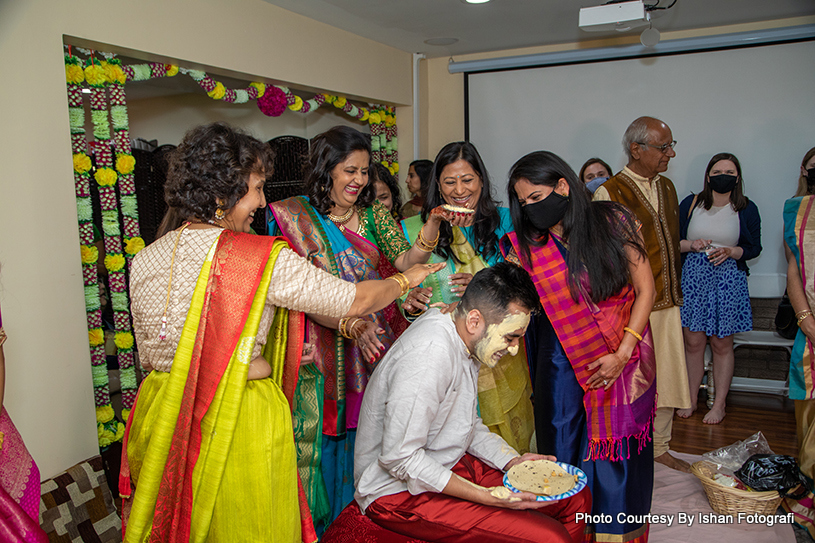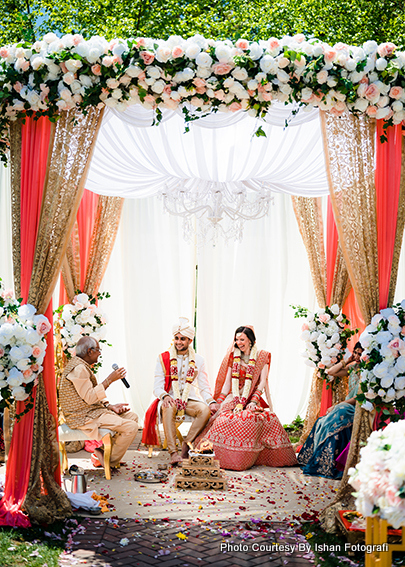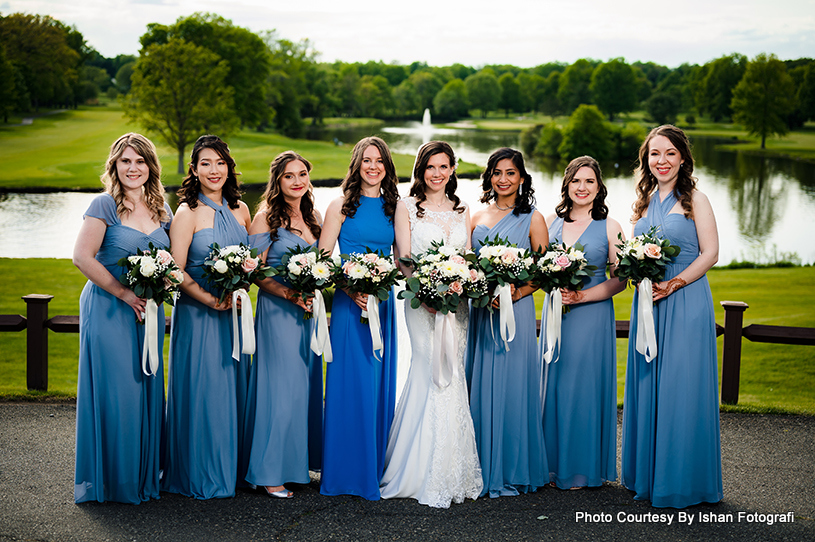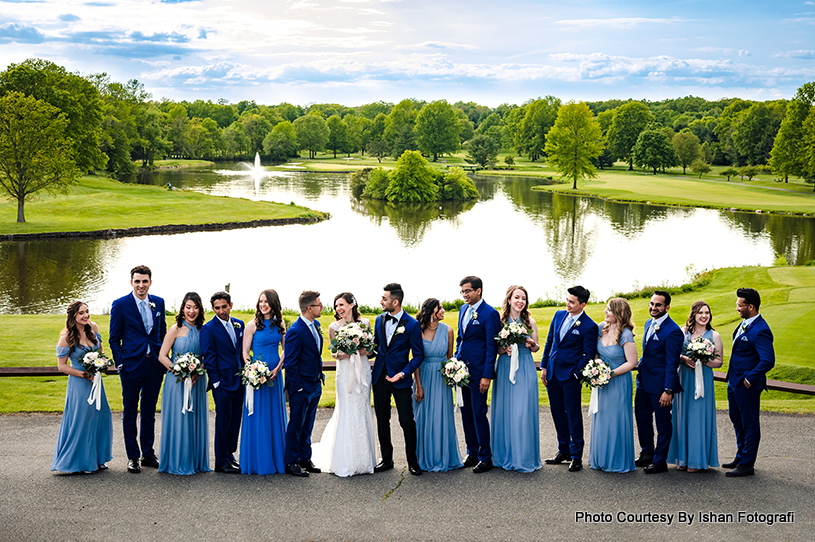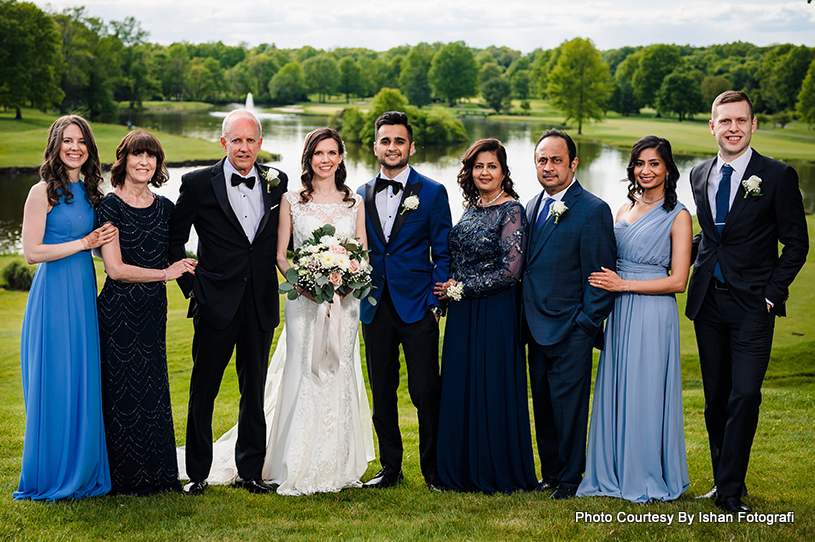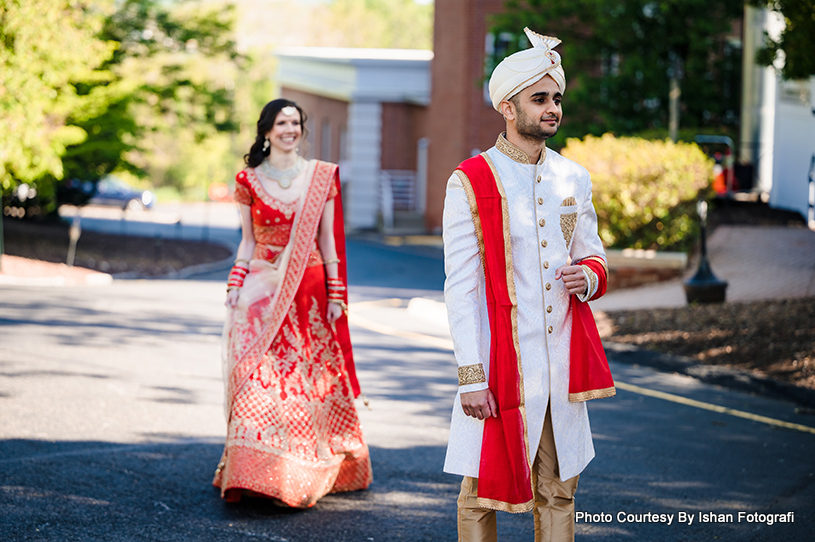 Indian Wedding Banquet Halls
Brooklake Country Club
The Westin Governor Morris
Indian Wedding Catering
Moghul Caterers
Indian Wedding Decorator Nirali Decor
Indian Wedding Disc Jockey
Kapoor Entertainment
Indian Wedding Event Planner Blissfully So
Indian Wedding Florist  Sk Floral Expressions
Indian Wedding Musician  Kapoor Entertainment
Indian Wedding Photographer Ishan Fotografi
Indian Wedding Videographer Wedding Pro Art
Christine and Shivam's wedding
Hudson River
mehndi ceremony
grah shanti vidhi
pithi-haldi ceremony
flash-mob-style dances
Spring flowers, a fog machine
colored lights
God Only Knows song