Desi Tv Duniya

Faisal Khan is Maharana Pratap
Faisal Khan won a lot of hearts and a lot of votes in Dance India Dance Little Masters, and ultimately went on to be the winner of the show. Since then, there has been no looking back for this endearing and lovable boy. He has been busy doing stage shows all over the world. However, he seems ready to enter the next level of stardom. He has been chosen to play the lead role of Maharana Pratap in the upcoming Sony TV show Dharti Ka Veer Putra Maharana Pratap. Despite bagging such a strong role in a strong show, Faisal says that dance is and will remain his biggest love. Aashka Goradia and Rajeev Bharadwaj will also be featured in this show.
Bigg Boss, despite all the controversies surrounding the show, has remained extremely popular throughout the country. Capitalizing on its success and popularity, Endemol, the production house, has decided to go regional with the show. For now, the show is planned in Marathi and Bengali. For the Marathi version, makers have roped in Riteish Deshmukh to host the show and Mithun Chakraborthy will host the Bengali version. However, Mithunda was apparently not the first choice of the show. He was approached after Saurav Ganguly refused to host it. Mithun Chakra-borthy's remuneration is being negotiated. If all goes well, the show is likely to be aired soon.
Getting Down To Some Serious Business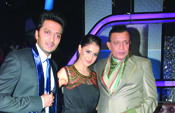 Guess who is getting down to some serious business (pun intended!). Mantra, of the Comedy Circus fame, has decided to bid adieu to the show to focus on movies. The comedian who has been valued for his perfect comic timing is getting busy with shooting for his debut movie. The producers of the show too have been very co-operative and have aided Mantra to look out for the bigger screen. The movie is sure to have a huge dose of good humour.