Design & Décor Spotlight: Occasions by Shangri-la By Chris Vander Kaay
There are many skilled wedding décor and design companies throughout the United States, but when Smita Patel founded Occasions by Shangri-la back in 2005, it was because she recognized a void in the décor market during the weddings of two of her children (and Occasions co-founders), Remmal Karamsadkar and Rena Popat.

REMMAL: Back then, there weren't any design firms that specialized in South Asian weddings. It was all just packages, and you chose from one of three concepts. They weren't really creating mandaps based on people's styles and interests. It was difficult to find a company that had the authenticity for South Asian design and the versatility of décor that we were looking for.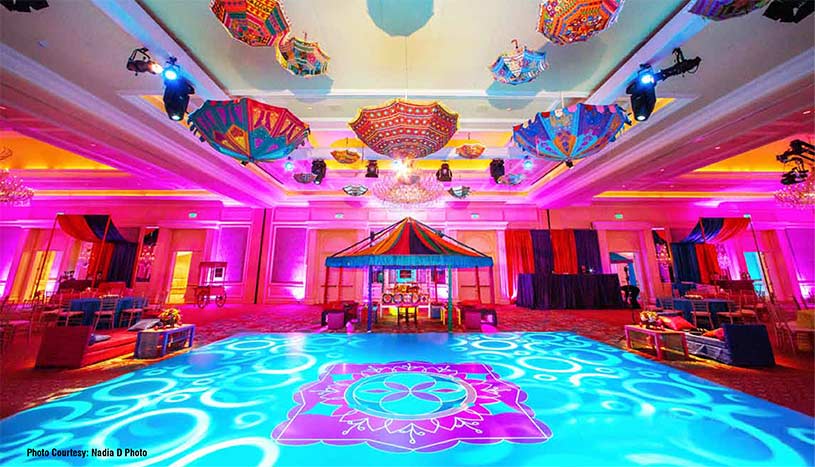 Smita was new to wedding décor specifically, but by no means new to the industry. Originally born in India, she grew up in Kenya before relocating to England in the 1960s. She was successful in fashion retail in the UK, and it was the apparel business that brought her to the United States in the 1990s. Because she had a seamstress in-house at her business, she found herself involved in the creation of mandap drapery and other décor for Remmal's and Rena's weddings because the American florist had never executed a South Asian wedding before. That was when Smita recognized the opportunity in the market, and Occasions by Shangri-la was born.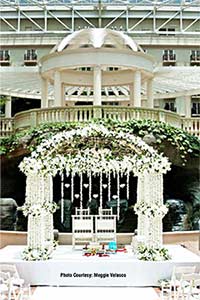 In the fifteen years since it began, Occasions has created wedding events across the United States and Mexico, on the island of Aruba, and even on board a cruise ship. They love a creative challenge, and they equally love being involved in as much of the process as possible.
REMMAL: We start with conceptual design, space planning, and the individual visual themes for each event (from mehndi to garba to the wedding ceremony itself), and then we provide everything décor- and A/V-related after that. That includes fresh flowers, custom props, drapery, mandaps, linens, lounge furniture, and full production lighting.
The goal of Occasions by Shangri-la isn't just to fill the void for South Asian weddings, but to provide above and beyond with unique concepts and inspirations. Smita's travels overseas for her fashion business brought her to numerous talented artisans in various fields, and those encounters brought about groundbreaking ideas for wedding décor.

SMITA: When I was traveling in the mountains of Bali, I saw an artist on the side of the road, selling a hand-carved bed set made from Teak wood. It was very detailed and beautiful, and I stopped to talk to him. He agreed to create a mandap for us, so I sat with him and sketched out a design for a mandap that he carved out of Teak wood.
Frequently, their inspiration comes directly from the clients. Rather than simply providing the client a list of options for what they already have on hand, Occasions prides themselves on the flexibility and skill to create décor personalized to the client's interests.
RENA: Brides often bring a lot to the table, because they're out there researching and having their own ideas. We embrace that and start from that, and often a mandap or a décor piece will come from that initial client inspiration.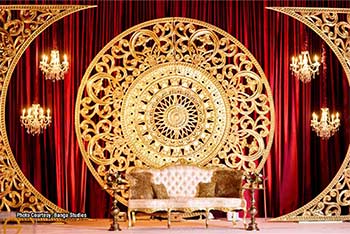 Because their hands-on creative process is different than many firms, their process for consultations and meetings is a bit different, too. Dana Cirelli, the Client Services Coordinator, will start by sending a simple form that the client fills out before an in-person or phone meeting, providing information on the bride and groom, where they met, what their best means of communication is through the process, and any visual inspiration they already have.
DANA: Anything you've saved on Pinterest or any other inspirational websites is helpful, because then we have an idea of which direction you like for each event. Then, during our two-hour design consultation, we take the inspirations and we break down their design concept and combine them to create something unique.
During that two-hour consultation, they discuss everything from décor to food to entertainment. That allows them to create a detailed budget proposal with pricing for all the elements from A to Z, from floral to production lighting. If the client likes the design concept, they retain Occasions services. During the process of creation and planning in the run-up to the wedding, Occasions also offers in-person viewings of the décor and designs.
SMITA: Rather than just a simple, two-dimensional rendering of a mandap or design element, we have enough space and crew to set up samples for you to see and interact with. People aren't just visual, they're interactive, so we provide that extra level of immersion for the clients.
So, in all the years that the Occasions team has worked with couples planning their weddings, what is the most important piece of advice they have? For them, there are two simple things: first, being upfront about the budget.

REMMAL: When we know from the beginning exactly what our budget is, then we can use our knowledge and experience to make that stretch as far as possible. We can be creative on a budget and still deliver a stunning event, but we need to know as early as we can to make sure we have the time to deliver the quality.
Secondly, and equally important, is to never lose sight of your personal inspirations. The wedding is ultimately an event that represents you and your union, so don't lose that among all the other decisions that have to be made.
SMITA: It's important for you to love your design, so your passion and inspiration are absolute necessities. One of our favorite wedding mandaps came directly from a bride's inspiration. Her venue was in a 4 ½ acre atrium, and she wanted a gazebo structure for her mandap. But she also wanted a vast amount of floral to create a welcoming aroma. We ended up constructing the entire gazebo solely from floral, Casablanca lilies and garlands, and it looked stunning. She loved it, and so did we.
Occasions by Shangri-la's business offices are located in Winter Garden, Florida, and they can be found online at www.occasionsbyshangrila.com
wedding décor and design
United States
Occasions by Shangri-la
Smita Patel
Remmal Karamsadkar
Rena Popat
South Asian weddings
mandaps
South Asian design
mandap drapery
American florist
island of Aruba
Mexico
mehndi to garba
wedding ceremony
mountains of Bali
Teak wood
hand-carved bed set
Dana Cirelli
Pinterest
gazebo structure
Casablanca lilies and garlands