Dhara and Mitesh
The  wedding of Dhara Patel and Mitesh Patel was a traditional Gujarati wedding ceremony, with colors of love and festivity all around. These two love birds became real-life partners, festooned with the blessings and best wishes of their family and friends. 
The bold and brawny Mitesh Patel and the delicate and charming Dhara Patel had one thing in common: They both believed in the "nobody has got time to waste" principle. They started dating online; and – after texts, chats and video calls – wasted no time in quickly arranging a meeting with each other's families. It was an instant hit with both sides. Such compatibility created the concept of #DhaTesh2020Vision in Dhara's mind, and she decided to let it happen.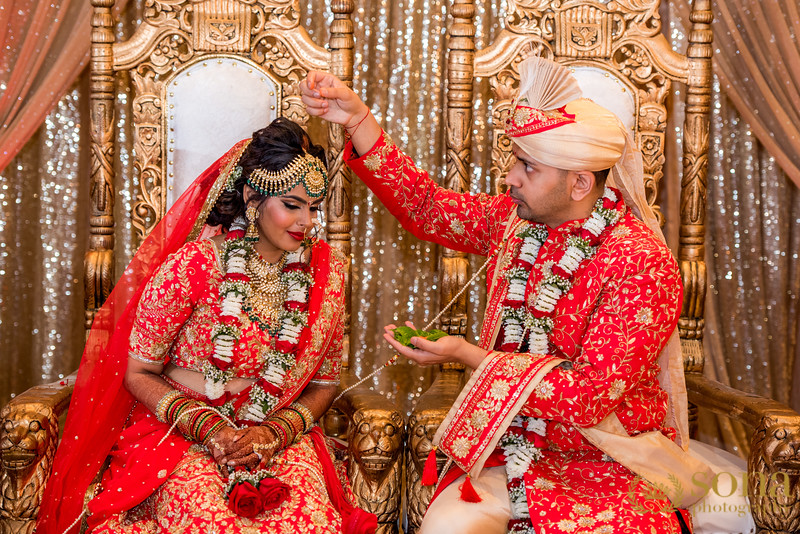 It was time for Mitesh to take the next step: proposing to his lady love. He proposed to Dhara with the wedding ring in the presence of family and friends. Thus, #DhaTesh2020Vision saw the light of reality. 
The marriage took place on 29 May 2021 at the Hyatt Regency Grand Cypress, Orlando. The wedding rituals were held in the morning, and the reception was held in the evening. 370 guests were invited. Following traditional Indian rituals, they had the pre-wedding ceremonies of the Grah Shanti, Mehndi, Pithi, Garba, and Sangeet.
For the marriage, both Dhara and Mitesh chose red and golden clothing. Matching with it, the Mandap was a beautiful peacock in white and gold, with grand dark florals being added to the top corners of the Mandap. A path was created with flowers and candles lining both sides of the grand entrances of the bride, the groom, and others. The groom came in a White Gladiator jeep playing the Ramleela song "Tattad Tattad". 
The reception outfits for Dhara and Mitesh were in shades of black and white. Hence, the decorations were set to highlight them in contrast – featuring elements of white, gold, and champagne, with a touch of crystal.  There were centerpieces of crystal trees, and candles on the guests' tables; and the stage was all in gold, with a Mr. & Mrs. Sweetheart table set quite close to the dance floor.
And oh, was there dancing! DJ Krish Entertainment rousingly fueled the festive mood. Dance tracks were mixed by the couple, who had chosen heart throbbing romantic and emotional numbers, especially Bollywood hits. With all the positive vibes and festivities, the #DhaTesh2020Vision was truly a blockbuster celebration!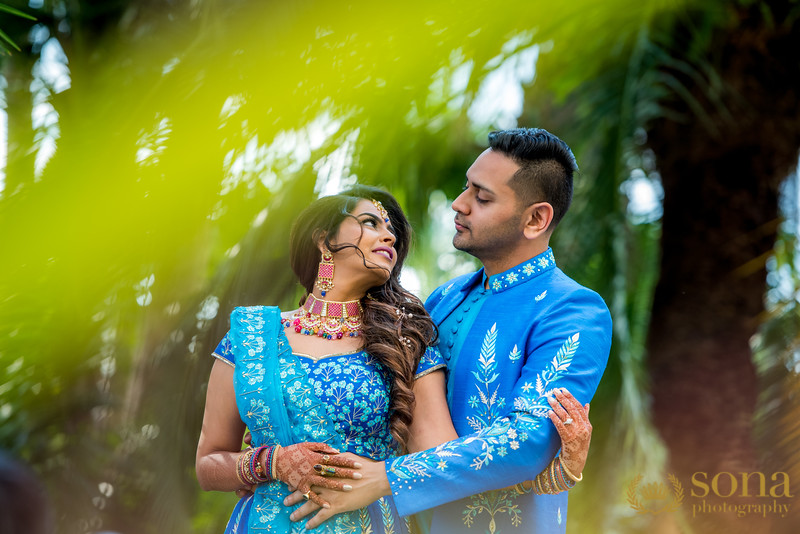 BANQUET HALLS : Hyatt Regency Grand Cypress 407-239-3924 | BEAUTICIANS : Henna Allure 321-444-5911 , Michele Renee The Studio and Salon 813-531-7770 | BOUTIQUES : Vulcal Boutique 407-888-9400 | CATERING : Khasiyat Indian Restaurant 407-252-8756 , Saffron Indian Cuisine- Orlando 407-674-8899 | DECORATOR : Dreams To Reality 407-592-9261 | DISC JOCKEY : Krish Entertainment Inc. 352-299-0743 | EVENT PLANNER : Elite Dream Creations 407-733-2597 | MEHNDI : Henna Allure 321-444-5911 , Mahees Henna Design 323-236-5199 | PHOTOGRAPHER/VIDEOGRAPHY : Sona Photography 407-694-6032 , Riant Films 407-455-4973 | PRIEST : Acharya Ramesh Mehta 813-453-9334 , Mahesh Gor 407-699-7966