Director Sanjay Gupta pulls off Casting Coup for Mumbai Saga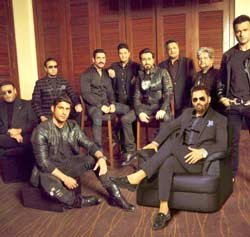 Filmmaker Sanjay Gupta, who has completed 25 years in the entertainment industry, has announced his next film, Mumbai Saga. A gangster drama, Mumbai Saga is set in the 80s and 90s. The film will trace the journey of the city from Bombay to becoming Mumbai.
Not only is Gupta back after a hiatus of two years, he is also back to the genre for which he is well-known – gangster-thriller. He has definitely pulled off a casting coup with this one. Mumbai Saga's star cast boasts of big names like John Abraham, Emraan Hashmi, Jackie Shroff, Suniel Shetty, Prateik Babbar, Gulshan Grover, Rohit Roy, and Amol Gupte.
T-Series' Bhushan Kumar will produce the film. Talking about the project Bhushan Kumar in an interview said, "Mumbai Saga is our first in the gangster drama genre and who better than Sanjay to direct it. The film is inspired by true events yet makes the characters so larger than life. The entire cast will bring so much to the table."
Talking about the upcoming film, Sanjay Gupta in an interview said, "25 years, 17 films later I had to give my audience something bigger and better. Mumbai Saga is by far my most ambitious film which needed a visionary producer." He further added, "It is one such story that needs to be said on screen."
The director is known for films like Kaante (2002), Musafir (2004), Shootout at Lokhandwala (2007) and Kaabil (2017). Mumbai Saga is slated to release in 2020.
Other Bollywood News
Director Sanjay Gupta
New movie Mumbai Saga
John Abraham
Emraan Hashmi
Jackie Shroff
Suniel Shetty
Prateik Babbar
Gulshan Grover
Rohit Roy
Amol Gupte
Kaante
Musafir
Shootout at Lokhandwala (2007)
Kaabil (2017)
Mumbai Saga