Kokilaben helps Mika Singh find the right partner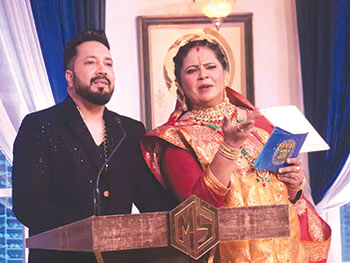 Swayamvar- Mika Di Vohti, the popular reality show will now have TV personality Rupal Patel aka Kokilaben as a guest. Kokilaben will help Mika Singh, the groom in finding the most suitable bride for him. In this show, hosted by the eminent singer Shaan, Mika Singh will choose his 'Vohti' or bride from among the 12 contestants participating in the show. The program telecast in Star Bharat was premiered on June 19 and the finale will be screened on July 25.
Kokilaben will come to the show and conduct a courtroom, where Mika Singh along with the contestants will appear. Mika Singh will answer all the allegations against him by the viewers. Kokilaben will also ask him questions. Later, she will accuse the contestants by saying that they are using Mika to get name and fame. It will be seen at the end of the episode, how the contestants face and answer Kokilaben.
Rupal Patel is very excited to join the show. She said that she is fond of Mika Singh as well as the host of the show, Shaan. As a senior woman married for many years now, she thinks that mutual trust and understanding are the key factors behind a strong married life. She also discussed the importance and dos and don'ts of marriage. It is expected that the advice of Kokilaben will be helpful for Mika Singh.
The four contestants for the finals are Akanksha Puri, Riya Kishanchandani, Neet Mahal and Prantika Das. It is to be seen who becomes the winner and the Vohti of Mika Singh.
Rupal Patel
Kokilaben
Mika Singh
Swayamvar- Mika Di Vohti