Diwali – The Festival of Sweets
Diwali, the festival of lights, yes, but it is also the festival of sweets. Women all over India spend the days before this festive occasion making many types of treats. Families specialize in their own special sweet, and recipes are passed down for many generations. If you are ready to introduce new recipes to your family, be sure to try the recipes below. There is no other time like Diwali to try a new recipe. One of these is sure to become a family favorite!
---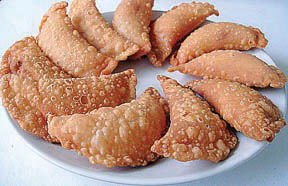 Karanji
Your little ones will make these little bell-shaped sweets their favorites.
FILLING:
1 cup grated dry coconut
1 cup powdered sugar
1 pinch ground nutmeg
1 pinch ground ginger
4 pods elaichi
2 teaspoon Maida
2 teaspoon poppy Seeds
2 tablespoons dry mixed fruit pieces
DOUGH:
1 cup maida
1 tsp ghee
Salt to taste
Warm milk to prepare dough
DIRECTIONS:
Roast dry coconut.
Roast maida in ghee.
Roast poppy seeds.
Mix all the filling ingredients and grind them.
Mix all the dough ingredients and prepare dough (keep dough a little hard).
Make small oval shaped puris from dough.
Fill the prepared stuffing inside.
Apply some water or milk so that it will seal properly (don't apply too much of water as it will not seal properly).
Deep fry it till it becomes brownish color.
Serve it hot or cold.
Karanjis can be stored for weeks.
---
Badam Phirni
Quick and easy, this sweet is sure to please everyone!
2 handfuls of almonds
4 tablespoons rice flour
2 ½ cups milk
5 tablespoons sugar
8 strands saffron
1 teaspoon cardamom powder
DIRECTIONS:
1. Blanch and grind the almonds to a fine paste with 1/2 cup milk. Mix together the ground almond paste and rice flour and keep aside.
2. Bring the milk to a boil. Add the sugar and stir till the sugar dissolves. Keep aside a tablespoon of hot milk and dissolve the saffron in it. Add the almond-rice mixture into the boiling milk along with the saffron.
3. Stir continuously for a few mintues till the milk thickens and attains a custard-like consistency. Sprinkle in the cardamom powder. Take off fire and cool to room temperature.
4. Pour into individual bowls, garnish with almonds and pistachios and refrigerate.
---
Lychee Kheer
Try something new this year. This is a twist on a traditional favorite.
1 cup chopped lychee
2 tablespoon rice
1/2 teaspoon cardamom powder
few drops of kewra essence v ½ gallon milk v ½ cup sugar
5 pistachios crushed coarsely
10 almonds crushed coarsely
DIRECTIONS:
Coarsely grind the rice.
Wash and soak for 30 minutes.
Heat milk, bring to a boil.
Add rice, stirring continuously, till boiling resumes.
Simmer, stirring occasionally, to keep rice from sticking to bottom.
Allow rice to cook fully.
Add lychee and stir for 5 mins..
Add sugar, cardamom, essence, almonds and pistachios.
Stir, simmer for 2 minutes. 10. Serve chilled.
---
Soan Papdi
An all-time Diwali favorite, this flaky sweet is loved by everyone.
FILLING:
1 ¼ cup gram flour
1 ¼ cup all purpose flour
250 grams ghee
2 ½ cups sugar
1 ½ cup water
2 tablespoon milk
½ teaspoon cardamom seeds crushed coarsely
4″ squares cut from a thin polythene sheet
DIRECTIONS:
Sift both flours together.
Heat ghee in a heavy saucepan. Add flour mixture and roast on low until light golden. Keep aside to cool a little, stirring occasionally.
Prepare syrup simultaneously. Make syrup out of sugar, water and milk. Bring syrup to 2 ½ inch thread consistency.
Pour at once into the flour mixture. Beat well with a large fork till the mixture forms threadlike flakes.
Pour onto a greased surface and roll to 1″ thickness lightly. Sprinkle the elaichi and gently press down with palm.
Cool and cut into 1″ squares, wrap individually into square pieces of thin plastic sheet. Store in an airtight container.
---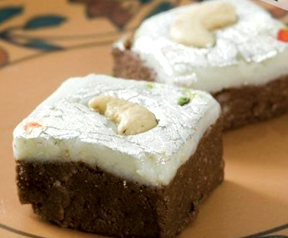 Chocolate Burfi
Who can say no to chocolate? This special burfi will be requested by your friends and family next Diwali!
FILLING:
1 can condensed milk
½ cup cocoa powder
1 stick butter
½ cup roasted and chopped nuts
¾ cup sugar
DIRECTIONS:
Pour the condensed milk into a heavy saucepan. Add butter, sugar, cocoa powder and nuts to the pan.
Stir constantly on low to medium heat until the mixture leaves the sides of the pan (about 15 minutes).
Pour evenly into a buttered dish.
Allow to cool and set. Cut to pieces.
Refrigerate to store.