Editorial April 2023
Dear Readers,
The Rise of India, Indians and Indian-Americans

India is an ancient country, full of history and legends, with a thriving and diverse culture. In recent years, India and its people, and specifically Indian-Americans, have become increasingly influential in the world, not only in terms of economic and political power but also in terms of cultural influence. Indian-Americans have become an important part of the global diaspora, with many successful entrepreneurs, academics, and professionals contributing to the success of the communities they are a part of.
First, let us talk about India and its impact on the world. A survey by Morning Consult reported that 72% of Indians say that India is going in the right direction, while 71% of people in the US say that the US is going in the wrong direction.
According to the world bank, the overall growth of India remains robust and is estimated to be 6.9 percent for the full year, with real GDP growing 7.7 percent year-on-year during the first three quarters of fiscal year 2022/23, the highest in the world. A Morgan Stanley Research Blue Paper indicates that India is on track to become the world's third-largest economy by 2027, surpassing Japan and Germany, and have the third-largest stock market by 2030, thanks to global trends and key investments the country has made in technology and energy.
With more than 100 unicorns valued at US$ 332.7 billion, India has the third-largest unicorn population in the world. The government is also focusing on renewable sources to generate energy and plans to generate 40% of its energy from non-fossil sources by 2030.
According to Mr. Piyush Goyal, Minister of Commerce and Industry, Consumer Affairs, Food and Public Distribution, and Textiles, Indian exports are expected to reach US$1 trillion by 2030.
Next, we talk about the Indian Prime Minister, Narendra Modi. With 76 percent approval ratings, Prime Minister Narendra Modi has once again emerged as the world's 'most popular' leader in the same survey. US President Joe Biden has a 52 percent disapproval rating.
In the last two years, PM Modi's approval rating touched a high of 84 percent on May 2, 2020. His approval rating was at its lowest on May 7, 2021, with 63 percent, when the second wave of coronavirus was at its peak in the country, even though at that time his approval rating was the highest in the world.
Ever since Narendra Modi assumed office as the Prime Minister of India, he has not only enhanced the country's position at a global level but also left a huge impact on world leaders, leaving them impressed time and again.
Recently, after holding the bilateral meeting, Giorgia Meloni, the Italian Prime Minister, praised PM Modi and said: "PM Modi is the most loved one of all (leaders) around the world." "This has really proven that he has been a major leader, and congratulations for that," said Italian PM Giorgia Meloni.
Let me stop here and talk about Prime Minister Narendra Modi. If I continue like this, I can write a book about him. As a matter of fact, I am writing a book on Prime Minister Narendra Modi, "Vision of Modi". Very soon, it will be available at www.amazon.com and www.deshvideshpublishing.com.
Let me turn my focus to other news where Indians are making an impact. In the entertainment field, the Indian movie RRR won several international awards, including an Oscar. At the same time Elephant whisperer – Hindi Documentary winning the Best Documentary movie at Oscar. 
Personally, I liked RRR very much, not only because it won all the awards but also because it exposes the atrocities caused by the evil empire of Britain headed by its most evil leader, Winston Churchill. The cover story of this issue goes into detail in "The Real Story Behind RRR".
Now let us talk about the rise of Indian Americans, first in politics.
There was only one Indian American representative in the House of Representatives in 2013. In state legislatures, less than 10 Indian Americans were in office. No one had won a Senate seat. None had made a presidential bid. Indian Americans were hardly represented in politics, despite being one of the largest immigrant groups in the country.
Five Indian Americans are represented in the newly sworn-in Congress, ten years after their election. There are almost 50 state legislatures. An Indian American serves as vice president. With Vivek Ramaswamy's recent declaration and Nikki Haley's recent announcement, 2024 will be the third consecutive cycle in which an Indian American will run for president. Nikki Haley, the former South Carolina governor running for president, has repeatedly invoked her life experience as the daughter of a man who wore a turban and a woman who wore a sari.
There are numerous recent accounts of CEOs with Indian ancestry rising to the top of international corporations and institutions. Laxman Narasimhan at Starbucks, Rahul Roy-Chowdhary at Grammarly, Vimal Kapur at Honeywell, Jayshree Ullal at Arista, Sonia Syngal at Old Navy, Leena Nair at Chanel, and Neal Mohan at YouTube are just a few examples. President Joe Biden just named Ajay Banga as president of the World Bank. Indian-Americans appear to be becoming more well-known in a variety of professions, including management, academia, international organizations, and political government.
The rise of Indian Americans appears to be largely influenced by several factors: education, family values, strong work ethics, and hard work. No other racial group in America is as well educated as Indian Americans, who make up 82% of adults between the ages of 25 and 55 who have a college degree, compared to just 42% of non-Indians. No other American demographic is as likely to be married as Indian Americans, with a marriage rate of 78% compared to 58% for non-Indians in the same age range.
Once again, let me stop here and talk about a couple of other topics we are covering in this issue.
After taking a short break, Chahna Gupta comes back with a very informative article on Ayurveda and the Seasons, and Dr. Namitha Raju, our parenting coach, talks about how parenting styles create mindsets.
Last but definitely not least, let me remind you about our Myshadi Bridal Expos, one in South Florida on Sunday, April 23, 2023, from Noon to 5:00 PM at the Fort Lauderdale Marriott Coral Springs Hotel and another one on Sunday, May 14, 2023, from Noon to 5:00 PM at Delta Hotels by Marriott Somerset.
 We will see you there!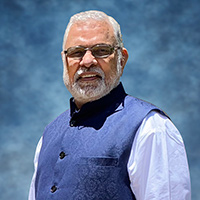 Managing Editor
Desh-Videsh Media Group