Editorial February 2023
Dear Readers,
This editorial is being written from India, the country I love the most not because it is my birthplace but because of the good energy I feel everywhere I go, from my friends and family to strangers on the street to rickshaw drivers.
Aruna and I have visited India every year (not including Covid years). Gujarat, and especially Ahmedabad, was where I spent the bulk of my time. Similarly to previous years, I have spent this year living each day to its absolute maximum potential. When I visit India, I don't see a half-empty glass with fingerprints all over it like some of my fellow Indian-Americans do. Even while I perceive the glass as half empty, I also see the Indians, especially the younger generations, working hard and successfully filling the glass. What I envision is a future filled with promise, optimism, and joy.
This year, I was fortunate enough to be in India on January 26th, India's Republic Day, to join in the festivities. Consequently, I decided to visit Gujarat Vidyapith, an institute established by Mahatma Gandhi in the year 1920. The energy and motivation of young people never cease to amaze me. I was moved by the enthusiasm with which they sang India's national anthem and said "Jai Hind." When I asked each student what they wanted to be when they grew up, I noticed the same air of self-assurance and confidence.
Additionally, I was in India on January 30th, Gandhi ji's punya tithi (death anniversary ). I paid my respect to this "great soul" by going to Sabarmati Gandhi Ashram, which was established by Gandhi ji on June 17, 1917, on 36 acres of land along the banks of the Sabarmati River. I had the privilege of speaking with Ms. Sonal Parikh, Gandhi ji's great-great-granddaughter. Ms. Parikh has worked as a journalist, an author, and a translator. Ms. Parikh, who I interviewed, was very candid and said,
" I had a very normal childhood. We didn't have the burden that we are descendants of the Mahatma. I read his autobiography at a very young age and I was fascinated by his courage. His message of peace and brotherhood is relevant even today… Gandhiji's values are simple and basic, very easy to understand but not very easy to apply."
Listening to Gandhi ji's fifth-generation descendants discuss his ideology was a breath of fresh air.
All the exciting stuff seemed to be happening in Ahmedabad at the same time I was there.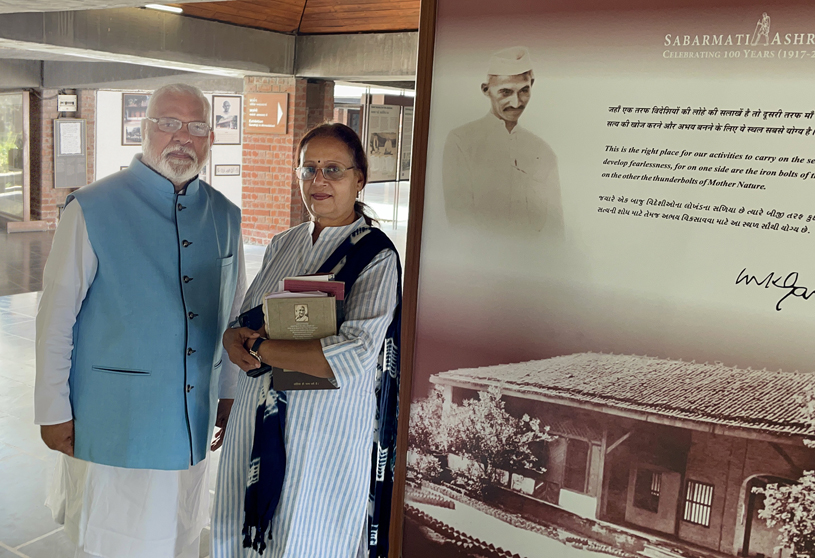 Next I was able to attend the B20 (Business 20) launch meeting, the first of the G20 meetings, which took place at Gandhinagar's Mahatma Mandir. A large number of international and business leaders from the world's top economies discussed topics like climate change, innovation, global digital cooperation, and robust global value chains. The subject of the B20 India 2023 conversation is "RAISE," which stands for "Responsible, Accelerated, Innovative, Sustainable and Equitable Businesses."
I talked to a few delegates, and one of them pointed out that India has the ingredients necessary for a new type of revolution: an economic transformation that enables Indians to create a new center for global leadership and innovation. The vision includes the integration of Indian start-ups and technologists into global tech giants and the insertion of Indian universities and researchers into global research and development initiatives.
Another delegate said very boldly,
"Unlike the persistent pessimists and innate complainers, I am optimistic about the future of India. India will rise to power and contribute to the building of international peace and goodwill in a balanced manner. Both poverty and unemployment will fade into obscurity. The fact that there haven't been any significant communal riots in the last ten years is to the credit of the Narendra Modi administration."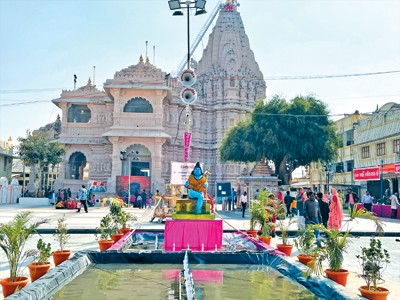 Next, I was treated to a wonderful delight when I went to Rupal, which is close to Ahmedabad, the city where my mother was born. The Navratri utsav "Pyor Ghee Palli" is a popular event held at the Vardayini Mata temple in Rupal. Traditionalists and historians alike agree that it was the "Pandavas" of the Mahabharata era who first began this festival. The villagers draw visitors from far and wide who come to pray for their children and families. The residents parade the Palli out from the center of the hamlet to 27 different spots. Pure ghee, or clarified butter, stored in the ton is waiting to be poured over the "Palli" Rath at each spot. These tons of Pure Ghee are offerings to Goddess Vardayini from the millions of tourists who visit this tiny village every year to see the Palli and pray to her.
My good fortune allowed me to participate in Shri Vardayini Mata five-day punah pran pratishtha mahotsav. Over half a million people attend each day of the five-day festival to soak up the atmosphere and seek the Hindu goddess' blessings.
As you can see, I had a thrilling journey to India, and I will always cherish the memories I made there.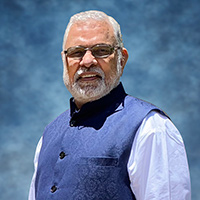 Until then, be safe and be happy!
Managing Editor
Desh-Videsh Media Group