Editorial January Atlanta 2023
Dear Reader
Let me first and foremost wish you all a happy, healthy, and prosperous New Year. Let me use a verse from the Brihadaranyaka Upanishad, one of the most well-known slokas in Hinduism:
Om Sarve Bhavantu Sukhinah Om, May All be Happy,
Sarve Santu Niraamayaah | May All be Free from Illness.
Sarve Bhadraanni Pashyantu | May All See what is Auspicious,
Maa Kashcid-Duhkha-Bhaag-Bhavet | May no one Suffer.
Om Shaantih Shaantih Shaantih || Om Peace, Peace, Peace
Wow! What a universal peace message. Most of the world's issues will be resolved if we all begin to think in this way.
In this issue we are presenting to you articles that cover a wide variety of subjects. They could seem a little controversial to some of you. Therefore, I strongly urge you to send an email to editor@deshvidesh.com with your point of view.
After all, the focus of our cover story is on free speech and the right to express one's own opinion. I've taken the liberty of comparing two crucial incidents that agitated the Left-Liberal world's foundations, one in the USA and the other in India. Elon Musk acquiring control of Twitter and Gautam Adani becoming a major shareholder in NDTV, one of India's most watched TV networks, enraged left-leaning individuals, parties, and media. It is, in my opinion, blatant hypocrisy on the part of the left-aligned camp to preach about free speech on the one hand while being outraged that Elon has published thousands of messages in the Twitter archives that clearly violate that right.
The next article, which I hope you will read and comment on, is about the BJP party's resounding victory in the Gujarat elections. In my opinion, Prime Minister Modi deserves the majority of the credit. The article also includes an anecdote from when PM Modi was Gujarat's chief minister. It demonstrates how he pays attention to common people's views and puts a program into place that benefits them.
Next, I'd like to discuss two articles on parenting. Since Dr. Namitha Raju began writing her parenting column, we have had several emails and phone calls from parents requesting that we write more articles about parenting. Your wish is our command, so to speak. Please check out our articles on how to make learning interesting for kids and how to help them choose a job.
The statistics in this article on Indian parents pressuring their children about their career choices are for parents residing in India, but it is also true that a similar, if not worse, pressure is happening here in the US. Unfortunately, Indian parents in the US mostly consider the careers of doctor and engineer for their children.
Desh Videsh believes that providing children with a healthy environment is crucial, thus we are taking it a step further and showcasing a webinar on "Parenting Secrets" by Dr. Namitha Raju. For more information, please refer to page 42 of this issue.
Let me now discuss an intriguing subject: employing an AI chatbot to generate content. As a retired software engineer, I thought it was a very interesting piece of contemporary technology. I therefore made the decision to explore. And strangely, I saw that someone had used one of the open source AI tools to compose a poem about Hinduism. This poetry is located on page 50. Every new instrument or concept brings discussion, as is customary. So far there are two disagreements that came up on this subject, the first being who should receive credit and the second being what happens if students utilize it in their assignments.
Well, only time will tell if this technology is beneficial or dangerous. For now, enjoy the poetry on Hinduism and let us know whether you agree with the blogger who claimed that AI can explain Hinduism more clearly than most Hindus.
Finally, I'd like to highlight that the MyShadi Bridal Expo will be held at the Marriott in Fort Lauderdale on May 17, 2023.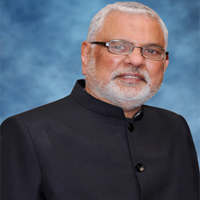 You do not want to miss this expo if you or a loved one is organizing a wedding or any kind of event. 
Until then, be safe and be happy!
Managing Editor
Desh-Videsh Media Group