Editorial July 2023
Dear Readers,
When we see our cherished Prime Minister Modi ji receive a historic welcome in the United States, it is a moment that fills us with pride as Indians as a whole and as Indian-Americans in particular. Prime Minister Narendra Modi has finished his sixth trip to the United States, which was also his first State visit. Before him, only one Indian Prime Minister, Dr. Manmohan Singh, was on a state visit. Also, Prime Minister Modi is the first Indian Prime Minister who has ever had the honor of delivering speeches to both houses of Congress in the United States, making him only the fourth person in the entire history of Congress to do so. One of the few world leaders on whom the United States has bestowed this extraordinary accolade is Prime Minister Narendra Modi. Nelson Mandela and Winston Churchill were both given the opportunity to deliver two speeches to the US Parliament. Benjamin Netanyahu, the former Prime Minister of Israel, was given the chance to deliver three speeches to the US Congress. Volodymyr Zelenskyy, the President of Ukraine, has also delivered speeches to the US Congress, both formally and informally.
Before this visit, Prime Minister Modi had been to the US five times. The first visit was in September 2014, the second visit was in March 2016, the third visit was in June 2016, the fourth visit was in June 2017, and the fifth visit was in September 2019, during which he addressed more than 50,000 Indian-Americans in Houston, Texas, along with the president of the United States at the time, Donald Trump. His visit in 2019 is considered to be one of his most noteworthy visits. During this trip, he spoke to the Indian-American community in Houston at an event called "Howdy Modi!" The ceremony was attended by 50,000 people, and former President Donald Trump also gave a speech there.
The visit by Prime Minister Modi that took place last month carries a unique significance since it helps to develop positive bilateral ties between the two independent nations.
In this edition, we highlight another piece of news that should make every Indian citizen proud of our culture and traditions. Dev Shah, an Indian American, has triumphed in the Spelling Bee 2023 competition. It is worthy of note that 22 Indian-Americans have taken first place in this competition over the course of the previous 24 years. The fact that Dev Shah is originally from Florida is a source of tremendous pride for all Floridians.
We just celebrated Father's Day last month, and on July 3, we will celebrate Guru Purnima (teacher's day). I hope it will not be too inappropriate to share with you some of my own personal experiences with my father, who also happens to be my teacher. I have outlined the things that I have picked up from my own father in the essay titled "Ten Important Life Lessons I Learned from My Father." Some of you may already be aware of the fact that my father was the principal of his own school, where I studied from 5th grade to 11th grade. Therefore, I considered him to be a teacher not only at home but also in the classroom. Since he left this world more than three decades ago, time has flown by. But even now, at this present moment, I can still see him directing each and every move of my life.
In the section "Words to Live By," we have the honor of presenting an essay written by Dr. Mohini Shinde that is incredibly motivational and is titled "Knowing Others Is Wisdom, But Knowing Yourself Is Enlightenment." The Chinese philosopher Lao Tzu is credited in the article as being the source of the quote. He learned about Buddhism as well as Hinduism throughout his extensive travels around India. Lao Tsu's return from India was followed by the delivery of a work titled "The Hundred and Eight Precepts." It should come as no surprise that his teachings mirror the ideals that are articulated in our Hindu scriptures.
And while we're on the subject of Hindu scriptures, you should definitely check out our article titled "Bal Vihar: A Transformative Journey." At one point in my life, I was actively participating in the Bal Vihar classes that were held in the South Florida Hindu Temple. Bal Vihar Classes at the South Florida Hindu Temple are attended by more than 250 students on an annual basis. This year, I was honored to be able to participate in the graduation ceremony that was held at SFHT. In addition, I must say that the way the event was organized as well as the remarks given by the graduating students left a lasting impression on me.
The four questions that are listed below were posed to all of the graduating students.
For How Many Years have you attended Bal Vihar?
What did you gain from this experience?
What impact has the program had on you?
Share your Favorite Bal Vihar Memory.
It gives me great pleasure to share a synopsis of the responses to the questions posed above, together with photographs of eleven students who have recently graduated. I'd like to offer my best wishes on behalf of everyone at Desh-Videsh Media Group, wishing them the best of luck in all of their future endeavors and hoping that they will keep learning about Hinduism and helping to promote its teachings.
You need not be reminded that summer has arrived with its sweltering heat. The piece that Chahna Gupta wrote entitled "Nurturing Your Skin: Making Informed Choices for a Healthier You" couldn't have been published at a better time. Please take the time to read and implement her recommendations to keep your skin healthy. I also think it would be a good idea for you to follow her on all of the various social media platforms as well as on her website. Not only is she skilled in yoga, but also in a practice known as ayurveda, which literally means "knowledge of life."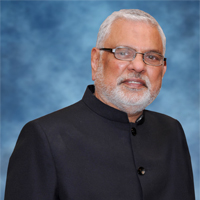 You may also have seen our social media posting and e-blast about our two upcoming bridal expos: one in Orlando on Sunday, July 23, 2023, at the Caribe Royale Orlando, and on Sunday, August 27, 2023, at the Raleigh Marriott Crabtree Valley in Raleigh, NC. We hope you will join us.
Managing Editor
Desh-Videsh Media Group