Editorial
Dear Readers,
Incredible India! What do I say about my Matrubhoomi ( Motherland ) in one page. Living here in the US, my Karma Bhoomi for the last 48 years, I do not forget my Mathrubhumi India even for a minute.When I sleep, usually I do not dream, but when I do, it is only about my childhood and adult life in India. So you will to have bear with me if I become extra emotional.
There are volumes after volumes written about India. In this travel issue, we discuss something special that is not often written about – the palaces, lesser known destinations, and UNESCO World Heritage sites in India. I hope you enjoy it and these articles inspire you and your family to visit India again and again.
In this issue, I have also compiled quotes from well known figures around the world and their thoughts on India. So many famous people worldwide have visited India and found her to be very fascinating and inspiring. For example, Dr. Martin Luther King said "To other countries, I may go as a tourist, but to India, I come as a pilgrim." Wow, what a feeling! It gave me goosebumps to read his words as that is exactly what I feel when I visit India. Many of you born in India may feel the same way.
Speaking of pilgrim, we are pleased to reprint an article by Swami Chinmayanandaji (Pujya Gurudev), "Let us Be Hindu." With Diwali around the corner, it is a great time to read this article again. With over a billion Hindus living all around the world, many of us have forgotten what it means to be Hindu. Pujya Gurudev taught us so many valuable lessons through his articles, books and videos. One of his greatest gifts is the Chinmaya Bala Vihar program, which provides spiritual and cultural orientation to children growing up in different times.
I have very much admired  the Chinmaya Bala Vihar program, one both my sons  attended here in South Florida under the leadership of then Aparna ji and now Swamini Akhilananda ji. Now, all four of my grandchildren attend in California. This program has inspired several local Hindu temples and many have started their own program. One thing I suggest very strongly to all millennial parents is to spare some time on the weekends to send your children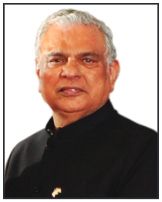 to any of these Bala Vihar programs. You will see a change in your children in less than three months.
When we talk about Incredible India, how can we forget about the beautiful saris, unique to our culture – especially handloom-woven saris and handcrafted fine jewelry. We are very pleased to present an article about these handcrafted items in " The Devam Experience," written by our young writer Devika Jhaveri.
And last but not least, from our entire Desh-Videsh Media group team, I would like to wish all of you Happy Diwali and all our Gujarati readers, Happy New Year!
Raj Shah
Managing Editor
Posted on: 11-2-2018 by: Deshvidesh