6th Annual Yoga Day Planned in West Palm Beach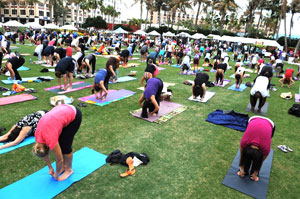 Saturday, January 21, 2012, for the 6th consecutive year, the Meyer Amphitheatre in downtown West Palm Beach is being transformed into Florida's largest, all day, outdoor free Yoga experience.
Living Fit Today, along with fourteen talented yoga teachers from a variety of yoga studios will teach free Yoga classes as part of 6th Annual West Palm Beach Yoga Day.
Whether a novice or experienced yogi, the entire community is invited to join Jerry Jefferson, Living Fit Today; Jamar Caudy, Jamar Enlightenment Center; Leigh Fountain, Life Force, LLC; Leslie Kecskes, Shanti Yoga; Angel Lucia, Bindu Yoga Studio; Eric Holmgren, ShadeTree Yoga and Wellness; Edwin Joiner, Simply Yoga of Delray Beach; Mark Maldonado, Intuitive Yoga/Sports YogaM2; Todd & Tamara McLaughlin, Native Yoga Center; Acharya PremShakti, PremYoga Center; Lisa Pumper, the yoga community of South Florida; Ashleigh Ruckert, Gyrotonic SatNam; Priyanka Shanbag and Meredith Webb, Kula Shala Yoga for a day of yoga, fun, health, and wellness.
"The teaching team has a wealth of experience. From national and international presenters to teacher of teachers, to studio owners to decades of yoga training." says Therese Abair, Co-founder West Palm Beach Yoga Day.
Taking place on multiple stages, teachers will instruct a full range of yoga classes such as Yoga Foundations, Flow, Alignment, Balance, Restorative, Ashtanga, kids yoga. Participants will enjoy the choice of classes that offer stress relief, improved physicality, balance and/or flexibility
"Yoga Day is the perfect opportunity for all levels, especially beginners." says Jerry Jefferson, Living Fit Today and West Palm Beach Yoga Day co-founder. "People find yoga for many different reasons, the need to relax and de-stress, the desire to build strength for sports or just working hard and getting sweaty?."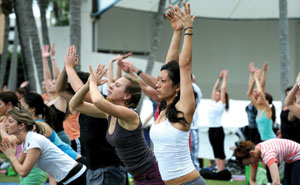 The benefits of yoga are numerous. A few of the physical benefits of yoga are: it improves flexibility and muscle joint mobility; strengthens, tones, and builds muscles; corrects posture; and eases back pain. While a few of the mental benefits are: it increases body awareness; relieves chronic stress patterns in the body; and it refreshes the body by relieving muscle strain
The popular marketplace returns with vendors, yoga studios and other fitness professionals to provide attendees the opportunity to purchase Yoga products, clothing, jewelry and talk with the experts to learn more about Yoga and the best style for you.
Sponsors for this event are Arrigo FIAT West Palm and Sawgrass, 97.9 FM WRMF and Natural Awakenings Magazine – Palm Beach.
Founded and organized by Living Fit Today whose mission of West Palm Beach Yoga Day is to 1) raise awareness of Yoga and its benefits to individuals; 2) provide those new to Yoga a non-threatening environment to try Yoga; and 3) remain free for the community.
For more information call 561-281-5895 or visit: http://www.livingfittoday.com/