Ekta Kapoor slammed by the Supreme Court for polluting the minds of young generation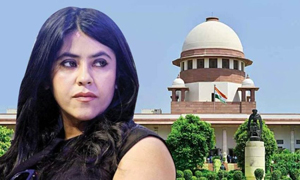 The Supreme Court of India has highly criticized Ekta Kapoor for the objectionable content in her web series XXX currently streaming on her OTT platform Alt Balaji. This criticism has come as the result of  a complaint lodged by Shambhu Kumar, an ex-serviceman in Bihar's Begusarai, and a subsequent arrest warrant against Ekta Kapoor has been issued by a trial court in Begusarai. Ekta Kapoor, represented by the renowned lawyer Mukul Rohatgi, has filed a plea in the Supreme Court, challenging the arrest warrants. The Supreme Court had earlier given legal protection to Ekta Kapoor on similar grounds. 
However, this time, the bench of Justices Ajay Rastogi and C T Ravikumar took exception to such a plea and condemned Ekta Kapoor for creating such a web series that hurt the sentiments of the soldiers and their families. They said that something needs to be done in this respect. They claim she is polluting the minds of the younger generation by showing such content. They also said that since OTT is available for all,  she is giving the wrong choice to young minds. They even told the lawyer that they don't prefer such appeals and suggested that a local lawyer should be employed to know the status of the case at Patna High Court.