Farah Khan Fills in for Rohit Shetty in Colors Show
Many viewers thank Colors for bringing them the thrilling Khatron Ke Khiladi show. With the COVID-19 interval now drawing to a close, Khatron Ke Khiladi will be made in India. It will be pure, shuddh 100% desi, made in Mumbai with Bollywood pickle flavor.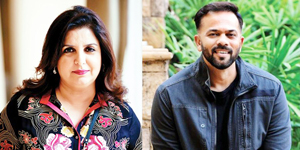 Champions from earlier parts of the series will fight it out to win the prize. Karann Wahi, Harsh Limbachiya, Karan Patel, Rithvik Dhanjani, Jasmin Bhasin, Jay Bhanushali and Nia Sharma are among the contestants.
Farah Khan will host the two episodes, filling in for Rohit Shetty, who is away shooting his blockbuster in Hyderabad. Hopefully, Rohit will return soon, but until then, Farah will bring her own approach to the episodes. Regardless, actors have a whale of a time engaging in stunts to survive the game.
Episode 10, for instance, featured Karan Patel and Karishma Tanna tied to a plank rotating inside a dirty water tank. Their task is to take out chickens and collect them in a box. It is zany considering why chickens should go into the tank and, if they did, why Karan and Karishma should do a fowl rescue act while tied to a plank. As Bertie Wooster would say, "The mind boggles, Jeeves!"
Bertie Wooster
Karishma Tanna
Karan Patel
Rohit Shetty
Nia Sharma
Colors Khatron Ke Khiladi
Covid-19
Karann Wahi
Harsh Limbachiya
Karan Patel
Rithvik Dhanjani
Jasmin Bhasin
Jay Bhanushali