Featured Artists for the 5th United Phagwah/Holi Celebration
Featured Artists for the
5th United Phagwah/Holi Celebration
Prnc Charming Social Media Comedian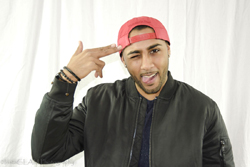 Indo-Caribbean comedian and actor, David Stephen Francis, better known by his stage name, Prnc Charming, is no different in that regard, however, he is groundbreaking in terms of his quick popularity, outlook, cultural representation and social conscious mind state, when it comes to his creative career. http://www.indiawest.com/entertainment/global/indocaribbean-representation-found-in-comedian-prnc-charming/article_29a05dec-875e-11e6-900d-f3ae3c87dc2b.html
From Suriname The Baithak Gana Warriors Defending & Protecting the Arts & Culture of Suriname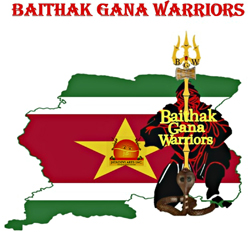 BAITHAK GANA WARRIORS a very talented musical group from Suriname. Warriors defined as defenders or protectors of the traditional art forms from Suriname which are Baithak Gana music and Londa Ki Naach style of Dance. They are traditional art forms in need of protection, preservation, and promotion. The Commander and Chief of this distinguished army is the versatile internationally acclaimed Recording Artist Rayen Kalpoe singer, composer, Harmonium and Dhantal Player.
THE COMMANDER AND CHIEF OF THE BAITHAK GANA WARRIORS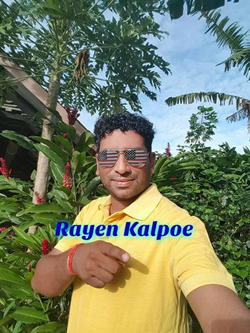 Rayen Kalpoe born in Paramaribo, Suriname. Rayen is one distinguished artist in Bhaitak Gana and Chutney music. His career started as a teenager singing Bhadjans (indian spirituals). He also took music lessons at the I.C.C. (Indian Culture Center). One of the greatest moments in his career was winning the Bhaitak Gana talent show in 2006 in Suriname. He also performed together with popular local artists and different groups. As a versatile singer, composer, and dhantal player, Rayen can display many different styles in Taan an old Bollywood songs in his Baithak Gana format. Rayen was invited twice to perform in Trinidad and Tobago. In 2008 he performed at the Rajkumari Cultural Center Kitchrie Festival in New York with renowned dancers Ramona Devi Singh and Mohini Tajeshwar, and in 2009 he was also part of a cultural event in Jamaica. In 2010 he traveled together with different Surinamese artist to participate in different cultural events throughout Suriname. 2014 In South Florida;s 1st Kitchrie festival presented by Jayadevi Arts Inc & Rajkuamri Cultural Center was a success! Mr Kalpoe displayed Suriname Baithak Gana music live to the craving audience and had the pleasure of having Jayadevi Dancers perform his "Mor Tor"and "Lal Moneya" songs choreographed by Denyse Baboolal. He launched his first CD in 2014 titled "Mor Tor Maticoor". His songs were launched on Igroove radio in Nigeria, on Indian Talent Sangeet WAVS 1170AM Florida and WGFS 1430AM Atlanta,Georgia and a few newspaper articles both in Florida and Suriname. Rayen launched his musician group "Baithak Gana Warriors" (BGW) and performed in a historical event in Florida and a cultural Show in New York. Currently he is busy in the studio producing his 3rd & 4th albums which will be very promising. His Title Song "Malik Jane" is already a hit on social media with already over 5,500 views and 130 shares of the video clip. Kalpoe is the first Indo-Surinamese to have his songs available online to purchase on 25 sites such as cdbaby, iTunes, Amazon, Shazam, Google play, etc.
South Florida's Mala Samaroo & Warrior Queen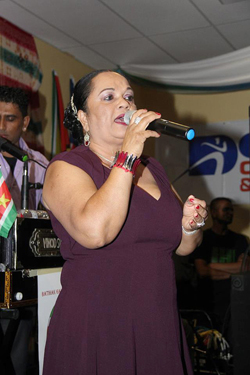 Mala Samaroo is well known for her local chutney singing, commonly referred to as the "Chutney Queen of South Florida.". She has a very distinct and unique voice that portrays that of the late Shamshad Begum. Mala embodies the traditions of her forefathers, adhering to the old style of music whether it is chowtaal singing for Phagwah (Holi festival), wedding songs, classical, folk or religious music but her specialty is "pure, raw, hot and spicy chutney".Mala Samaroo was born and raised in the village of Debe, South Trinidad. She came from a very musically talented family. As a child, she accompanied her grandfather, a talented drummer, on multiple cultural performances including a memorable reception attended by the late Prime Minister, The Honorable Eric Williams. She started singing at the tender age of three and diligently attended Ramayana Satsangh at various temples, where she became deeply involved in many religious and cultural activities. She was always accompanied by her Godfather, Pundit Rampersad Tiwari and her father who were in search of an opportunity for her to perform. As an adult, Mala together with her brothers, Allan and Rajin Sinanan and a few talented musicians from her vllage formed a musical band named Soor Sangeet Indian Orchestra. They were a local favorite for weddings, religious occasions and holidays. She also participated in and won many local competitions which inspired her to continue to pursue her love singing. Mala reunited with a fellow musician and singer, Pundit Neil Persad, also from Debe, who resides in Florida and together they initiated the popular band, "Florida Melody Makers" South Florida's longest surviving Indian Band. Mala has performed throughtout the United States and nternationally accompanying top bands and individuals such as Dil-E-Nadan, Gayatones, Anand and Rakesh Yankaran, Sundar Popo, Sonny Mann, Boodram Holass, Terry Gajraj, Rikki Jai and many others. Mala has released four personal recordings reflecting her love for religious bhajans and classic Hindi songs. Mala has been married to her husband Bob for 39 years and is the proud mother of four children. In pursuit of the American Dream and fulfilling her children's desire, Mala and her family migrated to Fort Lauderdale, Florida in 1990.
​