Florida's Own Spelling Bee Champ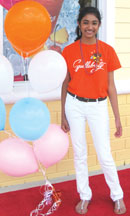 Desh-Videsh wishes to congratulate the top three finalists of the 85th Scripps National Spelling Bee. One of Florida's own, Stuti Mishra, finished in 2nd place against a fellow Indian American. Stuti, an eighth grader at Holy Trinity Episcopal Academy, lives in West Melbourne. Stuti is currently learning computer programming, but enjoys learning languages like French (she is already fluent in Hindi and Oriya). Recently, we chatted with Stuti to learn more about her accomplishments.
Please tell us about your background, including when and where you were born.
I was born in Rourkela, Odisha (previously known as Orissa), India on February 14, 1998. When I was 13 months old, I came to Chicago with my parents. At the age of three, I moved to Melbourne, Florida, and have been here ever since.
Please tell us about your family, your parents, brothers, sisters.
My mom (Sasmita Mishra), dad (Tapas Mishra), and my only sibling, 7-year-old sister (Dhyana). My dad is a Database Architect/Engineer, and my mom is a part-time teacher in the Brevard County Public School System.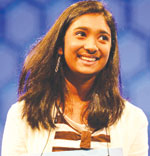 Who do you consider to be a mentor and why?
I consider both my parents to be my mentors because they have supported and encouraged my love of spelling, words and their history, and languages from the very beginning. They guide me with whatever I do, not only spelling, but also how to manage time, set goals and achieve them while still balancing academics, how to deal respectfully with others, and how to carry myself in a calm and composed way both on and off the stage. They take their time out to help me as much as they can, and they both have very positive outlooks and effects on me. I believe my strong memory really comes from my mom, while my analytical and delivering skills come from my dad.
Has religion played a role in your success or your life? If so, how?
Yes, Hindu philosophies have played a big role in my life! I have a really strong faith in the philosophy of Gayatri to guide my intellect in the righteous path. I also prefer to do yoga and meditate on a daily basis, but especially before going to a spelling bee, so that I can realize the gift of being in the present moment, which helps me relax. I also learned a lot by reading the Bhagavat Gita. I learned about Karma Yoga… doing hard work and surrendering the result; whatever it may be, it must be for my good. That helps me concentrate on doing my part, and leaving the rest to the Almighty while moving on with my life. Overall, my total faith helps me stay poised and ease down on the nerves while competing under a high-pressure spelling bee competition. In simpler terms, without my faith in these philosophies, it would have been very difficult for me to handle situations I went through in the
spelling bee in a better way.
International fame at 14 when most cannot taste it all their life. What does it mean to you?
I am blessed to be in the right place at the right time as I know that there are 11 million aspirants around the world vying for the 278 odd positions to be on the national stage in DC. While this is important, I can say this is not just by luck, but was only possible by strictly following my passion with dedication. One's passion has to be duly supported with disciplined hard work and effort. To me, it means that I committed myself to excellence when following my passion without giving up, and success followed over a period of time.
The final moments, can you recount them for us?
I think runner-up is the toughest spot to get because you know you were so close. Getting the final ding of the spelling bee, rather than the final word, was unfathomable at the moment knowing that I prepared my best for it. But, as soon as my family arrived on the stage, we quickly realized that whatever happened has gone to the past. Soon, with my parents' help, I was able to come back to the moment and recompose myself. Gracefully handling the toughest situation of the Bee at that moment was not an easy task, but I think I managed to do it pretty well.
After this, there must be larger goals and greater heights to be scaled. What can we expect next?
Thinking about the future, as I am yet to discover what career path interests me the most, I would like to be guided by my school coursework and other relevant opportunities to try to identify that passion. Once I find my career choice that I really want to do, I will put all my effort into using that zeal of mine for the greater good of humanity.
Beneath all of this, who is the real Stuti Mishra?
I consider myself as a fun-loving person who loves to spend time with family and friends. I genuinely think that I am the same simple-thinking girl who is not afraid to aim high, because I know that the only challenge in my life is going to be myself.
What relevance does being Indian American have to you? Has it given you an edge? Have you, at any point, felt disadvantaged?
I am very proud and privileged to be an Indian American to expand my heart and give space to both countries. I really see the positives of both India and America and draw inspiration from them. This really helps me think clearly and certainly gives me an edge in any situation.
I have never felt disadvantaged; rather, I always feel blessed to be an Indian American.
Many people feel that a young achiever is made of a sheer spark and plenty of luck. How much of a role did hard work made in your pursuit? Is there a mantra that you would like to share with other young aspirants?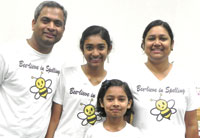 I actually believe that a sheer spark of a passion in a young mind needs to be supplemented by a lot of hard work, not plenty of luck. One can't just have a desire and wait for luck to achieve something higher in that area. I strongly feel the only thing in my control is my hard work (not my luck), and that there is no substitute for it. Thus, I feel hard work was the only thing in my pursuit! The mantra of my life, as it came from my grandfather to my father, and then to me, that I wanted to share with other young aspirants is "EXPECTATION MINUS ACHIEVEMENT EQUALS DISPLEASURE." This means that one can set a high goal, expect less, and put all the hard work that they can into it so that they can be happy with the result that follows. Enjoy the journey if not the destination.
You cannot deny that fame come with this achievement. You are now being searched on Google, being interviewed, and have become a role model. Has it changed who you are?
I agree. However, it has not changed anything for me. Rather, it makes me think harder on how I can improve better based on what I have learned from my experience so far.
It is clear that Indian Americans have been dominating the competition in the last few years. What has helped give them the advantage?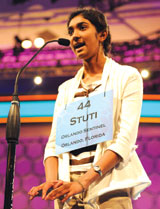 Over the last decade with the media coverage and the attention, it appears that the spelling bee competition has been perceived as a sport among the Indian American community that aligns well with the Indian traditional emphasis on education. In India, there is an emphasis on education, and in America, sports are very prominent. The spelling bee is like the best of both worlds, and is why we perceive the spelling bee as an academic "Super Bowl." This allows us to express ourselves on the national level with due support from family members and hard work by all. All of these contribute to give Indian Americans an advantage.
Our readers always like to learn personal tidbits about interviewees. Please list the following and tell us why you chose it:
Favourite Indian Book: I like the Ramayana because I am inspired by Lord Rama's actions under various situations and the whole epic as an overall guiding story for us.
Favourite Non-Indian Book: The Harry Potter series. I am really a fan of Ms. Rowling's plot selection and intricacies, and how she expresses those characters/ideas using perfect words.
Favourite Indian Movie: Kuch Kuch Hota Hai is my favorite movie because I am a huge Shahrukh Khan fan. Also, the movie itself aligns with my liking of fun and family atmosphere.
Favourite Non-Indian Movie: The Harry Potter series. The books are detailed, but the way the actors bring those characters into life in a shorter theatrical way aligns with my imagination that I had when I read the books.