Indian American Children – Out to Conquer the World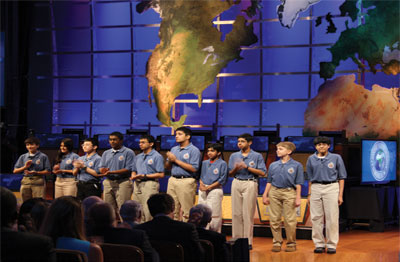 Look through the atlas of your country, and you will notice that there are several states whose capitals you may not know, several landforms you cannot recognize and places you cannot trace. This is true for adults, and for children to be able to pronounce half of these names with ease is an accomplishment in itself. However, children have really amazed us with how they can achieve these great feats with little difficulty.
The National Geographic Bee is much more than just an entertaining show to fill a few hours of television screen time. Many families look to learn things they didn't know before, and youngsters look to broaden their horizons and win merit by participating in the competition. While the audience may squirm at most of the questions posed, it is overwhelming to see the ease with which children breeze through the grueling ordeal.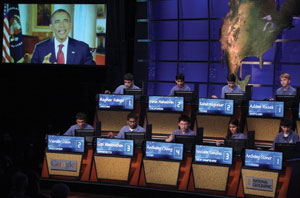 The National Geographic Bee has been rather special. Over the years it has become more challenging. With time, we have also found the participation and performance of Indian American children gaining strength. This year was very special as Rahul Nagvekar from Texas won first place over fellow Indian American Vansh Jain from Wisconsin.
Being a part of the show is an achievement in itself. There are millions who are quizzed and sifted through before ten finalists from around the country are chosen to battle it out in a game of wits and nerve. While it may seem like a game or quiz show to us, there is a lot more at stake for the children. With hopes, pride and fortune on the line, this is serious business. This is why months of preparation ensure that the participants come in adequately prepared.
An incidence such as this one could occur just about anywhere, and could just as well be a matter of chance. However, Indian American children have featured prominently over the years and been consistent in their performance as well. The last decade alone has seen four Indian American children win the championship, with another four coming in second.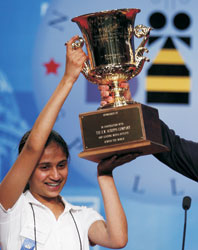 What do Indian Americans have that give them the distinct edge? Hard work and diligence simply cannot be ignored. With most Indians earning fame and success through hours of relentless work, children are also conditioned to put in more hours and be more dedicated to a cause. The support of family is another strong contributor that cannot be undermined. The entire process of preparation becomes a family affair, with each one drawing up special maps and routes, staging mock quizzes and posing difficult questions. The ability to visualize and memorize also has its own advantages.
Just as the world settles down to celebrate the new champion, there are some who already wait and wonder who will win next year. Many want to know if Indian magic will weave another spell, and if there will be more records set. Going by past record and promise, there are plenty amazing feats coming ahead.