Fusion for Entertaining During the Holidays
It's the holiday season, and that means only one thing – your house will be full of guests and that means you will be drumming up tasty bites in the kitchen. So, you are anticipating guests for dinner this weekend and don't want to serve them the same old mattar paneer and dal makhani … why not try something different? Indo-Chinese is quickly become a favorite for young and old, and the cuisine does not require fancy kitchen equipment or a lot of time. Most importantly, these recipes are quick, easy, and do not require that you stand over the stove all day long! So this holiday season, don't think that you have to go out a restaurant to enjoy a satisfying and tasty meal … you can enjoy family, friends, and good food all in the comfort of your own home!
HOT AND SOUR SOUP :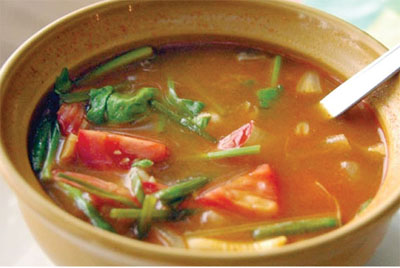 If you're looking for a way to warm up this fall, try this soup with a kick.
Ingredients:
2 tablespoons chili sauce
1 ½ tablespoon corn starch
1 tablespoon soy sauce
2 tablespoons vinegar
2 tablespoons capsicum, chopped
2 tablespoons spring onions, chopped
2 tablespoons tomato sauce
2 tablespoons carrots, chopped
¼ cup cabbage, chopped
1 teaspoon black pepper powder
½ teaspoon sugar Salt to taste
½ pound paneer, diced
4 cups water
Directions :
Mix 4 cups of water, chili sauce, soy sauce, vinegar, sugar, salt, and pepper, and bring to boil.
Now add all the chopped vegetables except paneer.
Cook for a minute on medium heat. Dissolve the corn starch in ½ cup water and add to the soup
stirring constantly until it becomes thick.
Cook for a minute and add paneer slices. Serve hot.
Note: Soup should be prepared just before consuming and should be served fresh to preserve the
taste.
---
VEGETABLE MANCHURIAN :
A tasty dish that is sure to please everyone in your family!
Ingredients:
2 cups cabbage, grated
2 cups carrots, grated
1 spring onion, chopped
2 green chilies, chopped
3-4 garlic cloves, crushed
2 tablespoons corn starch
Oil for deep frying
1 tablespoon soy sauce
Salt to taste
1 teaspoon black pepper
1 teaspoon sugar
2 tbsp oil
Directions:
Mix the grated cabbage and carrots and squeeze the water out from them.
In a bowl, take the squeezed cabbage and carrots and mix 1 tablespoon of corn starch and a half the
chopped chilies and a little salt.
Make small balls (like koftas) out of the mixture.
Heat the oil in a kadhai or wok. Deep fry the balls until golden brown, drain, and keep aside.
. In a separate pan, heat 2 tablespoons of oil.
Sauté the garlic, green chilies and spring onions.
Add water, salt, pepper, sugar, and soy sauce. Bring it to a boil.
Stir the remaining corn starch with half of a cup of cold water. Gently add the fried balls to the gravy.
Cook the vegetable manchurian for 3-4 minutes and serve hot garnished with chopped coriander.
---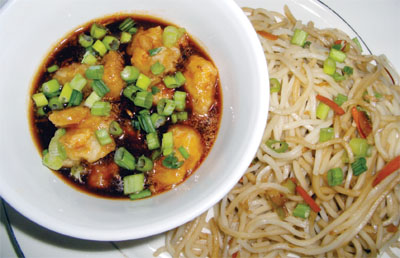 HAKKA NOODLES :
For a change in pace, surprise your little ones with this noodle recipe. All kids, young and old, will enjoy trying this dish.
Ingredients :

1 packet Hakka vegetable noodles (available in Indian stores)
½ cup cabbage, shredded
½ cup shredded carrot
½ cup bell pepper
4 spring onions, chopped
4 tablespoons oil
4 tablespoons Schezwan stir fry sauce
½ teaspoon freshly ground black pepper
5 garlic cloves, finely chopped
Salt to taste
Directions :

Cook the noodles as per the instructions in the packet. Do not overcook the noodles. Keep it aside.
Heat oil in a large wok preferably a large nonstick kadai on medium heat.
Add the garlic and ground pepper. When garlic turns golden color, add the vegetables (cabbage, bell
pepper, and carrots).
Add salt and stir fry sauce. Adjust the quantity as per your taste.
When the vegetables are crisp and as well cooked, add the cooked noodles and stir gently.
Garnish with finely chopped spring onions
---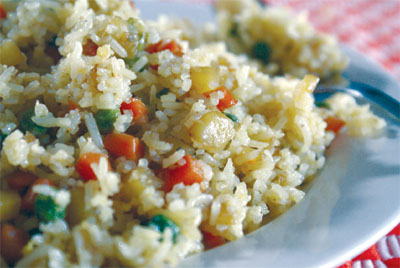 VEGETABLE FRIED RICE :
Works well as an accompaniment to any Indo-Chinese meal.
Ingredients:
2 cups cooked and cooled rice (small-grained raw rice is the best, if not available, use Basmati)
¼ cup thinly sliced onions
1 teaspoon crushed garlic
1 cup mixed vegetables (peas, carrots, French cut beans, etc.)
4 dry red chilies
2 tablespoons soy sauce
1 teaspoon chili paste
¼ teaspoon black pepper powder
1 packet sodium free vegetable bouillon or
1 cube vegetable bouillon
2 eggs scrambled (optional)
1 tablespoon oil Salt to taste
Directions:

In a large wok or frying pan, heat the oil. Add the red chilies and sliced onions and sauté until brown.
Add the crushed garlic and the mixed vegetables and saute for a minute or so.
Add the soy sauce, chili paste, and the bouillon if using and mix well. Cook until the vegetables are
soft. Season with salt.
Add the cooked rice, and mix well to combine.
Add the black pepper and mix well. Cook, tossing frequently, until the rice is heated through.
Add the scrambled eggs, if using, and mix well.