Fusion in Indian Cooking
Schezwan paneer or Schezwan
Tofu Preparation Time: 10 Minutes Cooking Time: 10 Minutes Serves 4 People
Ingredients for Schezwan sauce:
– ½ cup Minced ginger
– ½ cup Minced garlic
– ½ tea spoon black pepper
– ½ cup corriander
– ½ cup finely cut spring onions
– ½ cup finely chopped spring onion tops
– 2 tea spoon salt
– ½ tea spoon tandoori color
– 1 tea spoon vinegar
– 2 table spoon red chili powder
– 1 cup oil
Ingredients for red chilly sauce
: – 7/8 red chilies
– ¼ cup garlic cloves
– ½ tea spoon cumin seeds
– Little less then 1/3-cup vinegar
– 1 ½ tea spoon sugar
– Salt 1 ½ tea spoon
– Tomato ketchup 1/3 cup
Ingredients for Schezwan paneer or Schezwan Tofu
– 1 cup Schezwan sauce
– 200 grams Paneer or Tofu
– 1 tea spoon corn flour
– ½ cup water
– ½ tea spoon salt
– Green onion tops for garnishing
Method
Grind all the Ingredients for red chilly sauce in a blender except ketchup when smooth paste adds ketchup mix well.
Method for Schezwan sauce
Put all the Ingredients for Schezwan sauce in a stainless steel vessel. Heat the oil and mix to Ingredients gradually and mix well. Add to it the red chilly sauce.
Schezwan paneer:
Take one cup of Schezwan sauce in a kadai. Stir-fry for about 2 Minutes. Add salt, paneer cut into cubes.mix corn flour mixed with1/2 cup water and give one good boil. Garnish with green onion tops. For a delicious taste, you may want to server it hot.
Thai chicken
Preparation Time: 10 Minutes Cooking Time: 15 Minutes Serves 4 People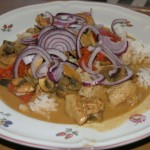 Ingredients
– Boneless chicken
– Garlic
– Coriander leaves
– Black pepper powder
– Soya sauce
– Salt to taste
Method
Grind garlic and coriander leaves to a paste. Cut chicken into small pieces. Marinate chicken pieces with the garlic coriander leaves paste and salt for about 1 hour. Heat 1-teaspoon oil into a nonstick pan. Add some garlic coriander leaves paste to it. Then add marinated chicken pieces, black pepper powder and soya sauce. Cover the pan for 10 Minutes. Stir it occasionally. Garnish with finely chopped coriander leaves.
Crispy Thai Tofu
Preparation Time: 15 Minutes Cooking Time: 10 Minutes Serves 4 People
Ingredients

– 250 gms. Tofu
– 200 gms. French Beans( thin and long)
– 3 table spoon. coarsely crushed macadamian nuts
– 1 table spoon. finely chopped garlic
– 2-3 table spoon. soya sauce
– 4-5 table spoon veg oyester sauce
– 2 table spoon oil for cooking oil for deep frying
– Salt and pepper to taste
Method
1. Cut the tofu into rectangular pieces 2X1inches long. Deep fry them in hot oil Keep aside
2. Cut the french beans into two. Keep aside.
3. Heat 2 table spoon. oil in a non stick pan or wok add the garlic and crushed macadamian nuts. Sautee for a few seconds.Add the french beans and soya sauce and toss.stir fry the beans for 5 Minutes.Add 2 tea spoon. water. Add the tofu pieces and stir fry carefully taking care not to break the pieces. Add the oyester sauce, salt and pepper,2-3 spoons of water and cook for a few more Minutes. Serve hot with steamed rice and Pad Thai
Cauliflower Manchurian
Preparation Time : 45 minutes to 1 hour Cooking Time : 10-15 minutes Serves / Makes : 4-5 servings
Ingredients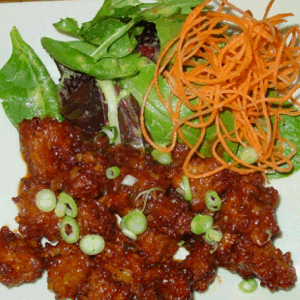 – 1 cauliflower, cut into small flowerets
– 3-4 green chilies
– 1 bunch of green onions or shallots
– A bunch of coriander leaves
– 3 flakes garlic, crushed finely
– 4-5 flakes garlic, chopped
– 2 table spoon lemon juice
– Little piece of ginger, crushed finely
– 3 table spoon chapathi flour
– 3 table spoon corn flour
– Salt to taste
– Oil for deep frying the cauliflower
– 2 table spoon butter for making the sauce
– 2 tea spoon red chili powder
– 1 tea spoon soya sauce
Method
Make a batter out of the 2 table spoon corn flour and all the chapathi flour. To this, add crushed ginger, garlic, red chili powder, salt, cumin seeds, lemon juice, 1/2 tea spoon soya sauce and coriander leaves. Dip the cauliflower flowerets in it and fry till golden brown in color. Drain and keep aside.
To make the sauce:
Dissolve the remaining corn flour in 1-2 table spoon of water. Add the remaining soya sauce, salt, chili sauce to the corn flour mixture and mix well. Keep it aside. Heat butter in a frying pan and add chopped green chilies, chopped garlic, chopped green onions and stir-fry for about 5-6 minutes. Then add the above prepared corn flour paste and lower the heat. The sauce will begin to thicken and when it is thick enough, take it from the fire and pour it over the fried flowerets. Garnish with coriander leaves and serve hot.
Rice machurian
Preparation Time : 15 Cooking Time : 10 Serves / Makes : 2
Ingredients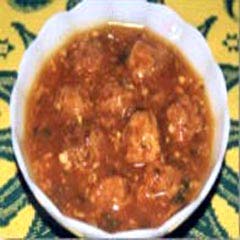 – Cooked rice
– 1 cup – Plain flour
– 1 cup – Shredded cabbage
– ½ cup – Shredded capsicum (Green Peppers)
– ½ cup – Ginger & Chili paste
– 2 tea spoon – Soya sauce
– 3 tab.spoon – Vinegar
– 1 tea spoon – Sugar
– pinch Salt – to taste
– Water – 2 cups Corn flour – 4 tab. spoon Oil to fry
Method
Mix cabage,capsicum (Green Pepers ) and ginger-chilli paste in plain flour.If necessary then put some water & make machurian balls. deep fry in the oil. Keep water to boil. Put soyasauce, vinigar, sugar, salt. When come to boil then put cornflour to make it thick.take care that lumps should not come. After 5 minutes take it down from the flame. Add machurian and serve hot with plain rice & boiled spinach cooked in ginger water.
Quesadillas
Yield: 5 quesadillas
Quesadillas are large, fried tortilla turnovers. Our recipe, with its easy cheese filling, makes an impressive brunch when served with browned vegetarian sausages.
Ingredients Steps

– 3 cups shredded Cheddar cheese
– ½ cup crumbled firm tofu, drained
– ½ cup large curd cottage cheese, drained
– ½ teaspoon turmeric
– Salt and pepper
– 1 large red bell pepper, slice lengthwise into ¼ inch strips
– ¼ cup vegetarian bacon bits (optional)
– Chopped chili peppers to taste (optional)
– ¼ cup chopped fresh chives – 5 7-inch corn tortillas
– Butter and vegetable oil for skillet-frying
In a bowl, combine 1 cup of the Cheddar cheese with tofu, cottage cheese, turmeric and salt and pepper to taste. Mix in bell pepper along with your choice of optional ingredients. Warm both sides of the tortilla, one at a time, in an ungreased heavy skillet over medium heat. Place on a flat surface. Sprinkle ¼ cup Cheddar cheese over each tortilla. Spread about ¼ cup of tofu mixture over cheese, leaving a ¼ inch border around edge uncovered. Fold tortilla in half, tucking filling in. Heat 1tablespoon butter and 1 tablespoon vegetable oil in skillet. Fry folded tortillas over medium heat on both sides until crisp. Add more butter as needed. Keep Quesadillas warm in oven until served. Sprinkle remaining cheese over top just before serving. Variation: Spoon heated chili over top of Quesadillas before sprinkling with cheese.
Fusion in Indian Cooking