Gabrielle and Tejas
The beach and the rising sun were beautiful witnesses in this couple's journey of togetherness. Tejas Sale took his lady love to South Point Miami Beach; and as the dawn broke and the sun rose over the horizon to mark the beginning of a new day, he got down on his knees to propose to Gabrielle Guy. The couple then went to Naples, watched the sunset together, and pledged to spend their lives with each other.
After dating for three years, Gabrielle and Tejas decided to tie the knot on December 14, 2020. It was a union of both the bride and groom's cultures. The Ritz-Carlton, Naples, was the chosen venue for both the wedding and the reception. First, they performed the Mehndi ceremony, which was affectionately supervised by Sneha Sale, Tejas's mother, who had brought all the Mehndi materials from India. She created beautiful designs on the hands and feet of the bride–and also of the entire group.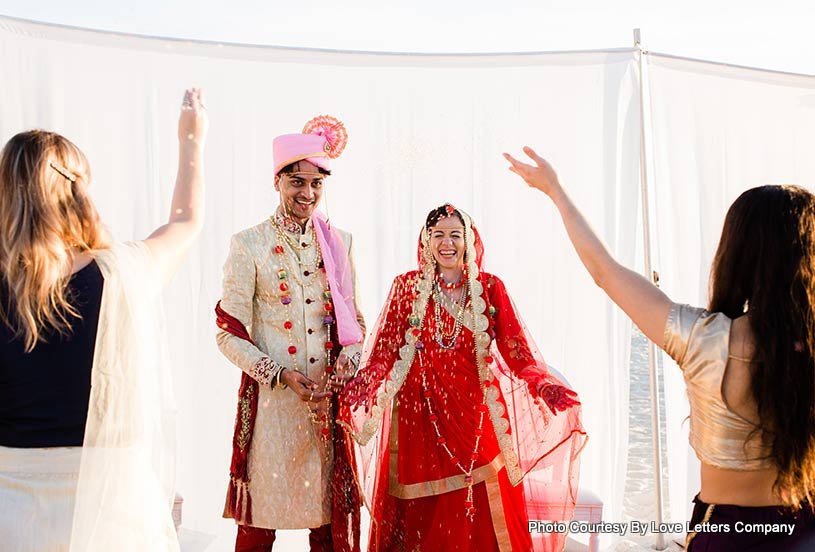 ---
BANQUET HALL The Ritz-Carlton Naples  239-598-6644 www.ritzcarlton.com | CATERING The Ritz-Carlton Naples 239-598-6644 www.ritzcarlton.com | DISC JOCKEY  DJ Khush Events  239-634-5146 www.djkhush.com | PHOTOGRAPHER/VIDEOGRAPHY Love Letters Company 239-676-3426 www.Lovelettersfl.com 
---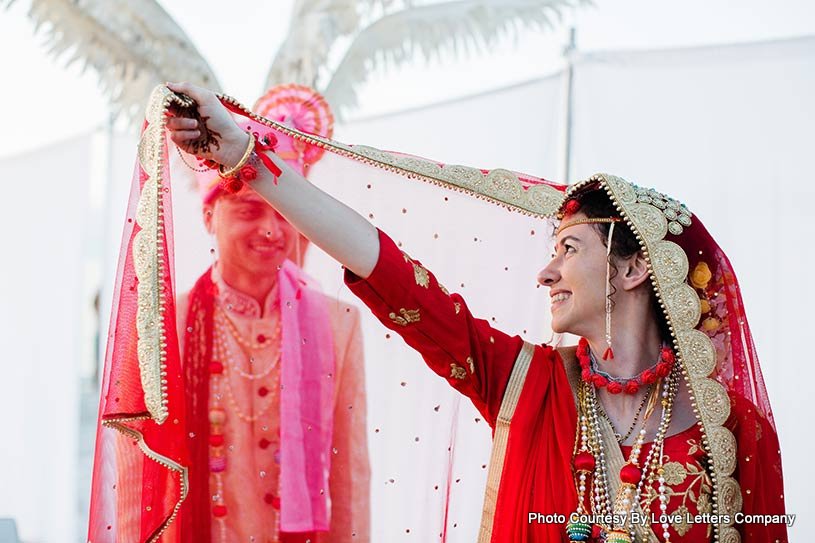 It was a beach wedding for the romantic duo. The color theme consisted of sapphire, vibrant yellow, and bold orange. The entire venue was decorated with artificial palm trees and glowing lanterns. The Mandap had mixed sitting arrangements with rustic seating, lounge seating, and round seats in different colors. Two cultures were blended beautifully, while simultaneously keeping the natural ambience intact. The groom's mother brought traditional outfits for the bride and bridesmaids along with all the accessories, including floral hair clips, bracelets, and necklaces for the bride.
Following traditional Hindu custom, Gabrielle came to the Mandap under a bold orange chaddar carried by the groomsmen and heralded with an arrival song. Tejas entered under a vibrant yellow chaddar carried by the bridesmaids and heralded with an entry dance. Chinmay Desai, the best man, explained to the guests the significance of the ceremonies.
The reception commenced with the local custom of the couple watching the sunset together. There was a dance, a dinner and all the celebratory festivities. The theme was rustic royal with chrome and sapphire colors, rustic chrome lanterns, tea light holders, and candles along with multiple seating arrangements including beach chairs and loveseats. The couple's first dance together was to the song 'London Thumakda'. Mother and son danced to 'Mavrai Majhi Ladachi'.
United in togetherness, family members and friends made this memorable event enjoyable to the fullest extent.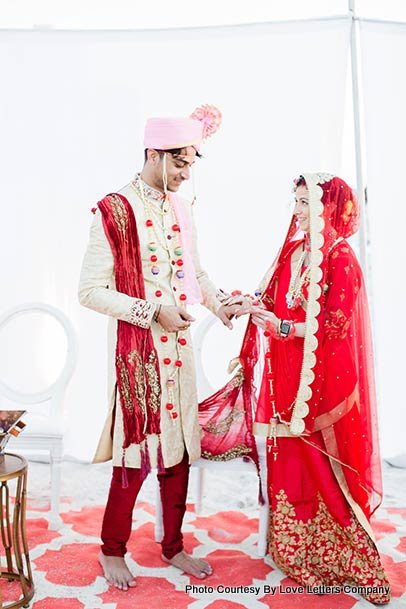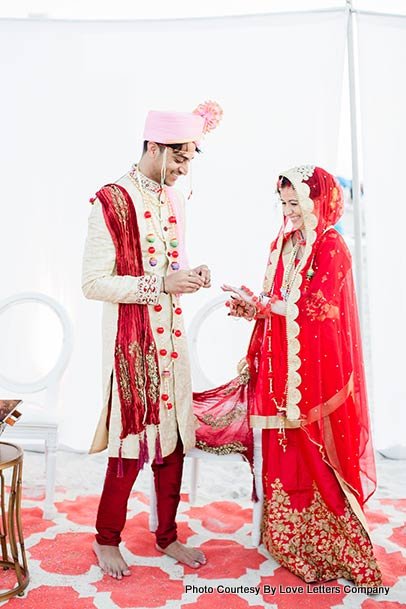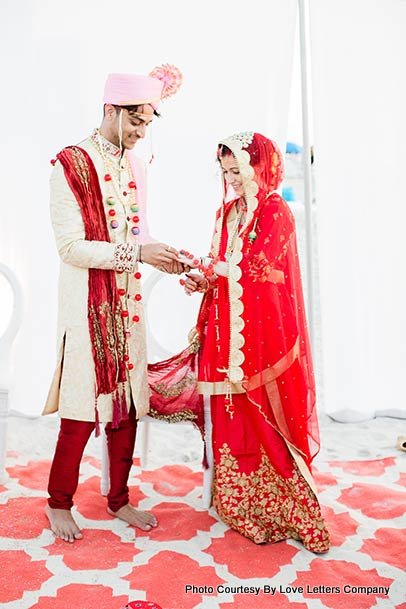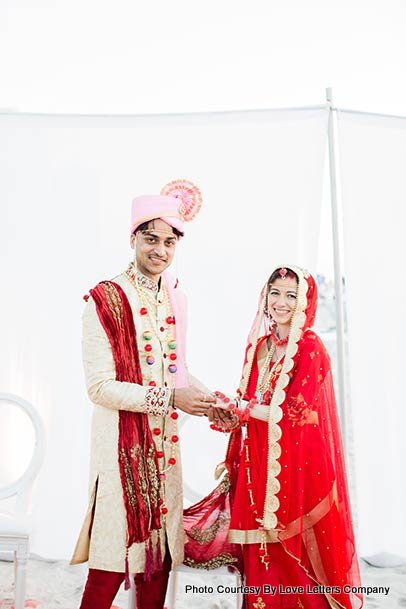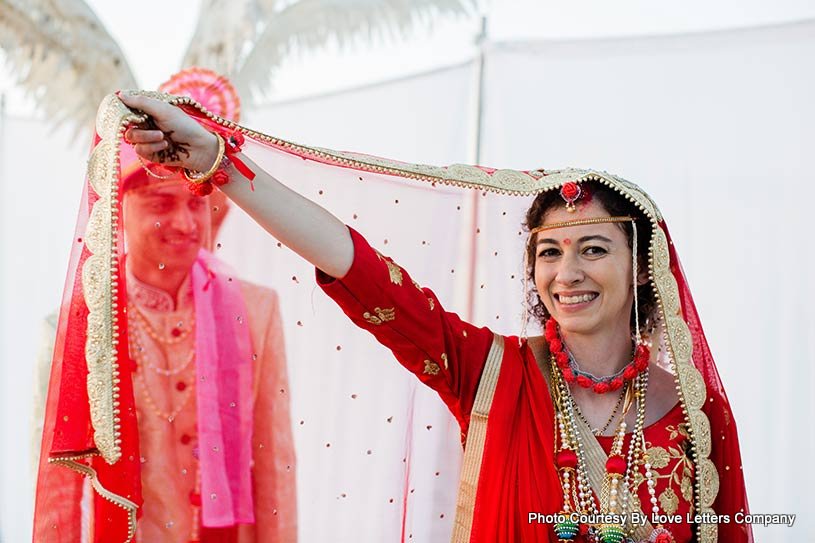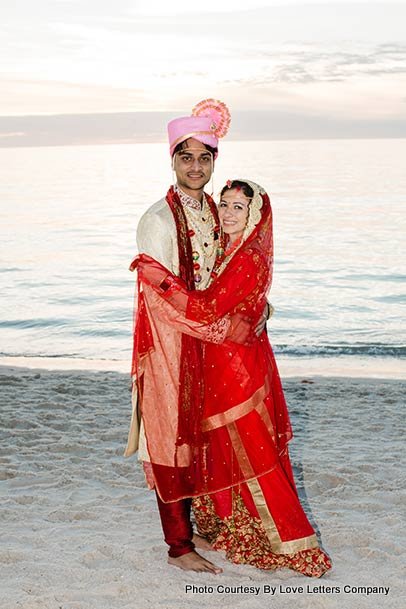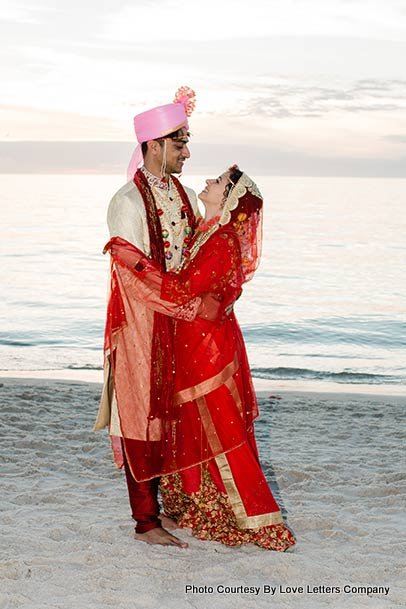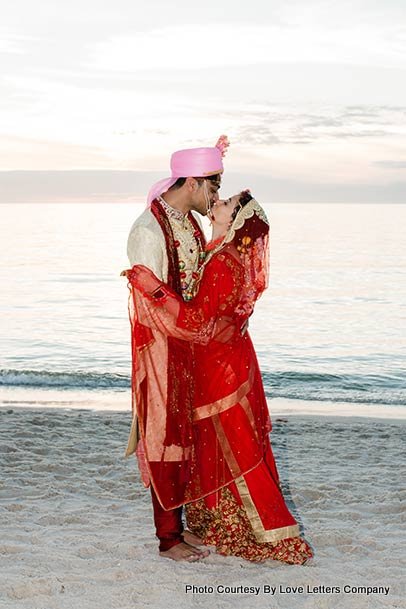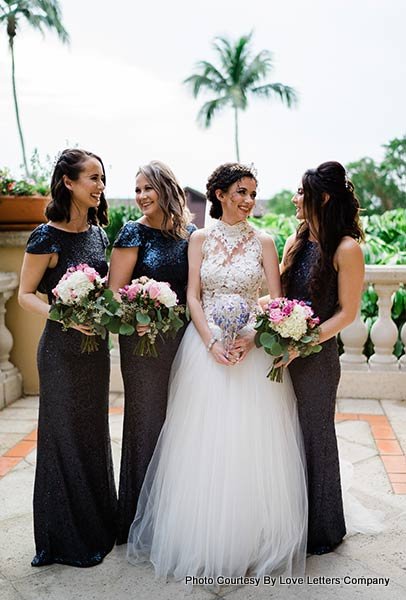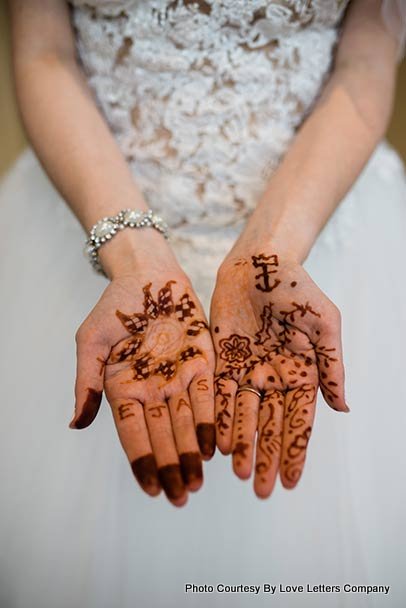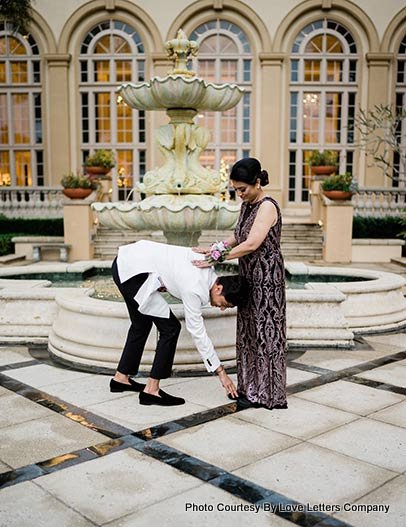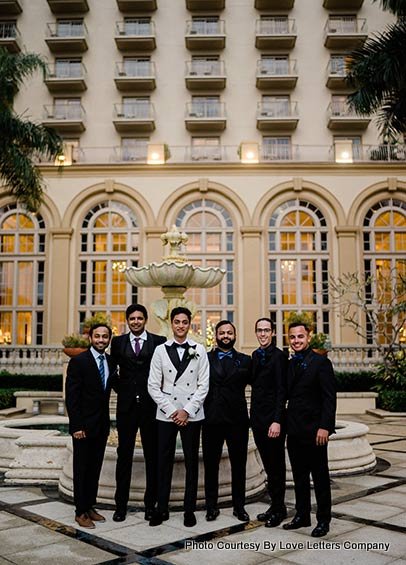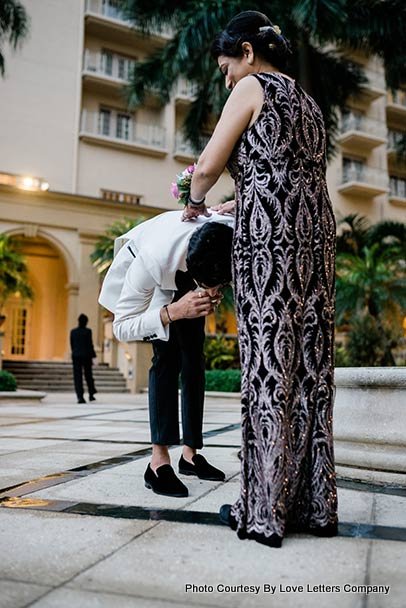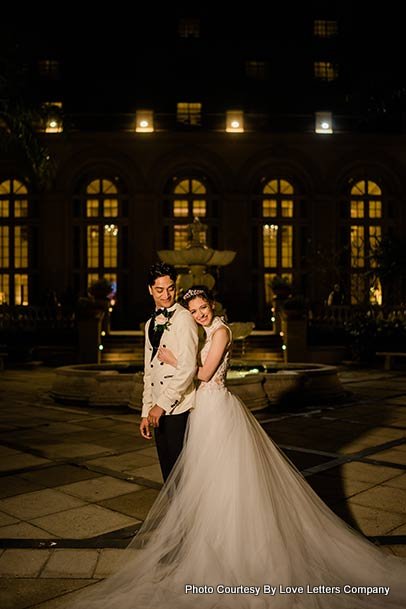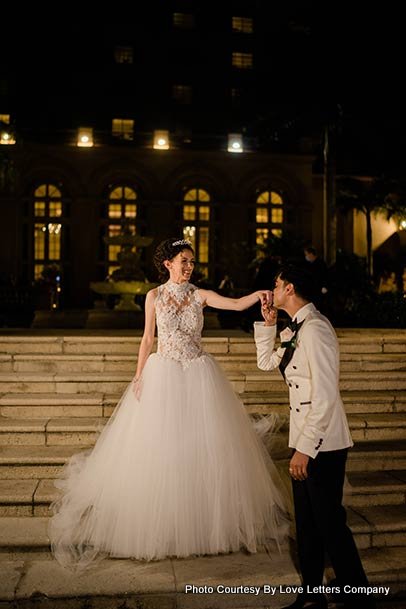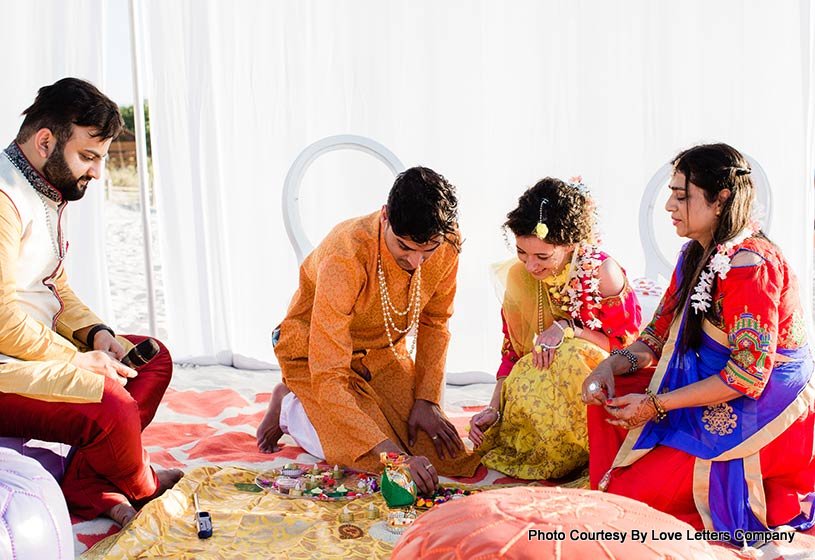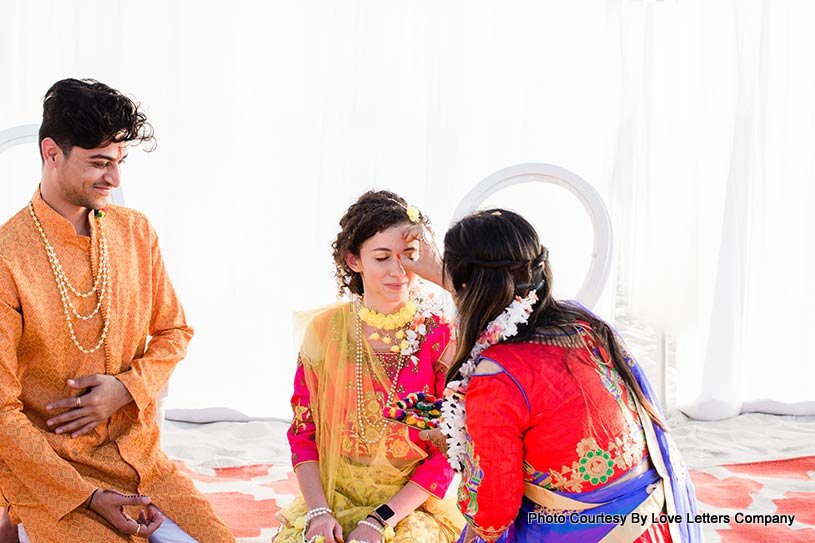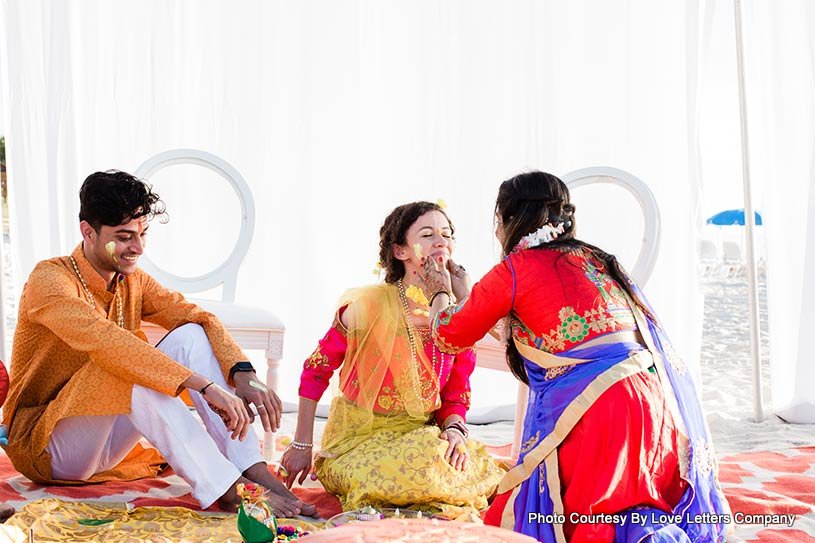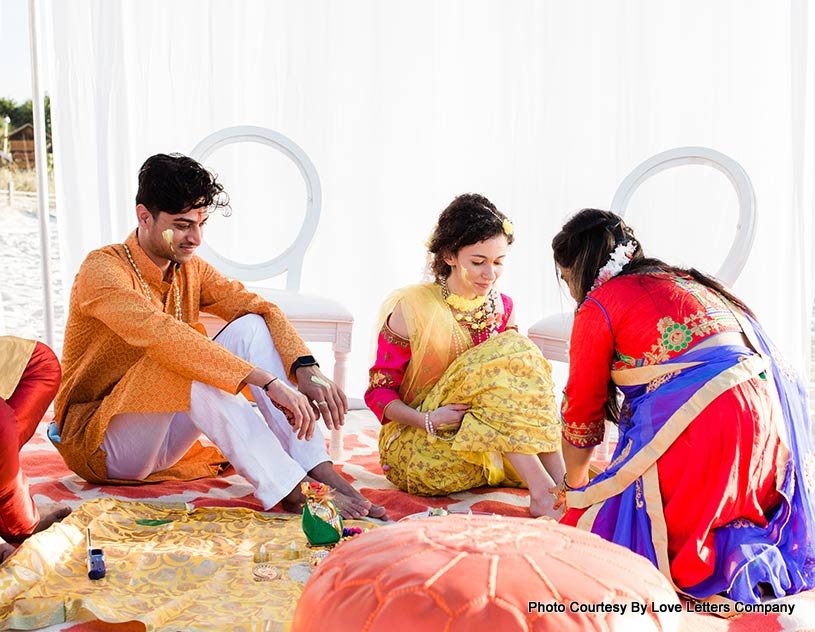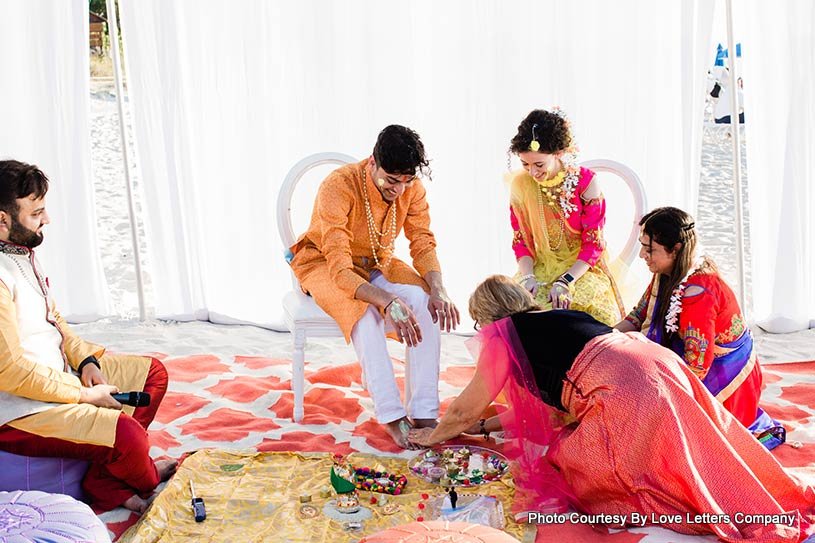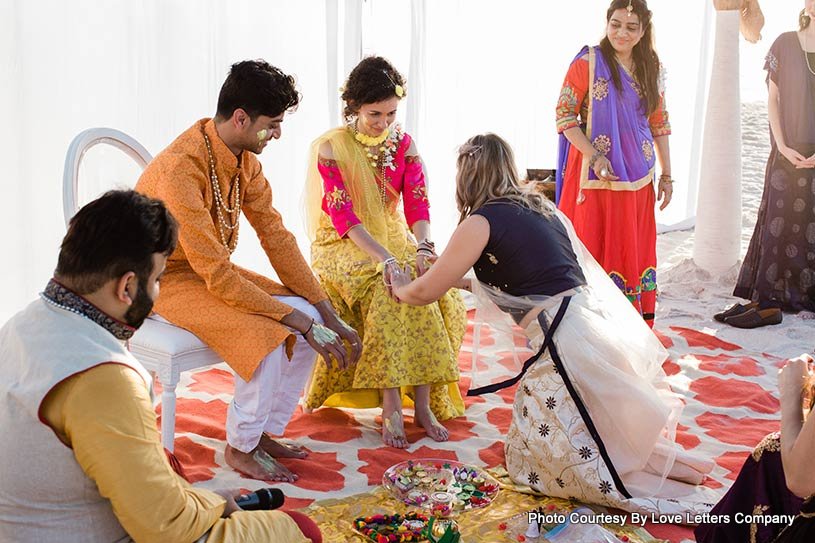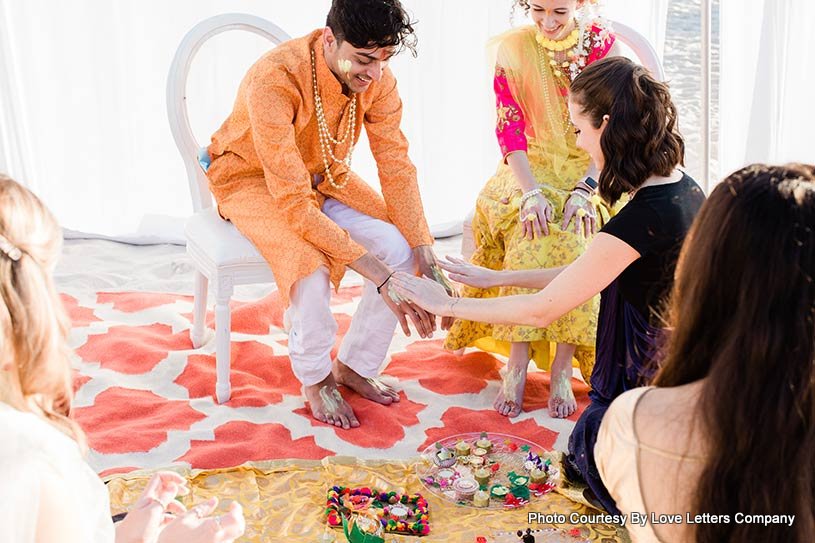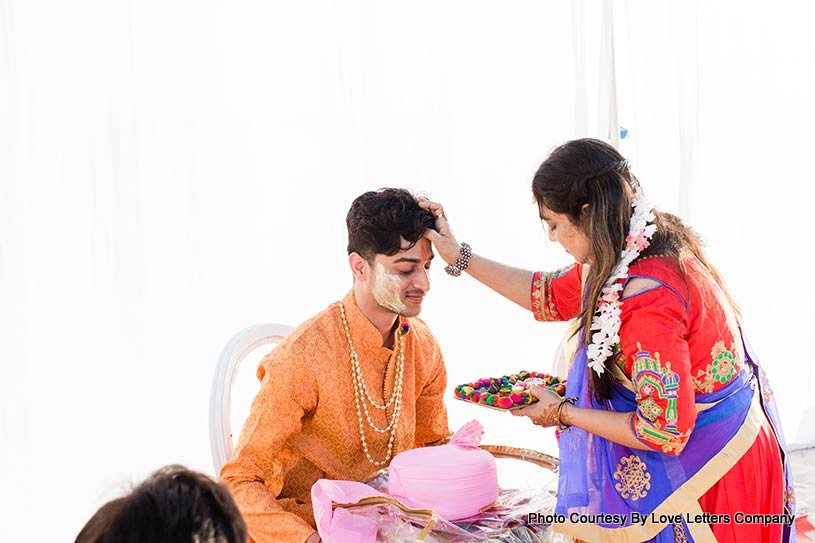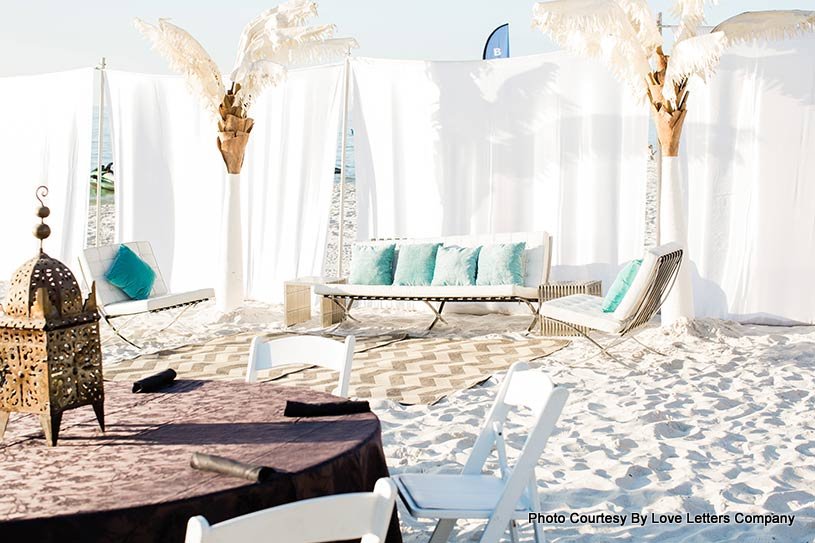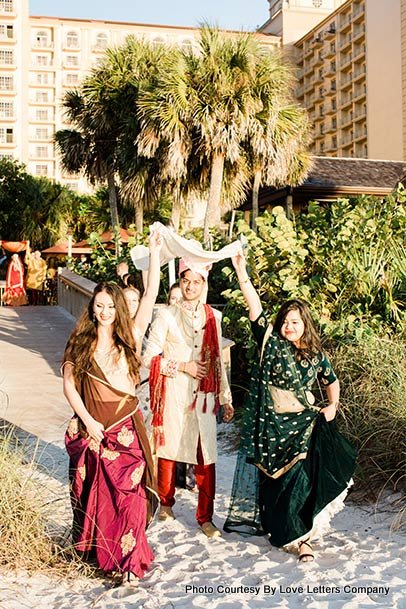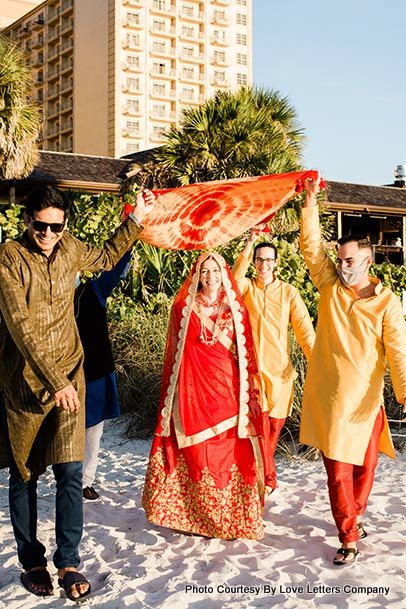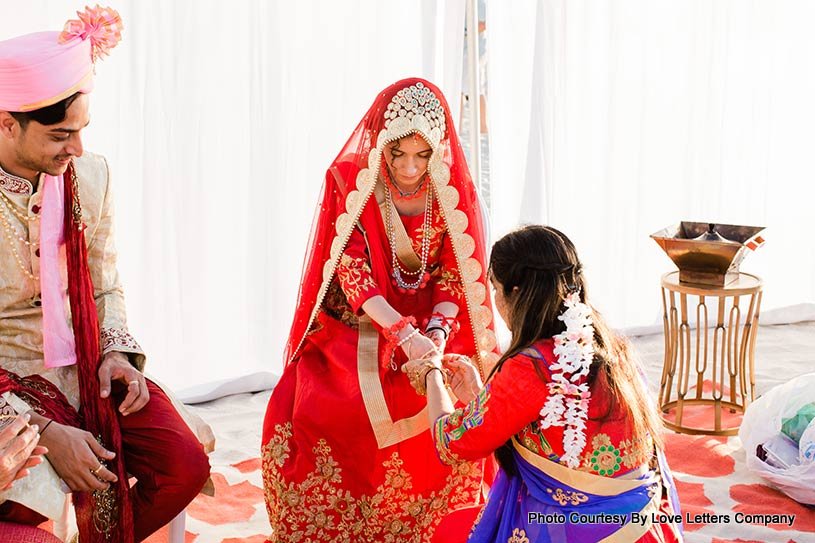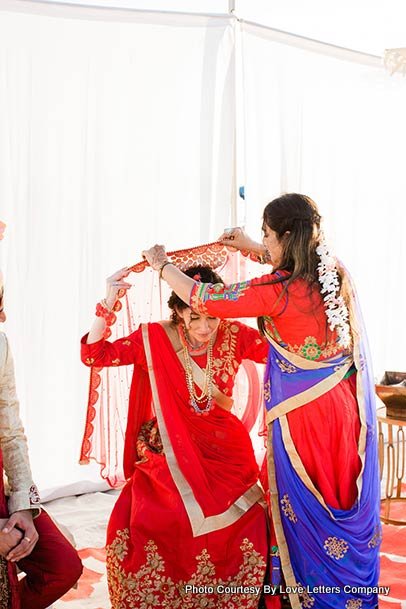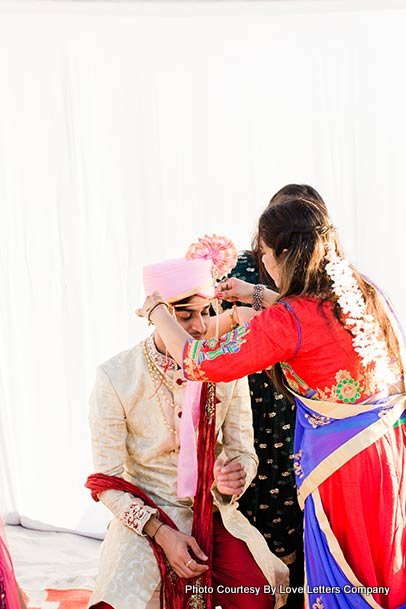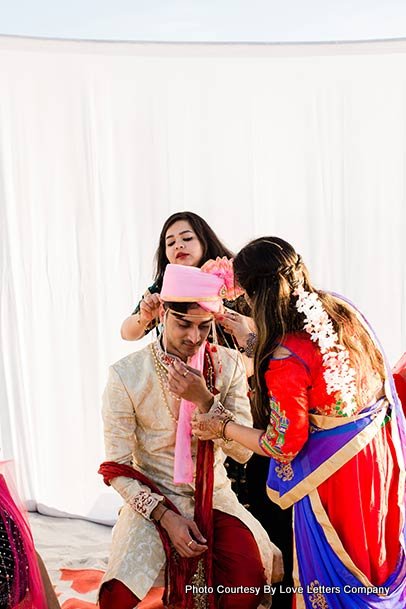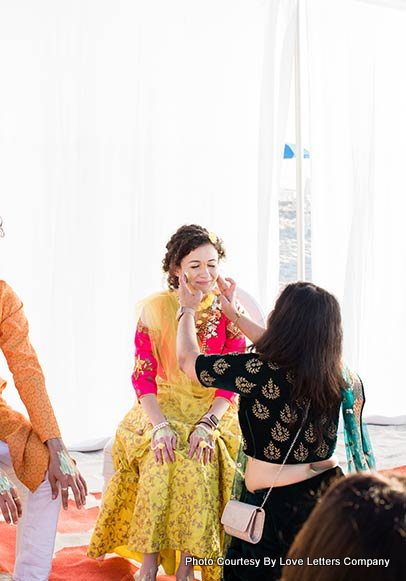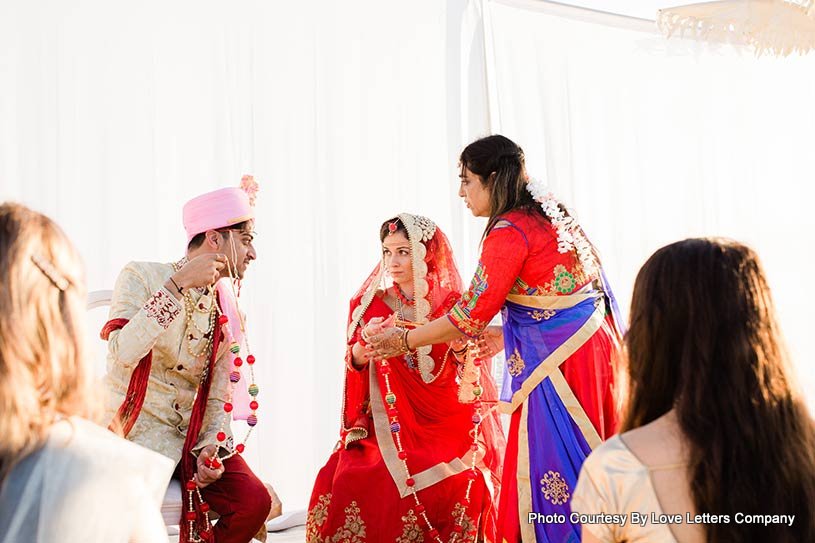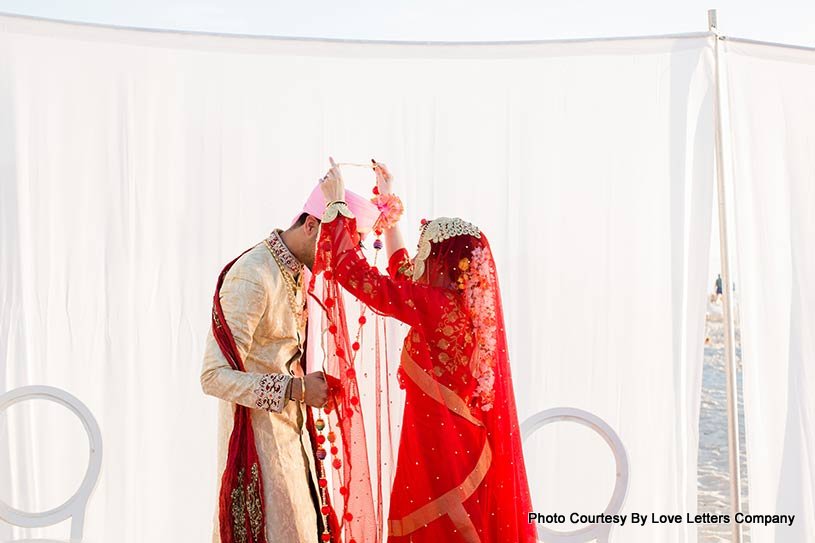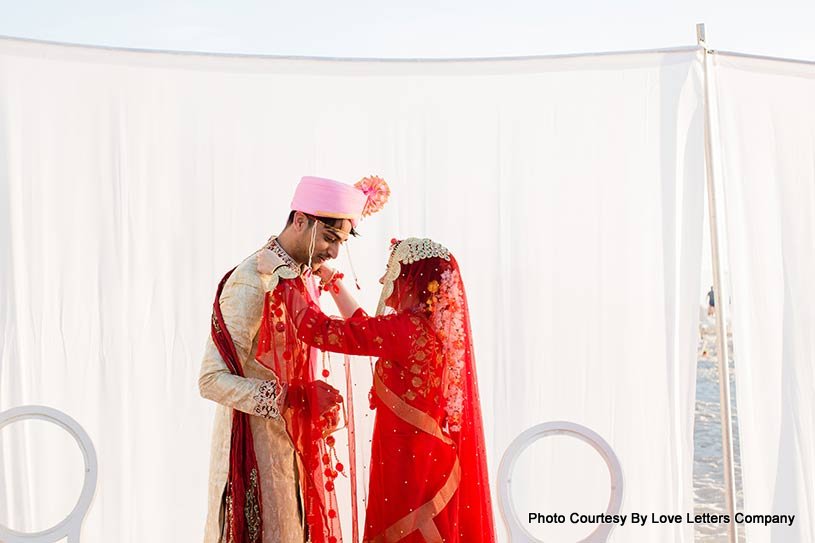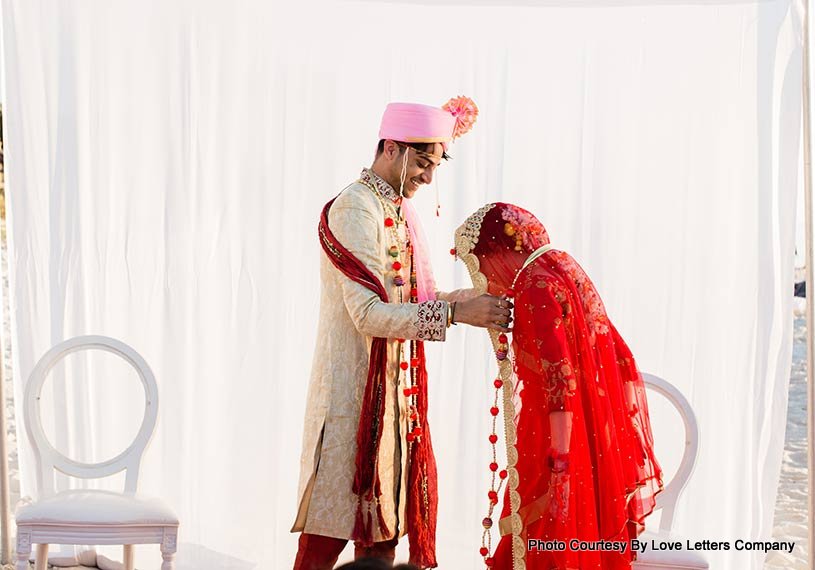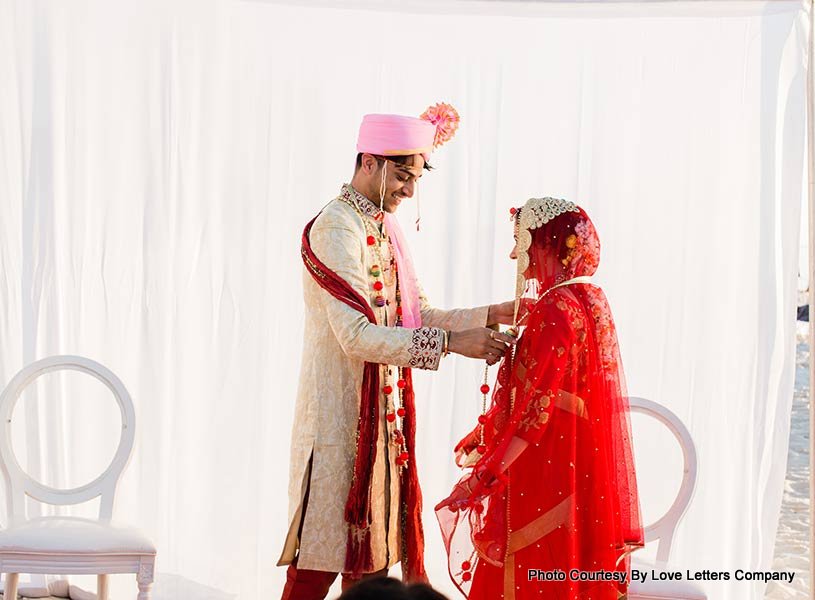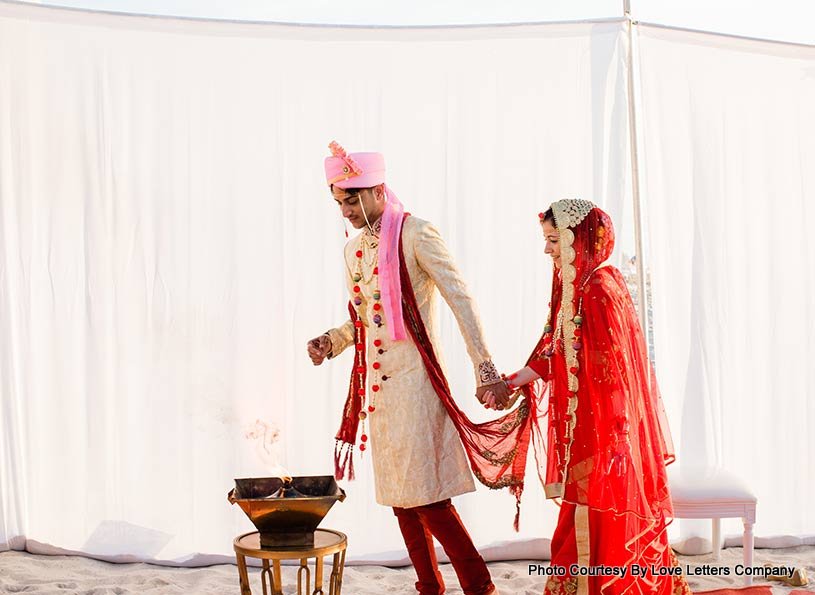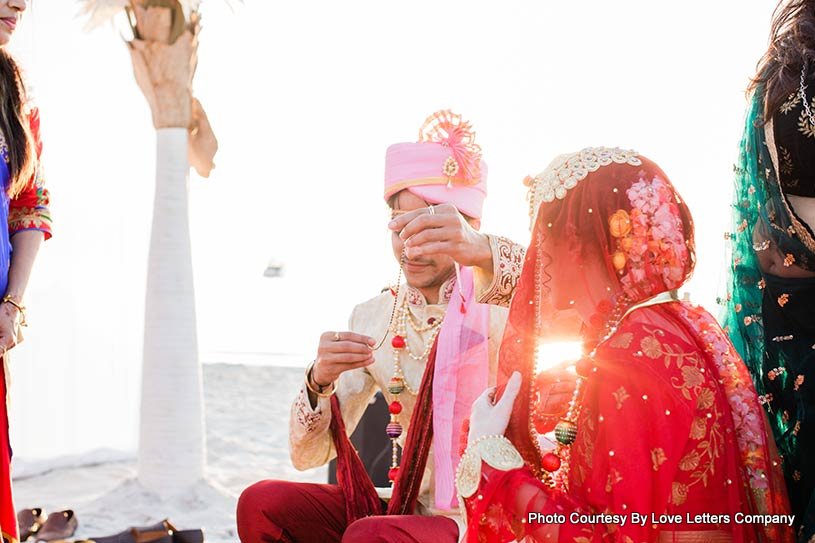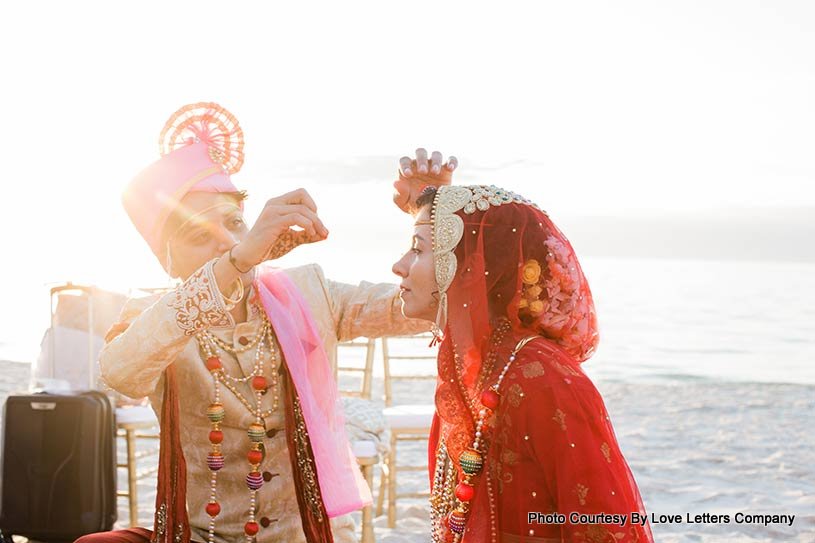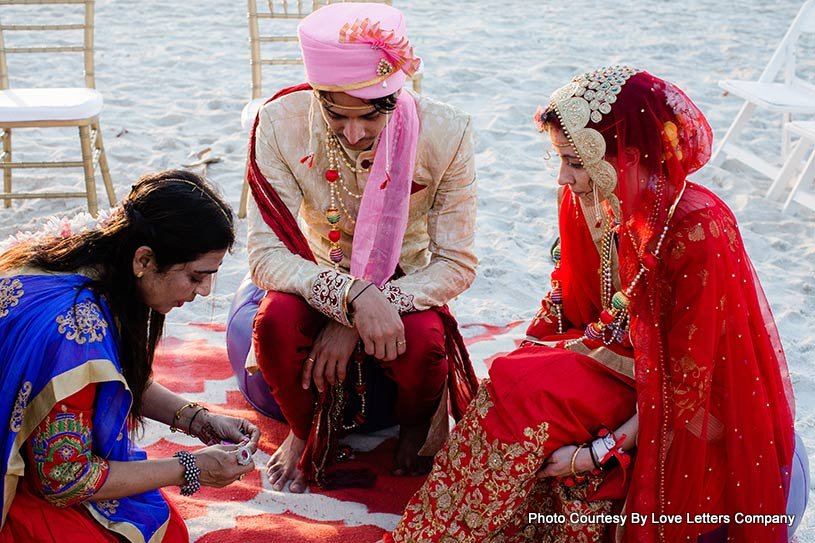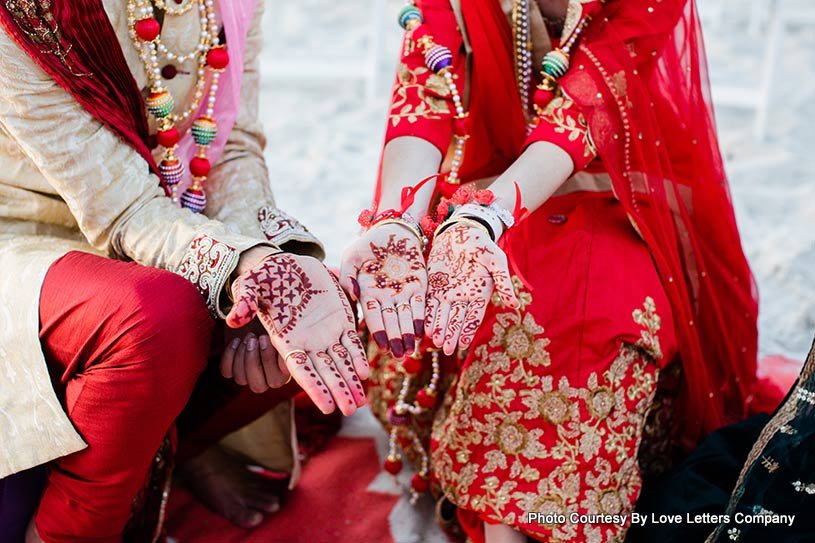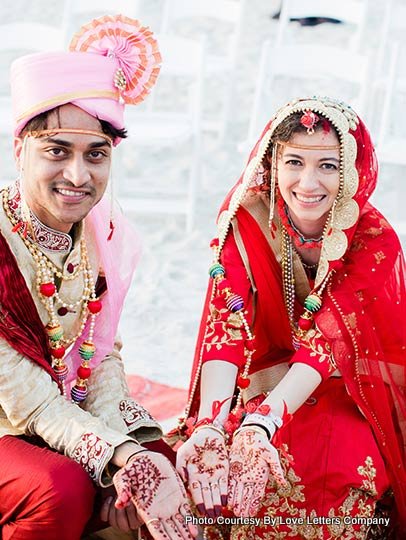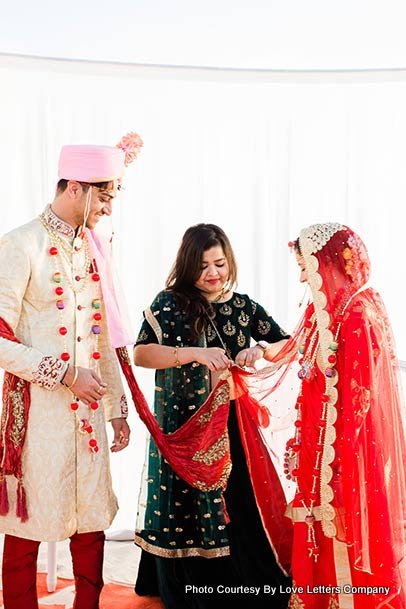 INDIAN WEDDING BANQUET HALL
The Ritz-Carlton Naples
INDIAN WEDDING CATERING
The Ritz-Carlton Naples
INDIAN WEDDING DISC JOCKEY
DJ Khush Events
PHOTOGRAPHER
VIDEOGRAPHY
Love Letters Company
South Point Miami Beach
Mehndi ceremony
Mehndi materials from India
beach wedding for the romantic duo
traditional outfits for the bride and bridesmaids along with all the accessories
floral hair clips
bracelets
necklaces for the bride
traditional Hindu custom
rustic royal with chrome and sapphire colors
rustic chrome lanterns
tea light holders, London Thumakda Song
Mavrai Majhi Ladachi song