Gandhi 150 Celebration Program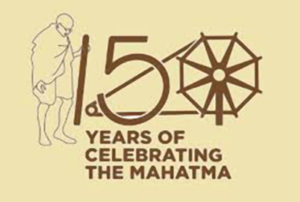 Florida Atlantic University® /FAU Peace, Justice and Human Rights Initiative & International Hindu University Present
INTERDISCIPLINARY and INTERNATIONAL CONFERENCE on the 150 year celebration of the birth of Mohandas K. "Mahatma" Gandhi
150 Years of Gandhi: Impacts and Appraisals
October 18, 2019 – October 27, 2019
www.gandhi150celebrations.org
Keynote Speaker
Mrs. Ela Gandhi GrandDaughter of Gandhi ji
The granddaughter of Mahatma Gandhi is a peace activist and was a Member of Parliament in South Africa from 1994 to 2004.
Time and Date:
Monday, October 21, 2019 at 4 pm
Venue: Osher Lifelong Learning Institute Auditorium FAU Boca Raton
All tickets include free admission to the cultural program.
General Admission Tickets: $35
VIP Tickets: $100, includes seating in front & reception, plus admission to the Gandhi at 150 Symposium
FAU Student, Staff, Faculty, Alumni: $10
Lecture: Leadership of Mahatma Gandhi
Presented by Dr. Doug McGetchin
Mahatma Gandhi pioneered powerful techniques of nonviolent resistance that have inspired Dr. King and others to make significant social and democratic advances around the world. This lecture provides a brief overview of the leadership traits this complex and fascinating world leader exhibited as well as a role-playing example of how nonviolence works from an actual example from the life of Gandhi. By attending you will gain insight into Gandhi's nonviolent methods to provide for a better future.
Dr. Doug McGetchin is Interim Director of the FAU Peace, Justice, and Human Rights (PJHR) Initiative and Associate Professor of History, teaching World, German, and South Asian history. He had a Nehru-Fulbright senior research grant in Calcutta, India, 2013-14.
Movie:Gandhi Man of God
By Eknath Easwaran
Date/Time: October 26, 2019, from 10:00 AM to 1:00 PM
Venue: North Regional/Broward College Library
Located at Broward College – North Campus
1100 Coconut Creek Blvd, Coconut Creek, FL 33066
Admission: Free, but seats are limited so registration is requested.
Cultural program: Vocal & instrumental performance on the Sitar and Tabla of songs such as "Vaishnav JanaTo" and "Raghupati Raghav Raja Ram."
Musical play depicting episodes from Gandhi's life. Directed by Sanjay Chandran.
Date/Time: October 26, 2019, from 7:00 PM to 10:00 PM
Venue: FAU Davie Campus, 3200 College Ave, Davie, FL 33314
Ticket: Free for those purchasing tickets to Ela Gandhi's keynote address
General Admission: $15 VIP: $25
Exhibition: Gandhi's Life in Pictures: includes a collection of approximately 25 posters (24 x 36)
Display and distribution of books & literature by Gandhi and about Gandhi.
The Conference:Mohandas K. "Mahatma" Gandhi (1869-1948) is an international figure best known for leading resistance to the British Empire in India, achieving the independence of India through his method of Satyagraha, or nonviolent resistance. Born in Gujarat in western India and educated in law in London.
This conference will analyze various aspects of Gandhi in this year of the 150th anniversary of his birth:
● Gandhi's religious views and their interaction with communalism (the mixing of religion and politics)
● Gandhi's legacy in South Asia and abroad
● Gandhi's idea of democracy and Nationalism
● Analysis of Gandhi's skill of writing using simple language
● Gandhi as a Lawyer and reflection on his South African Experiences
Topics include, but are not limited to:
● Gandhi's role in the application of Satyagraha and techniques of nonviolent resistance in South Asia, South Africa, and elsewhere
● Gandhi's leadership in the environment, sustainability, and economic and social justice
● Gandhi's interests and transformations throughout his life
● Gandhi's interaction with Dalits and views of caste
● Gandhi's views and actions on family, women, gender, and sexuality
● Critiques of Gandhi and his interactions with independence fighters advocating violence
Time: October 18 and October 19 2019
Venue: FAU Davie Campus, 3200 College Ave, Davie, FL 33314
Florida Atlantic University
International Hindu University
150 year celebration the Mahatma
Gandhi 150 Years of Gandhi
Mrs. Ela Gandhi
South Africa
Leadership of Mahatma Gandhi By Dr. Doug McGetchin
Mahatma Gandhi
Peace, Justice, and Human Rights
South Asian
Gandhi Man of God
Eknath Easwaran
North Regional/Broward College Library
Vaishnav JanaTo
Raghupati Raghav Raja Ram
Sanjay Chandran
FAU Davie Campus
Satyagraha
British Empire
Gujarat in western India
democracy and Nationalism
South African Experiences