Veteran Bollywood Actor Viju Khote Passes Away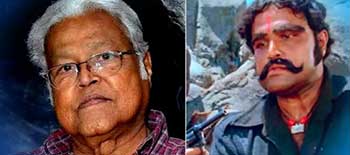 Veteran Bollywood and theater actor Viju Khote passed away on September 30, at the age of 77, in Mumbai. In between some of the most iconic characters and actors of Bollywood, he played roles that have become memorable. Be it as Kaalia in Sholay or as Robert (aka Rabbit) in Andaz Apna Apna, Viju Khote played characters were he truly proved that no role is big or small, it is all about the actor who plays the part.
The actor died due to multiple organ failure. His niece, actor Bhavana Balsavar told PTI, "He passed away today at 6.55 am peacefully in his sleep at the residence. He has been unwell for quite some time. He had multiple organ failure." Viju Khote is the son of Nandu Khote, who was a noted theatre actor, and younger brother of veteran Bollywood actress Shubha Khote. Durga Khote, one of Indian cinema's foremost leading ladies, was his aunt.
Viju Khote made his Bollywood debut in 1964 with the film Ya Malak. He has worked in more than 400 Hindi and Marathi films, and a number of television shows. In the 1975 cult classic Sholay, he played the role of the dacoit Kalia, and delivered one of the most memorable dialogues of the film, "Sardar maine aapka namak khaya hai." That one scene and one dialogue earned him a coveted spot in the history of Indian cinema.
Apart from Sholay and Andaz Apna Apna, some of his most popular films are Qurbani, Karz, Nagina, Qayamat Se Qayamat Tak, and China Gate. He has also worked in some of Indian television's most memorable shows, including Zabaan Sambhal Ke and CID. He was last seen on the silver screen in Jaane Kyun De Yaaron in 2018.
Viju Khote
Sholay
Kaalia
Andaz Apna Apna
Shubha Khote
Karz
Bollywood actor
Qurbani
Zabaan Sambhal Ke