Gandhi's Insptirational Message to Today's Youth -By Annmarie Varghese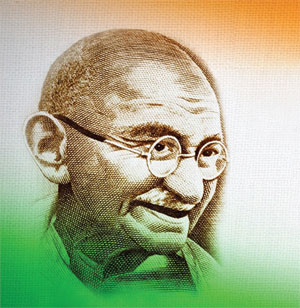 I live in the Town of Davie, which is in South Florida. On October 2, 2012 a bronze statue of Mahatma Gandhi was unveiled in the nearby Falcon's Lea Park. This project, initiated by Kerala Samajam of South Florida, was made possible by the Town of Davie who gave half an acre of land for the surrounding Gandhi square in which the statue is a focal point. Other Indian organizations were also involved in raising funds and making the project a success. The former President of India, Dr. Abdul Kalam and the Mayor of the Town of Davie attended the big event. In addition, State Senators, Commissioners and members of the press were present. The dedication of the statue was a huge media event that was broadcast on television and carried in several newspapers both in the US and around the world.
I went to the unveiling event with my family and was wonders truck by the huge crowd that turned out despite the pouring rain. This got me thinking as to why Gandhiji was a person of immense importance to so many people. I had, of course, studied about him in all my history books, but his message had not deeply affected me in any way. This turnout and obvious devotion to him caused me to research and think deeply about him and why he inspires so many people all over the world this many years after his death.
On reading extensively about him, several qualities immediately stood out. One was his sheer determination to press on with his ideas on persuading the British to 'Quit India.' He was able to achieve freedom for hundreds of millions on the subcontinent. This was something that had never been tried before in the British Colonial world. He won with the power of his ideas and inspired people in other countries to fight for their freedom. In India, he was able to persuade so many people to follow him, and he led them to freedom through nonviolence. This is a great achievement because oppressed people naturally turn to violence. Mahatma Gandhi later also influenced Martin Luther King in the United States to fight for civil rights and South Africans to press for freedom from apartheid.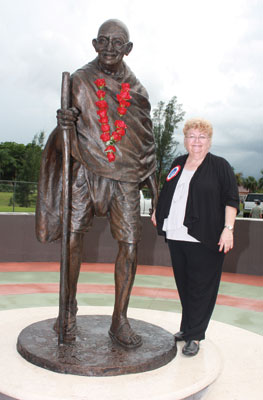 Gandhiji was a towering personality who inspired people around the world and taught us important lessons that are still valid today, especially for youth. I came across a Times of India article published on October 1, 2007 that quoted a then released poll of university campuses across the United States. "Mahatma Gandhi was the most influential political leader of all time," according to the University students.
To me, many of his teachings are very relevant to today's youth. He encouraged spinning one's owns clothes, teaching us self-reliance. This is crucial to success. He was open minded and tolerant of all religions, and this is a message vital to today's generation. He emphasized the uplift of common man through small-scale industries. This is a solution applicable today to employment problems among youth. He encouraged active local governments. This encourages participation among local people and makes everyone feel included. Gandhiji and his message are timeless, and as someone of Indian heritage, makes me enormously proud of his contribution to humanity.
The coming together of Town of Davie, Kerala Samajam and many Indian organizations for this project has done a great service to the people of South Florida. The Statue and Square is a nice place to reflect and relax, and serves as a constant reminder of his universal message of peace and brotherhood.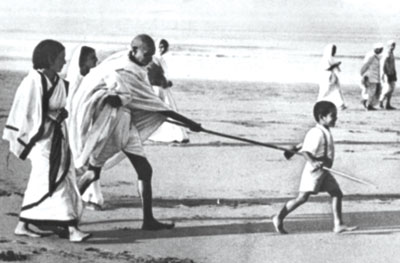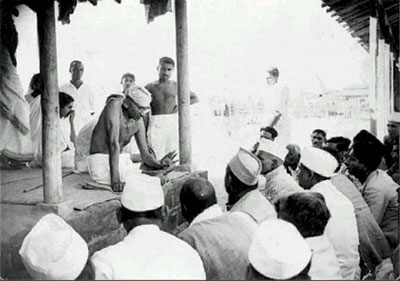 Annmarie Varghese is a 10th grade student at Saint Thomas Aquinas High School in Fort Lauderdale. She is the daughter of Babu Varghese, P.E. and Asha Varghese, CPA.
Gandhi's Insptirational Message to Today's Youth -By Annmarie Varghese