Sahara of South Florida, Inc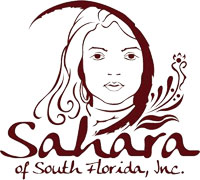 Sahara of South Florida is holding it's annual fundraiser on Saturday, November 17th from 6:00-9:00 PM at the Walter C. Young Auditorium in Pembroke Pines, FL.
Sahara of South Florida is a non-profit organization assisting South Asian women through culture specific supportive counseling and advocacy. Sahara was formed to address the needs of South Asian women from Bangladesh, Bhutan, India, Nepal, Pakistan and Sri Lanka experiencing spousal abuse as well as abuse from in-laws and other family members.
Abused women from minority communities oftentimes are hesitant to seek services from main stream organizations due to culturally held beliefs and attitudes against reporting domestic violence as well as due to language and immigration barriers. Sahara was formed to address this service gap and connect the affected women to main stream resources as well as provide culturally sensitive advocacy and support.
Services include psychological/supportive counseling; legal assistance/referrals; medical referrals; transitional housing; translation and interpretation.
For more information and tickets, please contact:
Dr. Shashi Jagadish:
786-258-2922
Manju Kalidindi: 954-723-9105